Everything about the $7.99 serving of pork rinds at Saltwater Cowboys is comically oversized.
Each individual rind is a behemoth of its kind, closer in dimensions to the tongue of a shoe than the meaty Cheetos-like curls that populate most convenience store bags. People with dainty appetites could probably make a meal of one or two. But nothing at Shem Creek's newest restaurant is designed for the delicate set.
There are many, many such pork rinds in the grease-spotted brown paper bag that holds them. I have no idea how many, because we never reached its bottom. Picture the pork rind equivalent of a movie house's super jumbo popcorn tub, and you'll have some idea of what Saltwater Cowboys considers an appropriate portion. (Clearly, though, the restaurant parts ways with theater chains on matters of pricing: Saltwater is one of the few restaurants capable of making good on its promise of an affordable night out.)
Still, "big and cheap" doesn't necessarily amount to high praise in a dining room. I'm just about certain that if I used the phrase in a thank-you note, I wouldn't be asked back for supper. Most hosts would rather hear any number of other adjectives that also could be applied to those colossal rinds, such as pristine, perfectly seasoned and delicious.
The pork rinds at Saltwater Cowboys are wonders of puff, with a decisive crunch that defies their vapor-light weight. More crucially, they taste of nothing other than salty pork and pepper. If you somehow manage to reconcile the rind's width with the normal proportions of a plastic ramekin that's served with a sackful, you can sneak smoldering hot mango pepper sauce into its honeycomb crannies.
Pork rinds were one of the first things I tasted over the course of three visits to Saltwater Cowboys, opened in the former Cottage on the Creek by industry lifers Joel Olindo, Brett Yearout and Wade Boals, who tapped into his Bessinger's heritage to develop the barbecue share of the menu. Yet it only took those rinds and a moreish smoked oyster dip, comfortably accompanied by two tubes of Ritz Crackers, for me to consider declaring Saltwater Cowboys the best restaurant on Shem Creek.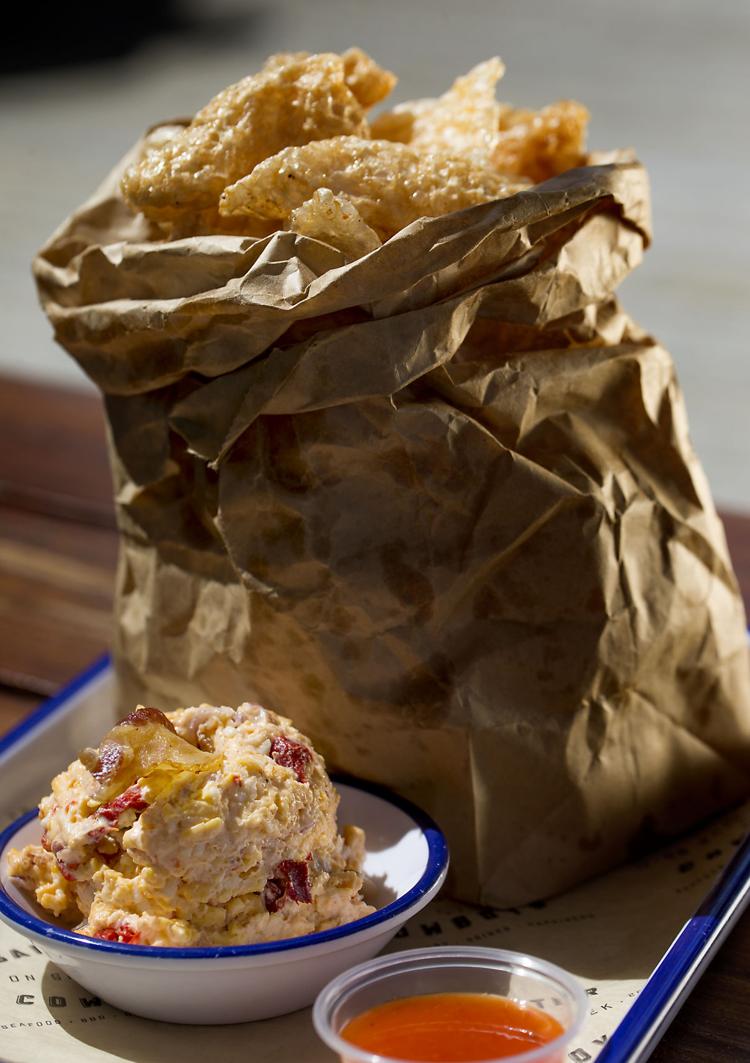 Except it occurred to me that I had no business doling out the title, since my familiarity with other restaurants lining the waterfront was spotty at best. So I plotted a field trip.
First stop: Vickery's Bar & Grill, which is approaching its 20th anniversary with a good amount of creaky charm. Vickery's is as low-key as the tri-level Saltwater Cowboys is crowded (the new kid on the creek was quoting table waits of an hour or more at odd weeknight times in early April, back when customers were still bundled up in winter coats.) Either neighbors have adopted Vickery's as a kind of no-dues clubhouse, or its servers are preternaturally good at guessing customers' names.
My server was less kindly toward the menu, taking a few extra beats to come up with a single recommendation. She steered me toward a stack of thickly fried green tomatoes, held together by toothpicks and herbed feta cheese.
It's hard to muster any serious criticism on Shem Creek, partly because the view is first-rate, and partly because a glass of wine costs $2 during happy hour. But as I disassembled the column of stiff fritters, I couldn't help thinking back to Saltwater's fried grouper, which appears in at least three places on the menu.
Dusted with just enough seasoned flour to protect the mild flavor of the muscular fish, grouper fingers get a refreshing lemony lift from a citrus dill tartar sauce. Saltwater's kitchen, led by Ryan Love, also expends its frying expertise on shrimp, oysters, okra and skinny French fries that square with what most Americans have in mind when they forgo something nominally healthy, such as collard greens. (Not that there's anything wrong with Saltwater's punchy collards.)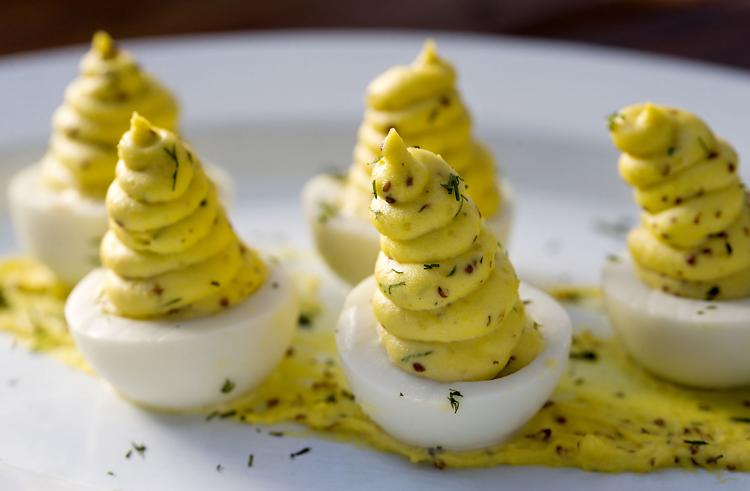 In the sides category, though, Saltwater has strong competition on the red rice front from R.B.'s and Water's Edge, perhaps the two most similar-seeming restaurants in the Shem Creek cluster. Both appear to be very nice places to close out a civilized day of boating, but that same straitlaced vibe can read like stuffiness on their menus, each of which feature sesame-crusted tuna, broiled lobster tails and fried calamari.
Saltwater is obviously aiming for a different demographic with its "trash can nachos" and tender cheddar biscuits so faithful to their inspiration that somewhere, a Red Lobster executive must be blushing. Still, even adjusting for audiences, its menu is larded with items that beg to be ordered, such as a smoked sausage po-boy and smoked bacon pimento cheese.
As for that smoker, overseen by pitmaster David Carter: The sausage isn't as cohesive or fatty as the best examples of the genre, and turkey was dry by the time it reached our table, although still well within sauce redemption range. But the pulled pork is ridiculously good, with a clean smoke character that many of the area's barbecue-only restaurants struggle to achieve.
Animal cookery is a little shakier down the creek at Tavern & Table, where the whole fish is burdened with the role of representing the kitchen's ambitions, as well as three or four gratuitous herbs. Since the restaurant is in the midst of a chef transition, it's impossible to fully evaluate its culinary output. But the three years it has on Saltwater Cowboys shows in its well-trained staff.
Oddly, in light of the opening team's experience and startling vastness of Saltwater's handsome indoor/outdoor space, its operating systems are a mess. Hostesses are forever leading guests to the wrong weathered-wooden table; servers tend to forget exactly what was ordered and cooks aren't swift, at least if their speed can be judged by the 35 minutes it took to get a salad when only a handful of other tables were seated for lunch.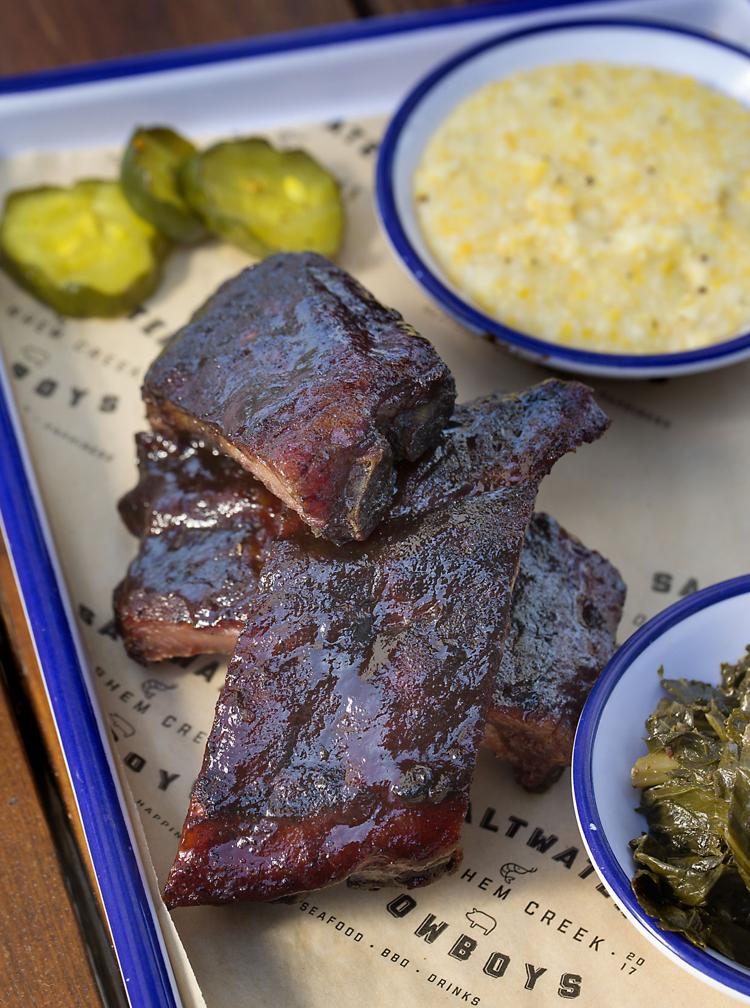 But those youthful indiscretions are counterbalanced by happy surprises, such as the wine list, home to smart selections like a crisp Corsican rose, which may single-handedly guarantee that Saltwater never develops the full-fledged party scene that rules at Red's Ice House, although Saltwater does pour an array of sweetish cocktails for folks who want to get lively on the dock.
Still, the wine's a better bet for a dish such as shrimp-and-grits, which escapes the cliche zone with the help of Geechie Boy grits and Shem Creek shrimp.
Before opening, Saltwater Cowboys bought up all that was left of Tommy and Grace Edwards' last shrimp harvest, which wasn't much: The season's low yield forced the restaurant to soon thereafter pad its supply with white Gulf shrimp. But the Edwards have committed the entirety of their next catch to the restaurant, which gives its owners confidence that they can source exclusively from Shem Creek going forward. 
Shredded cheddar, caramelized onions, bacon and barbecue sauce are neither here nor there, so far as the dish's flavor goes. Those shrimp, though, are from right here, or at least will be shortly, which makes it hard to dispute that Saltwater Cowboys is indeed Shem Creek's best restaurant.