At least eight out of every 10 local eaters who profess deep affection for Far Eastern flavors have yet to discover some of the Charleston area's most satisfying Southeast Asian snacks.
That's a heck of a statistic as it stands, but the actual number of people missing out is probably even higher. AJ and Terry Hung of Tapio estimate food sales account for about 15 percent of revenue at their exuberant bubble tea café on Coming Street. Since food items cost roughly twice as much as Tapio's popular beverages, that means a startling share of customers are slipping out without so much as sampling a popcorn chicken nugget.
"We are still slowly building up our food side of the business," says Terry Hung, a former tech worker who's 10 years out of college. "We understand that the foods that we sell are not typically seen in the South, so we want to slowly introduce it and get as much feedback as possible."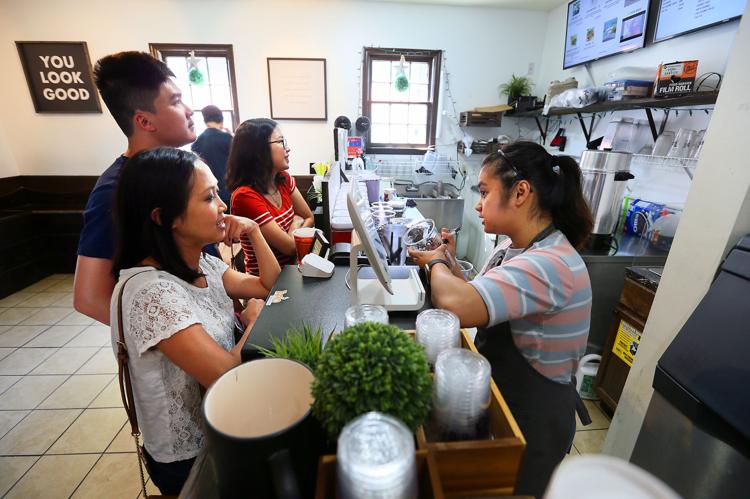 Interestingly, perhaps the biggest hindrance to Tapio being recognized as one of the peninsula's foremost interpreters of Thai and Taiwanese street foods is not the South in which it's situated: It's the South it represents.
At this month's Association for the Study of Food and Society conference in Madison, Wisconsin, a food educator presented her research on how Yelpers perceive restaurants specializing in immigrant cuisine. After analyzing 20,000 online reviews, Sara Kay concluded that diners record different impressions of restaurants featuring food from the Global North and those serving food from the Global South.
(If you haven't spent time in a liberal arts classroom lately, Global South is the current favored term for places that used to be categorized as the third, or developing, world. It encompasses formerly colonized nations that continue to cope with severe income inequalities, regardless of where they're located in relation to the Equator. India, Syria and Alabama are all in the Global South.)
What Kay found is that when Yelpers describe restaurants associated with the Global North, they use terms like "cute" or "hidden gem." By contrast, when they're writing positively about Mexican or Thai restaurants, they're apt to characterize the setting as unpolished, and the cooking as untrained.
In other words, many Americans have a narrow-minded set of low and gritty expectations for "authentic" Asian restaurants. And Tapio, notably, exceeds them. This hypothesis remains unproven, but folks may well have overlooked Tapio's contributions to the local steamed dumpling scene because the restaurant is what a Yelper would call cheek-squeezingly cute.
First opened in 2014 in a snug Spring Street venue, Tapio moved to its current address after Apartment A, a Tex-Mex extension of the now-defunct Taco Spot, moved out. As its predecessor's name implies, the first-floor cluster of rooms is still recognizably residential, with wooden floors and a closed-up fireplace. But the hygge doesn't spring from architecture alone: The Hungs have bedecked their walls with artistic renditions of upbeat messages and stocked board games for visitors who fancy Jenga in the afternoon. (For customers more interested in work than play, Tapio has a remarkably strong wi-fi signal and usually at least one quiet nook.)
None of the above will come as news to downtown tweens, who are already firmly in Tapio's camp. Almost without exception, they come for the tea drinks, including traditional milk tea in seven varieties; fruit tea; and frozen tea concoctions, such as honeydew and coconut taro.
Tapio also has started serving cheese tea, which involves a float of salty white cheese foam atop Thai coffee, or another sweetened tea of the customer's choosing.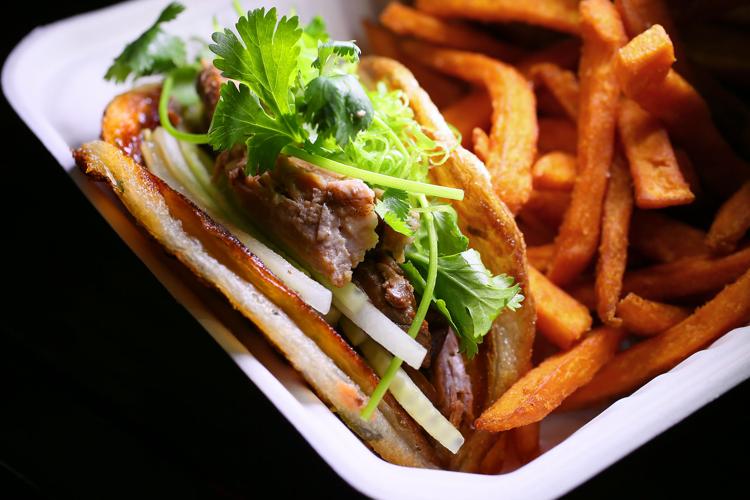 In boba-obsessed Taiwan, recognized as birthplace of the cheese tea trend, that combination of flavors registers as fairly radical. It's a different story in the U.S., where beat cops and brunch hostesses are well-acquainted with the taste of black coffee and a cheese Danish. Still, it's fun to think that it only takes one year for an idea to find its way from a Taipei night market stall to a Charleston café.
As for the other teas, they're excellent. Bubble tea is among those menu items often wrongly dismissed as about-the-same-everywhere, much like ranch dressing or diner gyros. But it only takes one encounter with listless tapioca balls, weak tea or flavorless popping boba (the fruit juice counterpart to traditional starchy pearls) to fact-check that fable. At Tapio, the tea and accoutrements are admirably fresh.
Like the drinks, the dishes at Tapio are borne of popular culture, not hallowed cooking traditions. They're supposed to be whimsical: It's OK if you don't spend hours contemplating the exact composition of their sauces or their place in Charleston's culinary culture. When taro fries show up with double-fried chicken tucked into steamed buns, that's not so much an insult to intelligence as a gift to the id.
Other than the buns, which also serve as pleasantly pliable holders for fried tofu wedges and sautéed mushrooms, the menu includes a scant five items. The pad Thai skews slightly sweet, along the lines of ketchup-laced Japanese spaghetti, but the super skinny rice noodles are a nice touch. They're also a nod to AJ Hung's hometown in Thailand, where a street vendor swore by the unorthodox width: He believed the noodles didn't tear as easily as the thicker, chewier kind.
Still, Tapio's dumplings have a slight edge over the noodles, in part because the pork concealed within them is vividly seasoned. Whether steamed or fried, the dumplings are accompanied by a soy-rich dipping sauce that also performs nicely when applied to the aforementioned taro fries.
Sauce also plays a critical role in Tapio's single best creation: A scallion pancake, wrapped around a glimmering slowly stewed beef shank, green onions and cucumber slivers. The Hungs had to give up making the pancake from scratch, because their kitchen wasn't correctly equipped to produce it, but the outsourced flatbread still has a terrific oniony resonance with its stuffing.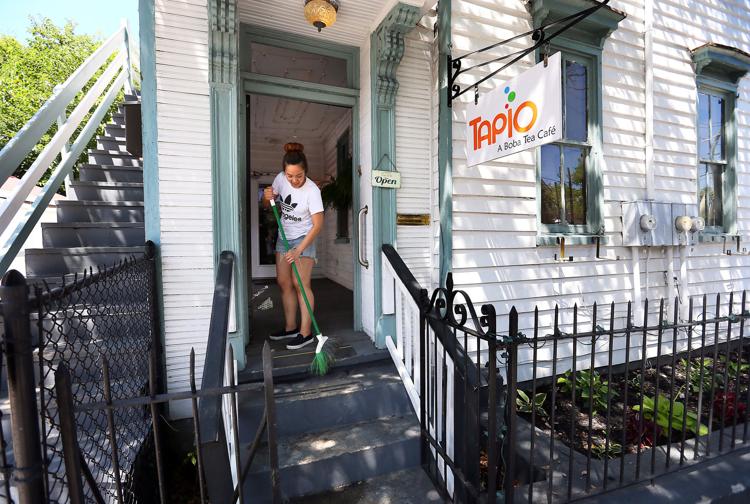 Yet what vaults the sandwich into the pantheon of umami greatness is its assertive soy-based sauce, another artifact of AJ Hung's personal food history. Her grandmother developed the recipe incorporating fish sauce, sesame oil and dried spices that draw out the twin sensations of sweetness and heat.
As much as I love the beef wrap, I possibly loved Tapio's punchy yellow curry even more. But there's no point in elaborating on it, because the Hungs last week took it off the menu to make room for a new curry they've developed.
"We go through a pretty extensive process," when coming up with new dishes, Terry Hung tells me. Only items that the Hungs have sampled in Asia are eligible for consideration, and everything has to be approved by their taste-testing team prior to release. In short, there's a better than nine out of 10 chance that the forthcoming curry, along with a series of noodle soups now in the evaluation phase, is going to be worth adding to your boba order.