When Neighborhood Dining Group chose the name Husk for its then-new restaurant on Queen Street, team members couldn't have guessed how prescient it would prove to be.
Then again, maybe they foresaw a South dotted with Husks, and wanted a name appropriate for an empire. But that's not how executive chef Sean Brock made it sound in 2011 when he described the tortuous process for a reporter from The New Yorker: Delayed until the $2 million renovation project was well underway, the name-picking procedure involved doubting spouses, half-baked ideas and slips of paper in a hat.
When Husk came up, Brock seized on it: "It's a protective outer layer for a seed. And that's exactly what we are."
Of course, Husk patrons drowsy from pork fat and hazy from one too many bourbons might have drafted different interpretations. They could have guessed the name referenced the South's foundational grain, or reflected the restaurant's determination to celebrate ingredients long scorned by the region's poshest dining rooms: There isn't too much lowlier than a dried-up husk. And they would have been right, which is why it's such a great name.
Lately, though, "husk" has acquired a slightly different meaning. With the recent opening of restaurants in Savannah and Greenville, bringing the Husk total to four (Nashville became the first expansion property in 2013), it's hard to think of Husk as anything but a shell for whatever the company's local crews decide to do. In other words, for all of their outward similarities, it's impossible to know what any individual Husk holds until you make a reservation.
So that's exactly what I did over the past few months, checking in once with each of the new locations.
Savannah is the closer of the two, which is one of the few things it has going for it. I don't want to dwell on Savannah, since the restaurant this month severed ties with opening chef Tyler Williams "due to operational differences." Williams later told Eater Atlanta that the "standardization of company processes, structure, and the large size of the Savannah store proved counterintuitive to initial ideals" of "fluid creation."
What Williams meant, I think, is the restaurant is a two-story monstrosity, done up in garishly patterned wallpaper and oversized televisions. Perhaps the sports bar vibe isn't quite so apparent in the more formal-looking dining rooms, but from where I was seated, I took a decibel reading that exceeded every noise level I've measured in Charleston over four years of restaurant reviewing. That's loud.
And as Williams suggested, it's not the finest setting for culinary improvisation (the current menu forbids substitutions), or even correctly cooking a pork chop. My meal in Savannah was riddled with technical fouls that ran the gamut from scorched scrapple to an arid riff on pommes Anna, layered atop a piece of whiting that deserved better coverage.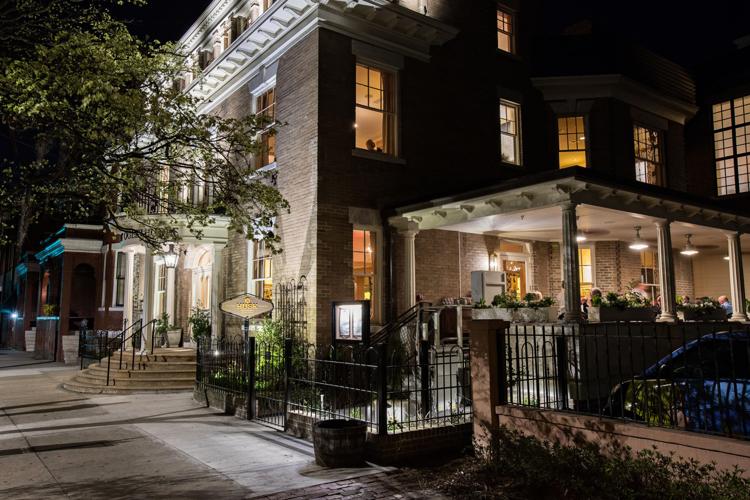 The lone success was an astonishingly smart she crab salad, served with sherry in an atomizer. Brightened for the eye by nasturtium petals, and for the tongue by a suitable amount of pickled apple, the dish was fresh in every sense. I tried telling my dining partner as much, but that's not the kind of sentiment that plays well when bellowed.
Enough with Savannah, then. You should be eating at The Grey anyway.
But Husk Greenville? That's an entirely different moonshine kettle. Husk Greenville is magnificent, and it turns out to be exactly the restaurant that Charleston tourists think they're going to get when they book a table at the Husk here.
Husk Greenville's design aesthetic is perhaps closest to the one in place at Husk Nashville: The bi-level, brick-walled dining room is dominated by hard surfaces. If the space was a movie set, it's where a cold-blooded corporate type would live after taking a transformative trip to Japan. But the sense of sanctum is blessedly interrupted by the wall decor.
Downstairs, one wall is emblazoned with the same vintage Obelisk Flour ad it wore when it was merely the exterior wall of the building next door. The opposite wall is hung with two starkly Cubist paintings of textile workers by Simon Cooper, a recent Savannah College of Art and Design graduate. It's not some abstract South that Husk Greenville aims to evoke, but specifically a working, multicultural South. Which is to say, the mountain South. And boy, does it stick the landing.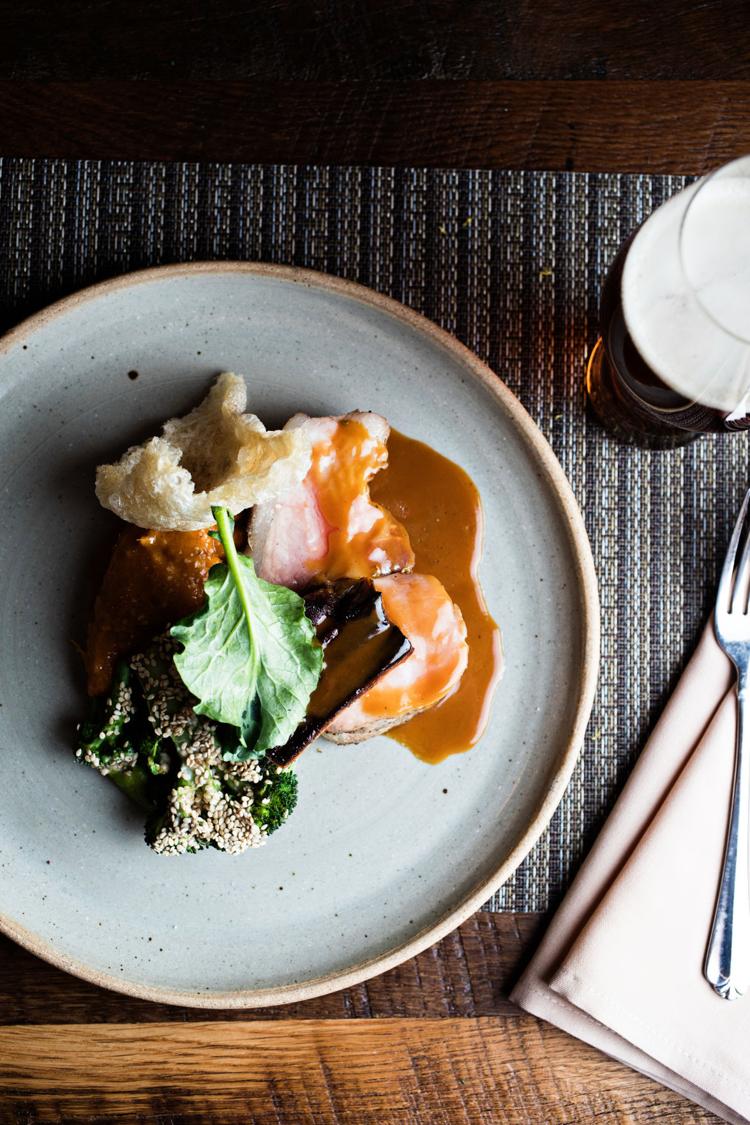 There is apparently a mantle of magic surrounding Jon Buck's kitchen, since every dish seems to be saturated with it. Even the dishes that are hallmarks of Husks everywhere, such as the buttermilk rolls served with pork fat butter, are somehow more special here, with pronounced sponginess and tang.
Country ham, another standard, is scrupulously sliced linen-thin; the accompanying griddled johnnycake is a revelation. Made exclusively of corn and soup beans, it simultaneously gestures toward the region's indigenous traditions and the newer mountain habit of crumbling cornbread into stewed pintos, the way they do at The Bean Barn in Greeneville, Tenn.
So much of the deliciousness at Husk Greenville is bound up with what any highlander would recognize as "country," from a compelling black walnut dressing highlighting a vegetable salad to the sunflower greens aboard a stunningly good pork chop, not too far removed from poke sallet.
Yet the one dish that I suspect I will always remember is the catfish, a preparation that reads like prose. There is a whole short story in this cornmeal-crusted catfish, sidled up against a salad of African runner peanuts and citrus, wrapped in a collard leaf as big as a man's hand. The bundling is reminiscent of tamales, a connection underscored by the sprinkling of fermented pepper mash that echoes Tapatio (although it's a thousand times more complicated, involving koji mold spores and a dehydrator.)
For good measure, the fish is aswim in a potlikker made from fermented country ham, peanut butter, pepper vinegar, sorghum and collard stem stock. Here, you can taste a narrative about a Latino laborer who slathers his gas station lunch with hot sauce. Or perhaps it's the tale of an African-American laborer who takes a fishing pole to the creek after work. It's exceptional.
Because I'd never tasted anything like it at Husk Charleston, I looked to see how that restaurant was treating catfish the same night: It was being served with sour garlic gribiche, dill and cured egg yolk. Also on the Charleston menu: Everything bagel pierogis, pastrami-glazed pork and goat cheese. Since I was hundreds of miles away, I don't know how any of it tasted, but the deli emphasis seemed odd. Or at least at odds with the preservationist message that powered Husk Charleston at first.
That's the nice thing about husks, though. As mountaineers who grew up with dolls made from them can attest, they're never in short supply.