Long strings of dried red chile peppers hang from the rafters at Rancho Lewis, framing the hostess stand just inside the front door. They're notSave and close just there as décor. Hatch chiles trucked in from New Mexico and sun dried or roasted figure into just about everything on the menu.
They form the base of the enchilada sauces, flavor the pork's braising liquid and get stuffed with asadero cheese to make chile rellenos. They hang out at the bar, where for two extra bucks you can add spicy green chile to your frozen margarita. They even pop up on the dessert menu, where a dollop of candied red chile finishes each golden orb of fried ice cream ($11).
Corn — specifically, corn in the form of tortillas — is the restaurant's other foundational ingredient. While filling small stoneware bowls at the complementary salsa bar, you can peer through glass windows into the in-house tortilleria, where the Rancho team nixtamalizes corn with lime before cooking, drying and grinding it into masa. It's not artisanal, exactly — the tortillas are rolled, cut and griddled in one continuous process on the belts of a stainless steel machine — but it certainly is hardcore.
Those house-roasted chiles and house-made tortillas reflect the same intense focus and attention to detail that made Rancho Lewis's owner, John Lewis, a nationally-acclaimed barbecue pitmaster, first at La Barbecue in Austin and then, after he moved east to Charleston, at Lewis Barbecue on Nassau Street.
Now he's turned that focus to tortillas, and the results are impressive. They're made with locally-raised heirloom corn, a blend of Trucker Yellow and Jimmy Red. The latter imparts a unique purplish-brown hue to the tortillas, which turn an even darker shade when quartered and deep fried. Those firm, crunchy chips have surfaces speckled with tiny air bubbles, and they're excellent just by themselves or when dipped in any of the three brightly flavored salsas.
They make a fine foundation for Nachos Especiales ($10), too. Billed as "individually prepared," these are not the usual scattered and smothered mound of chips but a more tostada-style preparation — two crisp-fried tortillas layered with beans, cheese and pickled jalapenos. (You can add chunks of grilled chicken, beef or shrimp for $4, $5 and $6, respectively.) They're cut into quarters and arrayed around scoops of guacamole, tomato and sour cream. Against the crisp chip base, those thick, gooey toppings are rich and very satisfying.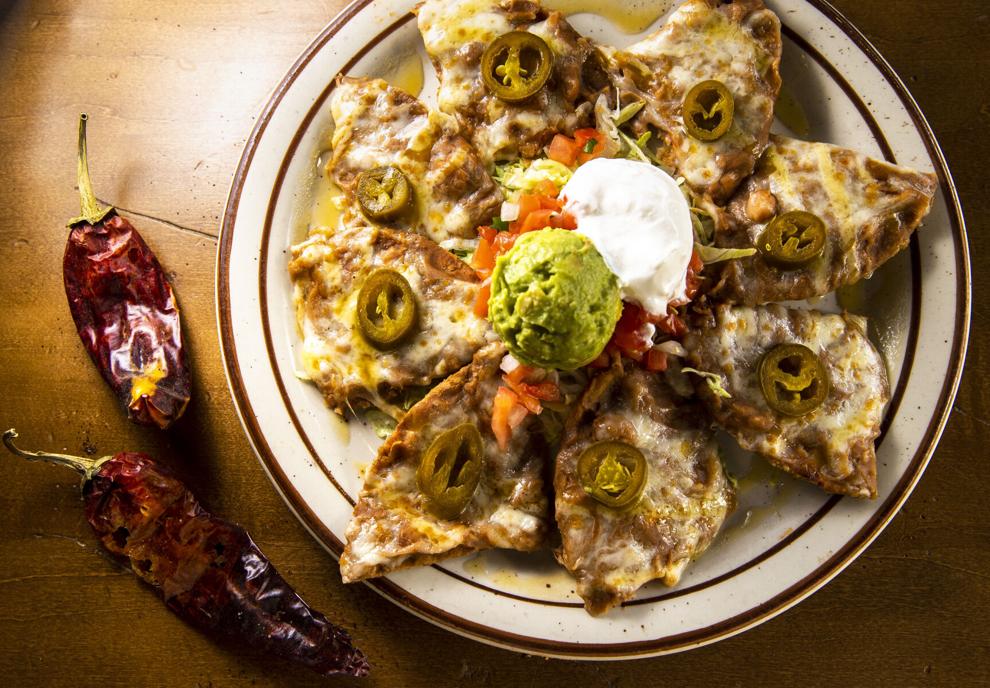 The same tortillas roll up nicely as enchiladas, whether enclosing mildly-spiced beef picadillo and blanketed in red chile sauce ($18) or filled with chicken tinga ($16) beneath chile verde sauce. I think I actually prefer the even simpler versions, filled only with cheese and onion, that come on the Lloyd Lewis combo ($28.95). The rich corn flavor shines right through the spice of the red chile sauce, and the crunch of lettuce and thin-sliced white onions offers a pleasing contrast against the mild softness of the cheese-filled cylinders.
The Lloyd Lewis ups the ante with a slab of grilled skirt steak, whose first bite delivers an impressive punch of smoky char. The beef is very tender — or perhaps we should say very tenderized, for the sharp tang of marinade becomes more pronounced with each successive bite, finishing on a question mark instead of an exclamation point.
That combo platter is named for John Lewis's grandfather, and it's just one example of the very personal nature of Rancho Lewis's theme and cuisine. The restaurant is Lewis's homage to the food he grew up eating in his hometown of El Paso — "where West Texas, Chihuahua Mexico and New Mexico meet," as the menu puts its. The fare is not Tex-Mex, exactly, but "border food meets cowboy cooking."
Hatch chiles aren't the only prominent ingredient that hails from that border region. The pinto beans are from Morrow Farms on the high desert plains above the Northern Rio Grande. Another import can be spied even before you walk through the front doors, for split mesquite logs are stacked long and low beneath the colorful murals outside. That mesquite fuels the kitchen's wood-fired grill and imparts a smoky bite not just to the steak but to almost all the meats and seafood.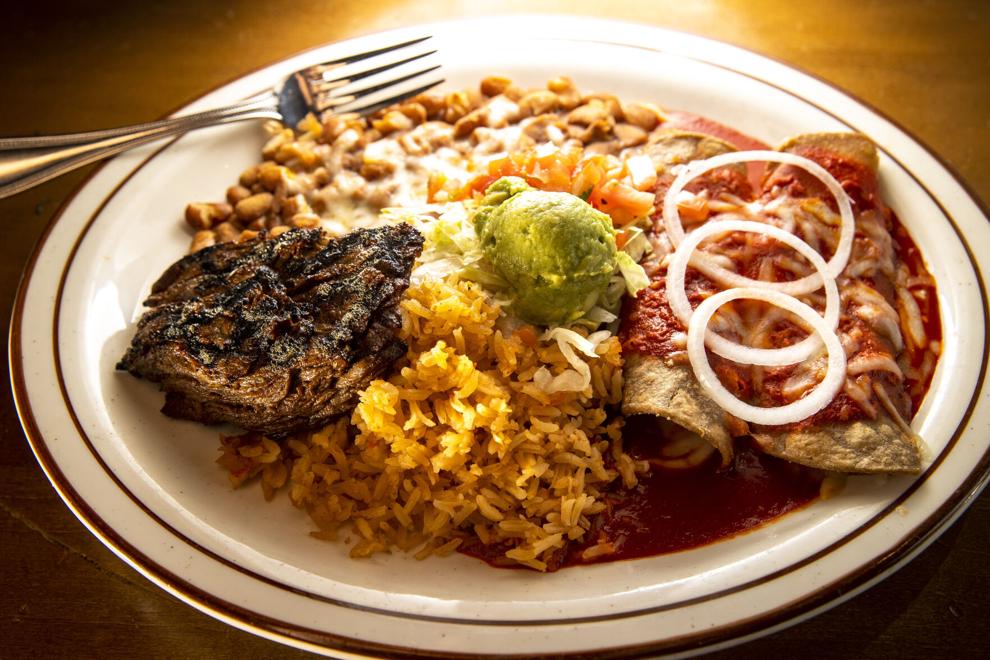 If you're dining with a carnivorous crowd, I would endorse going in on a rack of beef ribs ($48.95), which the menu describes hyperbolically as "Half the Cow!" and quite accurately as "the best in town." It's a full seven-bone rack, smoked overnight on a vertical mesquite-fired pit down at Lewis Barbecue and trucked over the Rancho Lewis, where they're finished on the wood-fired grill at serving time.
The result is beef that pulls from the bones into long strands, wonderfully tender from the long, slow heat and tinged deep garnet by the pit's mesquite smoke. With a crusty outside sear and a thick, sweet and somewhat astringent glaze, those hefty slabs make a convincing case that old-school back ribs — once a staple of Texas barbecue before being eclipsed by prime brisket and oversized plate ribs — deserve a lot more attention.
Similarly bold flavors can be found on the sizzling cast-iron skillets of Rancho Fajitas ($18 to $34) and the Jay J. Armes Mixed Grill ($44), an uncommon trio of steak, shrimp and quail named for the larger-than-life private detective from El Paso who … well, I'm not even going to try to tell that story. (You can look it up yourself.)
There is plenty of salty, spicy char on the platter that bears Armes's name — perhaps too much. The heavy black crust works just fine on the wide, juicy strips of red pepper and onions, and the steak and quail's thick breast meat can stand up to it, too. The heavy crust of salt and blackened spice, though, overwhelms the rich, subtle meat of bird's thinner legs and stomps on the shrimp's fresh flavor, too.
Curiously, the side dishes that accompany these bold platters are quite subtle in flavor. Cowboys must like their coleslaw simple, for the "cowboy slaw" seems little more than shredded green cabbage dressed with a little vinegar. A workaday baked potato is topped with sour cream and a flurry of scallions, though it does get a bump from a scoop of diced green chiles.
Then there's the rice and beans. Upon first bite, one of my dining companions declared the Spanish rice to be "amazing." I needed a few more bites for it to grow on me — it seemed rather plain at first — but grow on me it did, for each of the tender, tomato-tinged grains stand out distinctly and without a trace of dryness.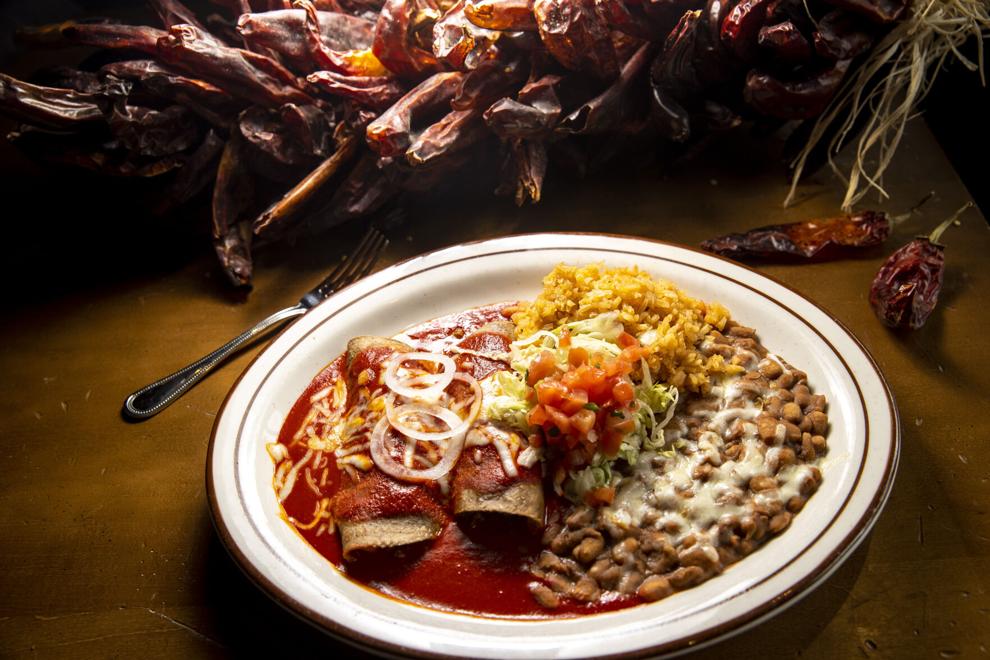 The cowboy beans are deceptively simple, too. The pintos do have a nice bite — not too firm, not too mushy — and their broth is rich but only mildly spiced. With a tongue still sparking from the smoky punch of the steak and beef ribs, I didn't take much notice of those beans at first. But I kept on eating them — and took the leftovers home and reheated them the next day and kept on eating them, too.
When Rancho Lewis opened last April in the Pacific Box & Crate development, it was a homecoming of sorts. The restaurant got its start there in 2017 as Juan Lewis, a stall in the Workshop food hall, where Lewis piloted his "border cuisine" concept before moving it into a small adobe-themed trailer in the Lewis Barbecue lot.
Workshop shuttered in 2021, and Lewis decided to move back in — this time taking over the entire 10,000-square-foot space. A thorough make-over has transformed the formerly spartan food hall into something much more high concept and artfully staged.
In décor, Rancho Lewis seems almost a throwback to the heavily-themed restaurants of the mid-20th century, which aimed to sweep diners away to a different place and time. Wooden wagon wheels are embedded in the low adobe-esque dividing walls in the dining room. Cow skulls, striped blankets and an array of wide-brimmed cowboy hats adorn the wall. Tables are arrayed beneath the long planks of pergolas, and short round logs project from high on the walls, invoking the vigas of adobe buildings and creating that old dining-outdoors-while-indoors effect.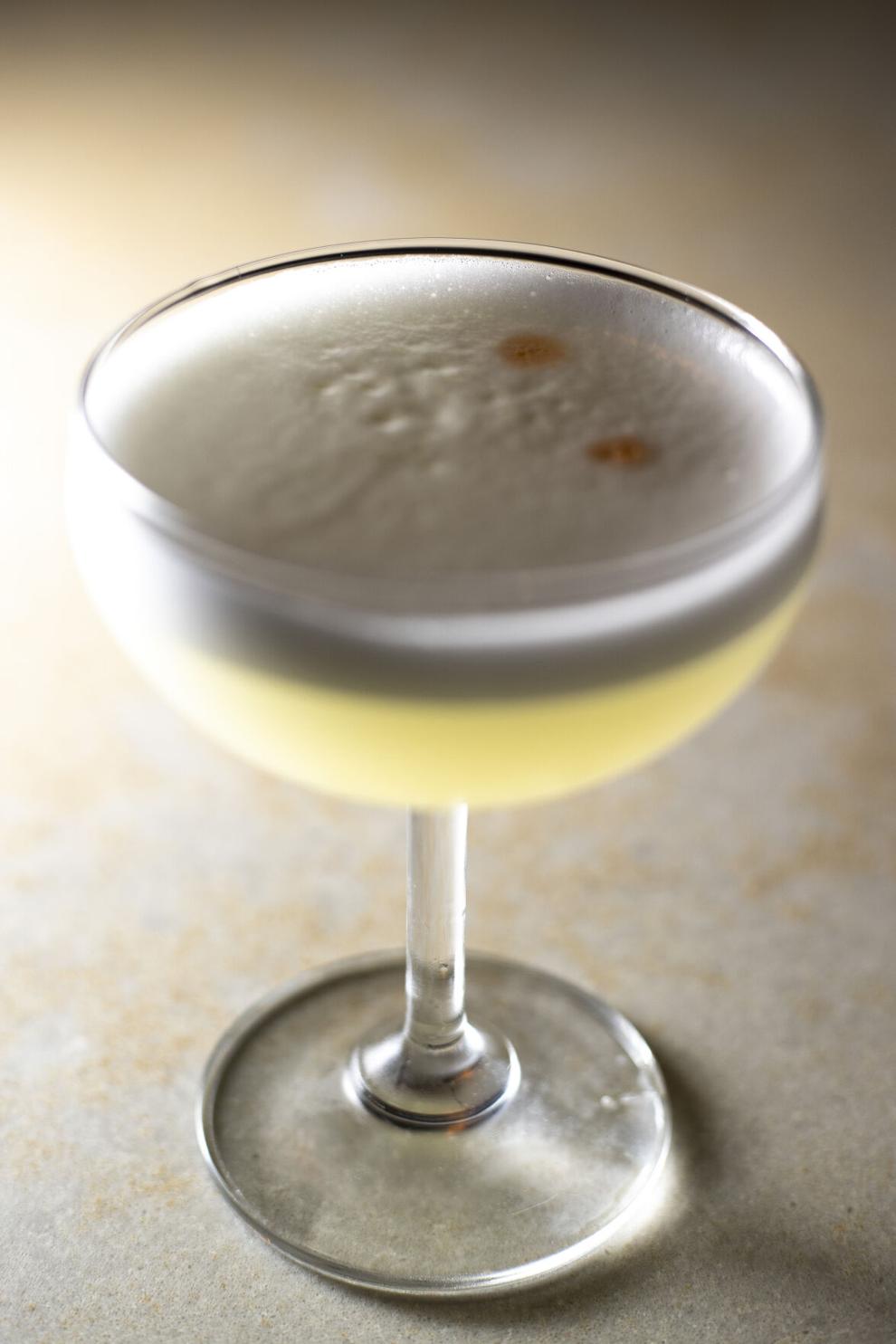 The border theme carries all the way through to the bar's tequila-centric cocktails. There are margaritas, of course, and those who prefer theirs sweet and fruity may find Rancho Lewis' house version ($10) a tad stiff. I do like the tequila-forward bite, though, and it's even more pronounced in the Rancho Rita ($14), made with Corralejo Reposado and Cointreau. Rum mingles with tequila and citrus in the tasty Rattlesnake Milk ($13), whose cap of egg white foam has two dots of reddish-brown bitters at one edge, suggestive of fang marks. Sotol, a grassy spirit from Chihuahua that's akin to mescal but made from a desert shrub, is stirred into an intriguing old fashioned dubbed El Viejo ($14).
That word "intriguing" keeps cropping up as I look back over my meals at Rancho Lewis. It's a unique restaurant that manages to feel reassuringly familiar and appealingly exotic at the same time. You can finish your meal, for instance, not with an ordinary coffee but with a warm café de ola ($5) infused with orange and cinnamon. Fried ice cream is an almost clichéd Tex-Mex staple, but here the frozen orb inside the crisp cornflake shell is not vanilla but firm, dark double chocolate. There's a hint of chili heat to the streaks of chocolate sauce that decorate the plate.
More than anything, the bold flavors of the border — hatch chiles, beef back ribs, mesquite smoke — are fresh and compelling, especially when mingled with local shrimp, Manchester Farms quail and heirloom corn from Edisto's Marsh Hen Mills. It may be 1,700 miles from El Paso to Charleston, but those far-off flavors seem perfectly suited for their new Lowcountry home.