When people talk about dining, they talk about chefs.
Really, who could blame them? Chefs are the ones pictured on magazine covers and named on menus. Yet there's a whole constellation of people responsible for the current state of food and drink. And in the Charleston area, a few of its brightest stars have lately banded together to highlight their visions of a restaurant done right.
What these non-chefs see are eggs. Also, syrup.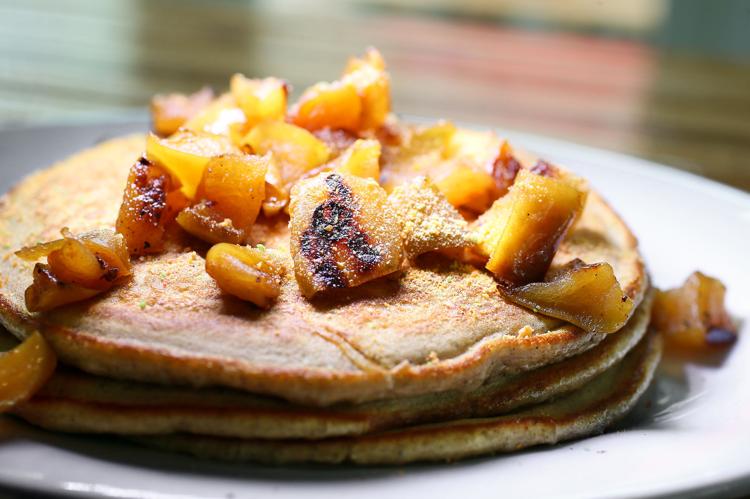 OK, maybe non-chef is a stretch: Daps' owners Jeremiah Schenzel and Nick Dowling cooked together at The Macintosh before Schenzel switched to Indigo Road's cocktail track; he was the company's beverage director when he left in 2016 for a job at the now-defunct Scarecrow. Dowling, a Johnson & Wales University graduate, was last seen as High Wire Distilling Co.'s head distiller.
Still, those few years outside of the kitchen surely shaped their perspective, just as the four years that have elapsed since Nathan Thurston was in charge at Stars likely influenced him. The consultant and caterer partnered with Greg Johnsman of Geechie Boy Mill, another local food luminary you won't catch in a toque, to open Millers All Day.
At least in appearance, Daps and Millers All Day, which this March opened within days of one another, are very different restaurants. Daps has the endearingly rumpled air of someone plodding about in pajamas before his first cup of coffee, while the highly polished Millers feels completely caffeinated. Both places, though, are the products of seasoned thinking about breakfast. But does wide-ranging industry expertise make for a better flapjack?
Millers All Day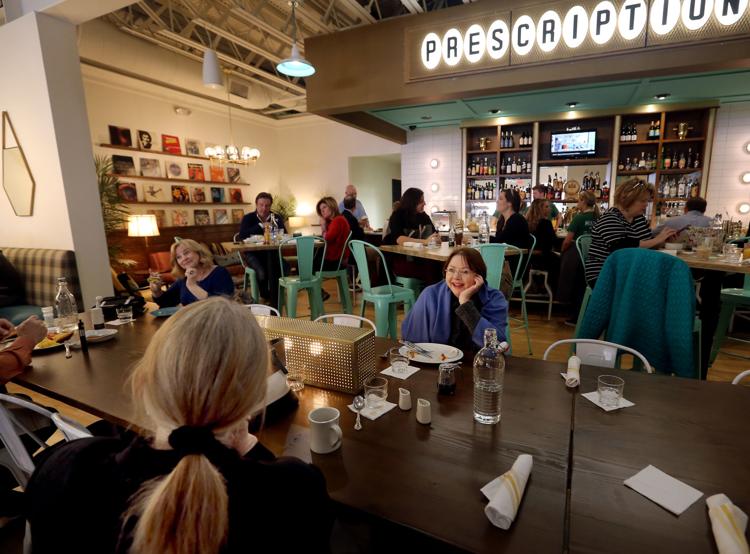 Located just a few steps north of Broad Street, Millers All Day is so relentlessly stylized in mid-century fashion that you can feel your opinions of Eisenhower sharpen as you stride toward the bar, passing a photo booth, houndstooth upholstery and a vanilla-colored shag rug along the way. The details all add up to an aesthetic that's clearly defined. The restaurant's function, outside of weekend brunch hours, is less so.
For instance, that bar is the focal point of the well-lit room, but Millers' 7 p.m. closing time means customers are liable to be served a riff on "you don't have to go home, but you can't stay here," long before bartenders elsewhere have even contemplated collecting happy hour menus. There's also a full-fledged espresso bar near the front door, but for folks looking to drink coffee on site, the table service format doesn't exactly encourage whipping out a laptop.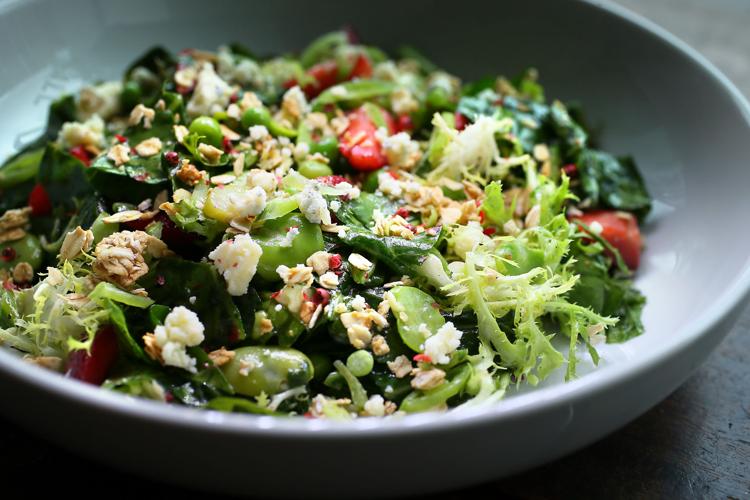 As for the menu, it hints at lunch, listing a few salads and three sandwiches that don't feature eggs. Yet the feints aren't significant enough to compel someone who's already breakfasted to stick around. Over the course of my four visits, I witnessed a number of people walk out after perusing the choices.
The centerpiece of Millers' menu, executed by chef Madison Tessener and pastry chef Davee Harned, is grain: A gravy-soaked Salisbury steak, accompanied by impressively crusted home fries, is one of the few cooked dishes in which neither corn nor wheat play a significant role.
In the corn category, considering co-owner Greg Johnsman's day job, shrimp-and-grits should have been a standout. But hard-cornered Guinea flint grits aren't an ideal partner for tender shellfish. Their pretty butternut squash hue aside, the rough grits are a chore to chew in this context. On top of that, their flavor is wiped out by entirely too much rosemary. Faulty ratios, especially those involving dressing and salt, are a recurrent problem at Millers.
Biscuits are another unfortunate trouble spot for the breakfast joint. The bready biscuits are overworked and fairly bland, save for a baking soda tang. That texture and flavor, combined with undissolved salt flakes, evoke something closer to a pretzel, even when smeared with achingly sweet fig jam.
Of the many breakfast items, golden-complected cornmeal pancakes are perhaps the best option, even if they're primarily a platform for sorghum syrup. Still, the pancakes aren't half as good as the terrific club sandwich, furnished with fried Broadbent's country ham, turkey and Havarti cheese. Interestingly, much like the satisfying Salisbury steak, it fits perfectly into its vintage surroundings.
Daps Breakfast and Imbibe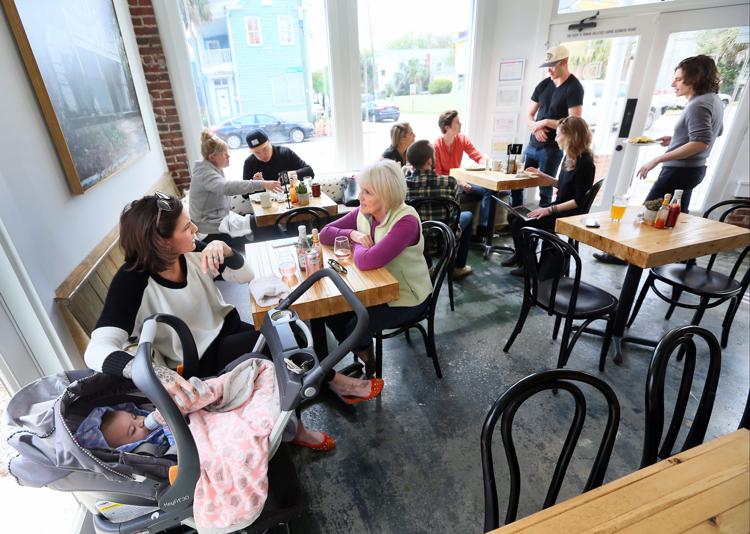 Is there anywhere happier than Daps? Notwithstanding the crankiness that sometimes arises when customers are forced to wait upward of 30 minutes on busy weekend mornings for made-to-order eggs, the tiny counter-service restaurant radiates upbeat cheer.
Owners Schenzel and Dowling became breakfast believers when they worked at The Macintosh, where their schedules ruled out socializing over any other meal. They've made a few concessions in the form of dry-rub chicken wings, a green salad and a respectable burger, but almost everything else on the menu is an American morning icon, including eggs, bacon and a hulking chorizo burrito smothered in a zippy chili verde.
Because Daps' popularity is partly reliant on English muffins and the natural light that floods through its windows, not many people think to visit Daps at night: When I dropped by for dinner, I was one of just two customers in the place. For now, though, Schenzel and Dowling are keeping the restaurant open until 10 p.m. four nights a week, enhancing the later time slot's appeal by hosting chefs and beverage company representatives.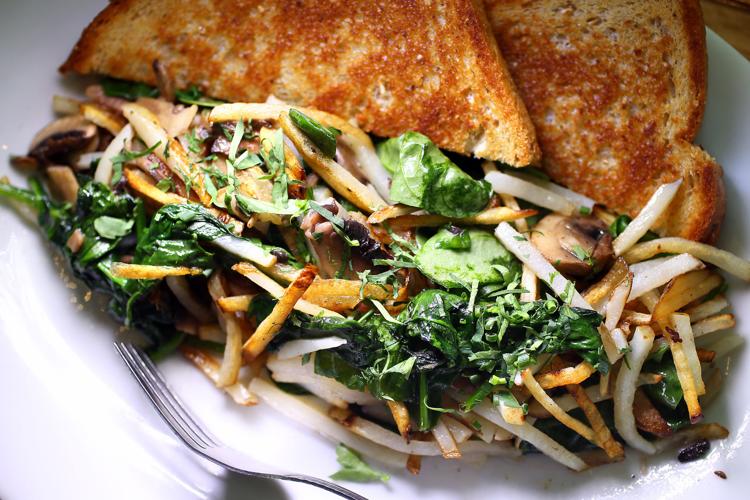 Outside of takeover situations, Daps slings a good amount of hash: It comes plain or embellished with various meats, vegetables and cheese sauce. The matchstick potatoes are a bit stiff, but their consistency helps counteract the slithery residue of frying. A spinach-and-mushroom version was reminiscent of what a co-op might serve when the guy in charge of stir-fry night goes to town on the liquid aminos.
In other words, Daps is downright homey. And its one serious breakfast error represents a departure from that style: Daps' standard egg, which gets sandwiched into Brown's Court Bakery rolls, piled on the burger and applied to the aforementioned hash, is folded up like an omelet and briefly baked. The result is overly pat and processed-seeming, with none of the seductive, silken jiggle that defines the best scrambled eggs. Plasticky cheese sauce, smoothed over by a sous vide trick that involves sodium ions, doesn't help matters much.
But why kvetch about eggs when you could be happily eating pancakes? Daps' pancakes, which were inconsistently cooked when the restaurant was brand new and overwhelmed by doting food-and-bev types, are now models of the specimen. In two instances, the batter is gussied up with pulverized cereal, but the pancakes' success is more contingent on sugar, flour and baking powder: The bronzed cakes have enough lift to count as a treat, but taste substantial in a steeled-for-the-day-ahead way. No wonder everyone here is in such a fine mood.