Over the course of a year of restaurant reviewing, which translates to approximately 120 meals eaten for professional purposes, there are bound to be a few duds. Sometimes my mind will involuntarily flash back to cold and droopy squash blossoms or a mound of grated and burnt potatoes.
But those unfortunate dishes are far outnumbered by notable achievements in deliciousness. It happens every year. And just as in previous years we're recalling the very best of them with excerpts from my reviews of new restaurants.
At press time, all of these dishes were still on their respective restaurants' menus. So if you've yet to try any of these items, you still have a few 2018 days left to catch up on the very latest additions to the Charleston area's ever-growing list of must-eat dishes.
French dip, Purlieu, $14.50 (Feb. 21)
The French dip is a showcase for thin slices of tender brisket, braised in the Parisian fashion with a classic array of carrots, onions and garlic. The beef is worlds away from what's smoked in Texas or slow-cooked for the Seder table. Here, it's drunk up enough red wine to taste downright poetical. Topped with fried onions that skew just the slightest bit floury, the sandwich is served split in two, with each baguette half on either side of a cup of cola-dark au jus.
That au jus! Whatever cliche you like to apply to marvelous sauces that weren't actually designed to be eaten alone holds true in describing it. Scoop it up with a spoon, slurp it through a straw. Of course, au jus is cleaned-up cattle fat, so in some ways the pleasure that ensues is remarkably primal. Yet the classical technique required to produce it is on the far opposite end of the sophistication spectrum. 237 Fishburne St., 843-300-2253, purlieucharleston.com
Gong bao ji ding, Kwei Fei, $14 (April 4)
Chile peppers define gong bao, but at least at Kwei Fei, the peanuts make it (as for the chicken, it's stir-fried superbly, but vegetarians can swap it out for cauliflower without any loss of pleasure). Cloaked in the same garlicky soy gloss as the peppers, meat and slivered scallions, each peanut is a yin-yang discourse on texture, with crunch giving way to fleeciness. Those peanuts are perhaps my favorite single thing in a lineup packed with charismatic ingredients. 1977 Maybank Hwy., 843-225-0094, kweifei.com
Pork rinds, Saltwater Cowboys, $7.99 (May 2)
The pork rinds at Saltwater Cowboys are wonders of puff, with a decisive crunch that defies their vapor-light weight. More crucially, they taste of nothing other than salty pork and pepper. If you somehow manage to reconcile the rind's width with the normal proportions of a plastic ramekin that's served with a sackful, you can sneak smoldering hot mango pepper sauce into its honeycomb crannies. 130 Mill St., Mt. Pleasant, 843-856-0700, saltwater-cowboys.com
Agnolotti, Renzo, $16 (May 16)
Ethereal is almost too sturdy of a description for the delicate agnolotti, enveloping tangy cow's milk cheese. Drizzled with olive oil and sweet honey, which gives the pasta a golden glow, the dish is subtly Edenic, with a scattering of magenta flower petals and split black olives that live up to their categorization as fruit. It's the sort of preparation that makes you feel sorry for people who snub cookbooks since no amateur is likely to come up with anything like it. 382 Huger St., 843-952-7864, renzochs.com
Pancakes, Daps Breakfast and Imbibe, $9 (May 30)
Daps' pancakes, which were inconsistently cooked when the restaurant was brand new and overwhelmed by doting food-and-bev types, are now models of the specimen. In two instances the batter is gussied up with pulverized cereal, but the pancakes' success is more contingent on sugar, flour and baking powder. The bronzed cakes have enough lift to count as a treat but taste substantial in a steeled-for-the-day-ahead way. No wonder everyone here is in such a fine mood. 280 Ashley Ave., 843-718-1098, dapsbreakfast.com
Smoked fish spread, Parcel 32, $14 (July 24)
The fish spread is made with triggerfish, amberjack or mackerel, depending on what Mark Marhefka is catching, but it's red meat for food editors on the prowl for recipes to request. The dip is so assiduous about not putting on airs that its menu description name checks both Duke's mayonnaise and Ritz crackers. Trademarks aside, it's downright entrancing in its simplicity. Pickled watermelon radish slices, featuring acid so bright that it borders on neon, provide an ideal foil. 442 King. St, 843-722-3474, parcel32.com
She-crab soup, Revival, $9 (Aug. 8)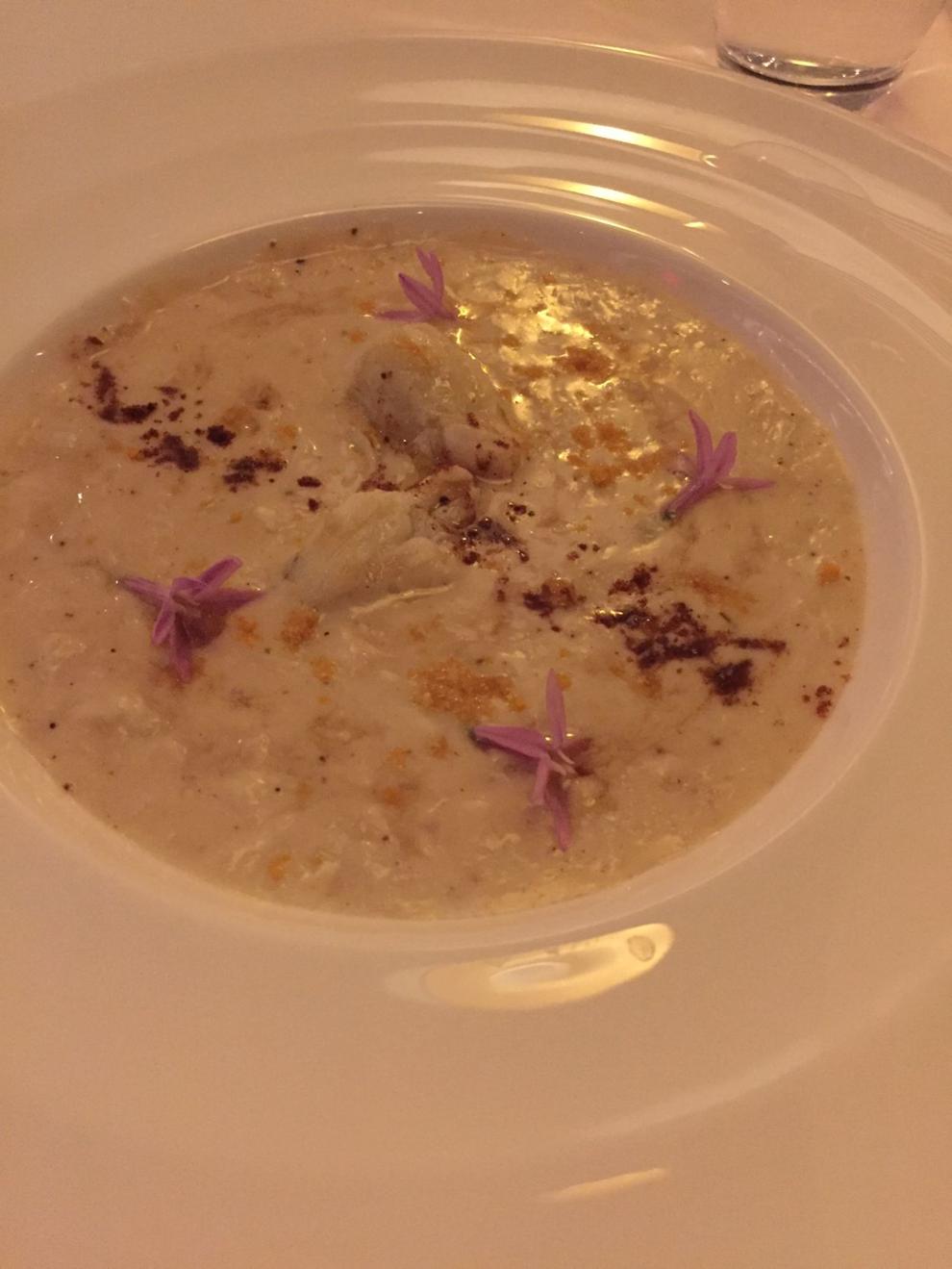 The one dish at Revival that's a shoo-in for must-try status is the she-crab soup. The steam curling away from the bisque is hot breath on the necks of other contenders for the title of Charleston's best restaurant she-crab. Saw-toothed with sizable knobs of sweet meat, it's an interpretation that deserves its crown of dry sherry and delicate purple flower petals. 162 E. Bay St., 843-414-2335, revivalcharleston.com
Frozen pina colada, Lowlife, $10 (Oct. 3)
It's hard to top the frozen pina colada named for actor Erik Estrada. Amoxicillin-pink, it arrives with an Estrada cocktail napkin beneath it and a scarlet float of Angostura bitters atop it. Before the rums, coconut milk, fruits juices and spices settle in the glass, it's more savory than sweet. Yet as the cocktail melts, it changes. 106 E. Hudson St., Folly Beach, no phone, lowlifebar.com
Chicken cacciatore, Melfi's, $29 (Oct. 31)
Aromatics also help make a dish as potentially frumpy as chicken cacciatore downright magnetic. Its slow-cooked gravy is sweet with garden vegetables. Of course, anyone could simmer tomato sauce at home. But after an evening at Melfi's, it's not clear why anyone would want to. 721 King St., 843-513-0307, eatatmelfis.com