Just outside of San Juan, Puerto Rico, a restaurant named La Casita Blanca was buzzing on a Saturday night in late May. After seating diners at indoor and outdoor tables overlooking a quiet neighborhood street, a server would haul over a large chalkboard with the day's offering.
Conversations in Spanish echoed throughout the converted single-story dwelling, filled with Puerto Rican locals and a handful of tourists sharing platters of carne guisada (stewed beef), aguacates relleno de camarones (shrimp-filled avocados) and chuletas fritas (pan-fried pork chops). 
It's a quaint restaurant Delaney Oyster House and Minero executive chef Shamil Velazquez has visited a handful of times, given its proximity to his grandmother's home. 
Eating out at restaurants wasn't a big part of Velazquez' upbringing, but cooking and sharing food was. Plantains were always on the table at his childhood home in Santa Juanita, a 20-minute drive from San Juan.
Nearly every day his father would pick up plantains from the same vendor on his way home from work, bringing the starchy banana-like fruit home to make maduros (sweet plantains) or tostones (fried smashed plantains). That stuck with Velazquez, as did the pride his grandmother took in preparing rice, stocking her house with a dozen types.
"Our main thing is sharing food with each other. I think that is how we come together," Velazquez said. "I mean, every birthday party, every baby shower, every anything has food involved with it, and I think that's the one thing that everybody's most excited about."
And it seems Puerto Rican restaurants are receiving more media attention than ever before. The New York Times welcomed the return of its star ratings in June 2022 with a rave review of La Piraña Lechonera, a Bronx, N.Y., food trailer that only opens on Saturdays and Sundays. The BBC in February pondered the question: Is America's best restaurant in Puerto Rico?
A number of Puerto Rican restaurants dot the Southeast, with many new and longstanding establishments serving customers, especially in Florida.
In Charleston and South Carolina as a whole, Puerto Rican restaurants are rare, but the island's influence is still out there. If you're looking for it.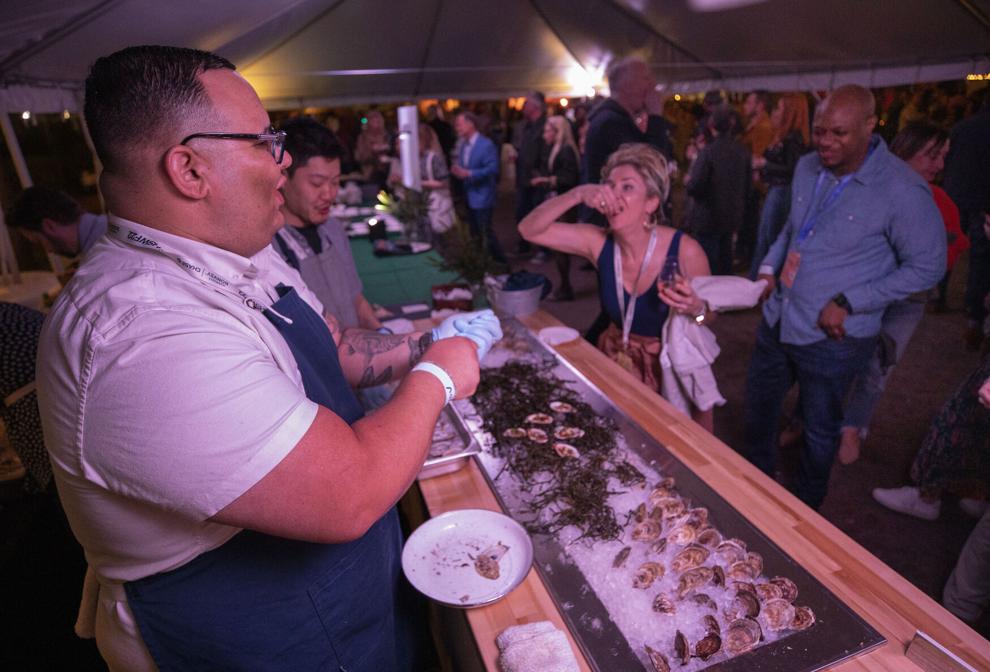 'Chinchorrear'
The kitchens at Delaney Oyster House, Minero, Wild Common and Palmira Barbecue, along with Brasserie la Banque's bar program, are led by Puerto Rican food and beverage professionals. 
Growing up in a place that celebrates its relationship with food steered many of these individuals toward the restaurant industry.
There was never a doubt in Velazquez' mind that he would work in food, and the same can be said for Wild Common executive chef Orlando Pagán, who left home at 21 to pursue a career in the continental United States.
Likewise, Brasserie la Banque and Bar Vauté bar manager Koky Lòpez was immersed in food from an early age.
Raised in a Western Puerto Rican town called Mayaguez, Lòpez's parents had full-time jobs — mom was a secretary and dad was a U.S. marshal — while also owning a catering business on the side.
"It's kind of like I was born into the industry," Lòpez said.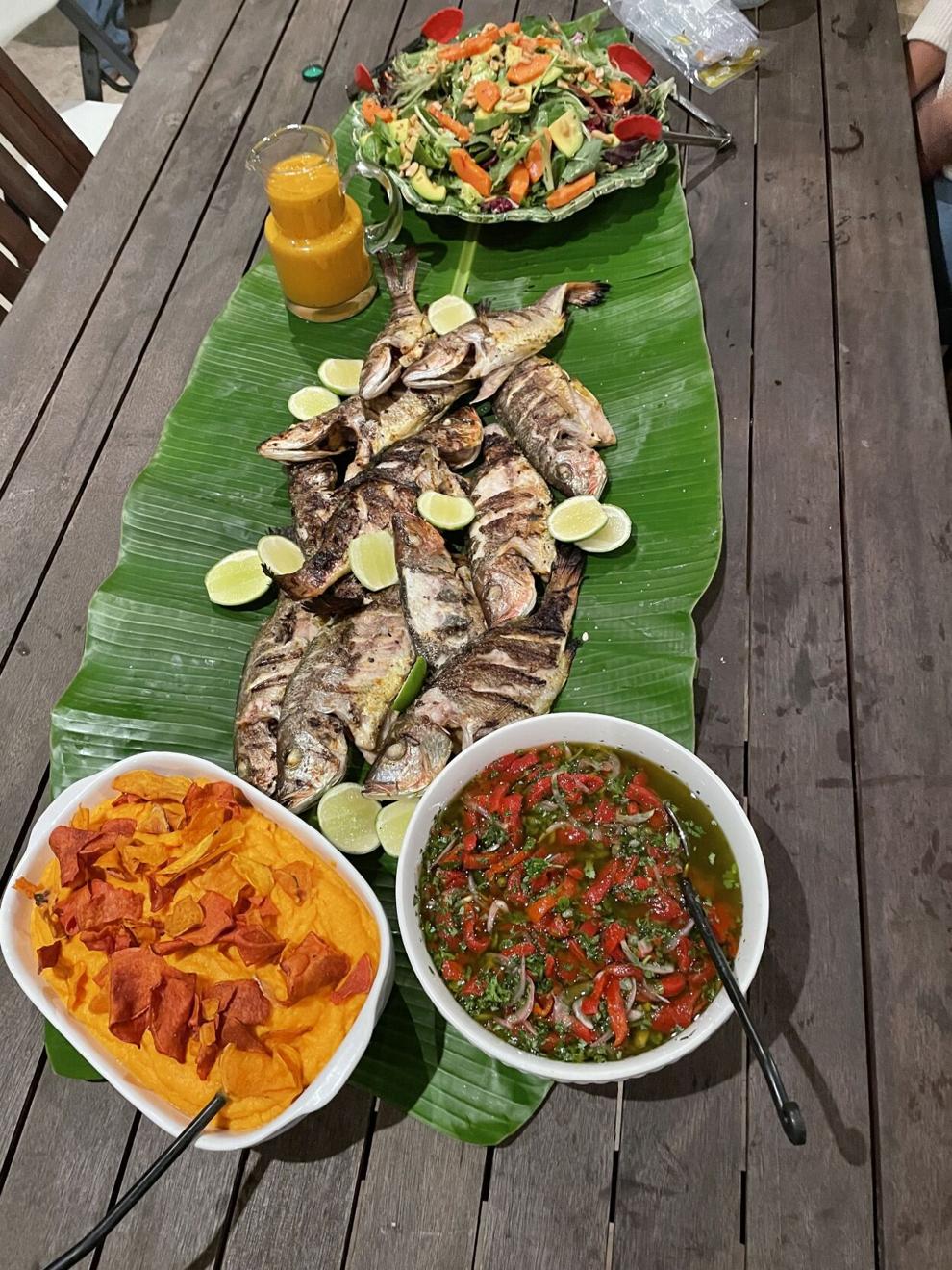 Pagán recalls the copious amounts of food served by his grandmother in the eastern Puerto Rican town of Luquillo where he grew up. When his family went out to eat, they frequented an area featuring more than 60 street food vendors, known in Puerto Rico as chinchorros. They would snag a snack at one before visiting another, with the adults sipping on drinks in between.
This Puerto Rican tradition of "chinchorrear" — the act of hopping between multiple chinchorros to eat, drink and dance — was an influential part of Velazquez's upbringing, too. As recently as a June family reunion in Puerto Rico, Velazquez boarded a bus with his wife and extended family, making stops at several restaurants and food stalls throughout the day.
Exploring Puerto Rico's food culture in this way helped Velazquez flex his creative muscles from an early age, an influence that endures today at Minero and Delaney.
"I feel like that was one thing we did a lot as a family on Sundays," Velazquez said. "And that's where you see a lot of my dishes come out at Delaney, from things like that from my childhood that come to mind and I just want to recreate them."
Island flavors at Charleston restaurants
Velazquez faced some hurdles earlier in his career when he tried to utilize Puerto Rican preparations at restaurants where he worked, particularly during his time on the West Coast. Some diners and other chefs in the kitchen didn't understand mofongo and fried chicken "the Puerto Rican way," and they weren't always eager to learn. 
Charleston, he said, has been different. 
At the recently opened Minero, Velazquez serves a crispy kan kan pork tomahawk that combines Puerto Rican and Mexican flavors, drawing on the popular island combination of pork and guava.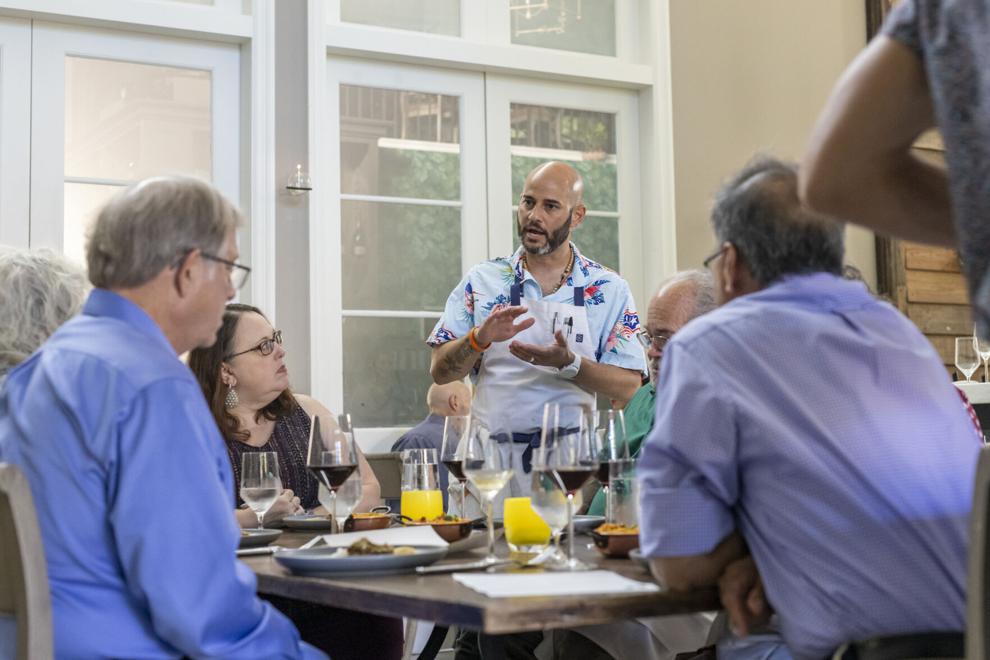 Delaney Oyster House too has served up Puerto Rican-inspired creations since opening in 2019 with Velazquez as executive chef. It's a modern take on the traditional oyster house, but utilizing Puerto Rican flavors at the downtown Charleston restaurant is far from a stretch considering contemporary seafood spots dot the Puerto Rican coastline. The restaurant's Caribbean fish empanadas (Velazquez serves pork empanadas at Minero) are an obvious nod to the chef's home country, while other examples are more subtle.
When he came to the United States, Velazquez brought with him a deep familiarity with crab. Drawing on memories of eating crabs at his grandmother's house, the chef uses sofrito — a paste made of onions, peppers, garlic and herbs — in Delaney's blue crab rice, giving the dish an unmistakable pop of Puerto Rican spice.
Sofrito also finds its way onto the menu at Palmira Barbecue in the Port of Call Food + Brew Hall, where Hector Garate combines the culinary traditions of his native Puerto Rico with those of the Carolinas, with a few Texas notes thrown in for good measure.
Garate's beans have a bright-orange hue from a sofrito base, and his pionono sausage — made from the trimmings of his beef cheeks — is laced with sweet plantains, sofrito and cheese. Both Puerto Rico-meets-Texas-meets-Carolina mashups blend the traditional with the progressive, The Post and Courier's contributing restaurant critic Robert F. Moss proclaimed in July. 
The beverage program at French-inspired newcomer Brasserie la Banque even has a hint of Puerto Rico. In addition to some classic French drinks, Lòpez has introduced rum-based Caribbean cocktails like La Colombe, a combination of tequila, French grapefruit liqueur, bitters, citrus and ancho chile spice.
Growing up in a country that relies on tourism gave Lòpez the know-how to make drinks universal and inclusive, she said, one of the reasons there are several spirit-free options at Brasserie la Banque and Bar Vauté, the speakeasy-style basement bar under the 1 Broad St. brasserie.
"For me to be directing a cocktail program in a French restaurant in historic Charleston as a Puerto Rican, I think having that ability to please everybody from everywhere has helped out a lot," Lòpez said. 
Popping up
Those searching for more than just the flashes of Puerto Rican influence on Charleston menus can visit two pop-ups serving food from the island. The first is a specialty service that only comes around a few times a year, while the other is a recently launched side gig by an up-and-coming downtown Charleston chef.
At Wild Common, Pagán explores his Puerto Rican roots through a series of pop-ups that first debuted in 2019. A recent Puerto Rican pop-up took place on July 31, with another one scheduled for Aug. 28.
The multiple-coursed dinners start with snacks pointing back to those chinchorros in Puerto Rico: tostones with blue crab, ground beef-filled root vegetable dumplings and salted cod fritters, for instance. Entrées explore food eaten at Puerto Rican holidays, and dessert arrives on the table with an assist from Pagán's mom's flan de queso recipe.
"Everything has a story," Pagán said. "To me, it's really cool to share not only the culture, (but) what's behind the story."
Growing up in New Jersey with parents from Puerto Rico (mom) and the Dominican Republic (dad), Chasing Sage chef Mario Torres was enamored with Puerto Rican cuisine at an early age. In the summer, Torres would visit his grandmother, a native of Aguada, Puerto Rico. When he couldn't find dishes like mofongo and arroz con pollo back home in New Jersey, he started cooking it himself.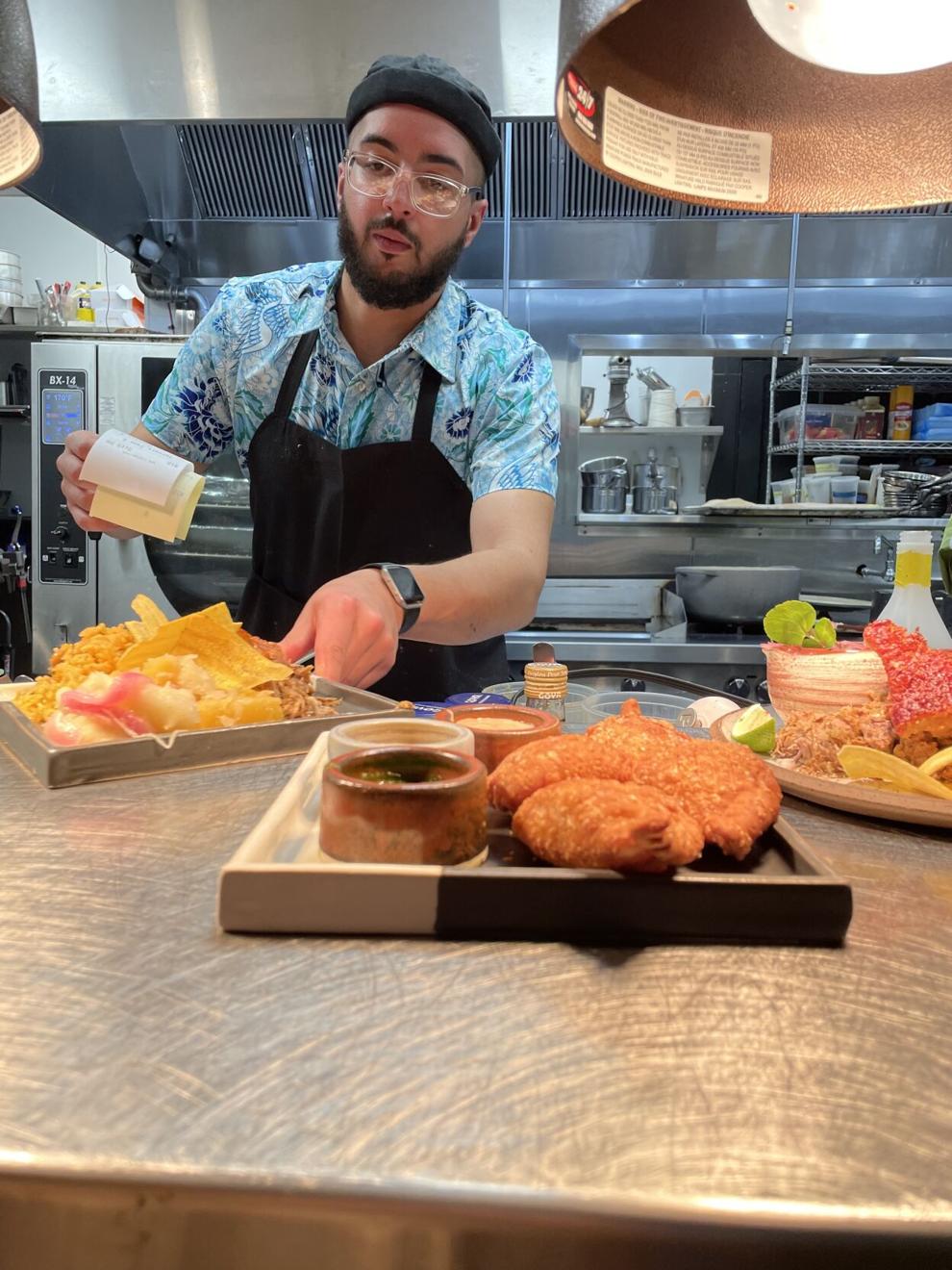 That's the inspiration for Caribo Flip, a Puerto Rican pop-up that first debuted in February.
"I always had a lot of Puerto Rican food," said Torres, who has hosted five total Caribo Flip events, including two in July. "It just reminds me of back home or being with my grandmother."
Alongside fellow Chasing Sage chef Danny Cooper, Torres is serving Puerto Rican plates at pop-ups that have so far been predominantly staged at Chasing Sage and The Basement in Mount Pleasant. Chicken empanadas, kan kan pork, sorullos (corn fritters) and quesitos (cream cheese-filled pastries) are among the dishes served at recent events. 
Torres plans to find time for more pop-ups in the coming months. 
While Charleston is without a Puerto Rican restaurant, the Upstate is home to a handful. Velazquez has fond memories of visiting Latinos Restaurant in Simpsonville during his days in the kitchen at the now-closed Husk outpost in Greenville, and Puerto Rican restaurants in Columbia like La Isla Bonita Restaurante and Mrs. G's Puerto Rican Stop continue to serve the community.
With so much island influence in the Charleston area, could we soon see a restaurant specializing specifically in Puerto Rican cuisine open in the Holy City? 
If these popular Puerto Rican chefs are any indication, it could be an instant hit.