Travelers come to Myrtle Beach with ambitious plans, scraped from glossy magazine ads and their friends' vacation memories: They picture themselves renting paddleboards, maybe catching a show.
In the end, it doesn't matter what they had in mind while packing their suitcases. Like Trey McNeil and Isaac Hodges, they drink beer. They go to the beach and get sunburned. And they eat at a Japanese steakhouse. That last part is non-negotiable.
There are at least 15 hibachi places along the Grand Strand. McNeil and Hodges, friends from Boone, N.C., like Nakato best. It isn't the flashiest of the Japanese steakhouses: The faded red carpet is threadbare in spots from restless children jiggling their chairs and chefs rolling silver carts provisioned with raw meat and sauces in squeeze bottles. Smoke has stained the low ceiling gray.
But Nakato checks all of the boxes that McNeil and Hodges internalized 20 years ago at Japanese steakhouses on the coast and in the mountains, when they were the little kids at the u-shaped teppanyaki table, hoping for the chef to knock down flames with a plastic boy toy that shoots water from between his legs (Nakato sells the iconic hibachi accoutrement at its gift counter.)
At Nakato, there are flaming onions and corny jokes and an astounding number of people celebrating birthdays, with smaller clusters of customers marking upcoming graduations, odd-year anniversaries and travel baseball team wins. Most importantly, though, at Nakato, there is white sauce.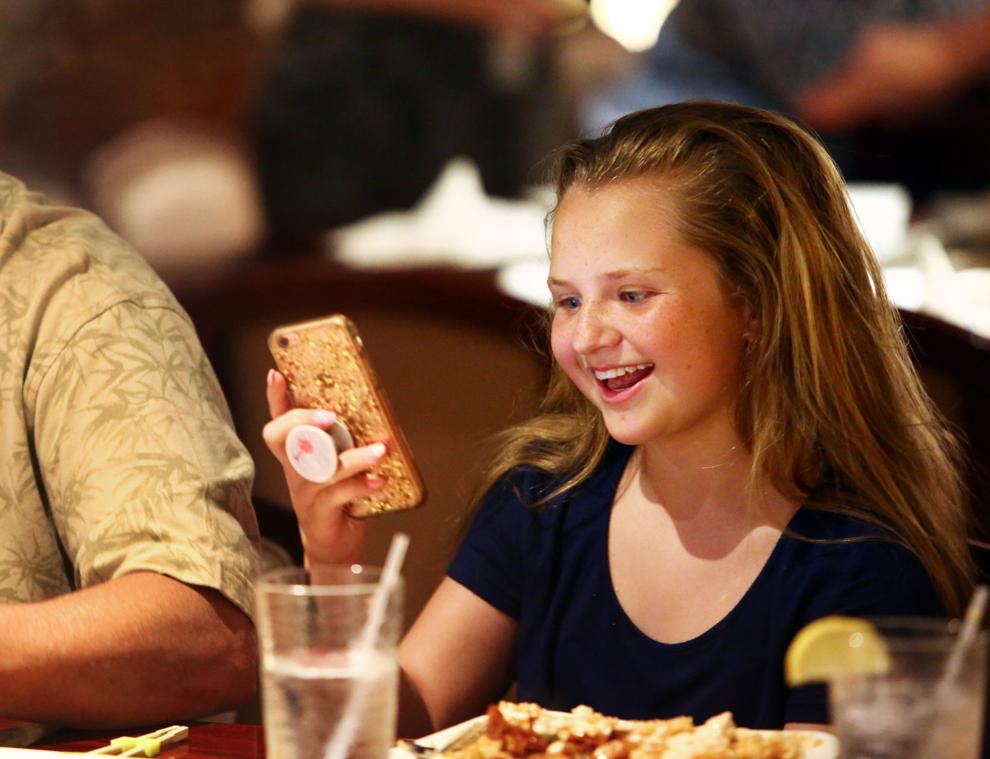 White sauce, sometimes called shrimp sauce, usually makes its first appearance after servers have cleared away the refrigerator-cold iceberg lettuce salad and cup of onion broth that precede the main course at Nakato, as well as every other Japanese steakhouse. McNeil is a pretty laid-back guy, but he doesn't see any point in waiting for the spellbinding condiment.
"Is shrimp sauce an option?" he said when a server asked if he'd prefer ginger or ranch dressing with his salad.
Hodges nodded when a pancake batter dispenser brimming with sugared mayonnaise was produced. "That's like manna from heaven right there," he said. Casting about closer to home for another simile, he continued confidently, "Shrimp sauce is like the chinking in a log cabin. It brings everything together."
Sharing the table
It's certainly brought Southerners together.
The Japanese steakhouse genre exists across the country, but it's uniquely central to dining culture in the Carolinas. When the now-defunct Blue Kudzu Sake in Asheville was soliciting investors, its founders dutifully cited a statistic showing North Carolina has the nation's lowest ratio of Japanese restaurants to residents. Presumably, they didn't let on that the vast majority of those restaurants feature knife tricks and orange sherbet.
Detractors can scoff at the predictability of the hibachi program, the straightforward seasoning of the food and the laughably large portions. Only at Japanese steakhouses do servers automatically bring Styrofoam takeout containers with the check (apparently knowing they can have leftovers for lunch the next day doesn't deter gluttons from finishing their fried rice: According to Google, people looking for "Japanese steakhouse" are inordinately likely to also enter the search term "stomach pain.") Snobs can take pride in remarking there's nothing like American hibachi in Japan.
What those skeptics are missing is what eaters like Hodges know in their bones. Japanese steakhouses were instrumental in carving out room for restaurants in a region defined by home cooking, and in creating spaces other than bars where a man can sit next to his buddy, or a woman can sit next to her date. That setup is an asset in the South, the only section of the U.S. where per capita alcohol consumption falls short of the national average, according to National Institute of Health data.
Japanese steakhouses also are home to tables regularly shared by black and white eaters, a rarity in the South and across the U.S.
Yet that practice is now threatened by the very thing that fanned it: Hibachi fans' passion for white sauce has grown so intense that the once-beloved hallmarks of Japanese steakhouse service are starting to feel like a distraction.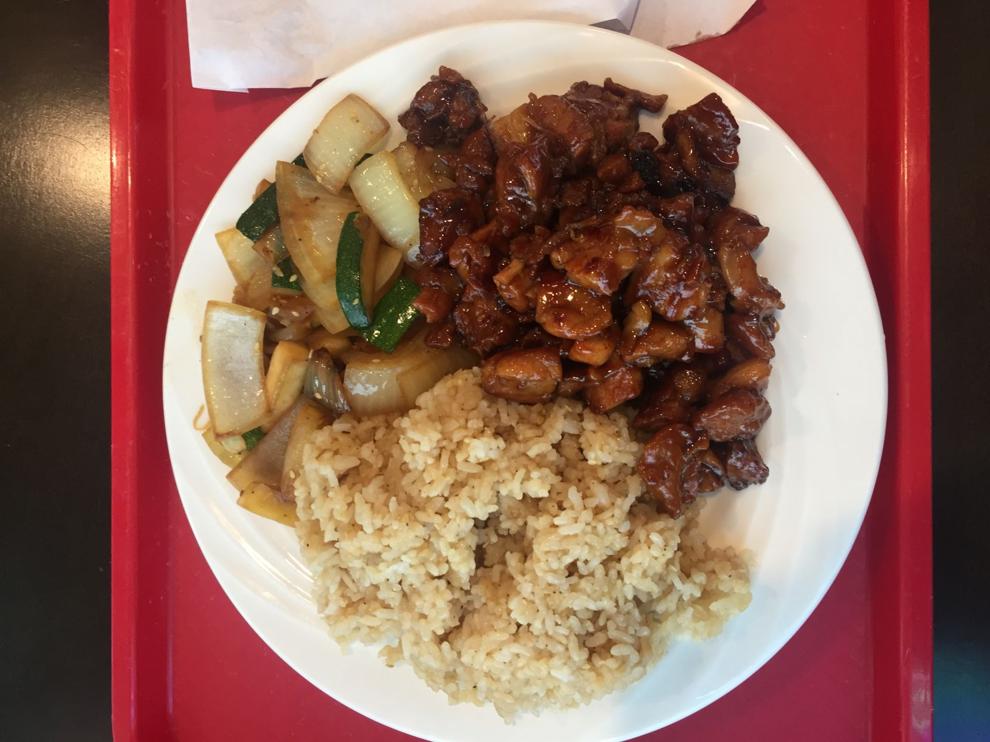 Rather than fuss with long table waits and yet another chef flipping shrimp tails, an increasing number of white sauce devotees are getting their fix at takeout joints, where steak grilled behind the scenes is served ready-to-smother. Even Miyabi, which at its peak operated 16 sit-down locations across the Southeast, is contemplating an expansion of its eight-year-old Miyabi Junior Express brand.
At those counter-service stores, "it's quick, and the price is half," company owner Koichi Maeda says.
Deep devotion
To better understand the hold that hibachi has on the Carolinas, it helps to take a trip to Fair Bluff, N.C. Beware, though: It's easy to miss.
"They gave me direction how to get here. I passed by," recalls George Roy, who last lived in Myrtle Beach. "I said 'Where is this city? OK, so where is McDonald's? No McDonald's?' Oh my God, this cannot be."
There are exactly two restaurants in Fair Bluff, which sits along the Lumber River, just up the road from Ketchuptown, S.C.: Johnny's Sandwich Shop and Roy's restaurant, Yoko's Japanese Steakhouse. Yoko's sells a plate of hibachi chicken for $6.95. The price includes fried rice, onions and zucchini, but no theatrics: Most of Roy's business is call-in orders.
From sauce to sake, these are the differences among Carolina Hibachi restaurants.
Business isn't great, Roy admits. During Hurricane Matthew in 2015, the meandering river that was the centerpiece of Fair Bluff's promotional campaigns overflowed its banks, submerging the town in 3-feet-deep waters. Flood damage was so pervasive that by the time Fair Bluff fully dried out, its population had been whittled down from 1,000 people to 500. "They call this a ghost town," Roy says. "It's all over."
The News & Observer's story headlined "Some entire N.C. towns may become vacant memorials to Matthew" was datelined Fair Bluff.
Dreadful stuff, except the scenario hasn't precisely materialized. Yoko's still plants its vertical red-and-yellow "open" banner on Main Street six days a week. Fair Bluff lost its pharmacy; lost its hardware; lost so many stores that the town website urges those thinking of opening a business to call Mayor Billy Hammond directly. But it wouldn't let go of hibachi.
Customers like the sauces, speculates Roy, who seven years ago emigrated from Peru to help out at his siblings' Japanese steakhouse. Rent costs and competition in Myrtle Beach prompted him to seek out a smaller town, since he'd noticed "sometimes you only see one" hibachi restaurant in places like Fair Bluff.
"The sauce is homemade," Roy explains. "Hot sauce, chili sauce, mustard sauce: All of these, I make. And a white sauce, because when you go to a fancy restaurant, you need to dip every bite in that."
Benihana basics
By fancy, Roy means restaurants like Nakato, with sit-down service and liquor drinks. He isn't referring to elegance, a quality peculiar to Japanese steakhouses beyond the Southeast. "It's similar, but different," Miyabi owner Maeda says of hibachi restaurants he's visited in big non-Southern cities, such as New York City and Los Angeles. "It's very pricy, and the quality is not much."
Cultivating a cosmopolitan atmosphere is a tradition that dates back to the opening of Benihana in 1964.
It's mandatory to mention Benihana when reciting American hibachi history, so here's the basic outline: Personal hibachi popularity was an offshoot of the 1950s backyard grilling craze, confounding Japanese manufacturers of the little charcoal cook stoves. During World War II, they'd been led to believe that all American homes were electrified. But they weren't about to protest sales that kept climbing as Americans realized the pots they'd mistook for planters or umbrellas stands were actually an excuse to throw a teriyaki party.
So hibachi was as familiar as sukiyaki and tempura by 1964, when Japanese wrestler Rocky H. Aoki opened Benihana on West 56th Street in New York, using cash he'd earned selling ice cream garnished with paper parasols. Within two years, there were three Japanese steakhouses in Midtown. "Each is a pleasure to visit," The New York Times' Craig Claiborne decreed in his review of Benihana, Kobe and The Japanese Steak House.
Benihana outlasted its local competitors, parlaying its Asianesque version of luxury into 32 restaurants, a mail-order knife business and a line of Benihana plum wine by the mid-1970s. Whenever Aoki opened a new location, he stressed how much money he'd plowed into it; he had a habit of buying centuries-old Japanese farmhouses and repurposing their beams as restaurant décor. His unapologetically ritzy ways resonated with Americans who nursed Champagne wishes: An East Cleveland politician who in 1980 was found to have misused taxpayer money was accused of spending $79.24 on a "Samurai dinner," or about $255 in 2018 dollars.
It's nearly impossible to burn through that kind of money at Nakato, where McNeil and Hodges eat. To celebrate its 40th anniversary this month, it's offering two chicken-and-shrimp dinners for $40. If that's too much, the early bird menu's in effect until 5 p.m.
In short, trying to understand the Japanese steakhouse phenomenon in the Carolinas by studying Benihana is a bit like trying to get a handle on IHOP by going to Belgium. Benihana deserves credit for hibachi penetrating popular culture, sure. But its fan base of celebrities ("This is fancy, man," comedian Tracy Morgan told New York Magazine, confessing he visited Benihana three or four times a week before buying a teppanyaki table for his house) and twin lobster tail entrées are completely removed from what's happening here.
Hibachi's Lowcountry debut
"It wasn't familiar at all," Maeda says of the Japanese steakhouse format he and partner Koichiro Hirao introduced to Charleston in 1977.
A trim Kyoto native who's partial to sushi and golf, Maeda says he realized from the start that the notion of Japanese food was potentially more off-putting than communal seating and chef comedy. Up north, it worked the other way around.
"They had reaction to Japanese," Maeda recalls. "But actually, we cooked steak and seafood."
At Matsuri, located in the former Neal's Kountry Kitchen, Maeda and Hirao downplayed the Japanese aspect of the experience so thoroughly that The News and Courier dismissed the restaurant as "a disappointment." The paper's critic griped, "If the Japanese Steak House reflects Japanese culture, so does Henny Youngman."
Undeterred, Maeda and Hirao continued to pitch affordable steak dinners. They stuck with the strategy as the restaurant — renamed Kyoto and then Miyabi — grew into a legitimate chain, establishing locations in Tennessee, Georgia, Florida and North Carolina.
Whenever a restaurant opened in a new market, customers had to be coaxed into sharing a table with people who didn't look like them. Maeda says they developed a tactic that worked every time.
"We serve a huge amount of rice," he says. Huge is an understatement. For Japanese steakhouse first-timers, the most stupefying moment of the meal is when the chef pushes all of the fried rice on the table into a giant mound, and then flattens it into a dictionary-thick slab. It's supposed to be portioned out evenly, but the joke at Miyabi involves the chef offering a second massive serving to an unsuspecting guest.
"Those people wanted you to have theirs," the chef will say, gesturing to another group at the same table. "Say thank you to them."
Now, Maeda says, the strangers are talking  — and laughing at the same joke. "Same joke, that's how you become friends," he says.
Cross-table chatter is as integral to the upbeat mood of Japanese steakhouses in the South as ingredient juggling and the background buzz of grill sizzle. In Japan, hibachi is a personal heating unit. In the American South, hibachi is happiness. Maeda, again resorting to understatement, estimates each Miyabi hosts 10 birthday parties every day. "It's funny," he says. "Since we don't hire a Japanese singer any more, I don't know what they're singing now."
Neither do the customers, but that doesn't stop them from clapping along when servers start to beat a birthday drum.
'Very happy people'
Miyabi has succeeded partly for reasons specific to hibachi. For example, its restaurants are outfitted with exhaust hoods designed to suck up the haze that commonly permeates Japanese steakhouses. But in talking to Maeda, you wouldn't necessarily guess that he was in the hibachi industry. He likes to talk about the same things that obsess all restaurant owners, such as finding the sweet spot for profitability and flavor when aging beef, and hiring people who have the right attitude.
Thirty years ago, when Miyabi was in the midst of a growth spurt, Maeda decided he needed a more reliable source of hibachi chefs. He went looking for it in Micronesia.
"Actually, I went to their island, Pohnpei Island, four times, and started knowing them," he says. "They don't need a visa, and their face looks Oriental, and they are very happy people."
Today, Maeda says, 99 percent of Miyabi's hibachi chefs are Micronesian. And because most hibachi chefs in the Southeast learn their trade by working for the chain, the demographics are similar at other Japanese steakhouses.
"Of course, it's a different culture, so we had a very hard time at the beginning," he says. "Their island doesn't have a cow."
Immigrants' sons and grandsons mind Miyabi's tables now, but when the first group of Micronesians arrived, they had to learn how to distinguish between medium rare and medium well. It was a ridiculously nuanced task for chefs who'd never before worked with beef, akin to asking an American-born cook to pick a ripe breadfruit out of a lineup. "During training, we used cheaper meat," Maeda admits.
Jackson Ongrung, head chef at Hiro Japanese Steakhouse in Wilmington, N.C., was born in Micronesia. He moved to Chicago for a hibachi job on the advice of a cousin, who was already running a Miyabi in Greenville. He's since slung knives in Alabama and South Carolina, and taught all but his best tricks to his son.
Ongrung's son, Jordan, is on the schedule at Hiro, but hasn't yet acquired his father's following. Carlton and Candis Smith will wait an extra hour to sit at the elder Ongrung's table.
"We're just in love with it," Carlton Smith said over a late lunch on a rainy Saturday. "She turned me on to it, and the last two years, we've come every week."
Hokkaido in Jacksonville, N.C., keeps a boom box at every hibachi table so the chef's arrival is heralded by entrance music he selected, in much the way that a major league ballplayer won't walk to the plate unless "Daddy Yankee" is playing. At Hiro, there isn't any fanfare when Ongrung steps behind the grill. Still, regulars like the Smiths know they're in for a show.
Hibachi fakery
Think there's no way to liven up a flaming onion? Leave it to Ongrung to perch a whole egg on top of the stack, and give it flaming wings.
By any performance standards, Ongrung is remarkably good. Every piece of cooking equipment he uses soars through the air at least once, usually behind his back and frequently while on fire. Compared with other chefs on the circuit, Ongrung's juggling is calmer; his slicing is swifter. When he lobs a shrimp skyward, it always lands in his hat.
With his knife skills and comic timing, Ongrung shouldn't have any trouble impressing guests. But Ongrung is facing the same dilemma as fellow entertainers: People now have a million ways to access talent at any time, and most of them don't involve ordering chicken. Ongrung's main nemesis is YouTube, a never-ending fountain of hibachi feats.
What galls Ongrung is he suspects videos on the site are edited to make it look like their stars never break an egg or miss a chance to catch a shrimp tail in their pockets. He watches hibachi footage regularly, monitoring for tricks he can add to his repertoire, and he's not even sure that the chefs on screen are using sharpened knives. But Japanese steakhouse customers don't know that, so when they ask him to do something they saw on YouTube, all he can say is "not today."
And that's perhaps the ideal situation, since at least it means the guests are paying attention. At a nearly empty Japanese steakhouse in Florence, S.C., on a recent Saturday night, one customer started watching a hibachi video while seated at a hibachi table.
One of Ongrung's colleagues tried to stoke customer interest in real-life hibachi tricks by bouncing mushrooms off a knife instead of a turner spatula. To customers, it looked like he was wildly swinging a blade at vegetables in mid-air. "I don't do anything scary," Ongrung says. "Customers don't like that."
Overall, customers seem to like sharp knives and fire less than they once did. "Some people probably pitch a fit about it, knowing how people are today," Hodges, the Boone resident eating hibachi in Myrtle Beach said when his friend pointed out that the pyrotechnics at their table were oddly subdued.
None of the other customers noticed, because by that point in the meal, the white sauce had been served.
White sauce
It's impossible to prove, but Maeda swears he invented white sauce in 1985.
"We were always looking for some new sauces," he says. His kitchen team had just spent three months perfecting a hot sauce. "We had tasted Kewpie mayonnaise, so we tried to base on that."
Melissa Sperka, the Greensboro, N.C., food writer behind Melissa's Southern Style Kitchen, d…
Produced in Japan since the 1920s, Kewpie mayonnaise is extra rich, because it's made with egg yolks instead of whole eggs. It also incorporates rice vinegar and MSG, so it's sweeter and brighter than what's in a jar of Duke's. High-end chefs like David Chang are crazy for it.
To replicate Kewpie, the Miyabi team ordered the heaviest mayonnaise on its distributor's list and stirred ketchup into it. The sauce was an immediate sensation. "They put it all over the top of everything," Maeda says, somewhat mystified. He finds white sauce too rich and heavy for Miyabi's aged beef.
Hibachi table setting etiquette dictates that a sauce dish with three compartments is placed between a guest's plate and the grill. Traditionally, one slot is for ginger, one's for mustard and one's for white sauce. Maeda says 50 percent of guests request only white sauce, but he's lowballing again: It's exceedingly rare for a customer to want anything else. Many of them skip the formality of the sauce dish, and tell the chef to pour white sauce all over their plates. Some chefs ask if they should instead just pour it directly into the guest's mouth, but that punchline is reserved for the brave, since a startling number of people say yes.
"Once you eat it, you cannot stop," says Spartanburg's Lee Moua, the Laos-born producer of Lee's Tokyo Gourmet Japanese White Sauce.
Moua first encountered white sauce at her cousin's restaurant. It was so popular that people would come by the restaurant between dinner visits to buy 20-ounce Styrofoam cups of it. Parents headed to see their kids at Clemson usually asked for two or three cups, priced at $2 a serving.
Lee's Tokyo Gourmet White Sauce is sold at supermarkets throughout the Southeast, but hibachi restaurants tend to mix their own blends. "It's a lot of sugar," Ongrung says. "Sweet is good."
Hiro's white sauce recipe calls for six buckets of mayonnaise, or 180 pounds of the stuff. "Three days later, you make another one," Ongrung says. To put it another way, Hiro every week serves Rocky Aoki's weight in white sauce, three times over.
Quick on the draw
The newest of Miyabi Junior Express' 12 locations is in a Leland, N.C., strip mall. Other than the hibachi grill behind the counter, it looks like most reproducible fast-casual concepts, with semi-stylish dark wooden tables and digital menu boards. One of the boards lists all of the available sauce options, but half of the screen is occupied by an image of pinkish white sauce (despite its name, white sauce is typically at least tinted by ketchup.) "Our #1 favorite," the description reads, "Especially good on everything!"
Join host Hanna Raskin for hibachi Friday night at the Atlanta Food & Wine Festival.
Miyabi Junior Express keeps its sauces in self-service pump dispensers. A sign framed above a dispenser labeled "white sauce" helpfully reminds customers, "Did you order to-go? Each entrée comes with two white sauces." Yet that message of moderation is contradicted by the next dispenser over, which is labeled "white sauce." And by the dispenser next to that dispenser, which is also labeled "white sauce."
Plop! White sauce to perk up plain fried rice. Plop! White sauce to disguise the blandness of waterlogged vegetables. And possibly, if Carolinians aren't careful, white sauce to wipe out one of the South's few dining traditions built around integrated tables.