Nikko Cagalanan is accustomed to working in kitchens that aren't his own, and he was familiar with the setup at Berkeley's when he arrived at 1 p.m., four hours before a Nov. 29 pop-up. 
This evening would mark the second Mansueta's Filipino pop-up Cagalanan hosted at the Rutledge Avenue restaurant that on a normal night specializes in casual comfort fare like cheesesteaks, chicken cutlet sandwiches and spicy shrimp over polenta. 
But on this Tuesday — the one night Berkeley's is closed — aromas of simmering coconut milk, marinated roasted chicken, braised pig's belly and fresh ginger Cagalanan was slicing filled the kitchen. 
Twice a month, The Post and Courier's Pop-Up Picks column previews an upcoming pop-up breakfast, lunch or dinner and the chefs behind it. But what actually goes into the pop-up meals that have been sweeping the nation since before the COVID-19 pandemic? 
I shadowed Cagalanan for an entire service to find out. 
Where it starts 
Cagalanan grew up in the Philippines eating traditional Filipino food made by the grandmother he named his pop-up after. I learned this when I first interviewed him three-and-a-half years ago. 
The nurse-turned-chef didn't become a full-time cook until 2014, working in kitchens in Boston before moving to Charleston, soon securing jobs at The Daily and Zero Restaurant + Bar. In 2019, Cagalanan launched Mansueta's as a pop-up, hosting his first few events at Charles Towne Fermentory and Palmetto Brewing Co. before eventually landing a stall in the Workshop exploratory food court. 
Since Workshop's closure, Cagalanan has returned to the pop-up format, though many of his events are now hosted in restaurants or cafés rather than breweries.
Visual appeal has always been a part of the Mansueta's experience, thanks in part to Cagalanan's work under Vinson Petrillo at Zero Restaurant + Bar.
Pop-up preparation starts in the two days before each event for Cagalanan, who snagged some vegetables at the Sunday Brunch Farmers Market on James Island. He sources vegetables from local farms like Spade & Clover Gardens and Fire Ant Farm, grabbing other essential ingredients from the US Foods CHEF'STORE and H & L Asian Market. Pork products, like the belly and pig's head needed for the Berkeley's pop-up, were sourced from Peculiar Pig Farm.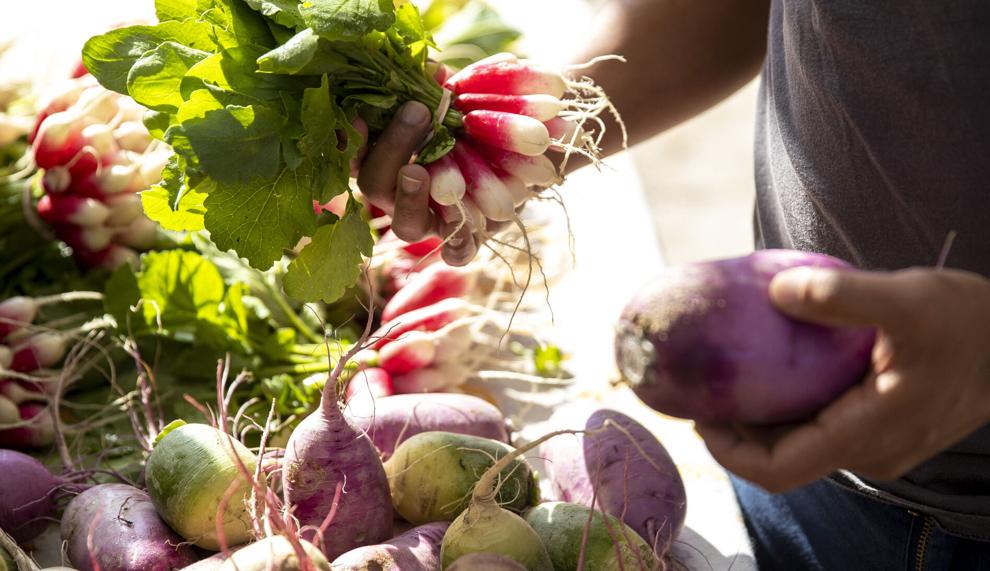 Meat was marinated and braised ahead of time at Baguette Magic, a bakery on James Island that doubles as Cagalanan's commissary kitchen.
The chef completed the prep work alone but has the same group of front- and back-of-house team members assist at events.
On Nov. 29, Mansueta's six-item menu called for three chefs (including Cagalanon), four servers and one dishwasher.
Multiple members of Cagalanan's team share his Filipino roots, including Becca Ribaya and Joel Carnright, who was helping him chop green beans, squash and fresh ginger just after 3 p.m.
"I usually don't stress about staffing when I do this kind of event," Cagalanan said. "Everyone that's helping me started being one of my customers."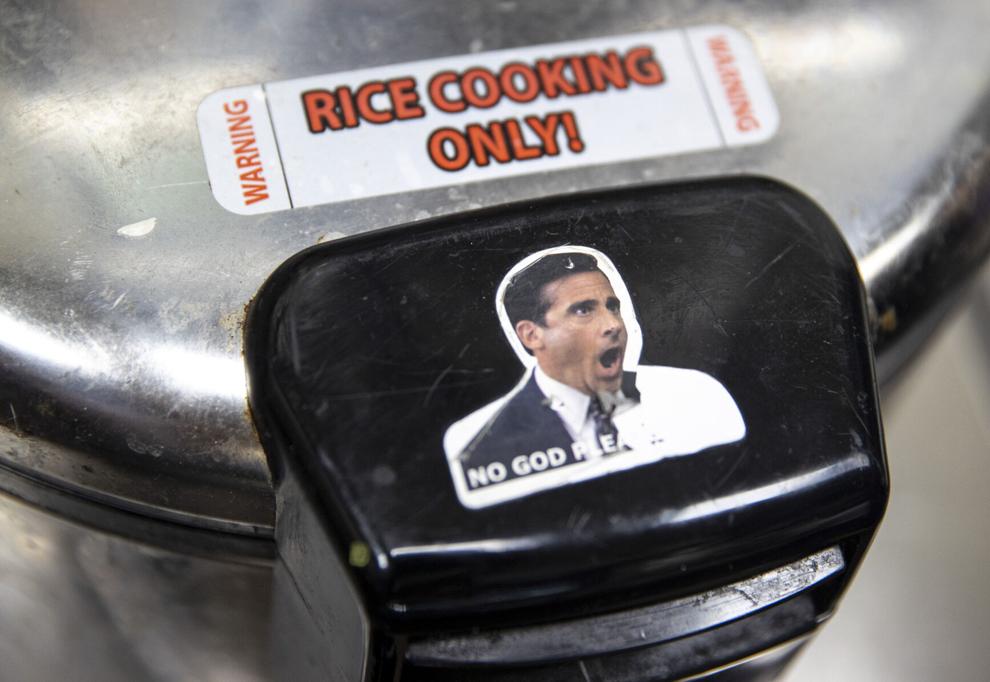 The chefs operate on a timeline ahead of the 5 p.m. start of service. Seasoned half chickens were placed in the oven at 4 p.m., and rice was cooked at 4:15 p.m. in a rice cooker Cagalanan has used for years. It's the only piece of equipment he brings to pop-ups.
As Carnright soaked the rice heading for the vintage cooker, he discussed his passion for the Filipino food he grew up eating.
"For me, I just want to see more representation of Filipino food," said Carnright, whose grandparents were born and raised in the Philippines. "I'll clear my schedule to cook some Filipino food."
A little over a year after first trying Mansueta's, Carnright joined Cagalanan at Workshop. After spending the last year serving Filipino-inspired food with Bok Choy Boy at Port of Call Food + Brew Hall, Carnright is now splitting his time between Mansueta's and Huger Street restaurant Renzo while getting his own pop-up, Chili Bois, off the ground.
Like Carnright, Ribaya, a hair stylist at DNa Lab on Spring Street, started her journey with Mansueta's as a customer. Working with Cagalanan has helped her reconnect with the food adored by her Filipino family members.
"I grew up around it but I was never open minded to it until here," Ribaya said. "It's made me more of a foodie, which is really cool."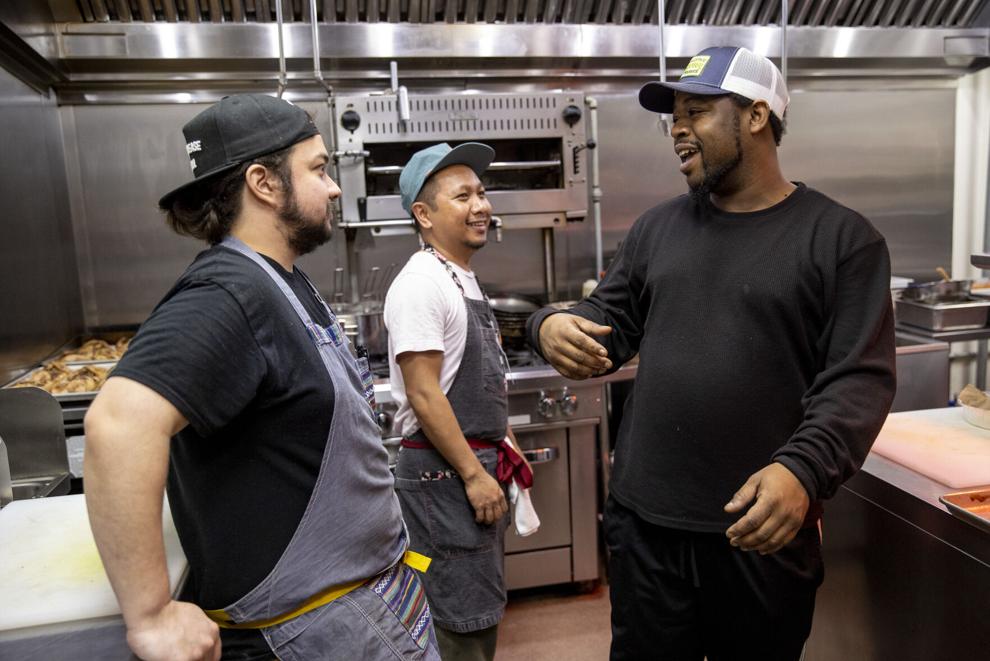 Nerves never fade
Elizabeth Hudacsko, who owns Berkeley's with her husband Marc, punched Cagalanan's menu into their point-of-sale system one hour before service. The chef told her he would offer 20 orders of inasal (roasted chicken) and 25 orders each of lumpia with banana ketchup aioli; twice-cooked tocino ribs; sisig pancit; "Bicol Express" (braised pork with rice); and turon, banana-stuffed spring rolls with caramel sauce, for dessert. Providing the number of dishes he can sell in advance helps the servers know when items are running low.
At 4:30 p.m., Cagalanan held a pre-service presentation describing each dish, information that would soon be relayed to customers.
Some dishes are new, while others — like the noodle-based sisig pancit — have been on the Mansueta's menu for years.
Traditionally made using parts of the pig's face and belly, Cagalanan makes his sisig pancit with Peculiar Pig Farm pig's head. Egg noodles are dunked in simmering water then finished in the pan with bits of the braised head, onions and a coconut milk sauce that's brightened by a Filipino citrus called kalamansi. The best bites come near the bottom of the bowl where the noodles are enveloped in pools of sauce that become saturated in the pork's rich meatiness.
As the night's four servers finished sampling the sisig and other plates, Cagalanan returned to the kitchen to prepare for the incoming tickets.
By 5:17 p.m., orders were trickling in, but the kitchen remained relaxed. One chef worked the fryer and another handled the skillets and oven while Cagalanan finished plates with sauces and garnishes.
With a sous chef, chef de cuisine and executive chef in an organized kitchen, Cagalanan's restaurant training was being put to work, though on a much smaller scale.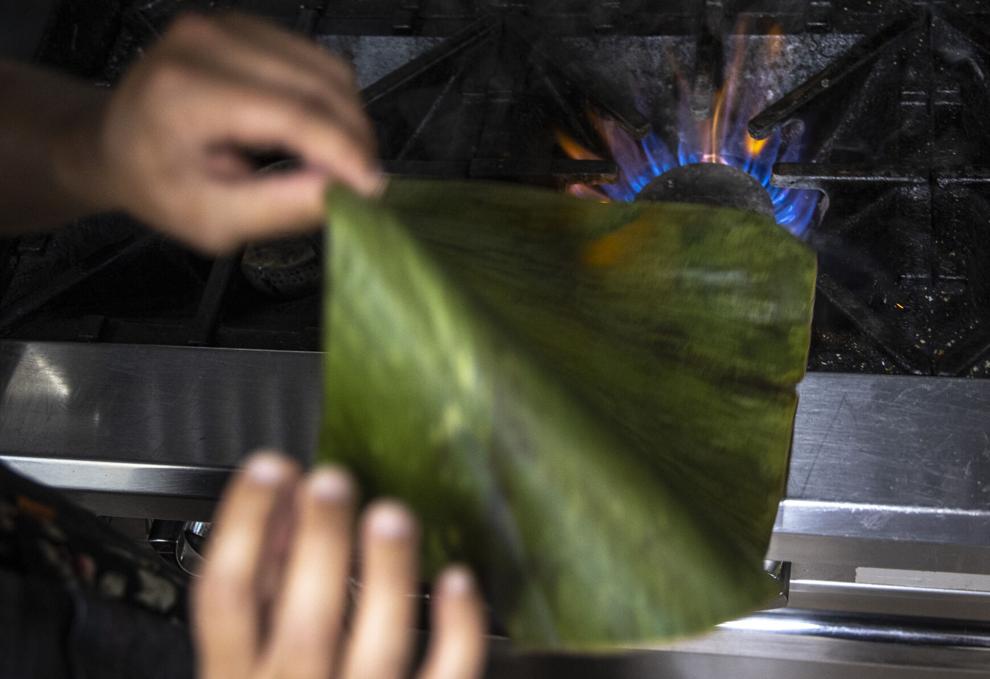 As service slowed just past 5:30 p.m., Cagalanan grew nervous. Though he sells out during most pop-ups and recently won the contest "Chopped," the uncertainty can still take over. What if nobody saw his posts on social media, where he does all of his marketing?
Just before 6 p.m., tickets started spitting out at a rapid pace. Cagalanan placed the white half of the receipt under the pass, handing the remaining yellow sheet to Ribaya. Both tracked orders in progress — Cagalanan would mark a dot next to dishes that were "working," crossing them out when they exited the kitchen. Ribaya reminded Cagalanan when it was time for an order to head out the door.
The few moments of chaos were handled well, though that might not have been the case years ago, Cagalanan admitted. This is the main reason why, besides money, the biggest obstacle for pop-ups is getting enough opportunities to dial in the service and establish a following.
Culture and collaboration
Berkeley's took home profits from the drinks, while Mansueta's received the food proceeds without having to pay to use the space. This is the arrangement that, in Cagalanan's experience, many pop-ups have with restaurants, wine bars and breweries.
The Berkeley's kitchen was in fact built with the thought of hosting pop-ups in mind, according to Marc Hudacsko.
Berkeley's started as a pop-up named We Flew South, so the Hudacskos knew how much it meant to have support from the restaurant community.
"We wanted to have a setup that somebody else could bring their concept into and have space to work and have the equipment they needed," Hudacsko said. "We all want to see each other succeed."
Cagalanan will soon have his own restaurant space to host the next up-and-coming pop-up chefs. Partnering with Baguette Magic owner Paula Kramer, Cagalanan will open Kultura in West Ashley in 2023. While the restaurant space is being renovated, Kultura will host weekly pop-ups at Baguette Magic (73 Spring St.). 
The chef's forthcoming restaurant will serve Filipino food four nights a week, while the others will be reserved for the cuisine of visiting chefs who will takeover or join Cagalanan in the kitchen.
Kultura translates to "culture" in Filipino, a fitting name for a restaurant built on celebrating food from countries across the globe through collaborative cooking.