Last week, soft-shell crabs started busting out all over the place, and I mean that literally. Each spring, blue crabs pop out of their old shells and grow about 35 percent. In between that moment when they lose their old shell and their new one hardens, they are soft, vulnerable and very delicious.
Mike Lata of FIG and The Ordinary got a first batch of softies last week from Lowcountry Shellfish and says they are still coming from waters south of Charleston, more precisely Lady's Island near Beaufort. But availability was hit and miss. They had them on Thursday and Saturday but not Friday, likely because of water temperatures. Lata doesn't like to source from farther away because the shells are more leathery, for shipping. "We call them leatherbacks," he says.
Kevin Johnson at the Grocery operates the same way and says the recent cold snap will likely reduce availability of soft-shell crabs this week. But it won't be long until local blue crabs start peeling in Charleston waters, where soft-shell crab season generally lines up a couple weeks on either side of Easter, when the full moon hits.
Blue crabs range from the Gulf Coast of Texas to the cold waters of Massachusetts and every place in between. It's the state shellfish of Maryland, where crab cracks are common.
You're most likely to encounter blue crabs at seafood shacks and shops, since they're messy and difficult to clean, not at fine dining restaurants unless they're already picked and cleaned. If you want to crack your own at home and don't have your own crab pot dropped into a nearby creek, you can buy a basket from the guys who set up shop under bridges and on the corners (I get mine from Mrs. T's Seafood at the corner of Dorchester Road and Meeting Street Road in North Charleston).
Maybe the rarity of blue crabs on menus is what makes soft-shell crab season so special. Getting a taste of the rich crab meat is so much easier. There's no cracking and cleaning and fighting for each bite, because, yes, you can eat the whole crab, shell and all. Even the legs are soft. 
Preparations vary from restaurant to restaurant. You'll find them breaded and deep fried and served up in a sandwich — at Fleet Landing they were doing a soft-shell crab BLT last week. Jason Stanhope at FIG keeps it very simple, pan-searing his softies and basting them in butter, resulting in a crab that explodes with rich flavor. 
But there are as many preparations as chefs, and I should know: I have probably eaten every variation in the Lowcountry. Each year, beginning in 2013, I've partnered with Harry Root of Grassroots Wine to try as many soft-shell crabs as possible in one day. He brings a cooler full of his Rose de Printemps, because we have found that rose season and soft-shell crab season coincide nicely. Our crab crawl has become a spring event that a certain type of food nerd in Charleston looks forward to. If you've never heard of it, don't worry, we're not offended. But if you are new to soft-shell crabs, we think you should get out there and get some of this local delicacy while you can. 
We have created a special itinerary of the best of the best when it comes to soft-shell crabs, with 11 restaurants worth hitting during softie season.
Where to get your softie fix
The P&C Food team's soft-shell crab itinerary
4 Cannon St., downtown
Chef and owner Kevin Johnson always does three preparations. This year it's Old South, Old School and Old World with an appetizer that's cornmeal-dusted and served with butter bean chow chow and green garlic sauce. Get a taste of these at our Charleston Soft-Shell Crab Crawl intermission party on Tuesday, April 3 from 6-7 p.m. Tickets are $20 and include a glass of Rose de Printemps wine from co-founding crab crawler Harry Root of Grassroots Wine and soft-shell crab (served buffet style at the bar). 
513 King St., downtown
Variety is important on a crab crawl and we always like to find Asian flavors along the way. In the past we've included Lee Lee's and O-Ku, but this year we're looking to The Darling to give us a Szechuan stir-fry with English peas and green onion. It comes with spring onion pancake, crispy kale and spicy mayo.
237 Fishburne St., downtown
Coated in a fine flour and pan-seared, the crisp softie finds itself on a cool pile of sweet potato fingerling salad surrounded by a salad of celery leaves, herbs and watercress, dressed in lemon-chervil vinaigrette. It's a delicious play of hot and cold, tangy and rich. Purlieu is a tiny litle spot on Fishburne, so plan ahead for this week and make some reservations.
1081 Morrison Drive, downtown
Now that Bob Cook has taken over the kitchen, we expect some Asian flair to show up on the soft-shell crab dish here, and sure enough, they are serving a crispy fried crab with gochujang spaghetti, fermented black beans, sesame and garlic chives. In previous years, at Artisan Meat Share, Cook always made an impression with his big old softie sandwich. We expect more of the same at Edmund's. 
544 King St., downtown
Over the years, we've had soft-shell crab sandwiches here and so many different delicious takes on the soft-shell crab. This year, they are plating a cornmeal-dusted softie with asparagus, ramp coulis and brown butter. If you only have time or the appetite for one soft-shell crab this season, you cannot go wrong here.
232 Meeting St., downtown
Executive Chef Jason Stanhope is a hero when it comes to making noodles, so it's exciting to see him add a bit of pasta to his soft-shell crab plate. A buttery soft-shell crab served alongside a twist of pasta noodles and fresh vegetable primavera? Yes, please.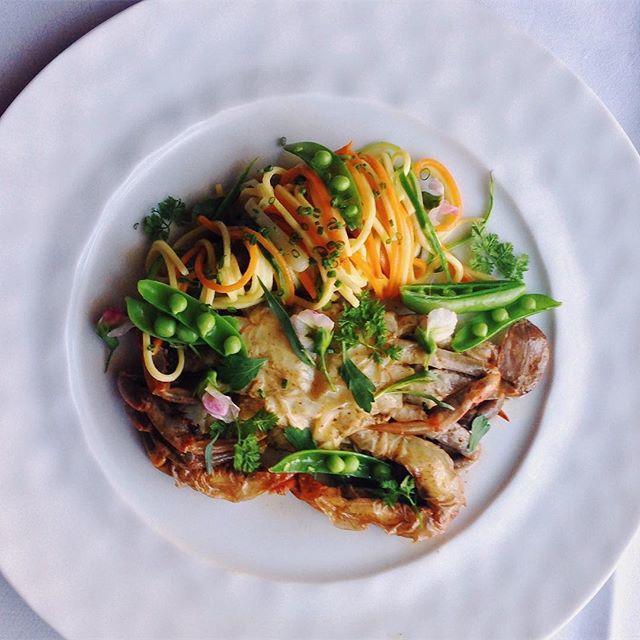 976 Houston Northcutt Blvd., Mount Pleasant
The annual crab crawl has traditionally started off at Bacco in Mount Pleasant because they are open for lunch and Michael Scognamiglio is an unsung chef who makes great food. We've had it several different ways here and all have been stellar. This year, Bacco has a fried soft-shell crab sandwich dressed with tomato and arugula. You won't be disappointed.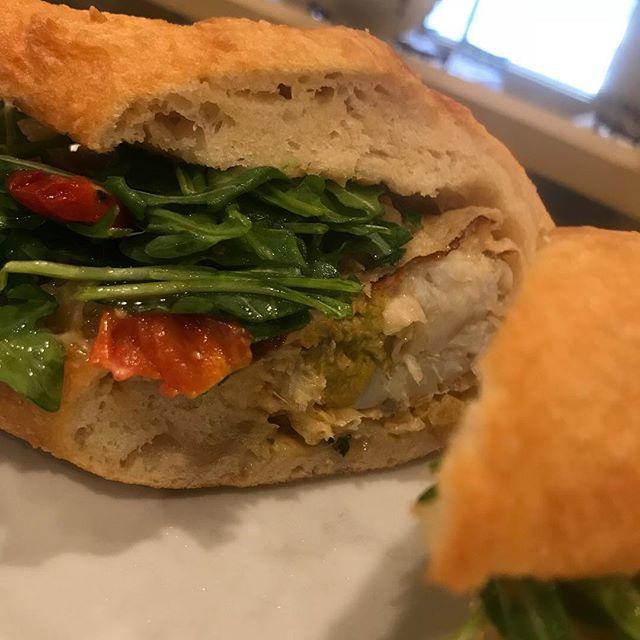 526 King St. and 479 King St., downtown
Part of the same family of restaurants, Indaco and Macintosh both deliver the soft-shell goods. This year, we'll probably hit Indaco, simply because the black spaghetti and arrabiata sauce they're serving semolina fried soft shells with sounds pretty darn good. At Macintosh, it's fried soft shell with grilled asparagus and a yuzu vinaigrette.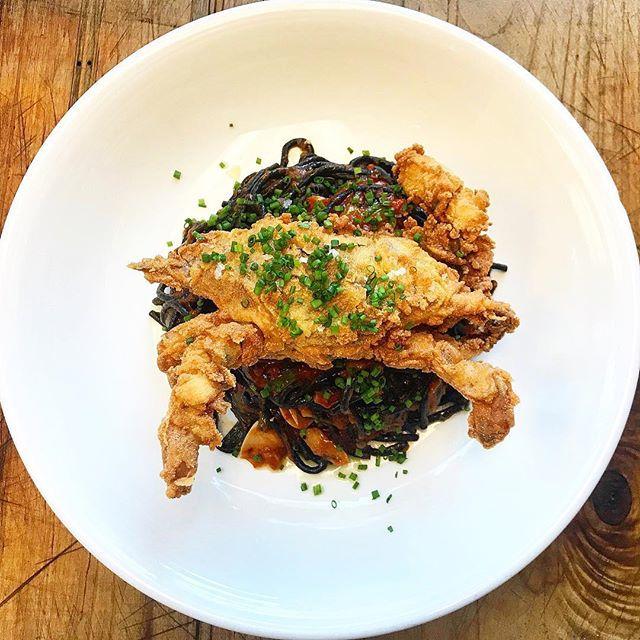 807 Folly Road, James Island
This is the best place to find classic, fried seafood dishes with breading so good, it works just fine clinging to the exterior of a soft shell. 
106 W. Hudson Ave., Folly Beach
It'd be easy to get your fill of soft-shell crabs without ever leaving downtown, but then you'd miss out on some really interesting riffs. Jeff Butler at this little hole-in-the-wall gem on Folly Beach loves aggressive flavors. This year, he's got crispy soft-shells with Vietnamese peanut-lime vinaigrette piled up with herbs and marinated vegetables.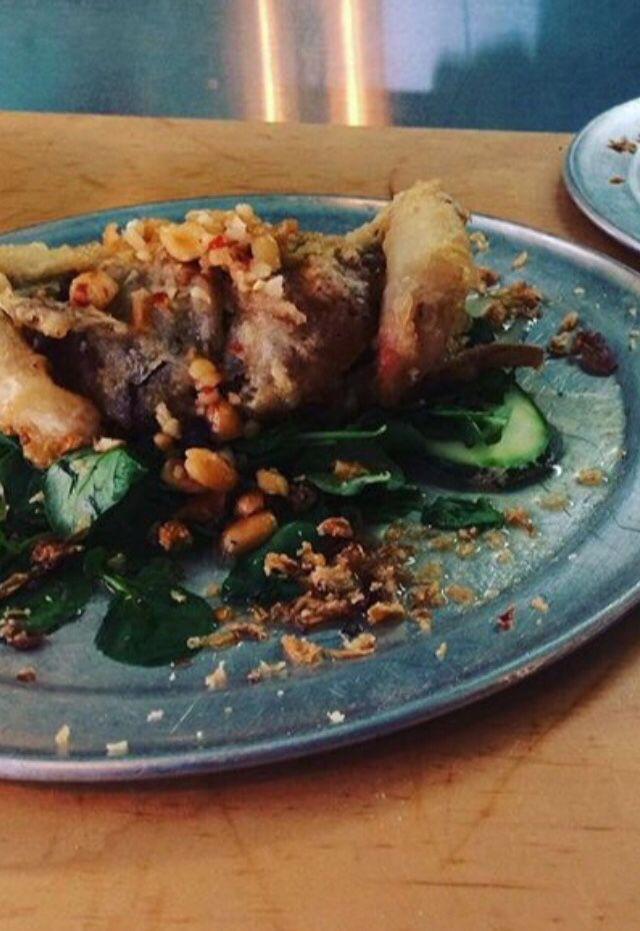 492 King St., downtown
Chef Josh Keeler always has been a must-stop on the soft-shell crab crawl and his soft-shell crab dish at 492, where he is now executive chef, looks beautiful. The fried softie is plated with rocoto chili and sweet corn mayonnaise.