Snug between a Latino grocer and a Chinese takeout spot in a nondescript strip mall on Dorchester Road sits a dive bar called Domino Lounge. On a recent Tuesday night, its customers consisted of me and a pair of gray-haired regulars reminiscing about bygone drug abuses in decades that predate my existence.
My 16-ounce PBRs were on happy-hour special for $1.50 until 8 p.m., at which point the price jumped to the exorbitant sum of $1.75. As I swigged beer and the glowing jukebox by the door hummed through the opening chords of Toby Keith's "I Love This Bar," I found myself wishing Domino Lounge was just a wee bit closer to downtown Charleston. But as a dive bar, it's probably better off where it is.
After all, with its skyrocketing rents, high-end hotels and the influx of wealthy, worldly drinkers thirsting for light-bodied reds to pair with $30-a-plate dinners, Charleston proper isn't the easiest place to run a slim-margined, no-frills, deep-fried dive these days.
"When I got here a little over 20 years ago, there were half as many restaurants and bars in the city, but there were twice as many dive bars," said Chris DiMattia, the owner of Recovery Room on King Street. "I've been super-fortunate to have gotten in 10 or 12 years ago, but who knows, when that lease ends, what's going to happen."
"It's sad," said Sarah Griffith, the general manager at Cutty's, a beloved dive on Bogard Street. "Dive bars are kind of becoming, you know, the white whale of Charleston."
There was a Starbucks joke in there somewhere, but I was too bummed to take a stab at it.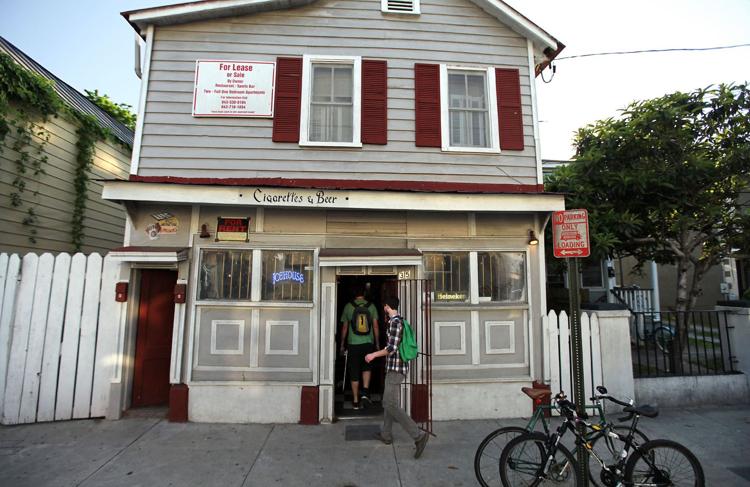 Charleston's dives, past and present
Look, Charleston isn't totally void of true-blue, stick-to-the-floor joints on the peninsula just yet. We still have rough amongst the diamonds. There's DiMattia's joint, and Griffith's, as well as Salty Mike's, Burns Alley, and A.C.'s. Toss The Griffon, Local 616, and Big Gun in there, too.
That's eight, which sounds like a decent amount until you remember that there are nine full-fledged breweries on the same peninsula. So where are downtown Charleston's dive bars?
"I'm having a hard time thinking of more," Jayce McConnell told me between sips of High Life on the deck of Salty Mike's. The co-host of the drinking podcast Pocket Liquor (who daylights as Edmund's Oast's bar manager) hails from Savannah, where high-end drinking is streaky but down-and-dirty dives thrive. Here in Charleston, "they're being squeezed out," he said.
Salena Venable, a Charleston native and self-proclaimed dive bar enthusiast who now works at Monarch Wine Merchants (not a dive), thinks that's because the bars don't jive with the city's tightly held "brand."
"The city is trying to control this view of Charleston as a tourist city, this Southern Charm-centric," she said.
It wasn't always this way, I'm told. In my short time in town, I've heard longer-term residents and born-and-raised locals lament the passing of a litany of bygone dive bars, from Big John's on East Bay, to Cumberland and Capone's, to Ark Lounge, the old Citadel haunt that once stood where Herd Provisions does now.
"I think that the dive bar scene in Charleston is crucial to its identity," said Venable, who counts Cutty's as her favorite watering hole downtown. "To lose every dive bar in Charleston, you would definitely lose part of the essence of what Charleston is."
Defining a dive
But are we losing them? How many dive bars Charleston actually has to its name — and how dire, percentage-wise, the departure of those shuttered spots really is — depends heavily on how you define dive bars in the first place.
For drinks writers nationwide, this is a notorious bit of qualitative quicksand. It's just vexingly difficult to suss out what makes a dive a dive. Pretty much everyone agrees they're supposed to be cheap, welcoming, and worn in. 
Beyond that though ... it's sort of a crapshoot.
In Charleston, there are plenty of bars that may have fit a "dive" definition at one point but now stand as less dive-y versions of their former selves. Under the Renzo crew's supervision, the old Faculty Lounge has flourished anew as a neighborhood hang-cum-cool kids dance bar on Huger Street. Silver Dollar hired an interior decorator for a recent renovation; Blind Tiger has a classed-up patio; Upper Deck is now Bangkok Lounge, a tiki/karaoke bar also owned by DiMattia.
Are these dives? Were they ever? How about places that have been purposefully dive-y since day one, like East Side siblings Palace Hotel and Commodore? And what of Royal American, which checks so many boxes in dive bar bingo but also functions as one of the peninsula's favorite music venues? (Great bar, but not a dive, argued Venable. Your mileage may vary.)
Another dilemma: the American dive bar archetype is almost categorically white; Charleston is not. So if you define dives too tightly as romanticized redoubts of plaid-clad, bearded, Bukowski-style boozing, you exclude joints that serve the peninsula's communities of color, like Hannibal's Kitchen, VIP Bistro, and Spot 47. Those spots may not scream "dive" to you, but that doesn't mean other Charlestonians don't hear (and heed) their call.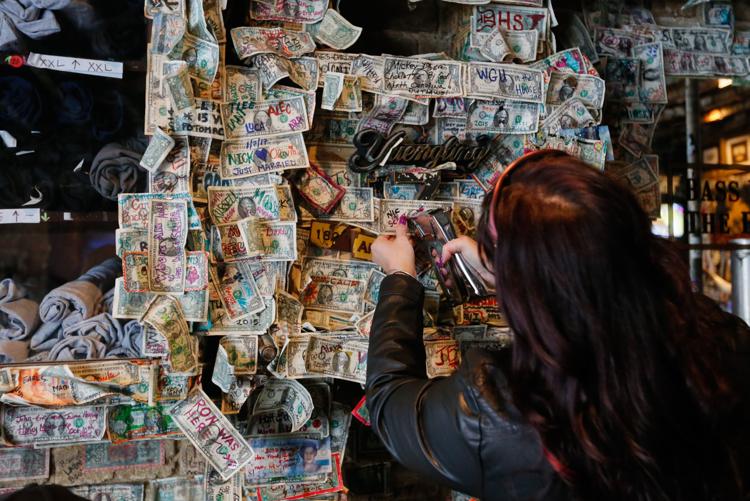 Writing for Eater in 2014, the writer Knoefel Longest posited that any rubric designed to identify a dive is doomed from the jump. Like a boggart to Harry Potter or pornography to Potter Stewart, the logic goes, a bar's dive-ness is in entirely in eye of the beholder. Instead of appearance, motive is key. A true dive bar, wrote Longest, "is not making much of an effort beyond the minimum required to service its guests with drinks."
Maybe you buy that non-definition definition, or maybe not. If you have strong opinions on this front, I invite you to bellow them in my direction via the comment thread on this subject on our Facebook page (bit.ly/PCfoodFBgroup.) Meanwhile, onward!
Rent hikes, bans, and other dive bar bad news
However you define a dive, DiMattia's point — that there are less in Charleston than there used to be — rings true to most of the Charleston residents I spoke with for this column. And pretty much everyone laid blame on the same issue: rent.
"Listen, a little dive bar selling $2 beer cannot do the volume (it needs) to pay the bill" on rent, said DiMattia.
Rent hikes are a fact of life in today's Charleston. "It's so expensive to lease these commercial spots," said Griffith. Cutty's was lucky to have gotten its lease in 2012, before Elliotborough became a hotter real estate market. "Now it's all Airbnbs," she said.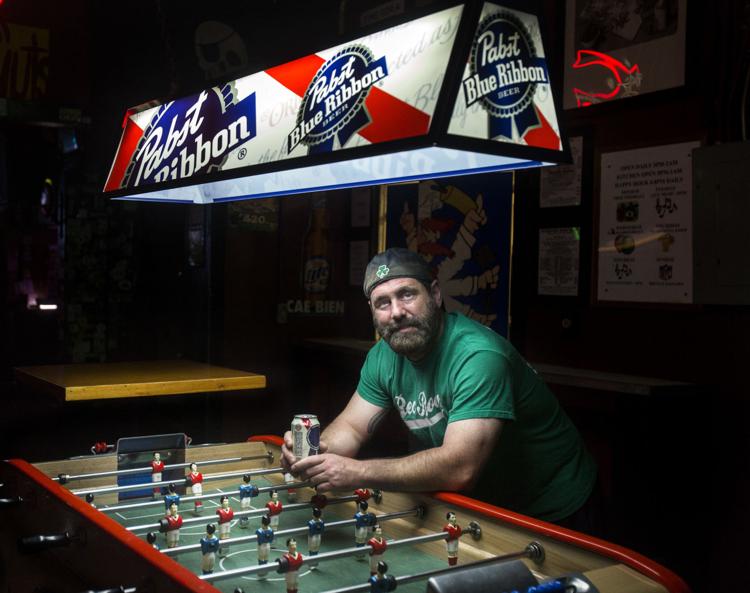 But Charleston's dive bars have also had tough sledding for less obvious reasons.
"There was a whole series of things that started happening in the late '90s," said DiMattia, who was bartending at Moe's Crosstown at the time. (Quick: dive or no dive?)
"When I opened in '99, you didn't have to close at 2 a.m.," Steve Shur, the owner of the Silver Dollar on King Street. "You couldn't serve liquor after two, but you could serve beer and wine," he said. That changed in 2007 with the implementation of a city ordinance banning cigarettes in workplaces; in 2013, Charleston County followed suit.
Not being able to drink 'til all hours was a blow to Charleston's dive culture, and to the bottom line of the bars themselves. Shur, who prefers not to define Silver Dollar as a dive because he thinks the label is too limiting, also pointed to another bygone source of revenue: gambling machines, which the state's highest court banned around the turn of the century.
"We only had them for like six months, but (it) was certainly nice to take in money for nothing," joked Shur, who opened Silver Dollar on Dec. 30, 1999. Now that revenue is gone, and it's not coming back.
DiMattia thinks South Carolina's 2006 repeal of its infamous mini-bottle law might have helped dives a bit, but he suspects that Charleston's smoking ban, which went into place in 2007, probably hurt. Between all that recent history, and the gentrification presently marching its way up the peninsula, he said, "it's just a sad time for the dive bar business, man."
Wondrich's worry
A couple weeks back, the digital drinking publication PUNCH interviewed Dave Wondrich, a prolific writer on alcohol and culture. They asked him what he thought would disappear from American drinking life.
"Dive bars," he said. "We're seeing people coming back downtown and that drives the retail values and real estate values up, and once the real estate value goes up, the dive bars are gone. They've closed everywhere." It's a sobering outlook from a legendary lush, and it's looking pretty prescient here in the Lowcountry. 
Support your downtown dive bars, Charleston. Otherwise, Wondrich's prediction might just come true, and us dive-bar lovers on the peninsula will have to head east, west or north for dirt-cheap booze and drinking-class community. Say it ain't so, Domino.