At the 2015 Nat Fuller Feast, an interracial group of Charleston's leading citizens was treated to turtle soup and Champagne; shrimp pie and beef a la mode; aged duck with Seville oranges and watermelon pickles; Charlotte russe and punch cake. The lavish menu was accompanied by five classical sauces and conversation dense with questions that started the same way: How did a man born into slavery assemble this kind of luxury during the federal occupation? How did we forget his feast? How do we do justice to his legacy?
The feast at McCrady's was one of the city's most visible attempts at healing racial divisions since emerging as a latter-day culinary powerhouse. But new research shows the 1865 reconciliation meal that inspired the elegant dinner likely never occurred. While Fuller was indeed esteemed throughout the country for his artistry, a leading scholar of Reconstruction says the claim the African-American caterer hosted a reunification banquet in the wake of the Civil War has no basis in fact.    
When invitations went out for the Nat Fuller Feast on April 19, 2015, guests were asked to arrive in modern dress, since frock coats and hoop skirts reeked of racism and the Lost Cause's magnolias. The idea was to re-enact only the spirit of that night in 1865 when Charleston's pre-eminent caterer hosted blacks and whites together at his table.
University of South Carolina professor David Shields, who first proposed the commemorative banquet, had e-mailed Kevin Mitchell, the Culinary Institute of Charleston chef instructor, the previous summer to suggest he play Fuller's part. "Mitchell has the proper age and skills," Shields told Southern Foodways Alliance Director John T. Edge in an early planning memo.
As Shields explained in that message, written months after he revived Fuller's name in the pages of Charleston Magazine, participants in the original feast "saw it as a glimpse of the kingdom of God."
Now Fuller is there and I am here, Mitchell thought as he waited in McCrady's Long Room to greet 80 invited guests. He felt sure that Fuller was seated alongside other 19th century culinary legends.
"These have not been hospitable times in Charleston," Mitchell began.
Mitchell was channeling Fuller, but the crowd wasn't certain he was speaking in character. Two weeks earlier, an unarmed Walter Scott had been gunned down by a North Charleston police officer. Two months later, another nine African-Americans would be massacred at Emanuel AME Church, including the Rev. Clementa Pinckney, who was seated at the Nat Fuller Feast.
"There is strife and sorrow here. But tonight, there's a particular flavor I want to share with you: That is the taste of liberty," Mitchell told the room.
Other communities rushed to stage their own reconciliation meals after reading about the Nat Fuller Feast in the Atlanta Journal-Constitution, The New Yorker or The New York Times. Events were planned from New Orleans to Columbia. The experience of the re-enactment was so meaningful that Mitchell is inclined to dismiss new scholarship that shows Fuller never hosted an interracial reunification dinner.
Facts and feelings
"Being someone who was involved in the re-creation, I am in belief, of course, that it happened," said Mitchell, who was so moved by representing Fuller that he enrolled in the University of Mississippi's graduate program in Southern Studies. He's now finishing his thesis on African-American cooks and chefs in antebellum Charleston but hadn't heard about California State University Fresno history professor Ethan Kytle's findings until The Post and Courier contacted him.
"You can't tell if it happened exactly the way you think, but I am a die-hard Nat Fuller person," Mitchell said. "I am a die-hard David Shields person. Whether it's proven true or not, we honored Nat Fuller in the way we felt necessary. I would think we just continue to honor him in the way we've done."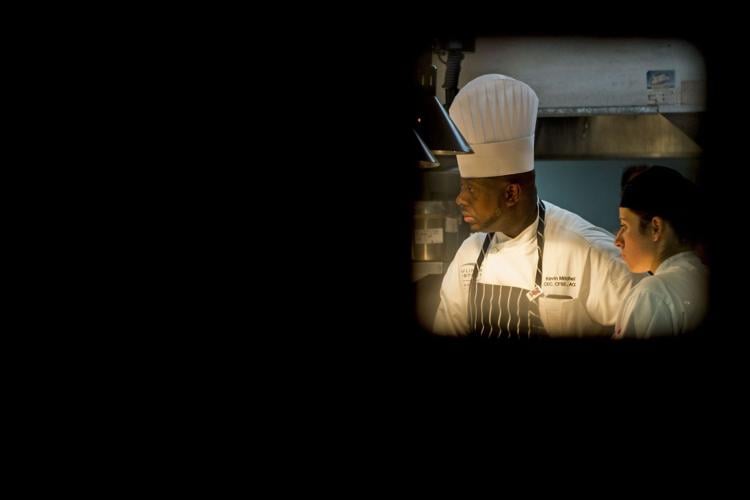 Since learning of Kytle's forthcoming paper, which will be presented this weekend at a College of Charleston conference, Shields has conceded his research was flawed. The "Nat Fuller Feast," which has been replicated again and again for Charleston tourists, didn't occur precisely as he presented it when soliciting $20,000 in donations for the dinner at McCrady's. (Despite contributions from the American Culinary Federation, National Restaurant Association and Slow Food USA, Shields and his committee came up slightly short, so he personally covered the difference.)
Yet, like Mitchell, he believes getting bogged down in specifics puts the overall message of racial harmony at risk.
"I don't think there was that violent a departure from what Fuller was trying to do," Shields said, citing evidence that Fuller admitted white and black customers to his restaurant after the Civil War. "What is the political message of what he was doing? The notion of repair of racial relations, I think that's implicit in what he's doing."
Kytle, who just happened to be in Charleston on a research trip when the Nat Fuller Feast was held — "I was fascinated: I loved the story," he recalled — has a very different view of the affair. To his mind, the potential harm of perpetuating myths is far greater than any good that events and audio tours can do.
"Charleston is a place that for too long has ignored its African-American history, ignored its potentially divisive topics," Kytle said. "It's finally starting to do a better job of that. But I don't want a false story, especially a self-congratulatory story about Charleston during Reconstruction and Charleston today. It fits into a narrative that Charleston has told since Emanuel about there not being a racial divide: It's a story that Charleston has told since the civil rights era."
He continued, "I don't want to undercut people having racial reconciliation dinners. The motives are noble. But myths have gotten us in trouble before."
Conjecturing culinarians
Nic Butler, the Charleston County Public Library's historian and archivist, was one of the prominent Charlestonians invited to the Nat Fuller Feast, along with leading national scholars of African-American culinary history, including Toni Tipton-Martin and Michael Twitty. Butler was seated next to Twitty at one of two long tables draped in white linen and set with bouquets in silver goblets. And, like all of the guests, he was given a pamphlet with the event's backstory.
"When I looked at the booklet, there were parts of it that ran counter to what I knew to be facts," Butler said. "The first thing that caught my eye was street addresses. In the past 200 years, the numbering of Charleston streets has changed radically, so right off the bat, all of these location descriptions are suspect. Probably wrong, but at first blush, suspect. So that's not a good sign."
Butler took the inaccuracies in stride, in part because he's accustomed to amateur historians making mistakes.
"This is something I see all the time at the library," he said. "I caution people all the time that if you cherry-pick facts, and don't understand the context, then the story is inevitably going to be a little skewed at the very least. These details make a difference in how we narrate our history to the world."
On paper, Shields is an amateur historian. In 1982, he earned his doctorate in English from the University of Chicago with a dissertation on New England diaries. But over the past decade, he has emerged as the leading authority on pre-industrial Southern food history, working in tandem with Glenn Roberts of Anson Mills to restore a bygone regional crop system. Calling on research skills he honed while studying early motion picture stills, Shields sifted African runner peanuts, Jimmy Red corn, Hick's mulberries and Charleston Wakefield cabbages from the yellowing pages of agricultural journals.
Shields doesn't fit the mold of a food-and-beverage professional. He's dapper in appearance and demeanor, with interests that stray far from the kitchen. He's a karate black belt, Russian piano music expert and better-than-decent dancer. In his spare time, he likes to make up aphorisms. Yet he has more influence than any celebrity chef on the dining public's notion of Southern food, because his conclusions get planted and sold. Customers at Gramercy Tavern in New York City take their smoked duck andouille over Carolina Gold rice in part because of Shields.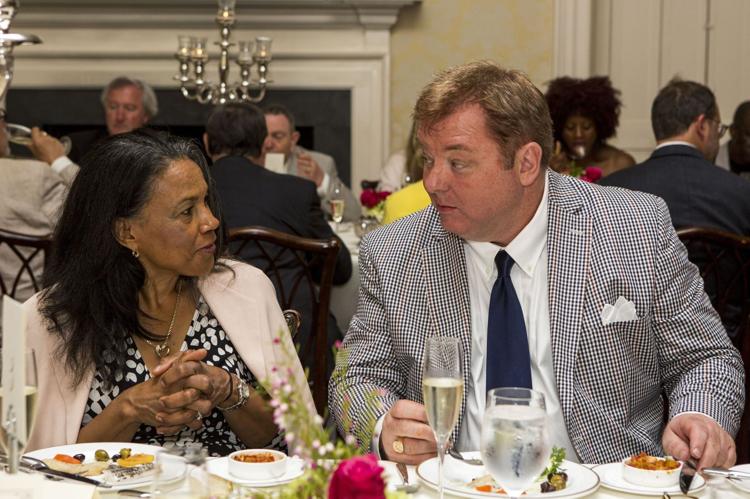 Indeed, Shields is so tied up in the contemporary restaurant scene that his latest book, "The Culinarians: Lives and Careers from the First Age of American Fine Dining," is dedicated to Sean Brock, who helped prepare the Nat Fuller Feast. Structured as an encyclopedia, the 564-page book consists of biographical profiles of 175 chefs, which Shields admits are in some cases held together by conjecture. He's already acknowledged he needs to rewrite the passage covering Cincinnati chef Balthazar Roth's early life.
"When you construct these worlds out of facts, you have to engage in a certain amount of nimbleness," he said. "To a certain degree, that's a calculation you make because of your mortal time."
Evidence of paranoia
According to Levi Stahl of The University of Chicago Press, which published "The Culinarians," "It's not uncommon for errors to creep into the kind of historical work that he's doing here." But Kytle maintains that a mistake in Fuller's entry didn't creep in so much as it was willfully inserted, since he'd alerted Shields to a problematic citation well in advance of publication.
Kytle first started looking into Shields' claims surrounding Fuller because he thought the feast would make a good anecdote for his book on how slavery is remembered in the South. He asked Shields for documentation, and received in reply the same commemorative booklet that Butler leafed through in the Long Room. Kytle was disappointed to find the only corroboration for Shields' story was a quote attributed to Charlestonian Frances J. Porcher:
"Nat Fuller, a Negro caterer, provided munificently for a miscegenat dinner, at which blacks and whites sat on equality and gave toasts and sang songs for Lincoln and Freedom."
To Shields, Porcher's account meant "for the first time in South Carolina, an African American stood as host at a table around which blacks and whites sat subject to his hospitality and generosity." To Kytle, the quote taken from Benjamin Quarles' 1953 landmark history, "The Negro in the Civil War," was impossible to interpret without additional context. He quickly tracked down Porcher's original letter.
"Tossing keywords into Google, after about 30 minutes, I found what I thought was a hit," he said.
Further study revealed that Porcher (actually Abby Louisa, wife of Francis) was in Greenville when she wrote the letter, and that she gleaned her information from a newspaper, not personal experience. "We are living in a strange way now," her mother wrote in a separate letter around the same time. "We have only accidental communication with the outer world."
In the late winter weeks of 1865, even Southern newspaper editors didn't have direct access to Charleston. They were forced to rely on dispatches filed by Northern reporters embedded with Union troops, which the editors spun this way and that before relaying to readers in Virginia, Georgia and the Carolinas. Kytle believes that's how Porcher learned that a Philadelphia merchant hired Fuller, then nationally renowned for his cuisine, to cater a dinner in honor of George Washington's birthday.
As a New York journalist described it, the meal prepared for Union officers and Northern businessmen was "probably the best that has been eaten in this lean and empty-bellied city since the blockade began," featuring turkey, ham, sweet potatoes and apple pie. African-American entertainers performed for the 20 white men around the table, who lifted their glasses to the president and the press.
Elite Southerners were baffled by the goings-on in Charleston. As a Columbia paper put it, "They have had a dinner, provided by Nat Fuller, and drank to their own delight and to the confusion of the rest of the world." For Porcher, Kytle believes, the development was scandalous. It seemed as though her nightmares of an integrated society were on the brink of coming true. In her mistrusting mind, "blacks and whites sat on equality" at the birthday party.
"Her letter did not document an extraordinary moment of interracial fellowship in the wake of a bloody civil war," Kytle wrote. "Instead, it stands as evidence of the paranoia that plagued white Southerners as they contemplated the end of slavery."
Would you believe?
When Kytle contacted him, Shields said, "He was casting doubt on Mrs. Frances Porcher's letter. And he may be right about that."
Still, Shields is adamant that "there was a sit-down event where blacks and whites were together," although he's come to believe it may have unfolded by happenstance when Fuller reopened his restaurant at the corner of Church Street and St. Michael's Alley. Shields is basing his current conclusion on what he calls a "squib," a cookie fortune-like slip of paper that he received after the Nat Fuller Feast made the news.
It reads in full: "Charleston, March 12 — The city's black Boniface Nat Fuller reopened his old stand, the Bachelor's Retreat, and served gentlemen seated pell-mell with his colored brethren."
"Unfortunately, I don't know where this was published, and my attempts to contact the sender after I became curious about it proved fruitless," Shields wrote in an e-mail message accompanying a scan of the squib; he speculates its supplier was the holder of "one of the multitude of Yahoo mail accounts that was abandoned after the hack."
He continued, "I don't use sources I can't verify, so have not cited it, published it or made anything of this. ... I admit, this may just be stating he is serving men regularly without regard to race (no reconciliation event). Yet this does strike me as a new form of hospitality, and something entirely consonant with Fuller's forward way with social politics."
In a later interview, Shields agreed the squib "infected his thinking" when writing "The Culinarians." While he's troubled by the use of the verb "served" as opposed to "hosted," he stands by his contention that "there was a definite event that took place, and the opening of the Bachelor's Retreat probably was the event."
The notion that black Union officers patronized the Bachelor's Retreat "is not beyond the realm of possibility," Kytle said. "But I would need to see evidence of this to make the claim with any certainty. Also, even if such meals happened there, it doesn't necessarily speak to Fuller's politics or to his restaurant as a space of racial reconciliation, a la Fuller's feast."
Kytle is aware that his academic nitpicking could make him seem misanthropic in the face of community togetherness. Or worse, it could be misinterpreted as skepticism about Fuller and his achievements. He clarifies that's far from the case.
"It doesn't take away anything from Nat Fuller: He is still a brilliant chef," Kytle said. "There is no reason to dig into this absent all of this re-enactment stuff that's going on. That was the hook for the dinner; that was the hook for the (Southern Foodways Alliance) podcast: Would you believe? Could you believe? The reason so many people are drawn to it is it seems remarkable it could happen. And the reality is, it didn't."
If Kytle was in charge of re-enactments, he would stick to documented episodes in Charleston's Reconstruction history, such as the South Carolina Constitutional Convention. "That was an amazing moment for two months: A biracial black majority, including dozens of former slaves, redrafted the Constitution and dramatically improved it. That's what I want to see."
Many times, Kytle said, he's asked himself why he devoted time to debunking the Nat Fuller Feast. The answer he's settled on is he's trying to safeguard the city's collective memory. But it's also possible he hoped he would find definitive evidence that the feast occurred just as participants in the 2015 event, from the drummers who led the dinner's opening procession down rain-soaked streets to the culinary students who trimmed asparagus, imagined.
"I would love to be proven wrong," he said. "I still want the story to be true."