Be among the first to know when new restaurants are opening. Subscribe to Charleston's Menu, a newsletter offering an inside look at our city's unique food and dining scene.
Ballet is an art form filled with finesse, technical precision and the ability to improvise. In many ways, a ballerina's skill set mirrors that of a chef, and witnessing a successful performance feels similar to experiencing an unforgettable meal.
Since opening Dec. 3, Three Sirens has impressed with plates of crunchy potato rosti with smoked trout roe resting on a bed of crème fraiche, breadcrumb-topped char-grilled oysters, smoked fish dip croquettes and grilled black bass with field pea ragout.
All this inside a small space that was transformed from a casual Mexican eatery into a place with a completely different ambiance in four months; that's no small feat in Charleston.
So it makes sense that Three Sirens' logo comes from the 1581 Ballet Comique de la Reine that's believed to be the first ever ballet performance — even if the path to that logo, name and even the new Park Circle restaurant's location and chef is a little less direct.
Hey neighbor
When owners Matt Tunstall and Justin Croxall open Three Sirens' orange doors and step outside onto East Montague Avenue, they can see Stems & Skins, their buzzing wine bar that opened in 2016.
In the past, the two Park Circle residents had discussed opening a full-service seafood-focused restaurant, but the right opportunity never came up.
One finally did when YoBo Cantina Fresca owner Katharine Gottfried put the 1067 E. Montague Ave. space on the market.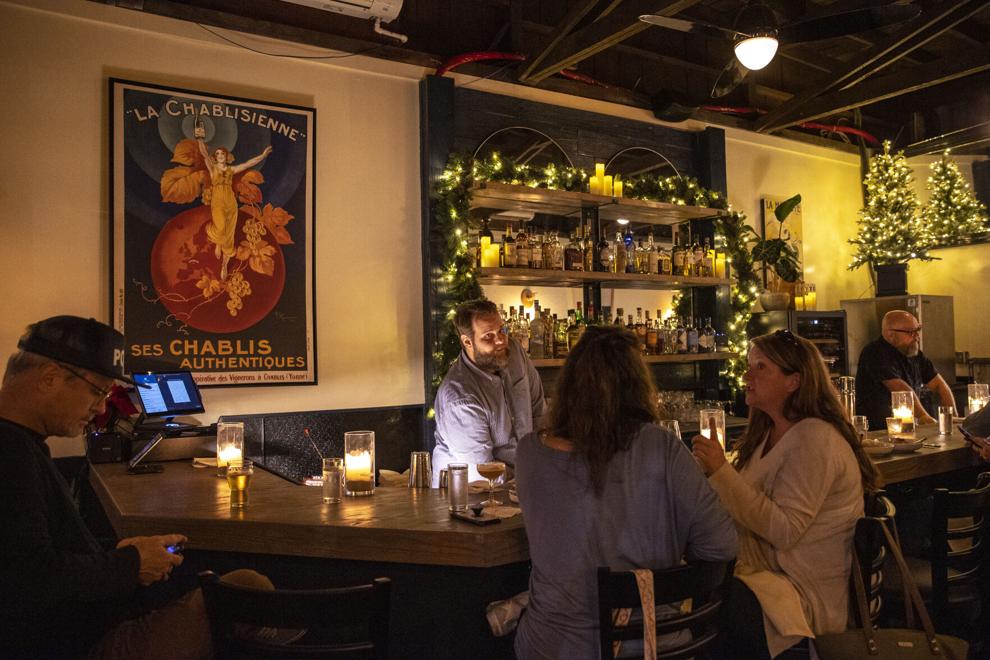 "We had always jokingly dreamed of getting a place across the street and once we got that opportunity we were like 'We need to make this happen,'" Croxall said.
They were ready to go; well, once they landed on a name.
As Croxall put it, the name fell into place while the two were kicking around a more casual fish camp-style restaurant, shortly after signing the lease. Croxall said the word allure, which made them think of luring in a fish. That tangent (naturally) led to the "sirens'' that lured sailors to destruction in many Greek mythologies, including Homer's "Odyssey."
"It's a little dark, but there was something that resonated about it," Croxall said.
When Croxall found the illustration of the three sirens, or mermaids, from the Ballet Comique de la Reine, the ideation phase was complete and Three Sirens was born.
Planned improvisation
Julian Lippe walked into Stems & Skins a year and a half ago with the goal of making a few extra bucks to fund his new private dining business. During his interview, the Florida-born chef impressed Croxall and Tunstall enough for them to hire him to be the wine bar's executive chef on the spot.
Lippe thrived, adding handmade pasta and elevated small plates to a menu that previously only offered light fare like cheese and tinned seafood to pair with the wines.
Still, Croxall and Tunstall knew he could do more with a full kitchen.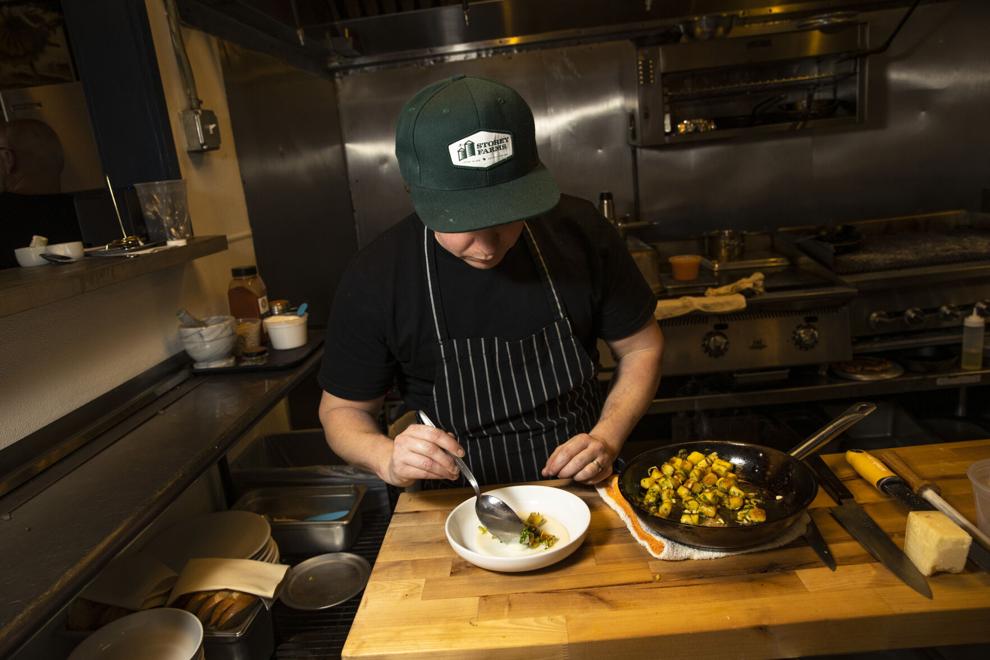 "When Julian first showed up at Stems, I think Matt and I really saw the potential for growth outside of Stems," Croxall said. "His level of professionalism, his commitment, it's just someone Matt and I want inside the organization."
As Three Sirens' executive chef, Lippe has a clear direction for his menu, but that doesn't mean it's set in stone.
"The main idea behind what we're doing here is utilizing fish out of our waters and (see) what we can do with those guys," Lippe said.
The quintessential Three Sirens dish might just be Lippe's grilled bone-in whole fish — currently, he's using black bass. Fish benefit from being prepared on the bone just like a steak or chicken does, according to Lippe, but the preparation requires patience.
"That grill can be your best friend or your worst nightmare," Lippe said. "To me, there's just nothing better in the world than bone-in fish. You just get all these things that are usually cut out of the fish and saved."
In the seafood department, diners will also find raw and char-broiled oysters, barbecue shrimp and grouper, among other options. During a Dec. 4 visit to Three Sirens, our server said the fish croquettes were a must-try small plate on the menu.
We'll echo that sentiment.
According to Lippe, the croquettes' cream cheese-based filling was originally supposed to contain shrimp, but he instead opted to use Abundant Seafood's smoked amberjack.
"(Abundant Seafood owner) Mark Marhefka had this really beautiful smoked amberjack that he's been making for a while and it's always really delicious," said Lippe, calling smoked fish dip one of just a handful of dishes people associate with Florida. "I was like 'Here's my one little nod to Florida.'"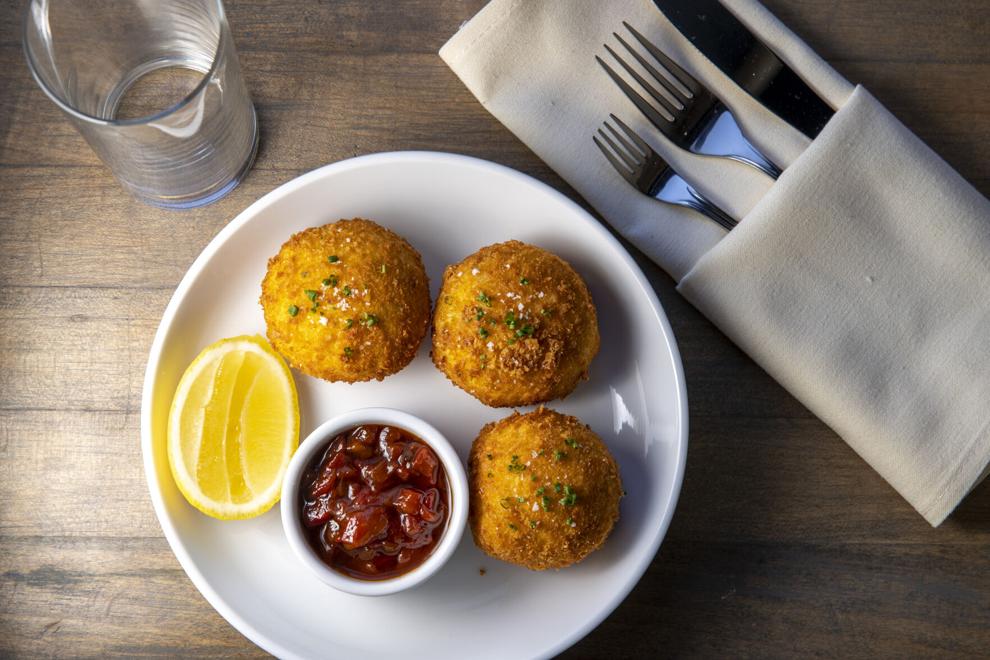 The filling gets a panko breading crust, and then the croquettes hit the fryer. They're served with a sweet and spicy roasted pepper jam made with apple cider vinegar and sugar.
Many of Charleston's renowned restaurants in the seafood category have a must-have meat dish. Chubby Fish's lamb ribs. 167 Raw's 10-hour pork carnitas tacos. Delaney Oyster House's braised beef short rib.
At Three Sirens, it's Lippe's grilled chicken.
"We really wanted to make sure that everyone who came in was able to pick something and feel good about it," he said, describing Three Sirens' non-seafood options.
To make the chicken, Lippe starts with a Storey Farms bird that he debones, presses and brushes with tare, a sauce composed of tamari, sake, mirin, chicken stock, kombu and bonito flake.
The chicken is grilled until crispy and served with sweet potato purée and fried brussels sprouts.
"It's actually one of my favorite dishes on the menu," Lippe said. "That way of pressing it like that is, to me, the best way to cook a boned-out chicken."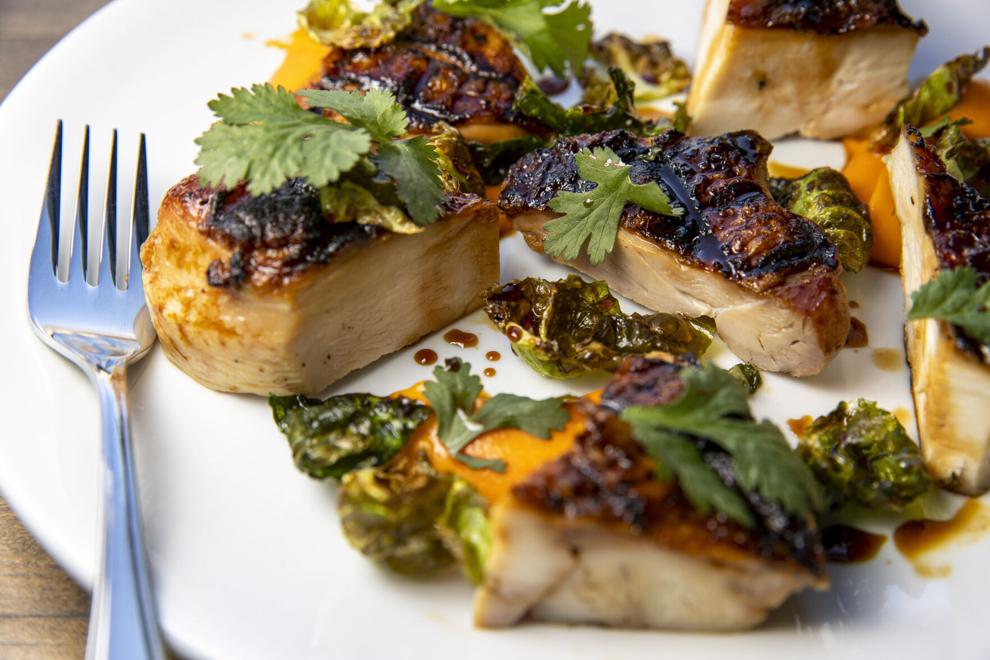 That's not all patrons will find in the non-seafood category. Order a pillowy Parisian gnocchi for the table — perhaps as an in-between course before the entrées arrive. The nutty brown butter sauce allows the gnocchi's texture to shine through, along with the hakurei turnip purée it rests on.
Three Sirens isn't necessarily seasonally focused, meaning the beverage program must stand up to a wide range of flavors. Luckily, Croxall and Tunstall have experience in that department. 
Cocktails and a combination of craft and easy-drinking beers flow from the bar, which of course offers an expansive, curated wine list that will be tweaked as needed.
Same goes for Lippe's menu.
"It's kind of just ever-evolving rather than a set menu for a season," he said. "Really, it's just kind of whatever we want to eat ... rather than feeling forced to change or forced to stay the same."
Fit for any occasion
Croxall isn't afraid to admit that the Three Sirens team completed most of the renovations themselves in order to cut costs.
It doesn't show.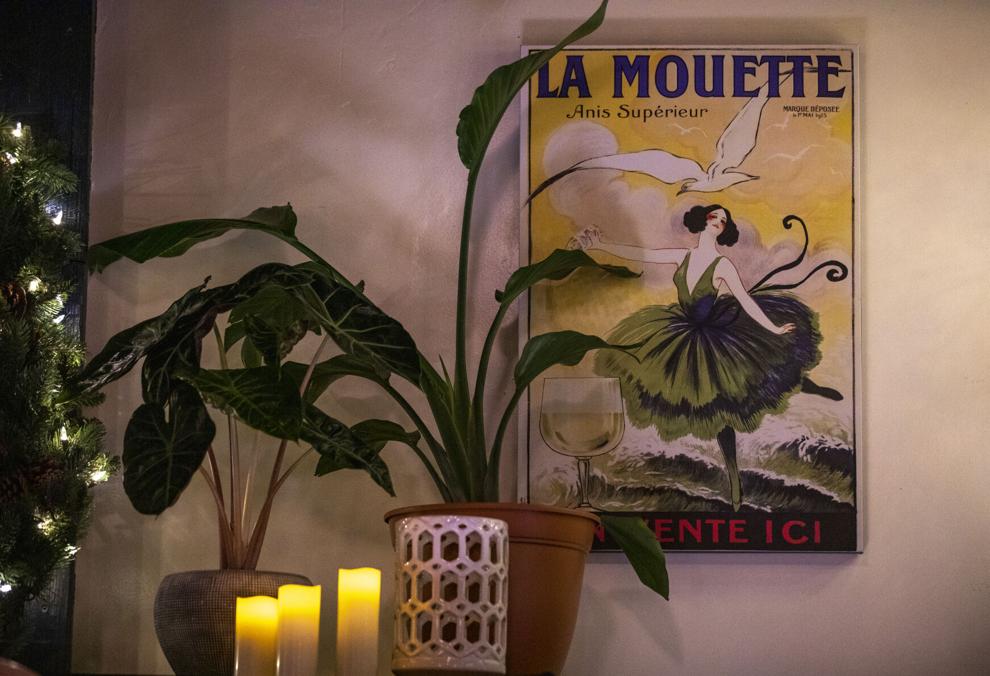 Fresh paint, wallpaper, two stained-glass windows inspired by one in Croxall's childhood home and lights by Cassie Carter, lead bartender Kevin Carter's wife, have given the two-part dining room new life. Church pews left over by the previous owners serve as banquettes at two tables: one facing the bar in the lively front room and another in the back dining room.
"We knew we wanted to have some good energy, so the front room obviously makes sense for that," Croxall said. "And then the back room, we really just wanted to make it somewhere that's a little bit quieter (and) calmer."
Croxall has been pleased with the response to Three Sirens, a restaurant that's further cementing Park Circle as a dining destination.
Like some of its neighbors, Three Sirens is the place to go for an anniversary on Saturday night before rolling in on Tuesday and saying, "I'll have the regular."
Isn't that what most restaurants strive for?