MOUNT PLEASANT — Kevin Regan, Peter Demarest and William Hoffman aren't flaunting the fact that all of the 150-plus labels at their new wine bar and retail shop are available for purchase without a corkage fee. It simply goes with the neighborhood feel they're after at Rooted Wine Bottle Market & Bar, which opened at 3510 Park Avenue Blvd. on April 1.
Patrons who visit Rooted can peruse the shelves, grab a few bottles and pop one open inside or out on its patio, and the "no corkage fee" policy is just part of Rooted's approachability. With a focus on offering competitively priced wine from boutique producers, the three owners — who met at Bin 526 — aim to offer an oasis for those in search of a quality bottle of wine or local craft beer in a relaxed setting.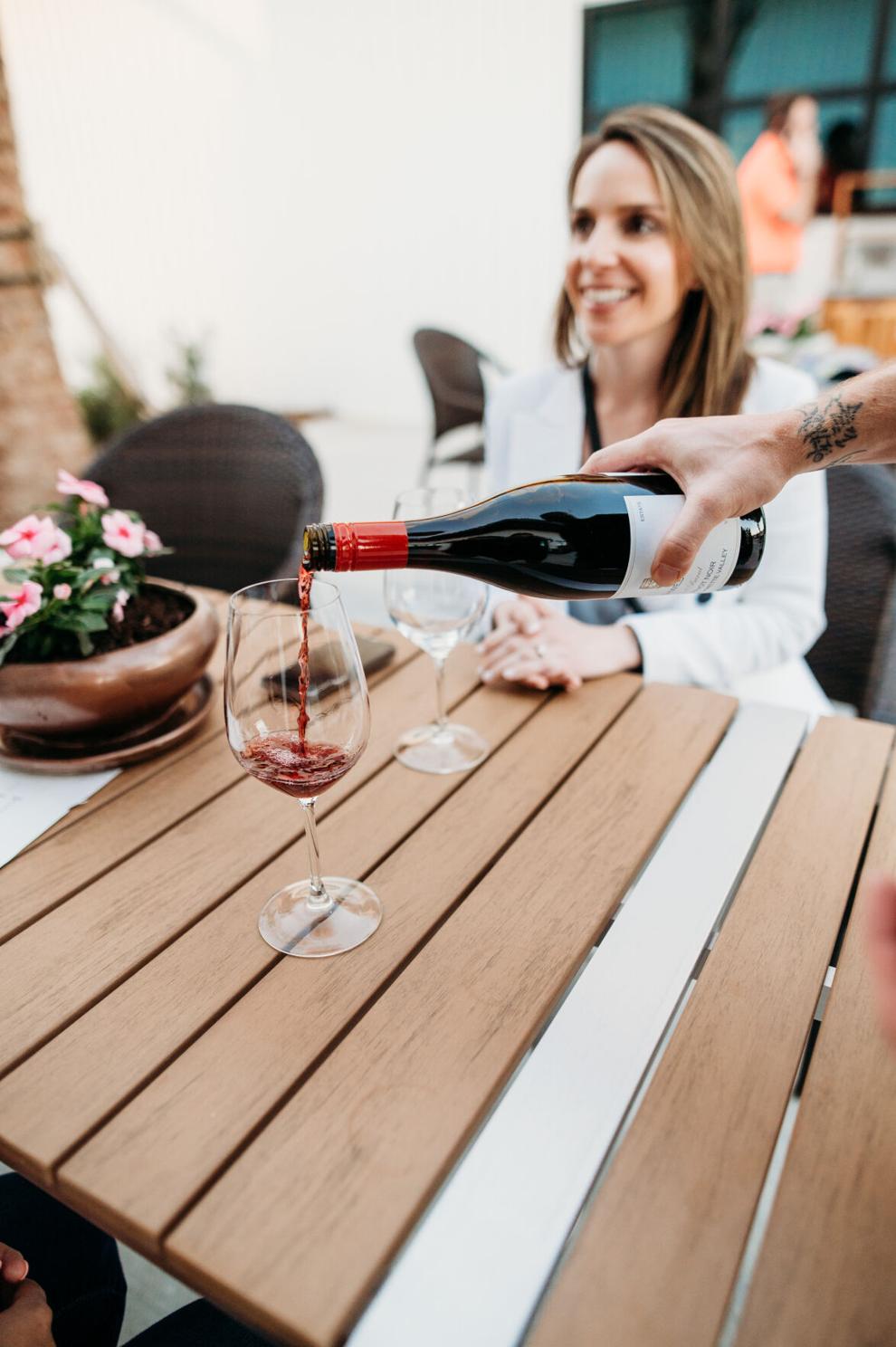 "The goal is to be equally spread out across the whole world," Regan said of Rooted's wine list. "With having the outdoor space, it's a matter of being approachable for everybody."
Regan's Merrow's Garden bar was a fixture at the exploratory food court Workshop, now home to Rancho Lewis. After departing Workshop in 2020, Regan joined Mount Pleasant restaurants Kiki & Rye and Community Table, heading up the beverage program. About a year and a half ago, he started shopping around for space to open a new wine bar.
Given they were looking during the pandemic, outdoor space became a priority. Regan, a father of two, envisioned kids playing on the sidewalk while their parents conversed over an affordable bottle; similar to the vibe you'll find at many of Charleston's most visited breweries.
The space they landed on is located in Mount Pleasant's Carolina Park neighborhood and has room for 50 or so people outside (they are only seating about half of that right now while they settle into the space). Another 20 guests can order drinks, cheese and charcuterie inside.
Ahead of Rooted's opening, Regan, Demarest and Hoffman tasted over 500 wines. The end result was a highly curated list that should offer something for everyone.
Rooted is the latest spot to join Charleston's thriving wine bar and shop community. Graft, The Tippling House, Wine & Company and Monarch Wine Merchants are some of the other destinations demonstrating the Charleston area's big appetite for wine.
"People are coming in with adventurous palates, and I think that goes along with the food scene," Regan said. "The wine and the beer definitely crept along with the food. We're happy with seeing it."
Wine and food do go hand in hand, something Regan and his partners considered before opening. Along with their daily meat and cheese service, Rooted plans to eventually host pop-up dinners multiple nights per week. Nikko Cagalanan, owner of Mansueta's Filipino pop-up, is working as a consultant to help bring Rooted's food program to life.
Rooted is open from 11 a.m.-8 p.m. Tuesday through Thursday, 11 a.m.-10 p.m. Friday and Saturday and 11 a.m.-6 p.m. Sunday.