Michael Shemtov was in Butcher & Bee's open kitchen at 3 p.m. May 17, less than one month before he would hop on a plane to Chicago for the James Beard Awards ceremony.
As a handful of guests finished up a late lunch, Shemtov rolled dolmas and plated a beet and tahini appetizer, two of four new dishes that just landed on the menu.
It's not the place many might expect to find the leader of a growing hospitality group with four establishments in three cities — a group with a restaurant that in March was named a James Beard Award finalist in the Outstanding Restaurant category, an award given to the place that best "demonstrates consistent excellence in food, atmosphere, hospitality and operations while contributing positively to its broader community."
Despite the controversy that has swirled around the James Beard Foundation in recent years, the finalist nod is an honor that is only bestowed upon five restaurants in the country. This year, those restaurants were Brennan's in New Orleans; Chai Pani in Asheville, N.C.; Parachute in Chicago; The Walrus and the Carpenter in Seattle; and Butcher & Bee, a restaurant that has been serving the Charleston community since 2011.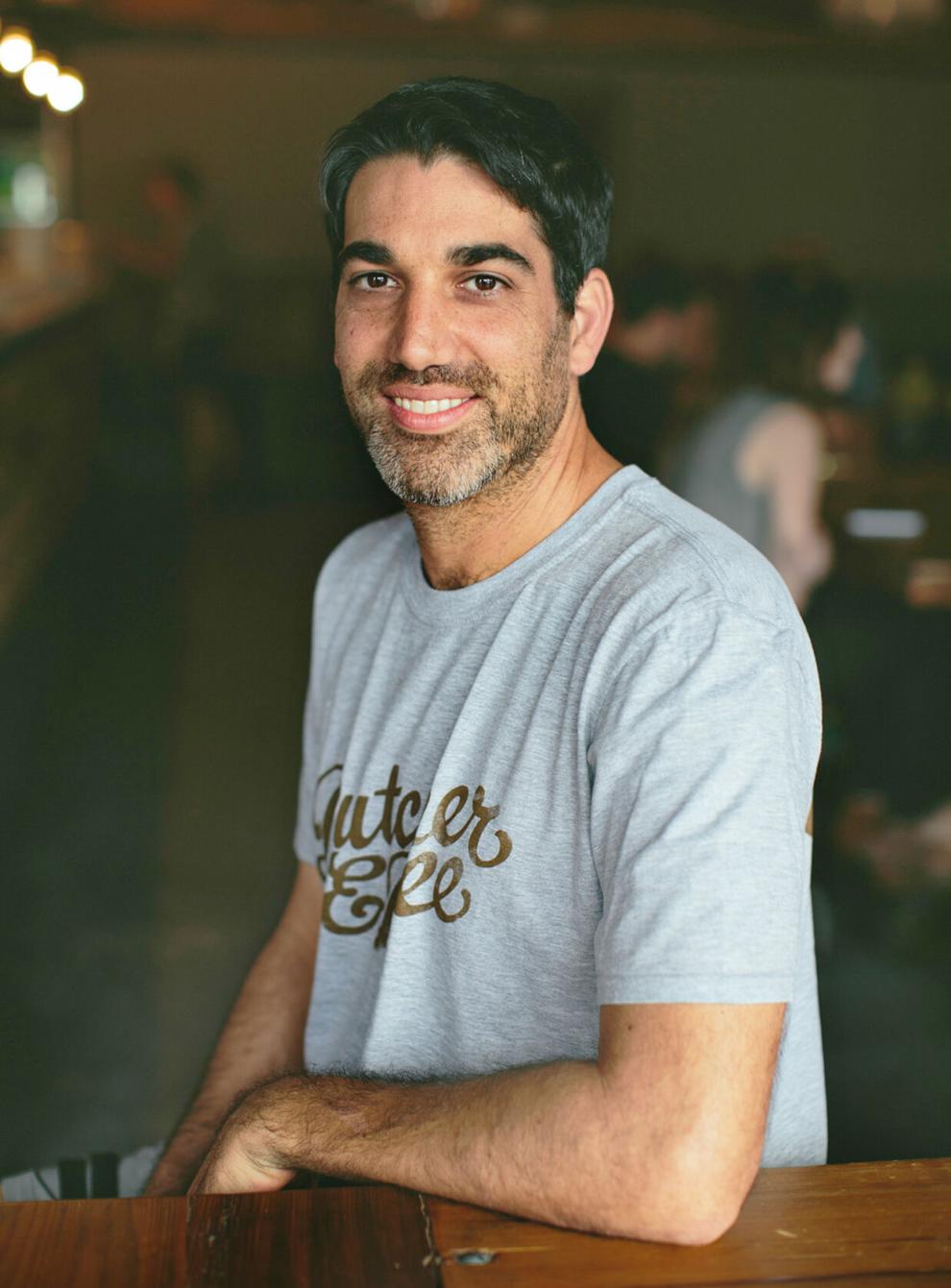 With the restaurant receiving more attention than ever before, Shemtov could have been getting mic'd up for an appearance on an afternoon talk show, but instead, he was helping freshen up Butcher & Bee's menu as he looked to fill openings for three of his top four chef positions. 
As evidenced by the openings, the downtown Charleston restaurant is continuing to evolve like it did in 2016 when it moved from 654 King St. to its current location at 1085 Morrison Drive. 
In a city filled with elite restaurants, what led the group of volunteer subcommittee members, judges and tasting panelists from around the country who make up the James Beard Awards voting body to select Butcher & Bee?
Agile and seasonal, the restaurant continues to turn heads with its Middle Eastern-inspired food and in-house bakery. Beyond just the food, it's perhaps the restaurant's impact on Charleston's community and restaurant industry that sets it apart.
Building the Bee
Shemtov's father was born in Iraq, and his mother grew up in Shreveport, La., before moving to Israel, where Shemtov and his sister were born.
Shemtov's father did most of the cooking, and the family leaned into his Middle Eastern traditions when they moved to the United States.
"He was like the dominant force in the family, and it very much felt like a Middle Eastern house," Shemtov said. "But my dad also liked Southern culture just randomly. He liked Harley-Davidsons, and Lowcountry boil was one of his favorite things."
Shemtov's Middle Eastern upbringing factors into today's Butcher & Bee menu, but when the restaurant first opened on King Street in 2011, the offering was much different. Back then, Butcher & Bee served globally inspired gourmet sandwiches to a local crowd on a stretch of Upper King Street that had yet to develop into the buzzing restaurant hub it is today.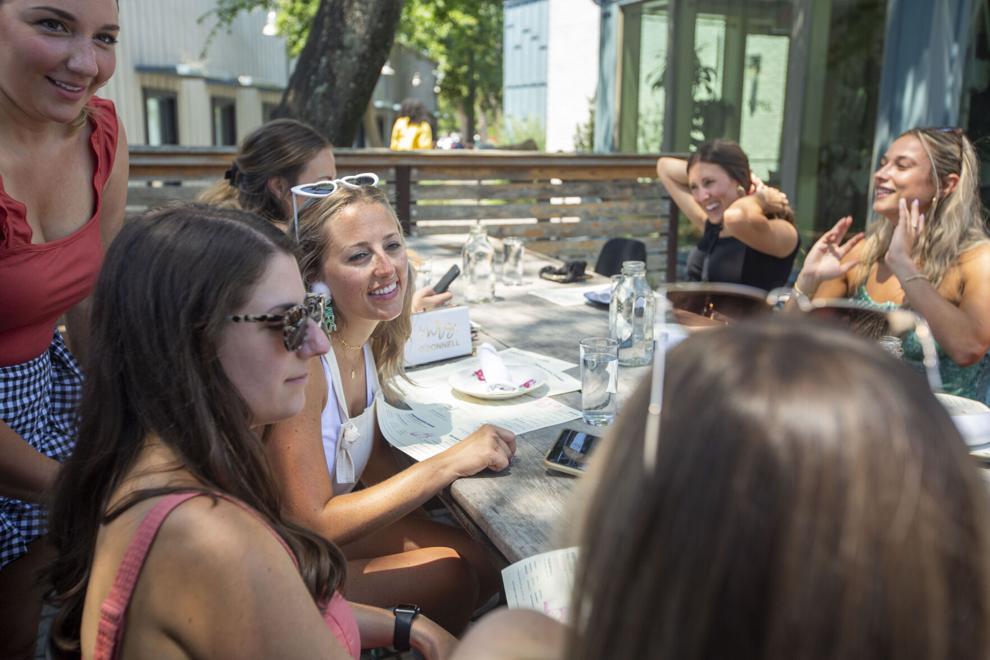 While leading two Mellow Mushroom outposts and serving as the popular pizza chain's marketing director, Shemtov dreamed up his vision for Butcher & Bee, a casual eatery that would specialize in sandwiches made using farm-fresh ingredients. 
During its tenure on King Street, Butcher & Bee catered to the food and beverage industry by opening from 11 p.m. to 1 a.m. in addition to its lunch service. Charleston locals fell in love with Butcher & Bee's open-faced chile relleno torta and muffaletta, but serving sandwiches that lived up to Shemtov's standards and turning a profit at once just wasn't possible.
"We were really popular but not really profitable in that location with that concept. You just couldn't get somebody to pay enough for a sandwich to buy pastured meats and make the bread and make the condiments and make the pickles," Shemtov said. "We were busy and people liked it and it was constantly a line out the door, but the internals were painful."
At a crossroads, Shemtov decided to bring Butcher & Bee to Nashville, Tenn., a restaurant he at the time referred to as Butcher & Bee 2.0. Serving sandwiches, Middle Eastern mezze, salads and alcohol (Butcher & Bee Charleston was BYOB at the time), the restaurant's sales stretched far beyond its Lowcountry counterpart.
The next iteration of Charleston's Butcher & Bee on Morrison Drive would serve dinner, he decided. But it wasn't that simple.
"It was hard to build dinner business because everybody just knew us for lunch," Shemtov said. "We just kept hearing over and over, 'I liked the old Butcher & Bee better.'"
Slowly but surely that changed. Favorites emerged — whipped feta with local honey, kebabs, bacon-wrapped dates — and the restaurant developed a following like it did during its Upper King Street days.
Behind the scenes, Shemtov cultivated a culture that stepped outside of what is traditionally found in restaurants. Employees were made a priority and received benefits at a time when few existed in the hospitality industry. A 2 percent surcharge was added to customer's bills so Shemtov could enhance employee health insurance packages and maternity/paternity leave was granted, for instance. 
The restaurant became a place for staff members to grow as cooks, servers and managers. Some eventually moved on to other prominent kitchens, while others have stayed put for years.
Antonio Thomas has worked as a Butcher & Bee chef for eight years, making him one of its longest tenured employees.
Thomas grew up on Maple Street around the corner from the Bee, where he has developed a knowledge of new dishes and cooking techniques while working just about every kitchen job you could think of.
"It's interesting ... because really I only knew soul foods. But now I know a lot of other foods," Thomas said. "In this kitchen, I do a little bit of everything."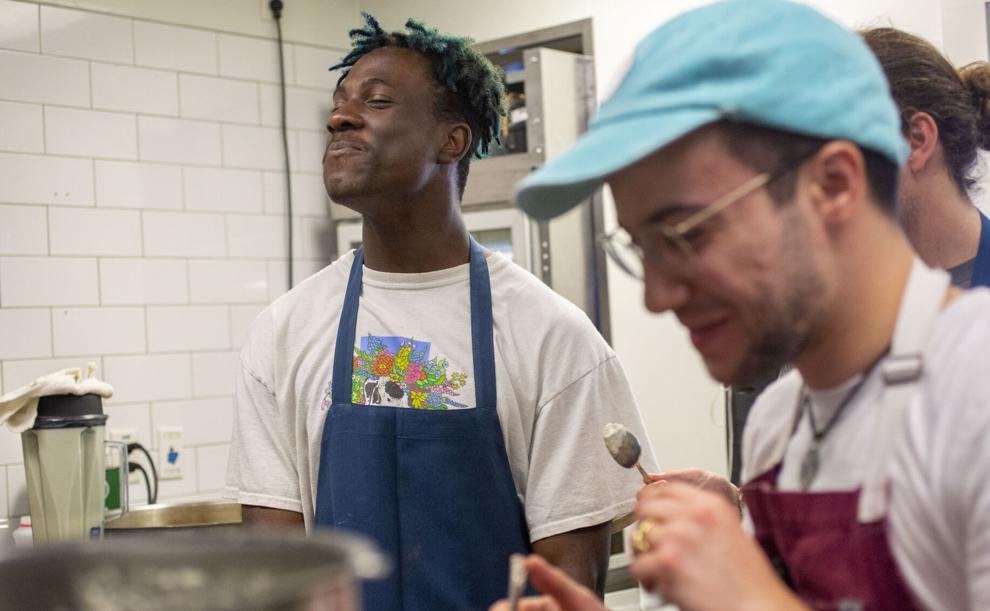 Butcher & Bee Director of Operations Trace Conway joined the team in August 2015. Shemtov and his wife Melody had just had a baby, and Butcher & Bee Nashville was set to open in December. Months after that, Butcher & Bee Charleston moved to its present-day location.
Shemtov told Conway early on that the restaurant's mission was to connect customers to farmers through food — a vision Shemtov says has been ingrained in him since reading a book called "The Omnivore's Dilemma."
"It's still something we talk about all the time," Conway said. "We constantly are discussing how to get into contact with more farmers."
Beyond just the farmers, Shemtov is in the business of connecting people, one of the reasons Conway said he opened a coffee shop (The Daily on King Street) despite the fact that he's not a morning person. This mission to connect reverberates throughout the restaurant.
"Michael is a true visionary. On the core of things, we see eye to eye, so I let him forge ahead," Conway said. "It's been an adventure, but it's been a good adventure. I think I thrive in a little bit of that chaos, too."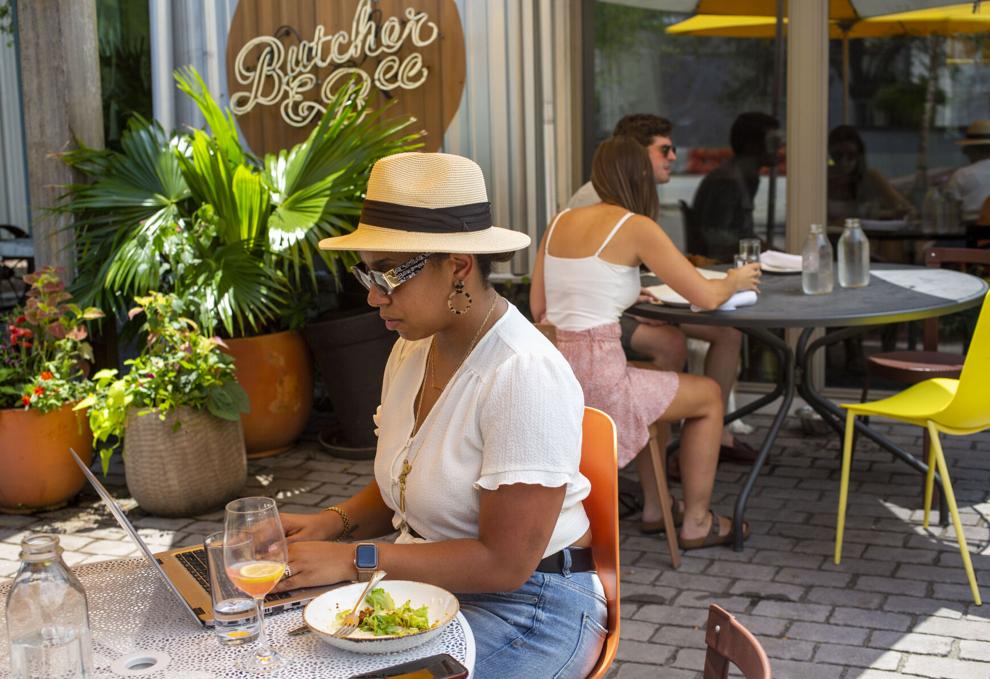 Community impact
Butcher & Bee was not immune to the struggles other restaurants faced at the onset of the COVID-19 pandemic.
The Post and Courier followed Butcher & Bee, along with three other Charleston area establishments, as it navigated the pandemic. There were low points such as staff shortages and issues with Uber Eats, among others.
Those times made it easier to celebrate the high points, like when the restaurant sponsored a Medical University of South Carolina testing station with Edmund's Oast in their shared parking lot at Half Mile North. Or when Shemtov and his team partnered with a local clinic to organize a vaccine clinic that helped nearly 1,000 people — mostly hospitality workers — receive their shots.
And then there was the Pay It Forward initiative.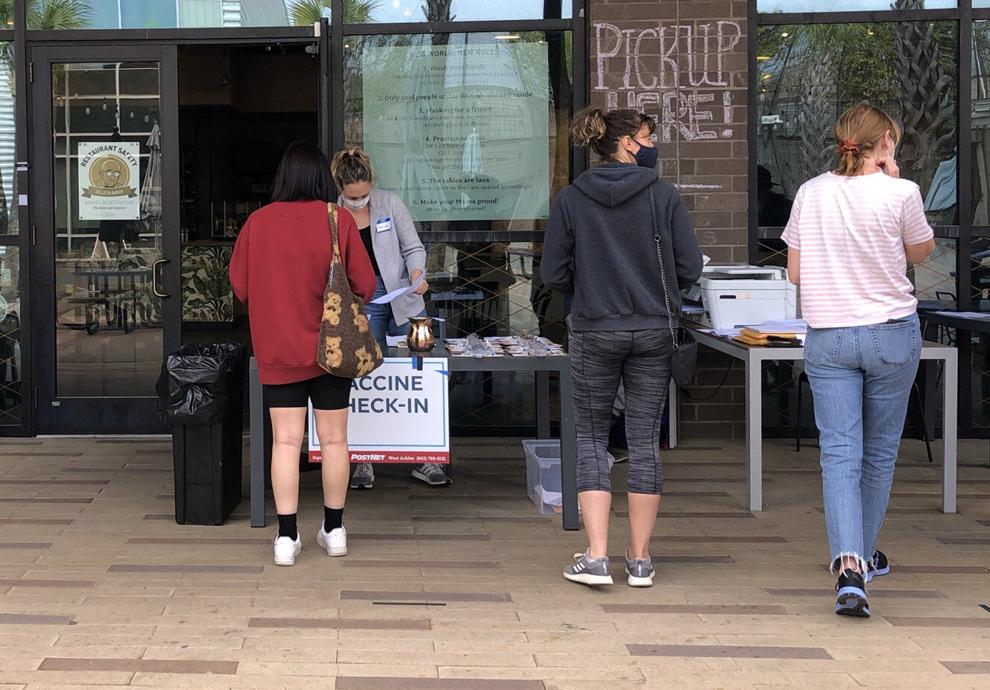 Pay It Forward distributed 11,575 grocery bags to more than 2,250 individuals in two months in spring 2020, filling the bags with essentials from Charleston-area farms, producers and local businesses. The program helped staff members from over 250 restaurants get groceries at a time when that was no small feat. 
Butcher & Bee Chief of Staff Tara Pate, who joined the restaurant group in February 2020, was furloughed in mid-March 2020 amid the COVID-19 pandemic. Shortly after, Shemtov called with the idea to launch Pay It Forward. 
"The first call Michael is making is like, 'We're going to get through this, here's how you're going to do it. Do you want to start a nonprofit?' " Pate recalled. "And you're like, 'Oh OK this is more than words, this is actions.'"
Conway also recalled early discussions about Pay It Forward, which she said revolved around supporting local farmers
"We're not here just to serve food," Conway said. "We actively seek out to do these things. It's not just about making sure we're serving a nice chicken sandwich."
Pay It Forward has since morphed into a full-fledged 501(c)(3) nonprofit that distributed over $21,000 in grants to Charleston food and beverage workers in need between January and March. After securing $200,000 in combined funding from the Indigo Hospitality Group and Sullivan's Island restaurant Obstinate Daughter, the organization is poised to further serve Charleston food and beverage workers in need.
"I feel like the values of our company is something that aligned with my personal values," Pate said. "I think in the hospitality industry that's sometimes hard to find."
Looking inward 
Chai Pani picked up the national James Beard Award in the Outstanding Restaurant category at a June 13 ceremony at the Lyric Opera in Chicago, besting Butcher & Bee and the three other finalist nominees. 
The morning after the awards ceremony, Shemtov told The Post and Courier he was happy to see the award go to his friend Meherwan Irani, who shares his story of visiting spice markets and eating street food in India through the food served at his casual downtown Asheville restaurant.
Sure, Shemtov wanted the win, but just being up for this award means Butcher & Bee has reached new heights. 
"I never set out to win a Beard Award," said Shemtov, recalling conversations with his staff about striving to enter the national conversation around excellence. "We're here, we're in Chicago, we're one of five restaurants in the nation." 
Moving forward, Shemtov is committed to contributing to the community, but much of his attention will be focused on the action inside the four walls of the restaurant. He recently hired a chef de cuisine named Salvador Lopez, although he is still searching for his next executive chef. 
Shemtov doesn't seem concerned by what lies ahead, however. After all, those who reach the pinnacle of their profession usually prefer to stay there.