Editor's Note: This story contains spoilers for "The Menu."
"The Menu" starring Ralph Fiennes and Anya Taylor-Joy ("The Queen's Gambit") tells a tale of greed, deceit and self-obsession, with top-tier cuisine serving as the connection between the 11 principal characters.
In the dark comedy horror film, a group of uppity guests travels to a remote island to dine at a fictional $1,250-per-person restaurant named Hawthorne, helmed by celebrity chef Julian Slowik, played by Fiennes. Among the guests is a food critic, washed-up actor, young couple and a trio of finance bros, among others.
Over the course of the movie's hour and 47 minutes, Slowik's diners begin to realize they are in for something more sinister than an expensive meal.
Fitting in with the current trends of food television, "The Menu" director Mark Mylod ("Succession") made it a priority to accurately capture the sights and sounds of a fine-dining restaurant experience — of course with many theatrical twists, including an epic final scene involving s'mores. 
A chef with ties to Charleston was one of the movie's main food stylists during production, which took place over three months in Pooler, Ga., just outside of Savannah. 
Othel Plowden, a Fort Dorchester High School (2006) and Culinary Institute of Charleston (2009) graduate, had never worked on a film set before "The Menu," which landed in theaters in November and was released on HBO Max Jan. 3. 
Plowden was working as a culinary school professor at the newly opened Culinary Institute of the South in Bluffton while "The Menu" was looking for a food stylist to assist Kendall Gensler, the designer in charge of executing a meal that was constructed by three Michelin-star chef Dominique Crenn of Atelier Crenn in San Francisco, hired to work as a consultant on the film.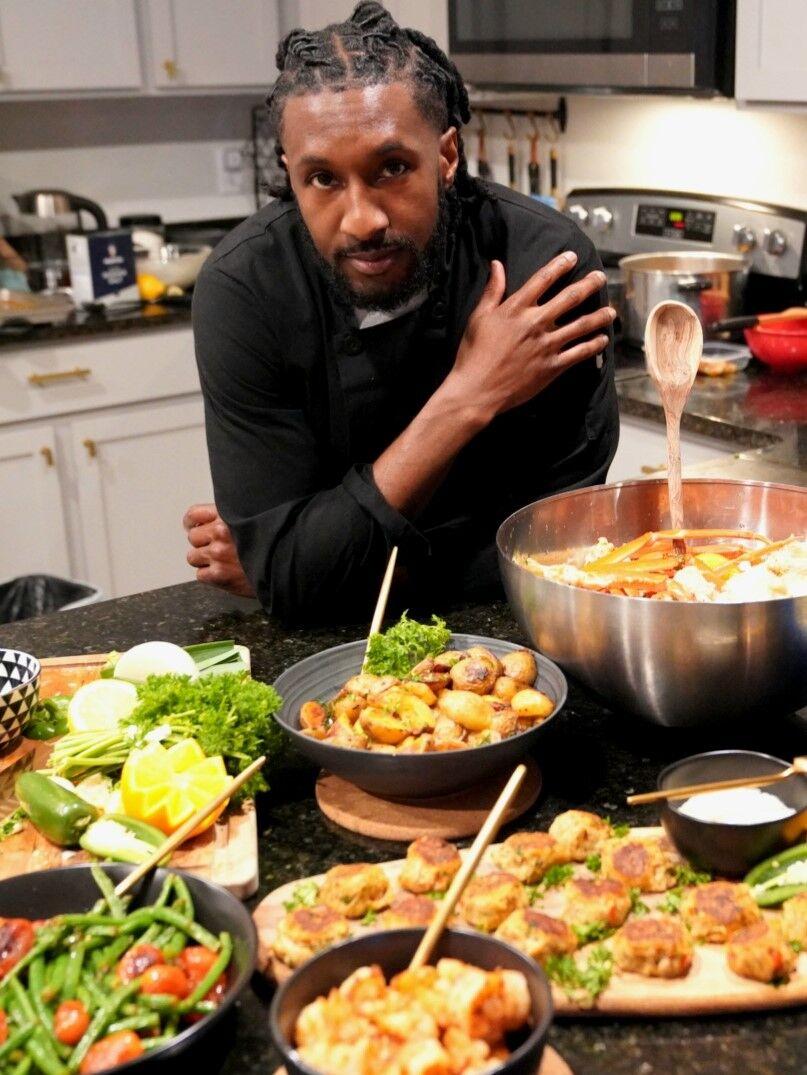 A connection with a former college professor landed Plowden the stylist gig on "The Menu," where he worked directly with Gensler and John Benhase, the Savannah chef who was responsible for coaching many of the film's stars, including Fiennes, Taylor-Joy, Nicholas Hoult and Janet McTeer, who plays the role of fictional food critic Lillian Bloom. 
When Plowden first stepped on set where a restaurant had been constructed just for the film, he quickly learned that perfecting the elaborate Hawthorne meal Crenn created would not be a small task. 
"Usually, they have prop food in film," Crenn told Vanity Fair. "But it doesn't taste like anything, it doesn't look beautiful. I was not going to do prop food. I said to the director I wanted to make the food as if they were eating at a restaurant. It was very important to us that every time an actor put that food in their mouth (it tasted good)."
According to Gensler, who has 20 years of food styling experience on television shows and films like Quentin Tarantino's "Django Unchained," her four-person production team retrofitted the dishes Crenn submitted so they would hold up on camera, managing actors' dietary restrictions along the way. 
"On 'The Menu,' it's all food all the time," Gensler told The Post and Courier, adding that the film offered her a rare opportunity to be involved from start to finish, rather than on a scene-by-scene basis. "It's a once-in-a- career type of movie that is specifically about food and the restaurant world." 
"When they started the movie, it started to evolve as far as what they wanted to do and how they wanted to portray this movie," added Plowden. "We kind of talked between ourselves and figured out how (the food) would come together."
Plowden played a pivotal role in two of the film's most-discussed scenes.
In one of the closing scenes, Anya Taylor-Joy's character, Margot, asks chef Slowik to make her a cheeseburger before she departs the Hawthorne island by boat. This scene appears to show a soft side to the villainous Slowik, though some movie goers ponder whether the chef poisoned her handheld before letting her escape. 
In real life, the juicy, American cheese-topped burger Taylor-Joy devoured was in fact vegetarian — like the actor herself, who has avoided meat and fish since she was 8 years old — and made by Plowden. An all-beef smash-style burger, also cooked by the Charleston native, was used in drawn-out shots of chef Slowik assembling the burger for Margot. 
"They said that they wanted to have this element of him building the burger," Plowden said. "There was a point when we got to work with Ralph (Fiennes) on his techniques."
In the final scene of "The Menu," kitchen staffers fill Hawthorne's dining room with graham cracker crumbs and various sauces before dressing the terrified guests in marshmallow suits. An emulation of chef Grant Achatz's famous tabletop dessert at Chicago's Alinea with a murderous spin, chef Slowik proceeds to light the restaurant on fire, turning the diners into human s'mores.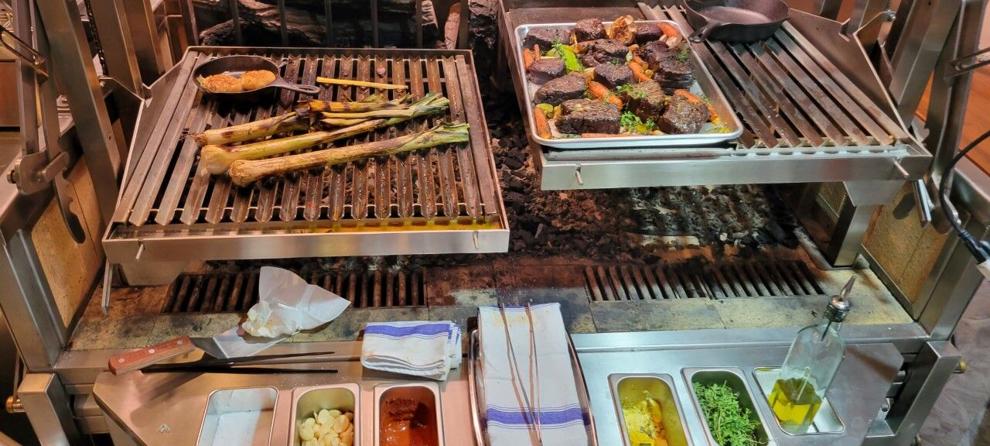 "That was probably the most daunting scene that we had worked on. They had an entire team that was dedicated to making the marshmallow suits and everything like that," Plowden said. "We worked with three or four departments because it was all hands on deck for that."
While cooking roles in high-profile films are rare, Plowden hopes to work as a food stylist on another movie. Based on Gensler's review of his work, Plowden is deserving of another opportunity in the future. 
"It was very obvious to me that he was going to be very strong and know right away what was going on," Gensler said. "It was fantastic to work with him, and he was a very strong support system for me."
Plowden, who has worked in private clubs, resorts, restaurants and catering companies in nearly every capacity, currently lives in the Charlotte area, where he recently launched his own private chef and consulting business, Cookin' Spoon.