In the end, Pat Smathers' failed bid to become the Democratic candidate for lieutenant governor of North Carolina didn't come down to a single vote, so his son doesn't bear the blame. But had the race been closer, Zeb Smathers might have had to answer for his behavior in Nash County.
"I made the mistake of requesting ketchup-based sauce," says Smathers, who in 2008 was stumping for his father all over Eastern Carolina. As barbecue sauce scholars know, the boundary for tomato tolerance runs roughly through Alamance County, about 100 miles west of the event where Smathers was cracking smoked pork jokes. He was campaigning in the heart of vinegar and pepper territory.
"This lady was none too pleased," says Smathers, remembering how her face tightened into a disapproving frown. "She was none too happy. We lost her support, and that is a 100 percent true story."
When they're not raising money, political candidates are often preoccupied with crafting and pitching their campaign platforms. Yet voters may not care as much about where they stand as what they eat, especially in a region where food is tied up with cultural expression and community identity. Strategists say that as 23-and-counting Democratic presidential hopefuls battle for South Carolina's support, their food choices are likely to figure into how they're perceived by the state's voters.
"I call this the presidential pickle," says Adrian Miller, a former policy adviser to President Bill Clinton and Colorado Gov. Bill Ritter Jr. In 2017, Miller published "The President's Kitchen Cabinet: The Story of the African Americans Who Have Fed Our First Families, from the Washingtons to the Obamas."
"We want presidents to be extraordinary people, but we also want them to be a lot like us," Miller continues. "And food is often a great window into the presidential soul. It speaks to how they live their lives."
Shut your mouth
That's already a lot of weight to put on a sandwich. But Miller says the cost of making a culinary error on the campaign trail has shot up with the rise of social media, since self-appointed pundits are now ready to pounce on every food faux pas.
When newly declared presidential candidate Bill de Blasio was photographed eating a slice of Staten Island pizza with a fork and knife during his 2014 mayoral run, it dominated the news for days (Two years after Forkgate, presidential candidate John Kasich went on "Late Night with Seth Meyers" to apologize for committing the same sin in The Bronx.) De Blasio had made the elementary mistake of appearing not just unfamiliar with local norms, but downright weird.
"You need to respect the laws," says Smathers, who's concerned that one of his Democratic brethren from up north might complain about too much sugar in the tea.
Social media has also put a stop to the once-common practice of telling an audience that its town was home to the state's best peach cobbler or biscuits without fear that folks at the next stop would catch wind of the pandering pronouncement. Playing favorites rarely works out for candidates, Miller warns. "Things go quickly off the rails."
That's why when Smathers was running to become mayor of Canton, N.C., he'd taste every dish at church homecoming dinners, even if it meant piling five different mac-and-cheeses onto his plate. "I think it's best to eat all five; keep your mouth shut and listen," he says.
Smathers was making a point about politicking, not politeness, but Miller notes candidates who "chew with their mouths open tend to get a ribbing." Additionally, because of longstanding racist stereotypes involving fried chicken and watermelon, "African Americans have to think twice about eating certain foods and being photographed."
Eat up
Yet despite all of the potential pitfalls, Miller and Smathers agree that candidates shouldn't shy away from enjoying local dishes.
"It's kind of like when you go to another country," Miller says. "Even when you speak a language poorly, they appreciate that you try. It breaks down a lot of barriers."
It also immediately establishes a point of commonality, a lesson that Smathers has learned at his father-in-law's dinner table. His father-in-law chairs the county's Republican Party, but Smathers says, "It's amazing how many things we can come to agreement on, and that's usually when we're eating the same thing," such as kilt lettuce and onions, which they both adore.
Still, this year's crop of primary candidates may encounter culinary challenges that probably didn't trip up any of the Republicans who competed for South Carolina votes in 2016. For example, approximately 1 out of every 6 liberal Democrats doesn't eat meat, according to a 2016 Pew Research Center study, which could complicate whole hog barbecue photo ops. That group includes U.S. Sen. Cory Booker, who's a vegan.
Booker is likely to have the toughest time impressing South Carolinians at the table, Miller and Smathers say. They also concur on which candidate ought to ace the eating component of the primary campaign, which in the Lowcountry started in earnest with U.S. Sen. Kamala Harris placing an order at Rodney Scott's BBQ.
"Just given his working-class roots, I would say Joe Biden," Miller says.
"It's not his first rodeo," Smathers rules. "I don't see any problems with Uncle Joey embracing the foods of South Carolina."
Will Biden indeed win the race? Over the next few months, we'll find out. The Post and Courier plans to keep an online tally of iconic South Carolina dishes consumed by candidates. Specifically, we're interested in which candidate will eat all of the following food items first: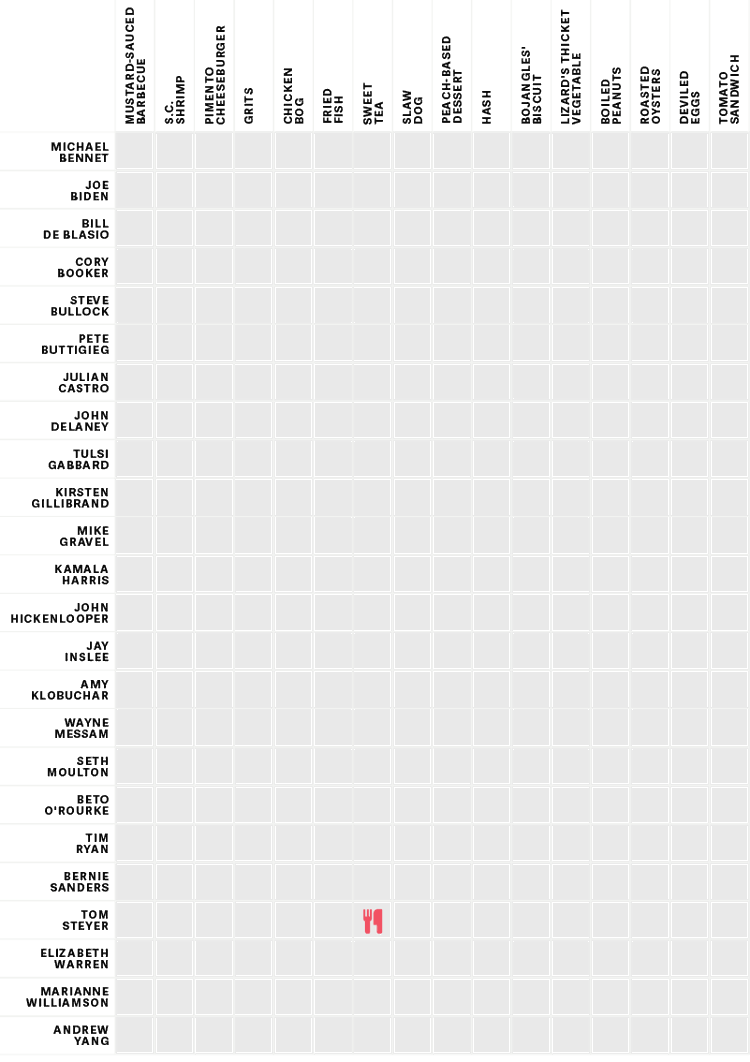 Can you help us fill out this chart? 
If you spot a presidential candidate snacking on one of these items while in the Palmetto State, let us know! Send an email to Hanna Raskin with a photo attached as evidence, and we'll update the tracker. Together we can create a full picture of who's got the most refined Southern palate.
Visit postandcourier.com/food throughout the campaign to learn who's in the lead.