Bar Tab is a recurring column in The Post and Courier Food section that highlights a locally made or sold adult beverage.
With Thanksgiving just around the bend, I decided to indulge in a holiday-specific beverage at a local hotel bar. 
The Bar at The Spectator Hotel on State Street is serving, for one week only (Thanksgiving week), a savory cocktail called Bird in Hand. The drink is infused with five different "birds:" Old Crow bourbon, Wild Turkey bourbon, apple-infused Famous Grouse scotch, duck fat and chicken stock.  
The drink is decorated with boba-size caviar pearls full of some your favorite Thanksgiving dinner flavors. There's a chicken, rosemary and maple syrup pearl that tastes like chicken and waffles; a butter-washed bourbon, corn milk and cayenne pearl that tastes like sweet corn on the cob; and a sausage, sage and scotch pearl that tastes like the spices on the main course.
Because of a broken boba pearl machine on the day I tried the drink, the ingredients for those bite-sized spheres were served up in three additional glasses, so I can't say exactly what the popping pearls taste like, but I am intrigued. 
Vermouth, orange and cardamom flavors also arise, and to top it all off, the drink is served with a skewer of seared sweet potato, onion and baby corn on the cob.
I recommend drinking this while keeping in mind that it's a meal on its own. It is heavy, and I'm sure the calories coincide with the contents. I couldn't decide if I actually liked it or was just fascinated by the cornucopia of food flavors. Regardless, it was entirely worth a seasonal try. 
Plus, there's a charitable component. The drink will ring in at $25, but $10 of that will be donated to the Lowcountry Food Bank.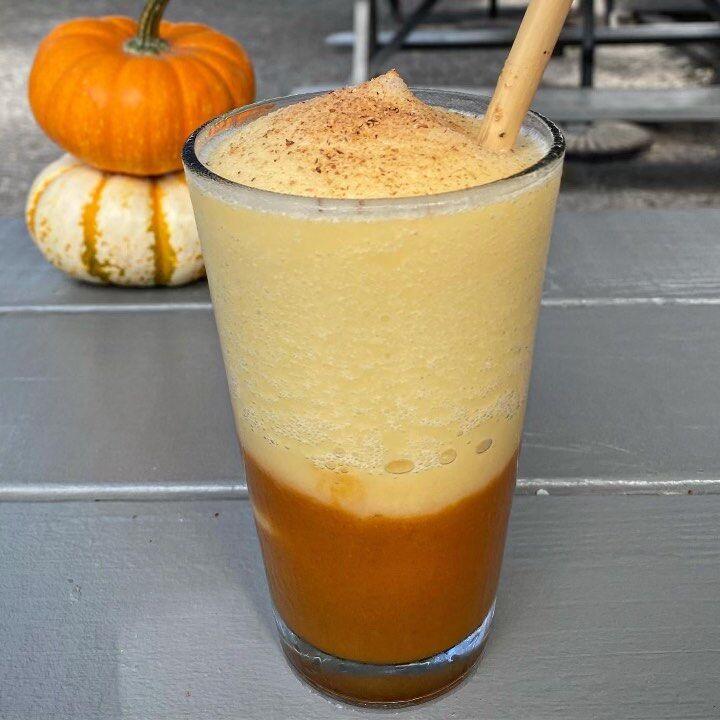 In addition, I've been scouting some other fall-flavored drinks around town. Pumpkin spice season is not over yet, and Home Team BBQ has updated their most famous beverage in honor of autumn. 
The Game Changer, a frozen rum painkiller, is temporarily available in a pumpkin spice version. And it's entirely delicious. The cinnamon, nutmeg, allspice, clove and ginger flavors turn out splendidly in the frozen concoction, and the updated drink will still give you its famous buzz (you only need one). 
Stems & Skins in Park Circle is also riding the cinnamon flavor wave with a cocktail aptly called Chai It. It is made with North Charleston's own Striped Pig spiced rum, oat milk and chai syrup, and it's a divine dessert drink. 
What cocktails have you been trying this season? Let me know at koyer@postandcourier.com. Next up: Christmas drinks!