This is part of The Post and Courier's Daily Digest series, in which one of our food reporters asks a local to describe a day of eating in detail. Interested in being featured in Daily Digest? Email pmilner@postandcourier.com.
Fudgy Brabham is the broker-in-charge at Harbourtowne Real Estate. This is what he is cooking for Thanksgiving. 
I know you might think this recipe will not work, but believe me it does. 
When I was first married, I was always tight on oven space at Thanksgiving. I had a large spread and needed the oven for the side items, so I had to come up with a way to cook the turkey that allowed me to use the oven space when I needed it.
I did it by working on this recipe, which has turned out to be exceptional. I have offered it to many friends over the years and they really like it. I thought I might offer it to other cooks who are "oven space challenged" for Thanksgiving.
Fudgy's 9 O'clock Turkey
Ingredients 
14- to 16-pound hen turkey
1 bunch of celery, rough chopped
2 large sweet onions, rough chopped
1 package of fresh sage
1 package of fresh thyme
Salt and pepper
4 10-ounce cans of Campbell's chicken broth
2 sticks of butter
⅓ cup of vegetable oil
Large roasting pan
Directions 
At 9 p.m., preheat the oven to 450 degrees for one hour — during this hour, wash the thawed bird and pat dry. Place bird into a heavy roasting pan without a rack. Place one-third of the onions and celery into the bird's cavity, along with one stick of butter. Tie the bunches of sage and thyme together and stuff into the bird
Distribute the rest of the onions and celery around the bird. Cut the remaining stick of butter into four pieces and place on each side. Rub the bird completely with the vegetable oil, then add salt and pepper to the bird (remember to put seasoning into the cavity).
Put the bird directly on the bottom of the roasting pan and pour all of the chicken broth into the bottom of the pan.
At 10 p.m., place the bird into the preheated oven, uncovered, and allow to cook for 1½ hours. At 11:30 p.m. cut the oven off. Go to bed and allow bird to remain in oven until 8 a.m.
You will find a perfectly cooked turkey that is tender and moist. 
Cook's note: I like to remove the turkey to a cutting board, break it down and place back into the cooking juices. Add a little more broth to cover the meat and cover pan with foil. Warm when you are ready to enjoy.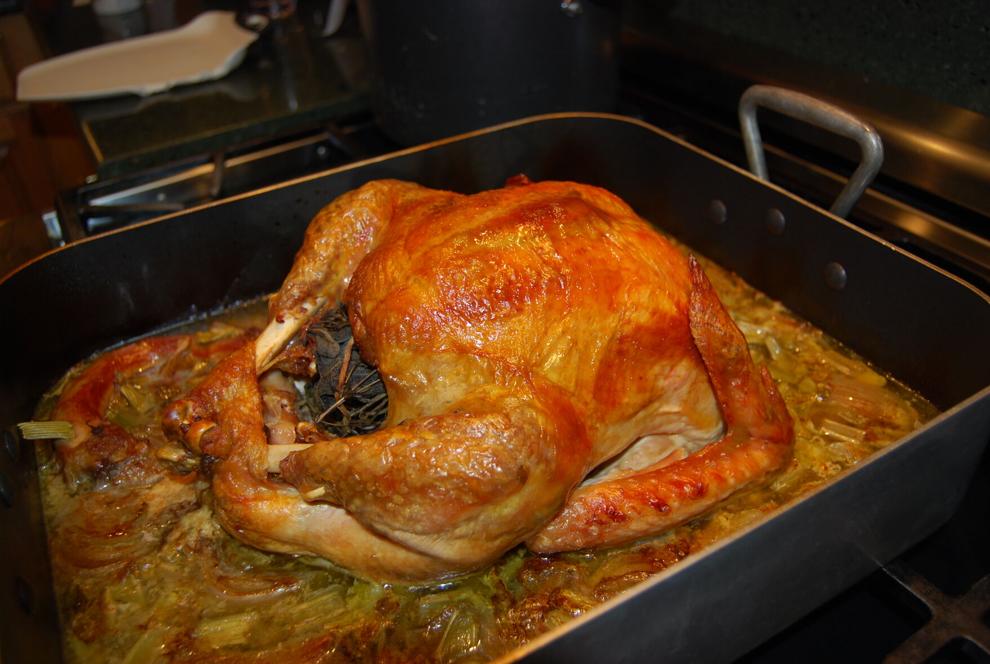 Dressing 
Ingredients 
Celery
Onions
Turkey necks
Chicken broth
Chicken base
Sage and thyme
Corn bread mix 
Melted butter
Directions 
Start with four to five fresh turkey necks. In a large pot, sauté five to six ribs of celery and two sliced sweet onions in a half stick of butter until wilted. Add the necks and cover with chicken broth and one tablespoon of chicken base. Season the liquid liberally with thyme and sage. Cover, simmer and cook for two to three hours, keeping the fluid level over the necks.
While this simmers, make a good cornbread by package instructions. After cooking, allow cornbread to cool completely. (I generally make mine the day before.) When necks are finished, pick all of the meat and reserve.
Now, assemble. Crumble the cornbread into a large bowl. With a slotted spoon, dredge out the celery and onions from the liquid and add to cornbread. Drizzle with ½ to ¾ stick of melted butter. Add turkey neck meat. Mix at this point while adding some of the stock from the turkey neck liquid. Hold the balance of turkey neck liquid for roasting the turkey later. Mix until very moist.
Pour into an oiled baking dish and bake at 375 degrees for about 50 minutes or until top has a nice crust.