Cheerwine is spreading its namesake good cheer this season by collaborating with restaurants and bars across the country to develop recipes using the brand's holiday punch. 
Among those participating are a few Charleston establishments, some of which will debut their recipes in-house this month. 
The North Carolina cherry-flavored soft drink has been around since 1917, during World War I sugar rationing, and is a sentimental Southern favorite. So it makes sense that South Carolina businesses would be gung-ho on the collaboration. 
Butcher & Bee's executive pastry chef Jessica Olin came up with a Cheerwine fruitcake that includes the holiday punch in addition to cranberries, golden raisins, dried figs, orange peel, ginger, pecans, cinnamon and clove. 
"Growing up in the South, I vividly remember my mother serving her holiday punch in an impressively large crystal punch bowl," Olin said. "This memory is recollected by the holiday fruitcake, which gets a bad rap, but, I mean come on, how can it not be good when you add Cheerwine?"
Olin, who enjoys highlighting Southern cuisine with a sense of nostalgia, said creating the Cheerwine recipe was a fun assignment. 
And the fruitcake will be available at Mount Pleasant Old Village's Holiday Street Festival on Dec. 4, as well as by special order placed over the phone or in-person at the restaurant.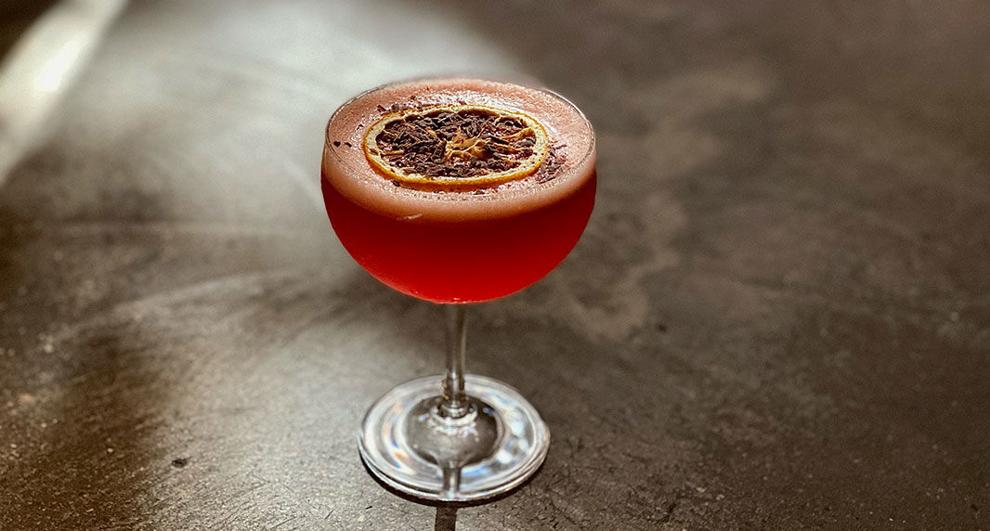 Meanwhile, at The Gin Joint, you can sip some Cheerwine holiday punch in your adult beverage. 
Owner James Bolt has crafted the Cheer of the Century, a play on classic cocktail The 20th Century. Both feature gin, lemon juice and creme de cacao. 
Bolt's version uses local distillery Nippitaty's gin and sweetens up the mulled wine flavors of clove, cinnamon and nutmeg in the simple syrup he made out of the Cheerwine with a splash of maple syrup. 
This is his second year creating a Cheerwine holiday punch. Last December's was a gin-based fizzy cocktail. 
"We had a lot of people calling and coming in to try it last year," Bolt said. "It went over well so we went for it again this time."
The drink will be available and featured on the holiday menu through New Year's Eve.  
Lenoir's Laura Costa also got in on the cocktail action with the Christmas Gift, a boozy rum drink with pineapple rum, ginger lime liqueur, lime juice, Amaretto and the soda on top. 
Costa said that since Lenoir's owner, Vivian Howard, is from North Carolina the restaurant wanted to pay homage to the beverage from the same state. 
The drink won't be available at the bar, only by recipe online. 
Same goes for Life Raft Treats' Cheerwine monkey bread, which incorporates the soda along with butter, brown sugar, ground cinnamon and canned biscuits. 
Owner Cynthia Wong said nostalgia and synergy played a role in her participating in the recipe collaboration. 
"Monkey bread has always been a real holiday treat in my family and my husband's," Wong said. "My aim was to create a dessert that was super indulgent and easy that everyone would love, and this monkey bread does that pretty well."
All the recipes can be found online at cheerwine.com/recipes.