Editor's note: On Tuesday night, Bootleg Tavern apparently went out of business. It did not open for service, and sources close to the operation say employees were told it will not reopen. A call to the restaurant was not answered.
The TV smack in the center of the wall at the month-old Bootleg Tavern stretches about twice as far as the dozen wine bottles lined up on the bar beneath it, so customers can see the game no matter where they're seated.
Former employees of the venue don't see baseball or football, though. When they look at the television, they see an oblong monument to a hard-fought battle in a larger conflict that dashed dreams, frustrated ambitions and took an economic toll on both sides. And 541 King Street is far from the only theater in the current war between big business and the culinary arts: Similar skirmishes are now playing out all over downtown Charleston, threatening to take down more restaurants and chefs before the local food-and-beverage community reaches agreement on its general direction.
In short, the dynamic comes down to this: In the mid-2000s, Charleston started getting attention for producing food on a level with cities many times its size. James Beard awards and fawning press coverage followed. All of the acclaim emboldened local chefs, who were given ample chance to cook alongside the nation's best and experiment with sophisticated dishes. But it also inspired speculators with little or no restaurant experience to seize what looked like their shot at easy money. With rents rising and margins thinning, a clash of unprecedented proportions was almost inevitable.
Framing the problem
If opening chef Emily Hahn, who oversaw the operation when it debuted in December 2017 as The Getaway, had her way, there never would have been a TV in the room: The former Warehouse chef and Top Chef contestant thought the space should feel quasi-tropical. College football wasn't at all consistent with her vision of "an expat vibe with great Latin and Caribbean dishes."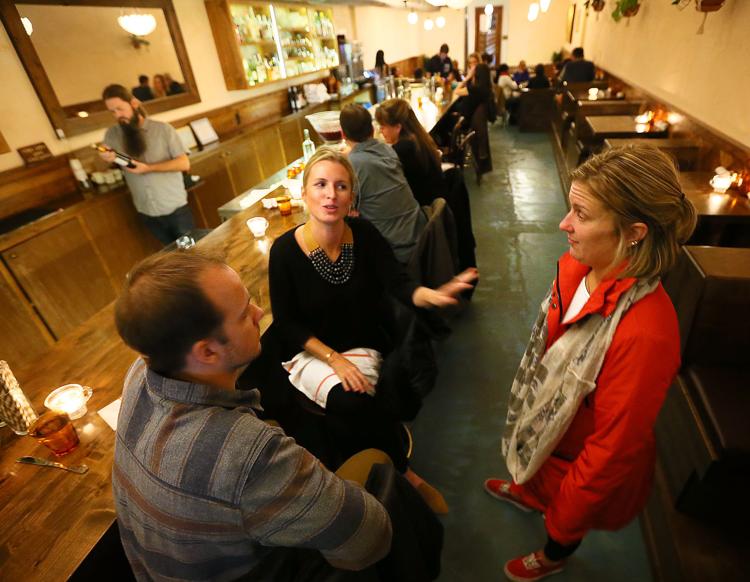 Yet the restaurant owners were adamant, eventually going so far as to purchase the model they had in mind. "It looked horrible," recalls Hahn, who suggested finding a tasteful frame "so it's not this big gaudy TV and this out-of-Charleston experience."
When the owners were next in the restaurant, they were dismayed to find the TV still hadn't been hung.
"Where's the TV, Emily?," one of them asked.
"Well, you guys didn't put it in the frame," she countered.
Owners Matt Shelbourne and Mark Baty did not respond to multiple phone and e-mail messages left with Bootleg Tavern, receptionists at two of their other business enterprises and an attorney who at one point represented Shelbourne. But days after shutting down The Getaway, they issued a statement through a third party, saying, "The time has come for us to head in new directions. We are very excited for our new approach and looking forward to the future!"
Within 10 days, they rebranded The Getaway as Bootleg Tavern, with the desired TV on the wall and one pound of fries on the menu.
To increasingly embittered restaurant workers around town, it appeared that monied interests had again stamped out the creativity they believe is responsible for Charleston's status as a dining destination. "A lot of these big-time guys, they want to see a return on investment the first year," says a chef who worked for another restaurant that recently swapped concepts 11 months after opening. "All of a sudden, they're like: 'It's not working. We have to do shrimp-and-grits to make money.'"
Business and pleasure
For as long as people have been opening restaurants, owners and chefs have struggled to see eye-to-eye. Greater Charleston Restaurant Association president John Keener says he frequently has to correct chefs whose instincts are at odds with his restaurants' bottom line.
"One chef came in and wanted to try all of these eclectic items like octopus," says Keener, owner of Charleston Crab House. "The general public doesn't understand what those items are. When you try to be too eclectic, then you limit your customer base, and then the bills do not get paid. The chefs have a vision of the menu, but they don't have a vision of how the business runs: That's usually where you see the disconnect."
Keener can reel off decades' worth of stories about chefs who wanted to buy heirloom vegetables and shrimp for $15 a pound, without considering how to explain to guests why they're being asked to pay $45 for a fried shrimp platter with hushpuppies. Clearly, differing perspectives aren't new to the restaurant sphere. But, according to the 11 restaurant professionals interviewed for this story, the majority of whom were closely associated with a restaurant that this year either closed or shifted course, the chasm between the parties has deepened as Charleston's food-and-beverage scene has grown.
"There's a really big divide right now between the people who want to have a business, and the person who's in there saying, 'dude, this doesn't work'," says pastry chef Cynthia Wong, who recently left Butcher & Bee to launch ice cream cart Life Raft Treats. "Maybe the owners have a fixation because they traveled and saw something that doesn't work in this market." Then when chefs raise objections, Wong says, the response sounds to them like, "I'm a restaurant owner. I'm so stylish, and look at all this décor I put in here."
"The two of them can't figure it out," she continues. "It's kind of exhausting."
Measure of volatility  
It's a basic rule of capitalism that when businesses open, other businesses close. Nobody should be surprised that not every Charleston restaurant is destined to survive.
Still, local restaurants are closing or installing new chefs at a rate that's dramatic by industry standards. Disagreements between chefs and investors didn't figure into all of the closings – Spero and Bar Normandy shuttered in part because they unsuccessfully tried to limit the overhead costs that require outside money – but they were a common motif in a standout summer. Other downtown Charleston restaurants that closed or changed their leadership structure in just the past few months include 492, Pancito & Lefty, Basic Kitchen, Millers All Day, Neighborhood Dining Group and Butcher & Bee.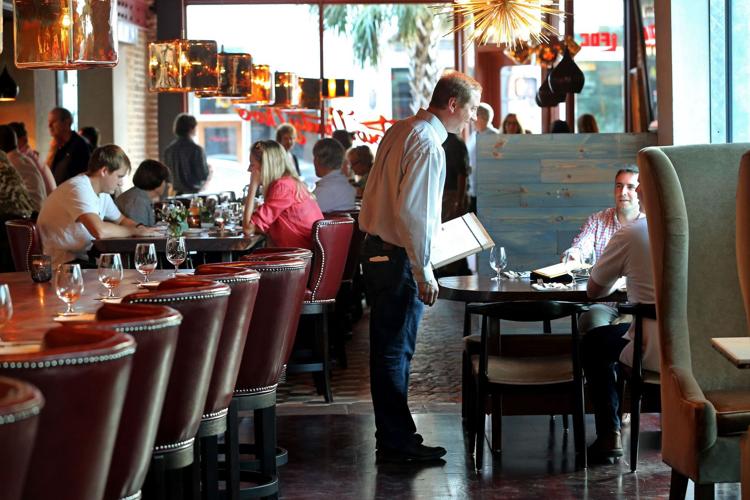 Is that more shakeups than statistics would predict? While it's not a perfect measure of Charleston restaurant volatility, the food news site Eater Charleston dutifully reports on every chef who's out of a job. The local office didn't come up with the "Chef Shuffles" column: Every Eater outlet from Boston to Los Angeles files the same kind of stories, including cities similar to Charleston in demographics or culinary stature, such as Austin and New Orleans.
Yet none of Eater's 22 bureaus has used the tag as frequently as Eater Charleston in 2018. Across the country, the average number of shuffles-per-city through August was 2.5. Eater Charleston's figure was 12.
Another distinctive characteristic of the turmoil that's lately gripped the local restaurant industry is it's caused more problems for women than men.
Since the start of the year, the number of women in executive chef positions at upscale restaurants in the Charleston area has dwindled from 11 to three. While men haven't escaped the current upheaval unscathed, far more are still able to claim the leadership positions they held in January.
Interestingly, all three women who remain executive chefs – Michelle Weaver of Charleston Grill, Kelly Franz of Magnolias and Jill Mathias of Chez Nous – were appointed by 2015. Of the eight women who are no longer in the role, only two were in their jobs prior to 2018. In other words, the majority of affected female chefs were recent hires, meaning they entered the market at its most frantic.
Under contract
Shelbourne and Baty, owners of Bootleg Tavern, had never dabbled in restaurants before they got behind The Getaway. Their string of businesses has included We Care Home Care and the Palmetto School of Career Development, which offers crash certification courses in dental assisting and medical billing. But Hahn didn't worry too much about their background, because she signed a contract with Genevieve Mashburn, the only founding partner with restaurant management experience. (A fourth partner, Kirk Heidenreich, had built tables and chairs for Leon's Oyster Shop and Little Jack's Tavern).
"In my mind, it was three people with a lot of potential and a lot of knowledge," says Hahn, who remembers being awestruck by plans for an adjacent event space and boutique bed-and-breakfast, and abstract pledges that she could oversee the food programs at both of them.
According to Hahn, the document she signed set forth a start date, salary and health benefits, and included a provision covering her cell phone. Hahn no longer has a copy of the contract, but says it was the first she'd seen in her years of restaurant work.
Other longtime restaurant employees say it's common for chefs in Charleston to accept handshakes and promises in lieu of paperwork. Deals worked out over drinks or via text message aren't unheard of, nor is it unusual for a chef to abandon minimum salary requirements in order to have total control of a menu.
"It would terrify traditional business folks to know how many of these chefs are entering into head roles without anything in writing," says Sarah Adams, an independent chef who held high-level jobs at Charleston restaurants, including FIG. "I've even heard it referred to as taboo."
Adams is so concerned about the situation that she's in some instances written contracts for her friends to present to prospective employers, but she can't stop them from accepting $65,000 in exchange for the "opportunity" to work as an executive chef for upward of 100 hours a week.
What you don't learn in culinary school
One of the reasons that chefs settle for the poor terms they're offered is they know they can be replaced, either by another chef or a less costly food program. "Restaurants downtown are not surviving off food," a chef bound by a nondisclosure agreement says. "It's a liquor industry, which takes away some of the chef leverage. They can blow off the chef and throw a DJ in the mix."  
Plus, negotiation isn't a skill taught in culinary school, as Culinary Institute of Charleston dean Michael Saboe freely admits.
"We talk about general career options," he says. "They learn how to write a resume and format their career projection." Students who sign up for a separate human resources class learn how to create job descriptions and how to discipline employees without violating the law.
"I'm not going to lie to you," Saboe says. "We don't have time to get into a deeper dive."
That's fine by some employers, who Saboe says have no compunction about lowballing soon-to-be graduates.
"Smaller restaurants try to give them whatever they think they can give them and get them to work there," he says. "I see it on my job board: $8 an hour. We're like, 'look, you know we're not going to post that because we think that's not what our students are worth.'"
Without a school to look out for them, many chefs are at sea in the big money world of fancy restaurants, even when they appear secure in its highest echelons. As the Washington Post reported this month, Washington, D.C., chef Mike Isabella was accused by backers of overextending his restaurant company before an allegation of "extraordinary" sexual harassment halted its growth; Isabella, also a Top Chef alum, recently filed for bankruptcy.
Keeping up appearances
Once Mashburn was out of the picture at The Getaway, Hahn says Shelbourne and Baty started making more frequent visits to the restaurant, offering suggestions for menu additions, such as Bud Light and cheese dip.
Hahn assured the partners they didn't need draft beer as much as they needed a general manager, since she was handling all of the tasks that would typically fall to someone with time to spend away from the kitchen. In addition to hiring and supervising front-of-house staff, Hahn was responsible for sprucing up the patio and keeping the dining room neat.
"I was the person who went to Lowe's and picked up the plants," Hahn says. "I was the one scrubbing the sidewalk outside."
Gradually, Hahn noticed, she was filling more orders for ropa vieja, suggesting customers were starting to catch on to her cuisine. But she suspected many more potential fans still weren't aware of what The Getaway offered, so she put together 25 promotional packages with gift cards and delivered them to downtown hotels.
"I wrapped them beautifully," she says.
Yet there's a limit to what can be done with ribbon, Hahn discovered. She couldn't use it to hold together The Getaway's leadership team, which continued to fracture in the wake of Mashburn leaving. Hahn's weekly meetings with Shelbourne and Baty became so antagonistic that she brought in a friend – "let's call him a business adviser," she says – to restate her ideas.
"I felt like I needed to bring him in because they weren't hearing me," she says.
According to Hahn, Shelbourne and Baty were slightly more receptive to her friend; she thought they were less likely to go off on tangents, such as whether they needed to hang a surfboard on the wall, when he was the one who brought up issues related to advertising and management.
After three or four meetings with the business liaison in attendance, Hahn says, "the compromising happened a lot smoother." But then he had to miss two meetings in a row, and the sessions "dwindled out." So there wasn't any forum for formal discussion when Shelbourne and Baty brought in "a gentleman who had been a very frequent diner in the restaurant … to make a few things more approachable." Hahn says they told her only, "He wants to support you and make this successful, so you can either get along with him, or you can quit."
Value of patience
Getaway Tavern was shut down before brunch service on Aug. 19.
When Charleston food-and-beverage insiders talk about restaurants that haven't been tripped up by the tug-of-war between money and quality, they talk about partnerships in which the creative and financial visions are intimately aligned. Additionally, they point to restaurant owners who have restaurant experience, and are visible in their restaurants. Namely, they're deeply impressed by Brooks Reitz and Tim Mink of Neighbourhood (Leon's Oyster Shop, Little Jack's Tavern, Melfi's), as well as Mike Lata and Adam Nemirow (FIG, The Ordinary).
But it takes more than the right people to succeed in the Charleston restaurant business, they say. It takes patience, which has become a precious commodity in today's competitive environment. "You go slow, and learn as you go," says Keener, the president of the Greater Charleston Restaurant Association.
Over and over again, chefs accuse owners of getting "cold feet," particularly when they look at the lines of thirsty customers snaking out of upper King Street venues that deal primarily in beer and shots. It takes time, they say, for trust to develop between owners and chefs; restaurants and their audience.
"I think Charleston needs to take a big frigging deep breath," Hahn says. "There's love within our industry that's going away with every apartment that goes up."