This was supposed to be a story about chili dogs, because I adore chili dogs and pride myself on making a delicious vat of hot dog chili for any summer party I throw. I tried to find a chili dog I could crow about in Charleston, but for some reason there is not a great chili dog to be found anywhere. There are a couple decent ones and even a lovely gourmet one at Bar Normandy, but nothing like what you'd find at Skin Thrashers or Pete's in the Upstate or even at The Varsity in Atlanta.
I first learned to love chili dogs in Anderson. My family enjoys telling the story about how as a 3-year-old I was sent down from New Jersey to spend a few weeks at my grandmother's house on Lake Hartwell. I was a picky little thing, as they like to say, and refused to eat anything my grandmother made for me. She worried herself to death trying to figure out what to feed me while my brother ate up any and everything that was set before him. My mom assured her that I'd eat when I got good and hungry. Sure enough, when my grandmother served me chili dogs, something she made for dinner about once a week, I scarfed down four in one sitting.
In the ensuing years, she always had chili dogs for me when I came to visit. She even kept pre-made ones ready to go in the freezer, since she never knew when we'd show up once we moved South, and she'd learned that the old microwave she inherited from my mom was good at reheating frozen chili dogs (in the bun and everything).
Even though she always had them, we often stopped at Pete's No. 9 to pick up chili dogs and Dr. Peppers to take over to my great-granny Stasney's house. Chili dogs were her favorite, too. When my grandparents would visit us in the Atlanta suburbs, my grandfather would drive to Midtown to attend First Baptist Church and hear Dr. Stanley's sermon. They watched him on the television at home, and Papa was always thrilled to see him live. Afterward, he'd drive to The Varsity and get two chili dogs, fries and a frosted orange drink. (I once witnessed a shooting at The Varsity drive-in during my 3-year-old son's inaugural Varsity visit, but that's a story for another time). Chili dogs bring back deep memories of my Southern family, which must be why I'm so crazy for them.
Perhaps Charleston suffers a lack of great chili dogs because there are no Greek-run hot dog joints here that I know of. Greek immigrants invented hot dog chili (known as Coney Islands in Detroit and the Midwest). According to an article in the Smithsonian magazine, "The Coney dog was spread across the eastern U.S. by various Greek and Macedonian immigrants in the 1900s and 1910s. The restaurateurs were part of the great wave of Greek migration to the U.S.  – 343,000 people between 1900 and 1919."
The Pete's restaurants that populate the Upstate, from Greenville to Spartanburg and points in between, were started by a Greek family. A story on GreenvilleOnline.com says the first Pete's Restaurant in Greenville was opened in 1927 by four Greeks, and they proliferated from there.
There is one Greek in Charleston, though, who's making chili dogs and is related to the late Hot Dog King of Norfolk, Va. Alex Lira, the chef-owner of Bar Normandy, says his uncle George Bacalis became famous for his hot dogs, and even had to fight for hot dog dominance when a former employee stole his recipe and opened a competing hot dog stand. That employee, Tony Mirabele, called himself "Tony the Hot Dog King," much to Uncle George's annoyance.
On a recent trip home, Lira took a picture of Mirabele's tombstone, which has a chili dog etched on it and "Hot Dog King" underneath Mirabele's name.
"I guess he won," says Lira, "'cause he put it on his gravestone."
1. Seasonal Chili Dog at Bar Normandy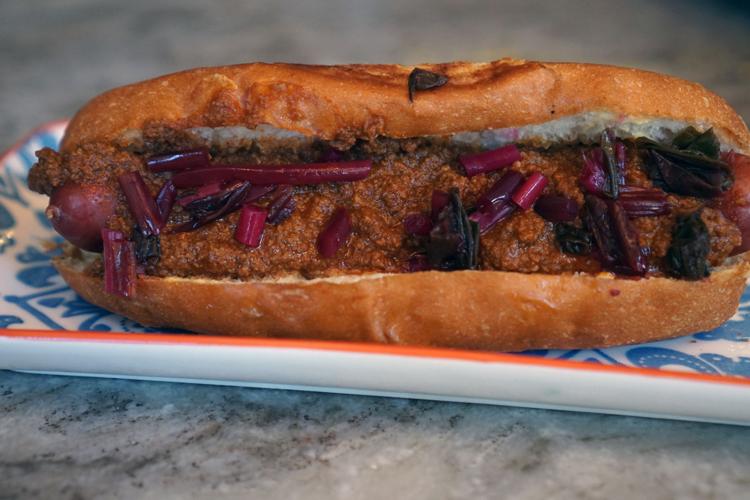 For the summer months, Lira has added a chili dog to his menu at Bar Normandy in honor of his uncle. Of course, he's zhooshed it up a bit with pickled ramps and Normandy Farm bread. But the chili is pretty much true to Uncle George. He uses ground beef from Leaping Waters Farm in Virginia and spices it up with Spanish paprika, chili powder and cayenne. He does not add ketchup like some people do because it makes it too sweet. The all-beef wiener from Brooklyn Cured has a snappy lamb casing. Lira says the getting the perfect texture for the chili is the most important part. He uses a blender to emulsify the ground meat with water to create a fine loose meat that's not soupy or chunky. Even though it does not hit my chili dog sweet spot with tons of meat, onions slathered with yellow mustard on a steamed soft bun, Lira's chili dog is indeed delicious.
Editor's Note: Bar Normandy closed permanently in September 2018.
$6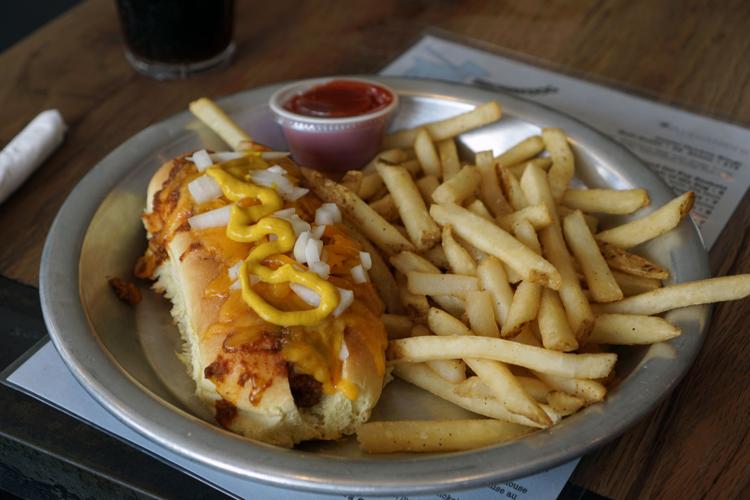 This deli has two locations. I didn't realize that the Broad Street's extensive hot dog menu is unique to its location when I went to the Calhoun spot to try the chili cheese dog. The chili is a beer chili and is spicy and comes with mustard, onions and grated cheddar cheese. This dog probably got the closest to what I like. It's not fancy but it tastes good. If you're looking for more variety, head to the Broad Street deli where you can get a slaw dog, a kraut dog or even a pastrami dog.
$9, comes with chips and a pickle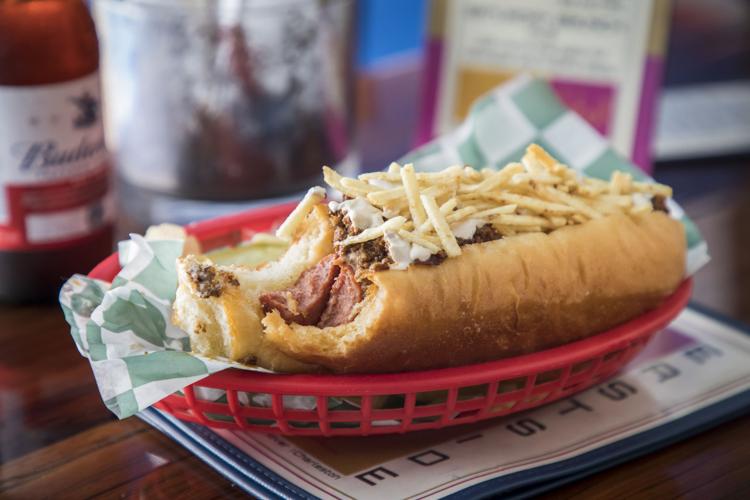 The chili here is sweet and the onions are caramelized so I wouldn't recommend going for a regular chili dog. Instead, I'd suggest getting the house special Get-Low Country Dog which uses the chili as a base and tops it with pimento cheese, Worcestershire cream and potato sticks. Somehow the sweetness of the chili works within all those flavors to create a nicely balanced and unique hot dog. The angus beef wiener and Brown's Court bun makes for a big bite; it almost requires a knife and fork to eat. Almost.
$2.50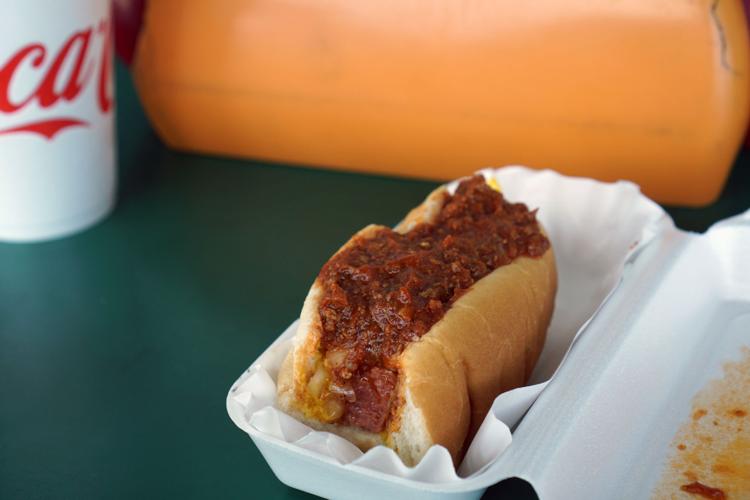 This place gets points for being a walk-up window at a hardware store. It feels authentic. Unfortunately, the chili was way too thick, soupy and sweet for my taste, but it did have a hot spicy bite that I appreciated and was served on a perfectly soft bun. While I wouldn't get the chili dog ($3) again, this spot is great for a build-it-yourself dog with more than 40 toppings, which includes Mrs. Sassard's artichoke relish, a housemade slaw and an enticing dillapeno relish. Plus it's cheap. All-beef dogs start at $2.50 or you can opt for a sausage dog or a brat for $3.50. Sit at the counter and scarf a couple dogs down before or after you hit up the Royal Ace.
$3.95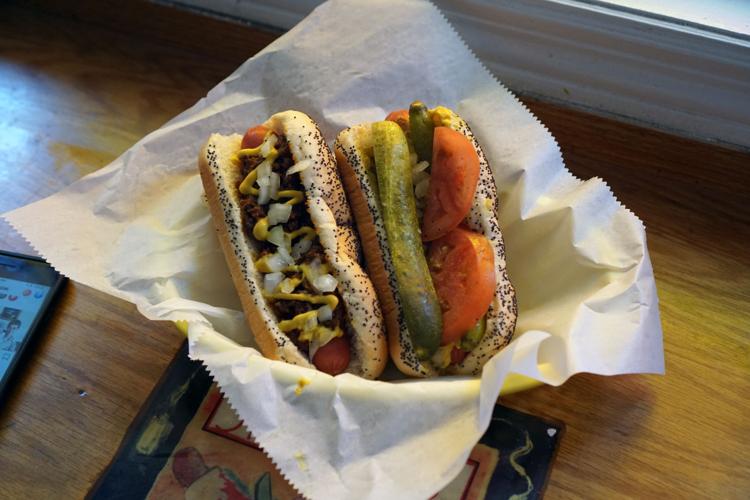 This is a proud Chicago-style deli that specializes in a great Chicago dog on an authentic poppy seed roll. The chili has a good texture and a nice bite of spice but it's too sweet for my liking. Still, the Chicago dog is right on the money with spicy sport peppers, relish, a pickle spear, celery salt, tomatoes, mustard and onions on a classic Vienna Beef wiener. You can also get it Skoogie's Way with the addition of kraut and cheese. They'll add ketchup or mayo — "if you insist."
$6.25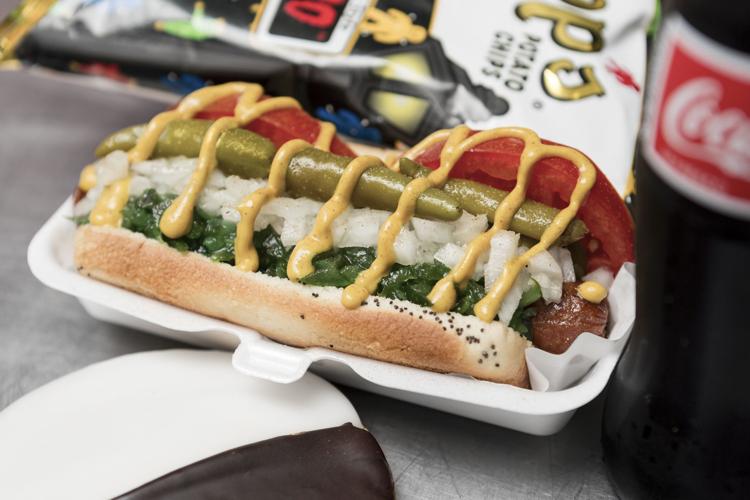 Another great Chicago Dog can be found downtown at the tiny North Central Deli on Huger Street. "We try to adhere to a more orthodox school of thought regarding the Chicago Dog, meaning we do not think it is ours to interpret as it is more something to respect," says co-owner Paul Cheney. "We only use the following Vienna Beef products brought in from Chicago: all-beef hot dogs, neon green relish, sport peppers, pickle spears and poppy seed buns." He points out that Chef Marguerite is very picky about the tomatoes she gets. "The addition of a tomato to a hot dog is significant to the flavor profile, and it needs to be a damn good tomato if it is getting served to customers in Charleston," he says. "I guess that makes it a partially organic, semi-local, farm-to-table Chicago Dog?" They don't have chili here but they do have a New York dog with a Sabrett wiener and sauerkraut.
Editor's Note: North Central Deli is now also permanently closed.
$7, comes with a side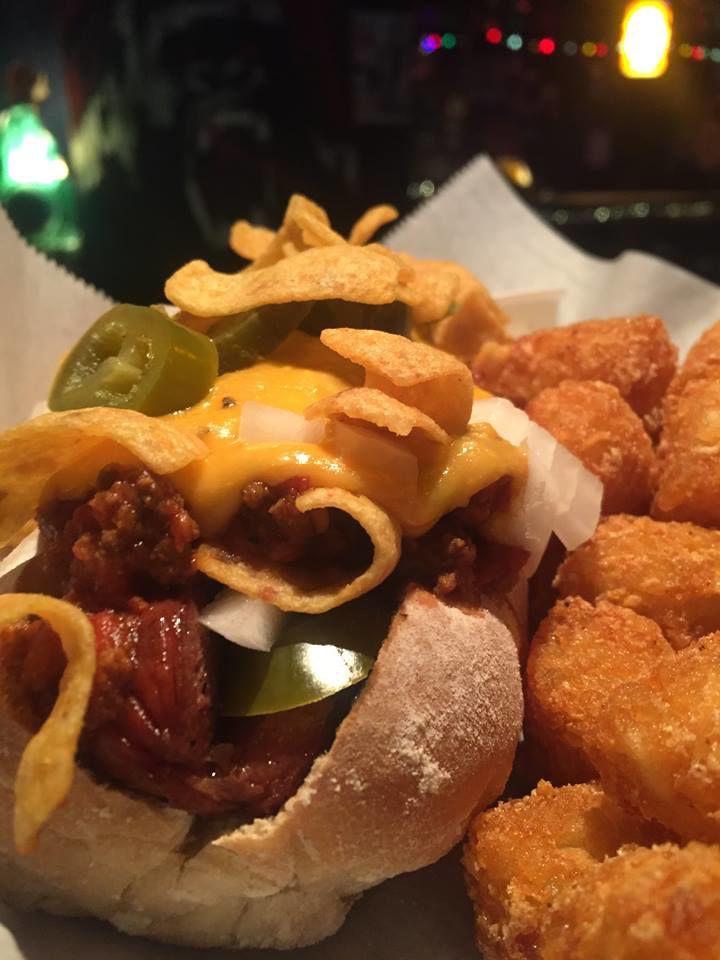 You can't get just a chili dog at a place like the Tin Roof, which is known for its creative hot dogs. Kitchen Manager Kathleen Gilbert is a member of the Wiener High Council and says it's impossible for her to pick her favorite hot dog off the menu. "They are all my babies," she says. For herself, she makes a Date Night, which comes with "everything we've got back there that will make your breath fresh and make-out ready: sauerkraut, banana peppers, relish, diced onion and mustard with a dash of garlic salt." The biggest sellers at this West Ashley bar, though, are the Mac n Beer Chz (bacon-wrapped hot dog fried and then topped with mac and cheese made with Holy City Pluff Mud Porter beer cheese) and the Gut Punch (a hot dog topped with fritos, chili, jalapeno pimento cheese, jalapenos and diced onions).