Growing up in Southern Pennsylvania, J.D. Pfile has sweet memories of going to Dairy Queen along with mom-and-pop walk-up soft-serve ice cream stands after a ballgame or on a Friday night. 
"That's what I grew up doing," he said. "There's a strong nostalgia element to me." 
When he moved to Charleston in 2012 with his wife, Pfile would crave a soft-serve cone on a Sunday evening after doing yardwork. But he couldn't find one, at least not one that reminded him of home. 
While the Northeast and Midwest are full of stands that exclusively sell soft-serve, Charleston is sorely lacking. That's why Pfile got the idea to cater to the tourists from off and create new memories for locals with his very own soft-serve shop. 
He bought the domain website name for Turbo Cone, a thought bubble that at the time was just a passing idea, back in 2014. Now, that's the name of his soft-serve ice cream shop in West Ashley at 828 St. Andrews Blvd., across from Mex 1 Coastal Cantina.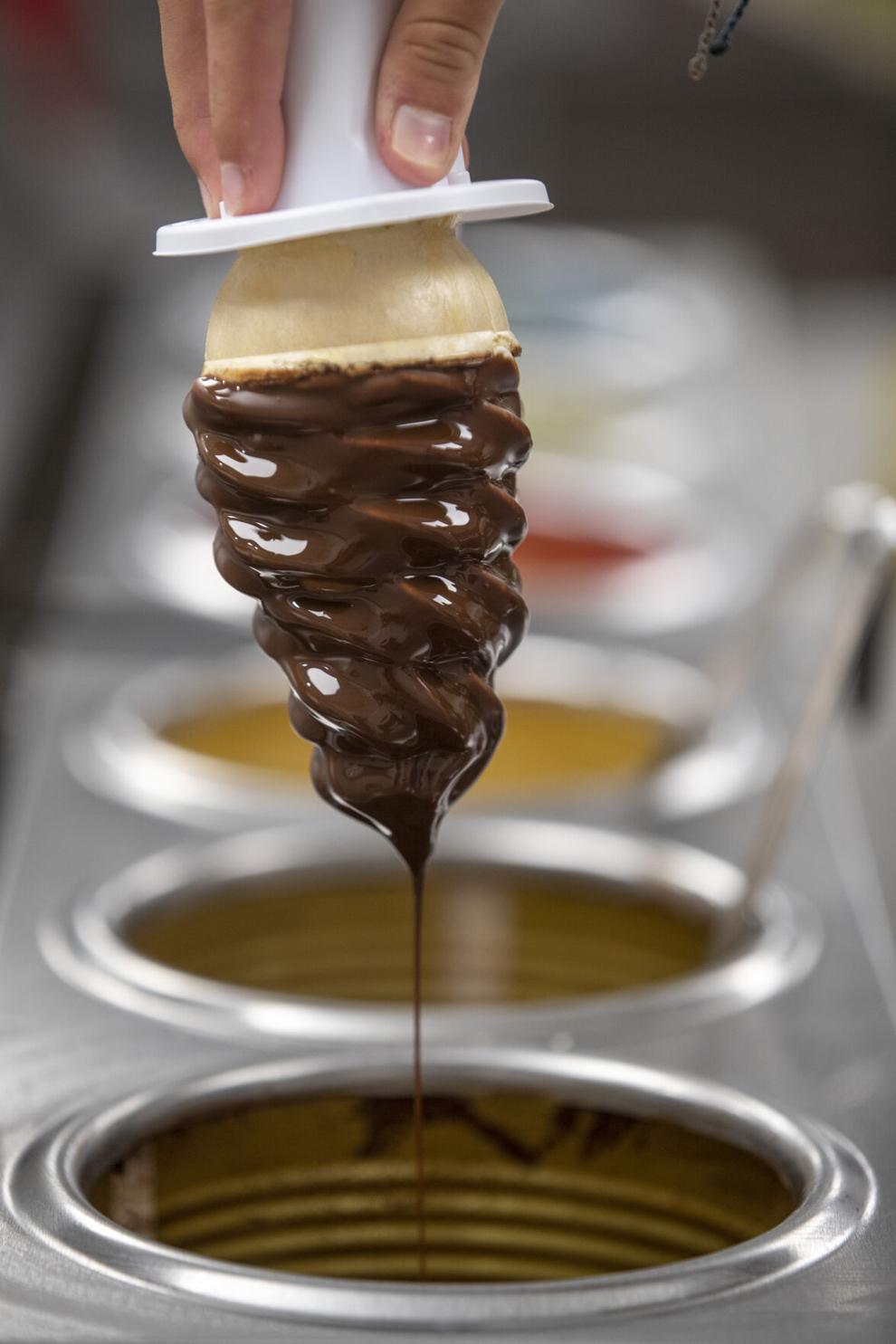 Based on his childhood in the '80s and '90s, the shop features bright neon colors and artwork to match the aesthetic, and he plays pop tunes from the era. 
"When most people think of an ice cream stand, they think of a '50s, '60s soda fountain vibe with oldies music and vintage cars," said Pfile. "That's what I grew up with, and that was driven by the people who ran those shops and their childhoods. I grew up in the late '80s and early '90s. Those were my formative years, so I wanted to make something nostalgic for me and my generation." 
Pfile had a theme and the nostalgia element, but he needed the main ingredient: the ice cream, of course. 
He wanted to focus on the classic flavors — vanilla and chocolate — and really perfect them. 
"My go-to that I personally really like is a plain vanilla cone, because then you can just appreciate the ice cream," Pfile said. "I told myself, above all else, if someone orders a plain vanilla cone, I want that to taste really good, to be like the best vanilla cone they've ever had. And if they want to doctor it up with toppings that's fine, but I want to know it's really good without getting anything else on it."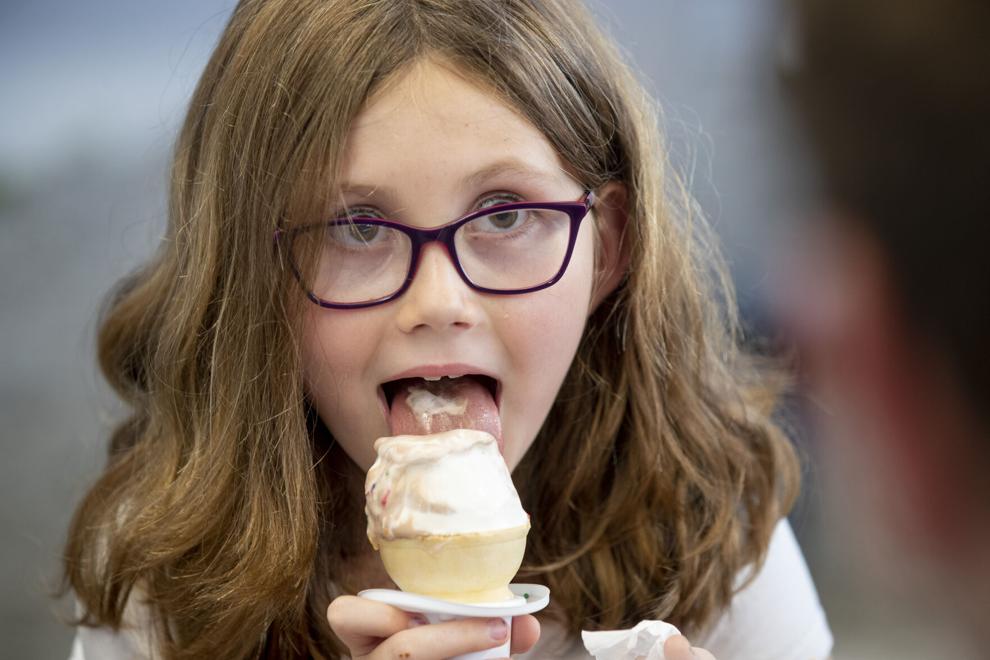 He spent months perfecting a high-quality, high butterfat vanilla soft-serve recipe by adding a custom flavor vanilla mix and finding the ideal ratio. A vanilla cone is the heart of the menu, Pfile said. 
But there is also a chocolate cone and a dairy-free pineapple whip for the more adventurous. Toppings then include the classics, like hot fudge and rainbow sprinkles, in addition to indulgent favorites like Oreo and M&M crumbles, cookie dough, gummy bears and cheesecake bites. 
There is the hurricone, a choice of blended soft-serve and toppings, along with shakes (vanilla, chocolate, strawberry, banana, coffee, mocha, mint, black raspberry, salted caramel, and peanut butter and jelly) and floats (root beer, Coke, orange or grape). 
And there are even pup cones for dogs, who can lap up their own tasty treat on Turbo Cones' large outdoor patio. Patrons can sit outside or wander next door to the adjacent surf shop, Carolina Surf Brand.
"Some people going to the surf shop might get a cone or people ordering ice cream might mill around the surf shop," he offered. "It's a cool setup."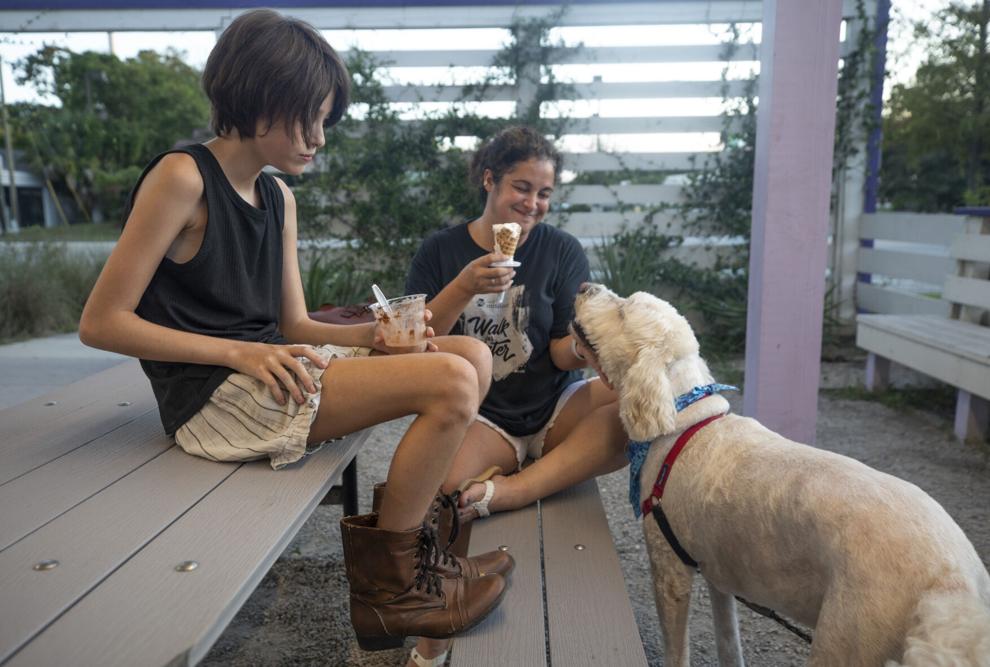 Ultimately, Pfile said he hopes that those who visit Turbo Cone will feel a little pang of nostalgia like he does. And for those new to soft-serve, he hopes they will begin to form sugar-spiked memories of their own that they one day can look back on fondly. 
"I'm hoping some kids who come here now will come back in 10, 20 years and bring their kids here and remember sitting on the picnic benches or on the tailgate of their truck in the parking lot eating ice cream," Pfile said. "It's more about an experience than about just getting ice cream."
Turbo Cone is currently open 3-9 p.m. Tuesday through Thursday, 3-10 p.m. Friday, noon-10 p.m. Saturday and noon-9 p.m. Sunday. It's closed on Monday. The shop's hours change seasonally but are updated on the website and social media pages.