The winding, half-acre bicycle motocross track in Scott McGuigan's Berkeley County backyard is hard to miss.
The "pump track," made of red clay and a coating that prevents it from eroding, is the result of thousands of dollars and hundreds of hours of labor, McGuigan said. 
The track near Summerville was created to serve as a practice space after the McGuigans moved to South Carolina from San Diego in 2014. 
At that time, his three young sons were already BMX riding and racing.
But there was a problem.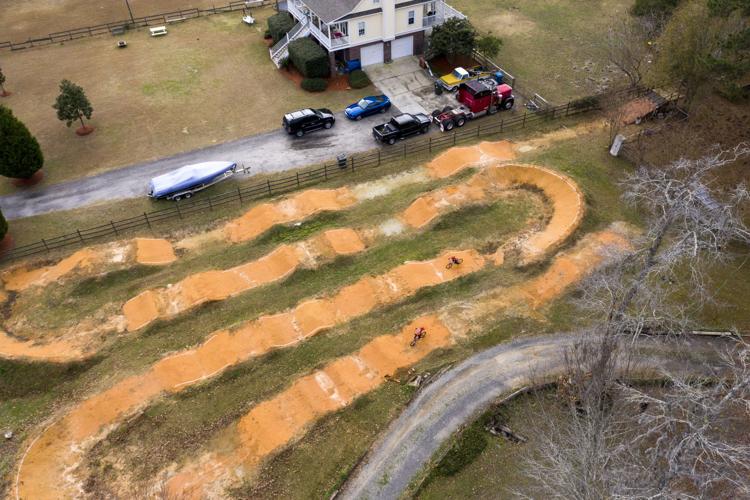 In California, the kids had multiple tracks to train on near where they lived. But after they moved to the Charleston area, the closest practice track was more than 100 miles away. 
"In order to even stay competitive, we had to build a track out here," McGuigan said, who works as a civilian attorney for the Navy. 
In March 2015, McGuigan brought in 400 yards of clay, or around 30 dump trucks worth, to his backyard. He rented small heavy equipment and enlisted a few fellow BMX advocates to help move and shape the dirt into place. The entire operation took about three weeks.
Since then, the track has undergone multiple expansions and has doubled in width, McGuigan said. The jumps and turns are three times higher, and the length of the track has also significantly expanded. 
"As the kids grow and get faster, we have to try to keep up with them and build it faster," he said.
McGuigan and other Lowcountry BMX parents have been working toward getting a sanctioned pump track built for years. Now, he's hopeful that a potential partnership with the Cane Bay Family YMCA could lead to an official track in the area by the end of 2020. 
A 'fighting spirit'
Jonathan, Joshua, Jacob and Jenna McGuigan, aged 12, 10, 7 and 3, respectively, all started biking at a young age — most of them as early as 2 years old.
"Jenna is our newest rider," McGuigan said. "We call her 'Baby Shark.'"
Most days, the kids will come home from school, do their homework, and ride bikes on the track or complete a workout in the garage that McGuigan converted into a mini-gym. Between local, regional, state and national BMX competition circuits, they travel almost every weekend of the year for races.
Their training has paid off. 
Joshua and Jacob are both BMX state champions for their age groups, McGuigan said, and Jonathan is ranked second in the state for his group. In 2017, Joshua rode for Team USA at the UCI BMX World Championships, where he was ranked seventh in the world for his age group. 
This summer, the United States will host the world championship races again, and all of the McGuigan kids, including 3-year-old Jenna, are going to try to make it as part of Team USA. 
"It's just kind of interesting because a lot of the other kids live near these really big, nice tracks, and these guys basically just ride in their yard," McGuigan said. "They stay competitive, and they just have a real fighting spirit to them."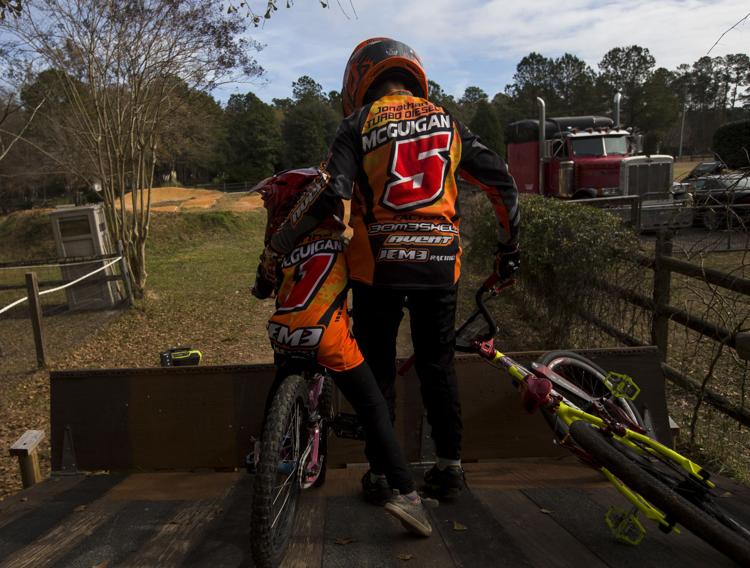 'Come on and ride'
McGuigan estimates that his family has spent at least $10,000 and hundreds of hours building and maintaining the backyard track.
"We drive thousands of miles a year and spend all of our money. It's like everybody talks about their 401(k), and I say my kids ride on my 401(k)," McGuigan said.
But for his family, it's worth it, McGuigan said.
He grew up racing dirt bikes and was able to practice on tracks his family created across the 20-acre property of his childhood home.
In a lot of ways, he's recreated some of his childhood experiences for his own kids.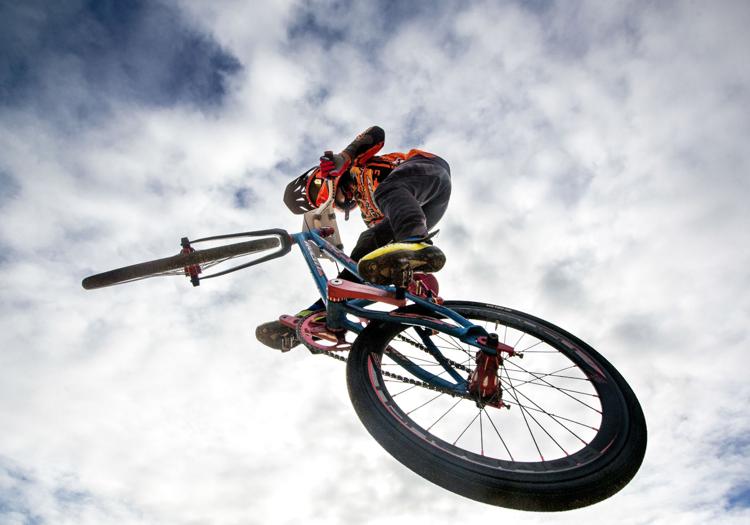 "I think every parent wants to pass on something to their kids they did when they were younger, and for me, being able to pass on the life lessons I learned in racing, it's really exciting," McGuigan said. "I would say they've far surpassed anything I've ever done racing, at a very young age." 
A handful of other Charleston BMX racers will come out to the McGuigan's backyard to train every week, McGuigan said, and it has served as as a site for training clinics and unsanctioned races.
It's also sparked interest from some nearby neighbors.
"We've had kids just show up here with bikes, and we're like 'OK, yeah, come on and ride,'" McGuigan said.
The McGuigans and other local BMX families have been working for years to get an actual sanctioned BMX track somewhere near Charleston.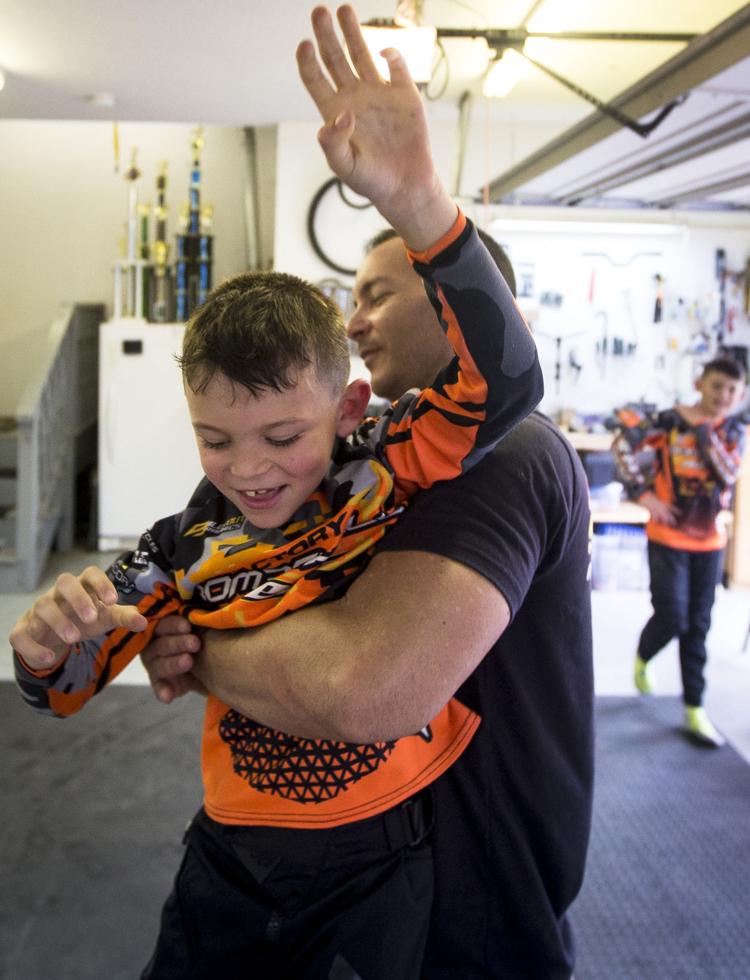 "We've had several different counties that were interested, but it just kind of fizzled out," McGuigan said. 
The Cane Bay Family YMCA has discussed potentially building a BMX track with the McGuigans, according to Executive Director Michelle Driggers. 
"The YMCA is very interested in this project as we believe in healthy lifestyles and recreation for people of all ages," Driggers said.
But the project isn't going to be cheap. Driggers estimated that it would cost approximately $500,000.
"We are working with the National BMX organization to learn more about the requirements and insurance regulations related to a project of this size," she said.
No official decisions on the track have been made, Driggers said, and the project needs final approval from the YMCA Board of Directors.
McGuigan said he's optimistic that the project could be finalized and completed before the end of 2020.
"I think this time next year with that being in the neighborhood, there'll probably be hundreds of kids riding and racing in the area," he said. 
To practice on the BMX track, all you need is a bike, a helmet and a long-sleeved shirt, McGuigan said. If the community track is completed, the McGuigans said they'll donate bicycles and helmets to keep on-site. 
"We're excited to see it come here on a larger basis and get other families involved so they can experience the great stuff that we've experienced as a family," McGuigan said. "I'm really looking forward to the next chapter."