Here in the Lowcountry, we were spared the brunt of Hurricane Florence. Others weren't so lucky.
In response, a number of local grassroots groups, national organizations and individuals are trying to help those who did suffer in the storm. Here's a few ways you can pitch in:
• The newly announced Lowcountry Mayors' Disaster Relief Fund is raising money for Florence-related disaster assistance through the Coastal Community Foundation's Disaster Relief Fund. It is supported by the mayors of Charleston, North Charleston, Mount Pleasant, Goose Creek, Isle of Palms, Folly Beach and others. 
Residents can make donations at https://coastalcommunityfoundation.org/disasterrelief/. Specify the name of the fund in the comments section.
• First (Scots) Presbyterian Church in downtown Charleston began gathering supplies Sunday for victims of Hurricane Florence. The collection will go through day's end Monday. 
Residents can donate batteries, new blankets, new towels, toiletries and hygiene items, diapers, formula, water, first aid items, cleaning supplies, wipes, cleaning products, canned goods, pet food, food cards, gas cards, lanterns, box fans, utility knives, leather work gloves and hand sanitizer.
A group plans to take supplies to Wilmington, N.C., this week, perhaps as early as Tuesday. 
For more, contact Rev. Dr. Holton Siegling at 865-456-2235.
• Starting tomorrow, Two Rivers United Methodist Church in Cainhoy is joining with millions of United Methodists around the globe collecting supplies for hygiene kits and school kits to help those caught in the two large storms inundating different parts of the world: Hurricane Florence and Typhoon Mangkhut in the Philippines.
The kits will be given out in shelters, community centers, disaster aid stations and through churches.
Drop off locations are: Lowco Cafe at 1171 Clements Ferry Road; Clements Ferry Alterations at 2500 Clements Ferry Road, Suite F; and the Daniel Island News at 225 Seven Farms Drive, Unit 108.
Groups will pack the kits on Oct. 7 during worship at the Three Lions Pub. 
Visit www.umcor.org/UMCOR/Relief-Supplies for details about supplies needed.
• A new local grassroots group called Fighting Flo in the Lowcountry will be setting out boxes on porches around the area starting Tuesday to collect school, cleaning and personal hygiene supplies. 
The group began when Tammy Mobbs Conklin and her husband, Matt, who had been managing outreach projects from their Mount Pleasant neighborhood for several years, recently connected with several other like-minded locals on Facebook.  
Brittany Pittman, a Summerville resident who hails from an area of North Carolina hit hard by Hurricane Florence, offered to get word out on social media and help finding areas that most need their help. Lisa Scott, also of Mount Pleasant, is coordinating donation sites. Conklin offered to handle logistics. 
For their list of drop-off spots, go to the group's Facebook page or email fightingflointhelowcountry@gmail.com.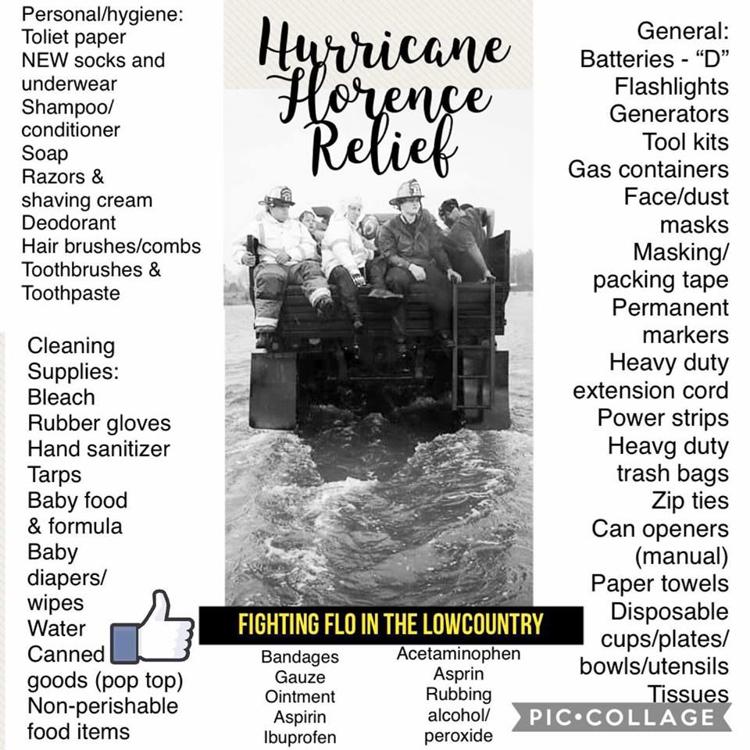 • The Salvation Army has sent mobile feeding units along with disaster trained staff and volunteers to the impacted areas in North and South Carolina. People can help The Salvation Army's Hurricane Florence relief efforts by going to www.helpsalvationarmy.org or by calling 1-800-SAL-ARMY.
The Salvation Army is not taking administrative fees out of these donations.
• United Way Association of South Carolina has an ongoing list of ways you can help at volunteersc.org. Includes clean up efforts, relief aid and collections of emergency items, among other efforts. 
• The state of North Carolina's Disaster Relief Fund is accepting contributions to help with immediate unmet needs there.
Contributions can be made online at https://governor.nc.gov/donate-florence-recovery or by texting the word Florence to 20222. You also can mail contributions to: North Carolina Disaster Relief Fund, 20312 Mail Service Center, Raleigh, N.C. 27699.
• Michael Jordan, the Charlotte Hornets and the NBA are helping out by encouraging support of several local groups. Visit http://cares.nba.com/charlotte-hurricane-relief-efforts/ for more.