WALTERBORO — The house hasn't changed, except for what the police took with them that day. The sun still orbits overhead, reaching in with golden hope each afternoon through white curtains to illuminate what once felt like the most normal place on earth.
When her cellphone rings, Alexis Manigo still walks past her mother's china cabinet full of ceramic angels and toward the front porch, still painted black as it was on the day Gloria Williams revealed the truth to her. Alexis steps through a door frame, still pulled loose where police forced the door open before they took Gloria away.
Alexis clutches the silver cellphone that is her lifeline.
She is 19, a normal young woman who also is another young woman. Two names, one soul.
"Hello."
She smiles, showing braces wrapped in teal rubber bands. It's her "superhero stepmom," as Alexis calls her, the wife of her biological father, the man she met earlier this year after a DNA swab proved she was the Florida newborn an entire nation had spent almost two decades searching for.
Alexis just returned from Craig Aiken's home in Jacksonville, Fla., a few miles from the hospital where a woman dressed in scrubs stole an hours-old baby 19 years ago. Craig and his wife, like everyone in Florida, call Alexis that baby's name: Kamiyah Mobley.
The discovery that she is that baby — and Gloria's arrest in January for kidnapping her — have upended virtually everything about Alexis' life in the months since. Her identity. Her family. Her future.
Now, her dad and his wife are eager to see her again.
"Can y'all pick me up on Sunday?" Alexis asks. "I was planning to go to church on Sunday with my grandmama..." 
As she talks, an old friend texts her to hang out. A car driving by slows and honks a greeting. People here want to see her, too.
"I forgot that y'all supposed to come get me Saturday," she adds. "But I'm going to be ready on Sunday."
She's trying to keep everyone vying for her love happy. But that's a lot of people.
It's complicated.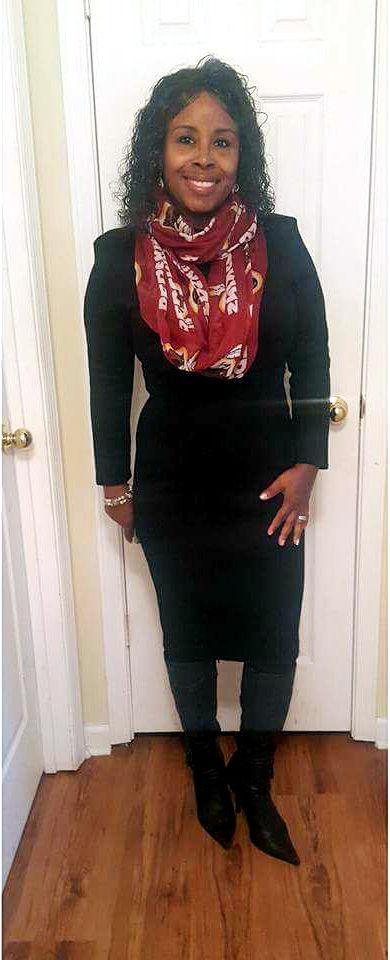 The truth
During her junior year, Alexis did something normal in her normal life: She applied for a job. 
A manager at Shoney's hired her on the spot. She could start the next day. As she left, the woman handed her a uniform. 
"Just bring your Social Security number," she added.
The next day, Gloria drove Alexis home after school to change into the uniform. They'd reached the front porch when Gloria suddenly stopped. Alexis turned around to see why.
Gloria was crying.
"What's wrong with you?" Alexis felt impatient. She didn't want to be late.
"Lex, I got to tell you something."
Alexis tried to lighten her mother's mood: "OK, but if I'm late, I'm telling on you!" 
She would soon regret laughing.
Gloria explained that she didn't have her Social Security number, and she never would. She'd taken Alexis from a hospital when she was a little baby.
Alexis laughed. Gloria cried.
"Lexi, be serious here!"
Maybe it was a way to cope. Maybe it was shock. Maybe it just didn't matter because Gloria was her mom and always would be. For whatever reason, Alexis turned and walked inside.
Gloria called Shoney's and apologized. Her daughter couldn't take the job after all.
They returned to their normal lives. They didn't discuss the subject again.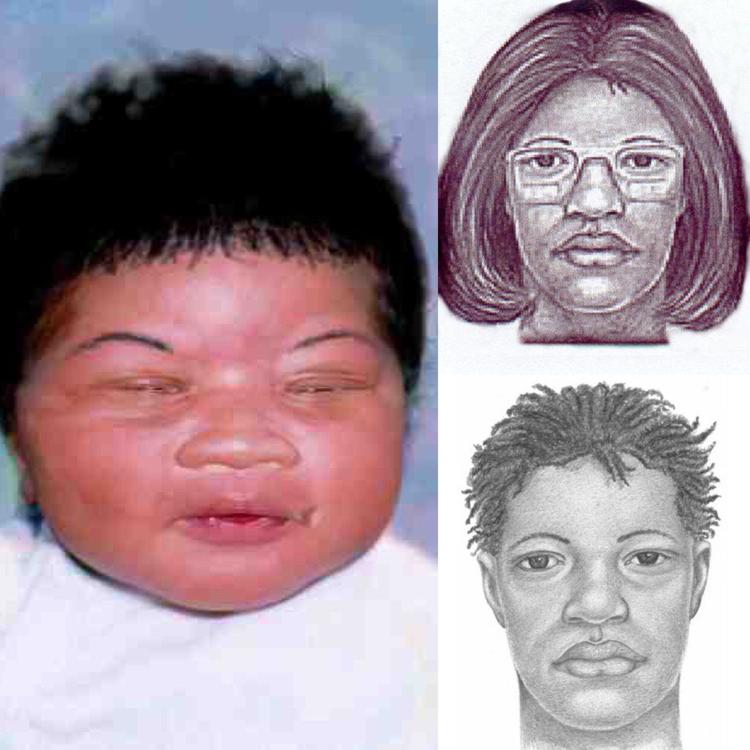 The crime
Alexis did, however, Google it. She found some old stories about a woman who had taken a newborn girl right out of a mother's hospital room in Florida. It felt like she was reading about someone else's life.
But it had happened on July 10, 1998. Her birthday.
On that day, at 6:55 a.m., a 16-year-old girl named Shanara Mobley had given birth to a healthy baby girl. At the same time, a woman wearing green scrubs and a blue floral nurse's smock lurked around the maternity unit of what then was University Medical Center, now UF Health Jacksonville.
She soon strolled into Shanara's hospital room with offers to help with the newborn.
The baby's family thought the woman was a nurse. The nurses thought she was family.
Five hours later, the woman held all 8 pounds and 2 ounces of Kamiyah snugly in a white T-shirt, swaddled in a hospital blanket with blue and pink stripes.
About 3 p.m., she carried Kamiyah out of the room.
At 3:20 p.m., a manhunt was underway.
Police swarmed the hospital and blocked its exits. Investigators searched bags, rooms, cars, people. Helicopters thumped overhead. Personnel from the FBI and the Center for Missing and Exploited Children descended on Jacksonville.
Shanara's wails soon echoed from televisions across the country. The newborn's father hadn't even held his little girl before she was gone. 
The name Kamiyah Mobley suddenly sat on the lips of parents across Florida who clutched their own children more tightly. Her photograph hung everywhere. "America's Most Wanted" featured her disappearance.
Investigators fanned out around the nation to chase thousands of tips.
But for 18 years, none led to Walterboro, South Carolina.
The charade
People often commented on how much they looked alike, mother and daughter.
Gloria and Alexis shared similar short builds and wide, engaging smiles. Gloria loved to take her daughter shopping, to get her hair and nails done. Like best friends, people marveled.
Her two sons, a decade older than Alexis, teased that their mother was way harder on them. When Gloria took away her daughter's cellphone as a punishment, she'd still let Alexis use hers. 
Surely it was because Alexis was the only girl, the baby.
Few people, if anyone, knew that Gloria had suffered a miscarriage days before she introduced them to little Alexis. Her boyfriend was locked up at the time, a relationship that later fizzled. No one realized that she had lost one child and brought home another. 
Folks around Walterboro knew Gloria as a sweet, warm presence with two active boys, then 10 and 11. They saw how thrilled she was to have a little girl. She took her young family to a small Methodist church. She loved to dance and joke. She encouraged Alexis to smile more, even when Alexis thought her teeth were too crooked.
Gloria made Alexis happy. Alexis made her laugh.
When Alexis was in middle school, Gloria married a hard-working truck driver, and soon they all moved into a white Habitat for Humanity house with a black front porch. It sat in a nice residential area off a main road and had an expanse of grass and sand with big trees, space where kids could run free in the country air.
Just inside the front door, Gloria filled their cozy living room with family photographs clustered around plump couches and chairs. In their dining room, she hung a large painting of The Last Supper over an oblong table. The bathroom shower curtain offered cursive words of inspiration: Hope. Peace. Love.
Alexis graduated from Colleton County High, then turned 18 shortly after. Gloria took a job in medical records with the Veterans Affairs office at Joint Base Charleston while working on her master's degree. 
Nothing about their lives spoke to what happened on Jan. 13.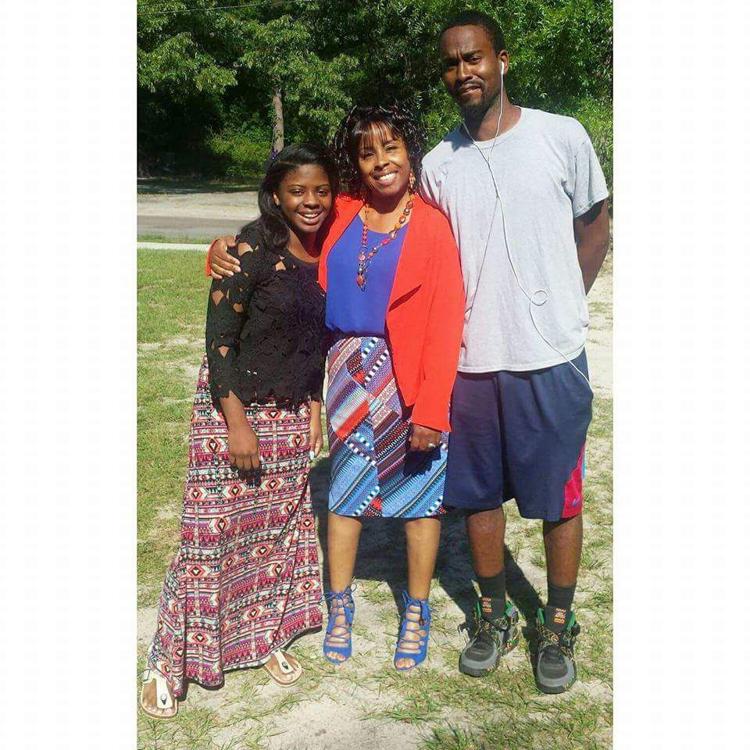 The reckoning
Just before that cloudy day, Alexis had noticed a strange man in a suit staring at her in Dollar General. Creeped out, she left.
Shortly after, a friend's mother told her that the Walterboro police wanted to talk to her. Alexis didn't rush to call. She didn't trust the police. She'd always found them quick to harass her friends. 
Alexis didn't think of her mother. Almost two years had gone by since Gloria told her about her birth.
Besides, how would the cops know anyway?
She finally called them back. An officer from Florida got on the line.
Alexis hung up. She knew then.
She immediately called Gloria.
Together they went to the police department, where authorities had a court order for a DNA swab. Alexis demanded to see it.
"Come on," she finally said. "Let's get this over with."
Gloria was at home alone when police arrived several days later. Her husband was on the road. Alexis had spent the night at a friend's house.
She regrets that now, not being there for Gloria.
The upheaval
Three squad cars came to her friend's house to deliver one message: 
"Your mother is in custody."
She raced home. The police wouldn't let her inside, given their investigation.
The arrest hit the local news. Then the national news. TV trucks lined up across the street in a grassy lot. 
That evening, Gloria had a court hearing in a cramped room at the Colleton County Detention Center. Alexis joined her grandparents — Gloria's parents — with whom she'd always been close. They had just learned the truth. The group sat near a cinder block wall painted cream with a small window covered by a thick metal screen.
From behind it, Gloria peered out.
The 51-year-old wore a tan jail jumpsuit, glasses and a frown. A magistrate asked if she wanted to waive extradition.
"Yes, ma'am."
"I'm sure they'll be here shortly since they've been so anxious in pursuing this case," the magistrate added.
Behind the screen, Gloria signed the document, wrists handcuffed. Then she leaned forward to see Alexis and blew her a kiss.
"I love you, Ma!" Alexis called.
"I love you, too."
With that, the sobs Alexis had stuffed down erupted.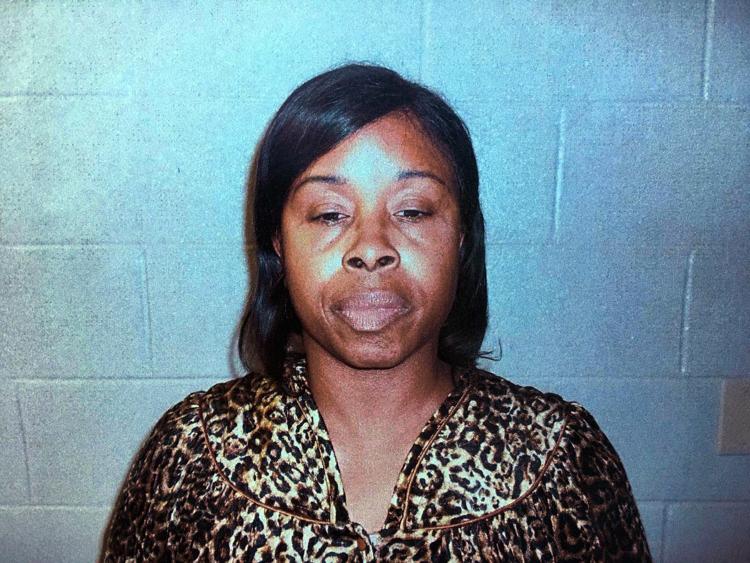 The magistrate let Alexis come around a counter separating the audience from the little window. She hurried over and wove her fingers through the metal screen. Gloria did the same, touching Alexis for the last time.
Alexis sobbed: "Mama!"
After it ended, she went home. The police were done inside.
Alexis found their front door frame cracked. Her baby picture by the front door was gone. So was the high school diploma she'd earned eight months earlier. Their pictures were thrown around. Her bed rail was bent. Drawers emptied. Clothes and shoes strewn. 
That's when it hit, the enormity of it all. She quickly left.
Two days later, Gloria was extradited to Florida where she pleaded not guilty to one count each of kidnapping and interference with custody.
Since then, Alexis has seen her only at court hearings. She can't visit Gloria at the Duval County jail, where she's been held since without bail, because Alexis has no Social Security number, no driver's license, no other ID to prove who she is.
Because who is she anyway?
The reunion
In Jacksonville, Shanara Mobley had saved a slice of birthday cake for her missing daughter every year, never knowing if her child was alive or dead, suffering or happy.
On her baby girl's Sweet 16, she'd posted a picture of a birthday cake that read in purple icing letters: "Happy Sweet 16th Birthday Kamiyah. Wherever you are you are truly missed & very much loved."
Now, all of a sudden, everyone was talking about a reunion. The day after the bond hearing, Alexis met her biological parents.
She saw herself in each.
Her mother had given her a feisty spirit. Her father had shared his smile.
They hung out, went to the mall, out to eat. But mostly, Alexis felt confused. She'd just lost one parent and gained two.
Not long after was her father's birthday. He rebilled his big party as a coming home celebration for the girl he called Kamiyah. 
She and Craig soon talked every day. He began bringing her to Florida where she got to know her big new family there. She stayed longer each time, eventually buckling her pet hamster's cage into a car seat so she could stay as long as she wanted, given she couldn't get a job or go to college without official documents.
She felt at home with his family. Lanky and easy-going, Craig made it easy. He would tell her how much he'd missed her all those years. But when Gloria called Alexis from jail, Craig didn't press his daughter to reject her.
Not that she would anyway.
She also began to visit Shanara and her family. After their reunion, a Jacksonville TV station published one of Shanara's Facebook posts. In it, she thanked supporters and conveyed her own pain and confusion.
"The tears won't stop. I see my baby wanting this lady in her life and not me. When I founded out about my baby, I stopped everything and got to where u are and still hurting like that 16-year-old little girl all over again. Kamiyah, if u see this, know u are your mother's child. Your whole character is me and u can never get rid of that. Love u Babygirl."
Kamiyah is thrilled to know her mother.
But Alexis still loves Gloria.
She calls Shanara "mom" and Gloria "mama."
It's complicated.
The purgatory
One day last fall, as the sun shone into the white curtains, Alexis cooked pancakes for her then-boyfriend, Irvin Sanders. She fussed about specks of brown on them.
They weren't as good as Gloria's.
More than anything, she deeply misses Gloria and has become her greatest defender. After the arrest, people chimed in on Alexis' Facebook postings with hashtags like #TeamBirthMother. Arguments ensued between her friends and people, strangers often, who felt compelled to post unsolicited rants against Gloria.
Alexis' favorite picture of Gloria garnered 1,600 comments. The Abductor, one woman called her. 
When Gloria calls Alexis from jail every few days now, they talk for the allotted 15 minutes and 34 seconds about Alexis' life and everyday stuff just like they used to. Alexis clings to that normalcy.
Outside of their house, she feels people stare. She tries not to stare back, wondering: Who told the police?
Court records don't name the person who contacted the National Center for Missing and Exploited Children in August 2016 to report Gloria. Whoever it was said that Alexis had told her friend that she was kidnapped as a baby. Exactly three months later, another anonymous person reported that Gloria had admitted she took Alexis from a Florida hospital, Gloria's arrest warrant says.
Sanders wondered if a reward was involved. Maybe someone will show up soon with a nice, new car.
"You know how the world is. They ain't your friend, especially when money involved," he said. "They ain't your friend."
Alexis scraped the pancakes into the trash can.
"I try to keep an open mind. When it comes out, it's gonna come out," she said.
Instead, she tried to focus on moving forward by visiting her attorney, Justin Bamberg, who'd been navigating bureaucracies on her behalf.
"You're basically creating a new person from scratch," he explained.
So far, he'd gotten a copy of her birth certificate. It read: Kamiyah Mobley. 
Next, she needed to apply for a Social Security number. But she couldn't go into the federal building to do so without an ID. Bamberg had to make a special appointment for her.
In early December, when they went for that appointment, they hit another snag. She needs two verifying documents listing her name to apply. She has her birth certificate but nothing else that says Kamiyah Mobley. For 19 years, she has been Alexis Manigo.
So Bamberg called the Jacksonville hospital. Its staff is searching through paper birth records to see if hers still exists.
At some point, she'll have to pick a name for her official documents. Kamiyah or Alexis?
"I might just keep it Kamiyah," she said. "I want to keep everyone happy."
Then she laughed.
"Maybe I'll just name myself Dandelion."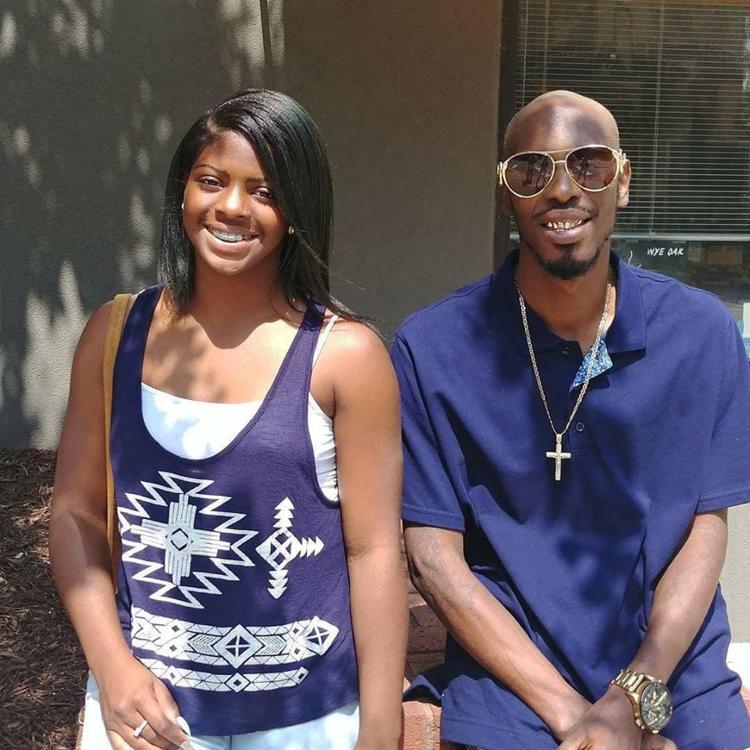 The future
In October, Alexis went to Jacksonville and became Kamiyah again. She planned to stay for a few days. She stayed for a month.
The Aikens have nine children between them. At 19, Kamiyah fits like a step in the staircase of their ages. She loves to hang out with them and sleep on their L-shaped couch by the phone charger, even though they've offered her a bedroom.
One day she'll consider moving to Florida, but not until she can get a job and her own place like a normal young adult.
"Everybody always be like, 'Oh, I'm tired. I've been working.' I don't know the feeling!" she said.
She also wants to go to college. Her father told her that the state of Florida has offered to help with the cost.
Kamiyah Mobley is a celebrity there.
While visiting, she stopped at a gas station. A stranger called out: "Kamiyah!"
She was surprised that she didn't feel more torn between Kamiyah and Alexis. It mostly just felt like knowing different sides of a divorced family, or having a given name and a nickname.
While in Jacksonville, she also spent almost a week with Shanara. Then her niece's birthday came up. Then everybody wanted her to stay another week, and then it was almost Thanksgiving. Why not stay a little longer? 
That part was hard. She wanted to stay. And she wanted to go.
She ate a nice Thanksgiving meal in her father's living room with her new big family. She was thankful that she didn't break down crying. She was thankful that Gloria's parents were understanding.
"But I'm not doing that for Christmas." 
Florida is exciting. But South Carolina still feels like home.
The mourning
Gloria's husband and parents, victims in their own way, ate Thanksgiving dinner without Alexis or Gloria.
Her husband visits her in jail often. Her parents go as much as their health allows.
When Gloria calls them, she insists she's fine. 
"She says it just to keep me up. She don't want me to worry," said Gloria Brown, her mother.
Brown's health has been ailing as she too struggles to grasp how someone so wonderful could do something so awful. 
"All I know is they're good people, Alexis and Gloria," she said. "Alexis is a lovely young lady, and Gloria is the same way. She has a lovely smile..."
Her voice drifted off, floating away with the memory of it.
The punishment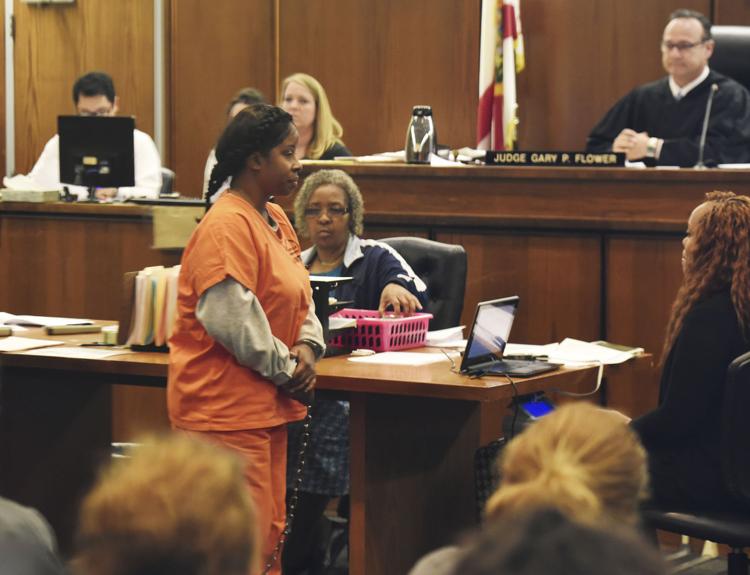 Inside the Duval County courthouse, a hulking concrete building in downtown Jacksonville, giant letters proclaim:
Hall of Justice
Last month, first thing on a Monday, Gloria was taken from her jail cell to travel a few blocks to the courthouse for yet another routine hearing. The chilly morning felt decidedly un-Florida, so when she entered the courtroom, Gloria wore a baggy long-sleeved khaki shirt beneath her bright orange jail jumpsuit.
Two TV cameras trained on the door that she entered watched her shuffle about 15 feet to a wooden lectern up front, her ankles shackled and wrists handcuffed. She smiled at nobody.
Alexis wasn't in court to see her. She was at her father's house hanging out with her new batch of sisters.
A judge greeted Gloria and the attorneys in her case. 
"We're set for jury selection on Feb. 12, 2018, and final pretrial Feb. 16, 2018," she began.
Behind the scenes, Bamberg was pushing for a plea deal to spare Alexis the trauma of testifying. Besides, it wasn't clear who her words would benefit, given the bizarre case involves:
One betrayed biological mother.
One betrayed biological father.
One prosecutor who must punish that betrayal.
One kidnapper who doesn't want to be punished.
And one teenager, also betrayed, who doesn't want her punished either.
"I know what she did was wrong, but I'm just hoping for a single digit," Alexis said. "Not two digits. And credit for time served, of course."  
Hers isn't the oldest hospital abduction in America, but it's close. Carlina White was stolen from a New York hospital and later solved her own kidnapping. Her abductor was sentenced to 23 years in prison, one for every year she was missing.
Alexis recently asked Bamberg exactly how much prison time Gloria faces. He called up Florida's kidnapping statute and read it aloud: a term of years not exceeding life ...
She began to cry then. Because if Gloria gets a life sentence, how will their lives ever be normal again?