Vince Musi was accustomed to wading through swamps and dragging his equipment into jungles. He was used to working with zoologists and handlers of wild animals in controlled settings where he might get lucky and create a compelling image.
This is the work he did for years as a National Geographic photographer. He was not a domesticated artist; he was someone who went out to get what he needed.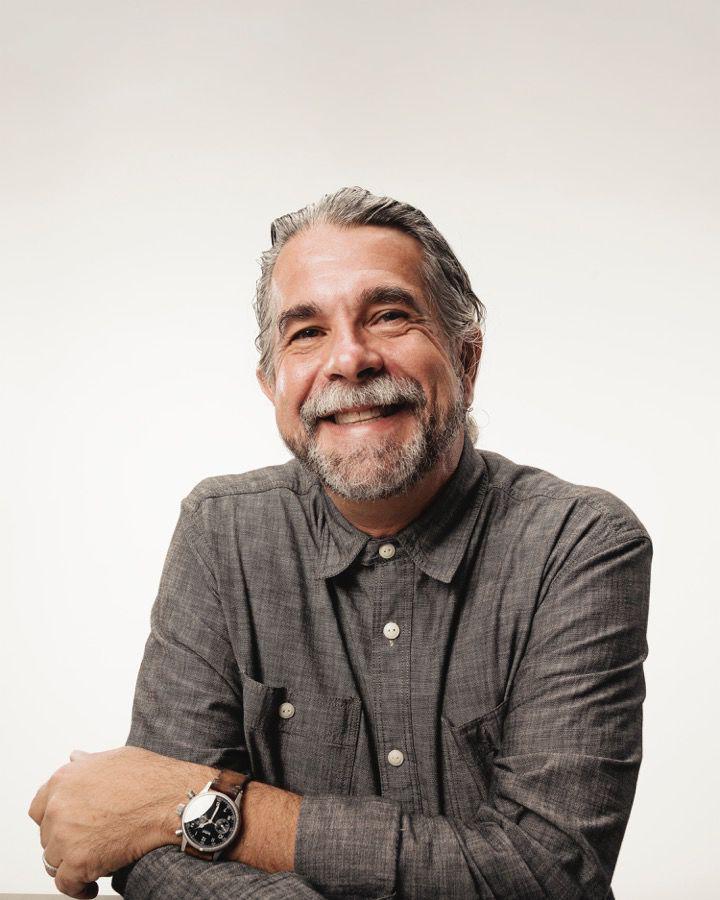 But he had a working wife and a teenage son, and it occurred to Musi one day that young Hunter's childhood at home would soon come to an end.
"Hunter was turning 16, and neither one of us wanted to get on airplanes anymore," he said.
His wife, Callie Shell, had enjoyed a busy career as a political photographer. The family had relocated to Sullivan's Island from Washington, D.C., a little more than 10 years earlier, and they were committed to staying in the Charleston area.
National Geographic was changing (in September 2015, 21st Century Fox gained control of the storied magazine, and in March 2019 Disney acquired 21st Century Fox), and that didn't necessarily bode well for Musi.
"What could I do?" he wondered, musing on the problem for a few months. Until he hit on a solution: Dogs. He would photograph dogs.
He could do that in Charleston. He could find a makeshift studio space and set up his gear. He could get Callie to help. Who wouldn't seek out a famed National Geographic photographer to make stunning portraits of her favorite pet?
"Turns out, nobody," Musi said.
It started slow. He made pictures of dogs belonging to friends. But then he gave a presentation at the National Geographic Society Center. Others were talking about climate change, sharks, habitat loss, volcanoes. He showed his dog portraits and stole the show.
Instagram would be his platform of choice. At first, he only wanted to post the image along with the name of the animal and the year the photo was shot, but Callie and Hunter convinced him to write little stories to accompany the images.
"I don't know anything about dogs," Musi said.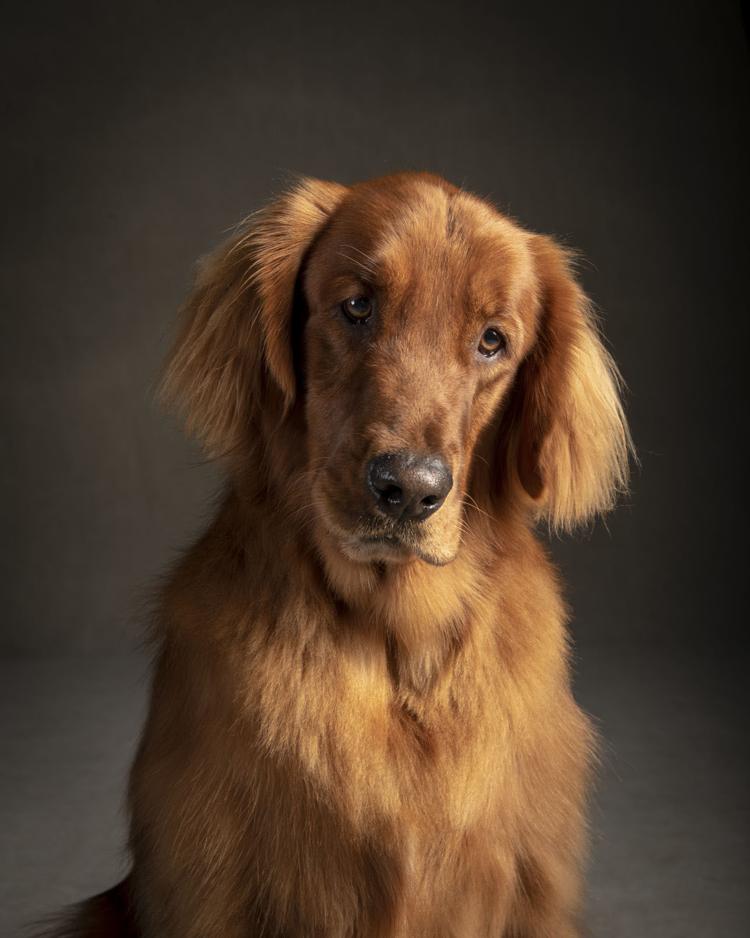 So his stories — "little three-act plays" — were imbued with his perspective, experience, memories, feelings, humor. He started gaining followers. He started getting feedback.
"I want you to know how much your posts mean to me," someone wrote. "I love your photos, but it's the writing that makes me smile," another offered.
"It's been amazing, I've never had anything happen like that," Musi said.
So he kept at it. People found him on Instagram and called for an appointment. Many traveled, sometimes long distances, to have Musi photograph their dogs.
Leashes and collars would be removed and Callie Shell would struggle to get the animals to sit still, to look at the camera, to tolerate the lights and the people, to resist the temptation to explore, to run.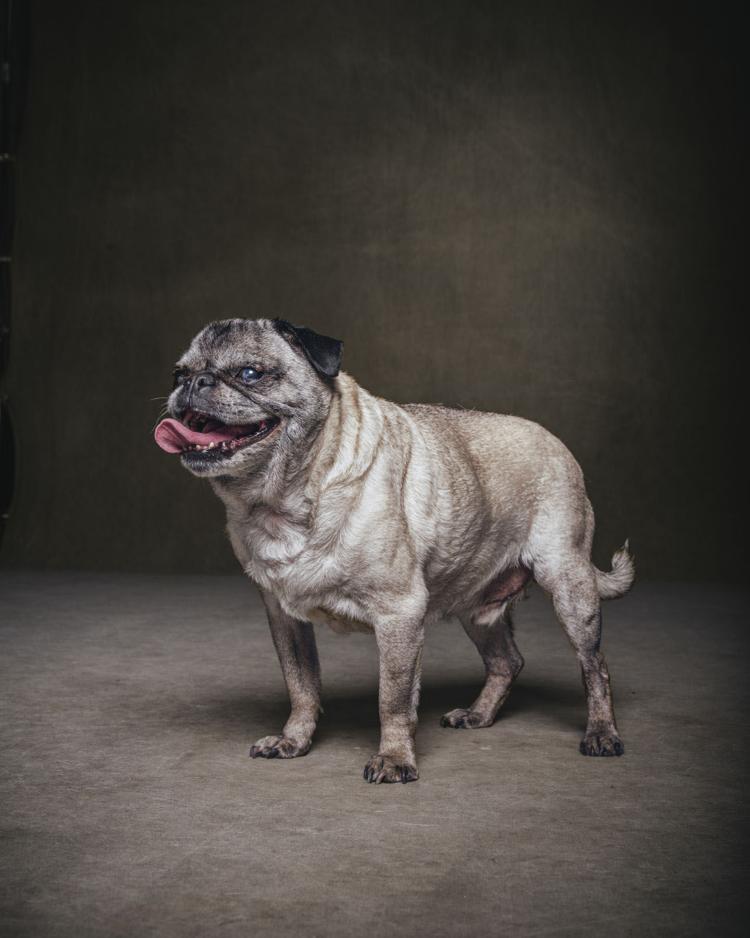 Musi could only grunt. When he's concentrating, he doesn't speak. It's either walking or chewing gum, never both at the same time.
"Callie is the only one I've worked with who understands what I'm trying to do," he said.
She does, it's true.
"He's such a perfectionist," she said. "He really wants this to be art."
So he uses dark backgrounds, clear lighting, a narrow depth of field, a focus on the eyes. He captures still moments and, more often, steals a shot between active moments. He waits. And waits. And waits.
And waits.
And waits.
"The hardest are the ones who can't stay still," he said.
Each session can take hours.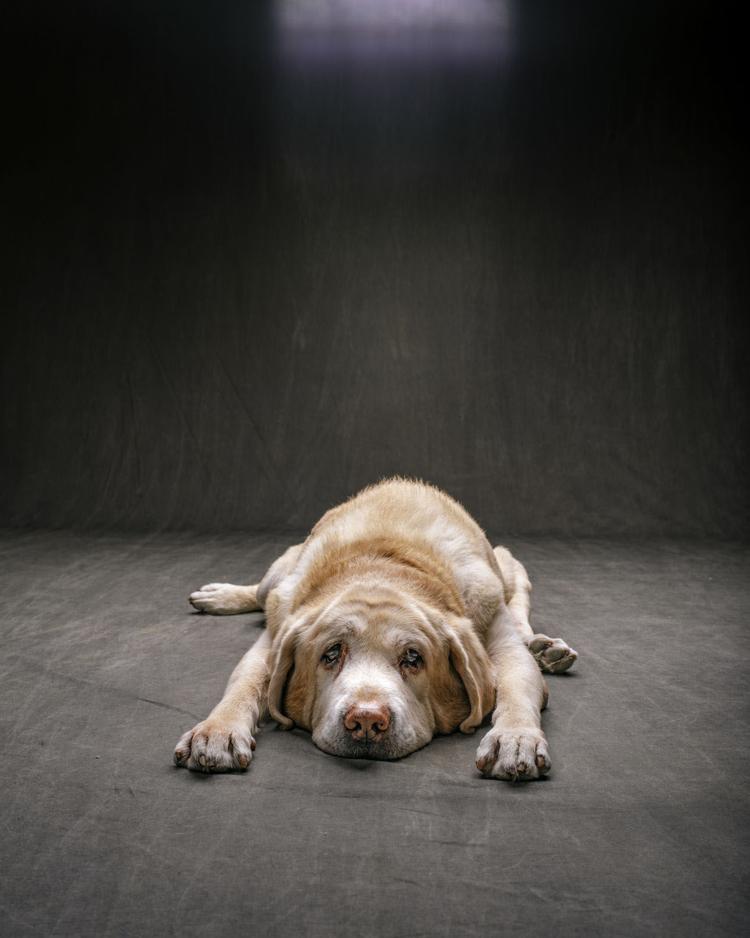 Each dog has a story. Some are rescues, some have endured terrible trauma, some have special skills, like the ability to sense an owner's oncoming seizure.
Sarah Williams brought Boo Radley, a basset hound with a genetic splash of cocker spaniel mixed in. She stumbled upon Musi's project when perusing Instagram and figured she's have a laugh with Boo.
"With these guys, you are there for hours," she said. "You leave the dog, and then they call you if they need help. It's really exhausting."
And the end result was, well, serious!
"I really didn't get it," Williams said of her initial reaction to the images of her pet. She didn't quite see her crazy puppy.
"Oh my God, give her back her money!" Musi told his wife. "She hates the pictures!"
But Williams didn't hate the pictures, and when she read what Musi wrote about Boo, she realized that, indeed, he had captured the essence of the dog.
"If you were picking a buddy for a buddy trip, Boo would be your buddy, your boy, your wingman," he wrote. "If he could only reach the pedals, he would help drive, but he probably wouldn't pay much attention to the road."
It was as if Musi knew the future Boo Radley, Williams said. For just a few months later, there he was: the animal Musi had photographed.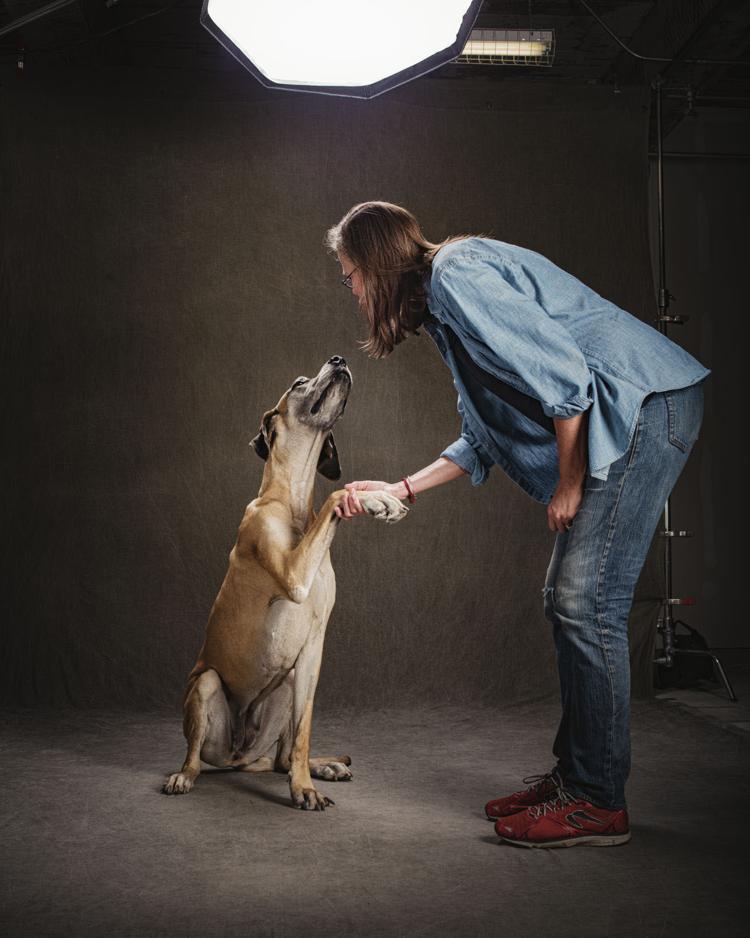 Then Musi took pictures of Boo's mother, who had been found in North Carolina one winter padlocked to a tree, pregnant and starving.
"It's such dramatic, incredible work," Williams said. "God, he puts a lot of work into it. He puts his whole heart out. ... The experience was truly mind-blowing."
Sometimes things go awry. Dogs run loose, or outside dogs get into the big warehouse that Musi uses and threaten his subjects. Sometimes the animals don't cooperate. Sometimes they bark and nip and whine and bite.
So Shell resorts to dog treats, lots of dog treats. And, usually, Musi gets his picture.
"It's the coolest thing I've ever done," he said.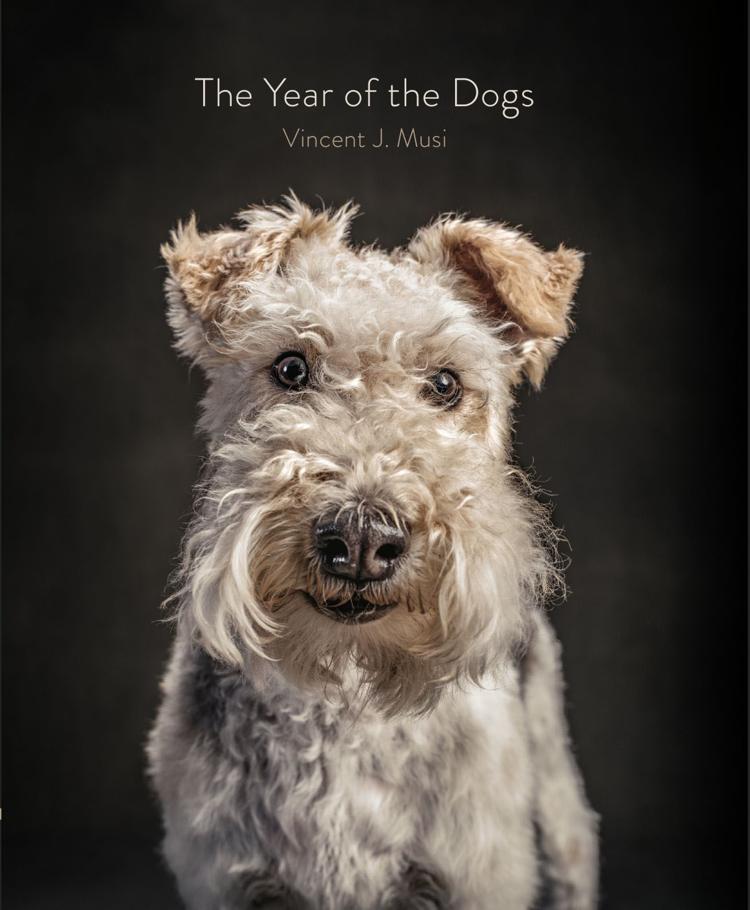 One day, White House photographer Pete Souza's agent called.
"I think you have a book," the agent told Musi.
This one, "The Year of the Dogs," is the first of three. Probably there will be another dog book, then maybe a cat book. Musi might not be able to talk to the animals while shooting, but he sure can portray them in a good light.
Poor Callie. Imagine her in a big warehouse herding cats.