When Kristin Lefeavers took her son to the doctor's office after he complained of some digestive issues, she didn't expect to end up discussing his brain.
"Has anyone addressed the shape of your son's head?" Lefeavers remembers the doctor asking. 
She knew her son had developmental troubles. He had been seen for autism before. But doctors previously said the shape of his head was nothing to worry about. She soon found out, though, that Jordyn's brain was growing too quickly for his head. He had a birth defect that caused his skull to grow too long and narrow. 
Brain surgery was scheduled in Columbia in March last year, but the operation didn't fix the problem and Jordyn needed two blood transfusions during the procedure.
Jordyn underwent a second brain surgery in April this year at the Medical University of South Carolina, where his doctors completed a "cranial vault reconstruction," which requires a specialist to cut the skull from ear to ear and then reassemble the bones using plates and screws.
There was a key difference during this second surgery. Dr. Ramin Eskandari, a pediatric neurosurgeon at MUSC, ordered a plastic model of Jordyn's skull so he could practice the complex procedure before his patient ever entered the operating room. It was made using 3-D printer. 
The model gave Lefeavers extra peace of mind as her son went into a second life-threatening surgery. Eskandari showed her the replica of her son's skull. They would make six incisions, he explained, and she could see where and how exactly they would be done.
"It was like I had a visual of what they were doing in my mind," Lefeavers said.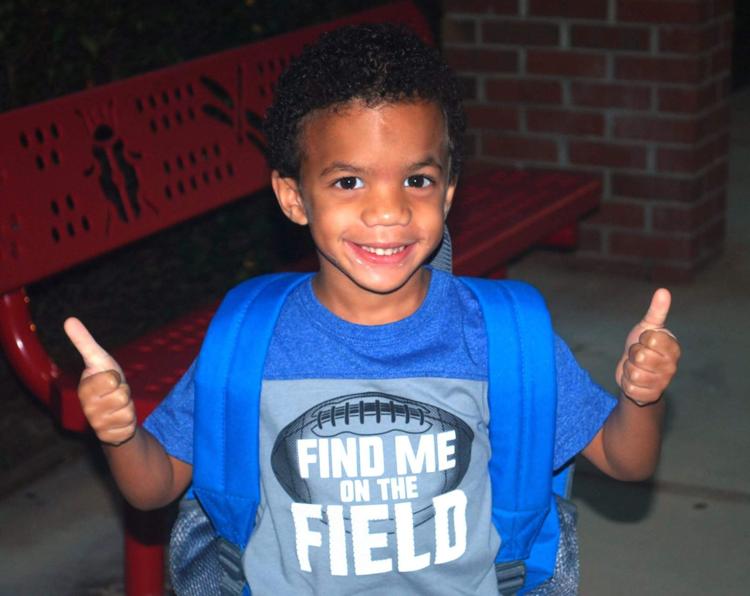 Eskandari's primary goal in using 3-D models extends beyond communication with patients and their families. Such 3-D models have reduced both operating times and blood transfusions needed during the lengthy surgeries, though those improvements could be tied to other factors, he said.
Still, incorporating the models into his practice has set MUSC's pediatric neurosurgery program apart, Eskandari said, adding, "It's the only major difference that's come along."
During a recent MUSC Board of Trustees meeting, Eskandari urged hospital leaders to adopt the 3-D models in other specialties within the system. Mark Semler, engineer and CEO of the Zucker Institute for Applied Neurosciences at MUSC, said that's within the realm of possibility. 
3-D printing is nothing new, Semler said. Nor is it new to health systems, which have used the modeling capability for years for prosthetics and surgical implants, among other uses. But as the technology improves, so too do the models' precision. Today, the models are very precise, within a fraction of a millimeter, and can be created at a much lower price than in years past.
"Every hospital in the future will have this," he said.
The 3-D printer is housed at the Zucker Institute at MUSC. Staff there have created about 15 to 20 skull models for Eskandari and his team each year for two years.
Engineers use images from CT scans to create a file the printer can read. They send those file to the doctor to have a final look. Then, layer by layer, the printer builds the model of the skull. Each one takes more than 20 hours, and about $250, to print.
Eskandari and his team practice their surgeries on the skulls. They cut the plastic into pieces. Then they reassemble the pieces in the same way they would in the operating room. That way, the team isn't figuring out where exactly to cut in the operating room. By the time they're there, they've done it before.
"This is the ultimate simulation lab," Eskandari said. "This is the patient's own anatomy."
Sometimes, it's even more than simulation. Eskandari said his team can order a sterile model, which allows him to draw on the slices he'll make ahead of time, then place the stencil directly on the patient's head at the time of surgery.
Semler said the greatest stumbling block to using models more expansively is securing insurance coverage. He said BlueCross BlueShield wanted to see facts and figures before agreeing to cover the cost. Eskandari is conducting research that may show his program's outcomes. 
The fact that her son's surgical team practiced on a model already gave Lefeavers some comfort. Especially because Jordyn is anemic, his mother said, having the 3-D model could have made a huge difference in her son's result — a shorter surgery with no blood transfusions and a smoother recovery. 
"Things could have gone a different way," Lefeavers said.
Jordyn, now 4, will always have some delays, his mother said, though she already has noticed his behaviors begin to change. And she said Jordyn likes his new head, too.