In West Ashley's Avondale neighborhood, an alley behind the shops and bars near Magnolia Street has become an outdoor exhibition space filled with large and small murals. Artists have painted images ranging from an enormous turkey vulture to small cartoon-like figures on the sides of the buildings.
On the Charleston peninsula, three murals by Shepard Fairey and several more on Huger Street by a variety of artists can be viewed. David Boatwright's work — part art, part commercial signage — is scattered throughout the downtown area.
In Columbia, a growing number of murals and sculptural pieces are adding a colorful dimension to a city so enthusiastic about public art that it has a dedicated nonprofit organization whose main purpose is to facilitate more of it.
This deliberate approach adopted by Columbia now is taking hold in the Holy City where efforts are underway to introduce more curated public art to the shared environment, and not just downtown.
One advocate is even calling for a "1 percent for art" program that would set aside money in every public building construction budget for the purpose of procuring artwork.
"I love public art," said Mark Sloan, director of the Halsey Institute for Contemporary Art. "It does serve a vital role in terms of meeting people where they are. It's in the public way; you have no choice."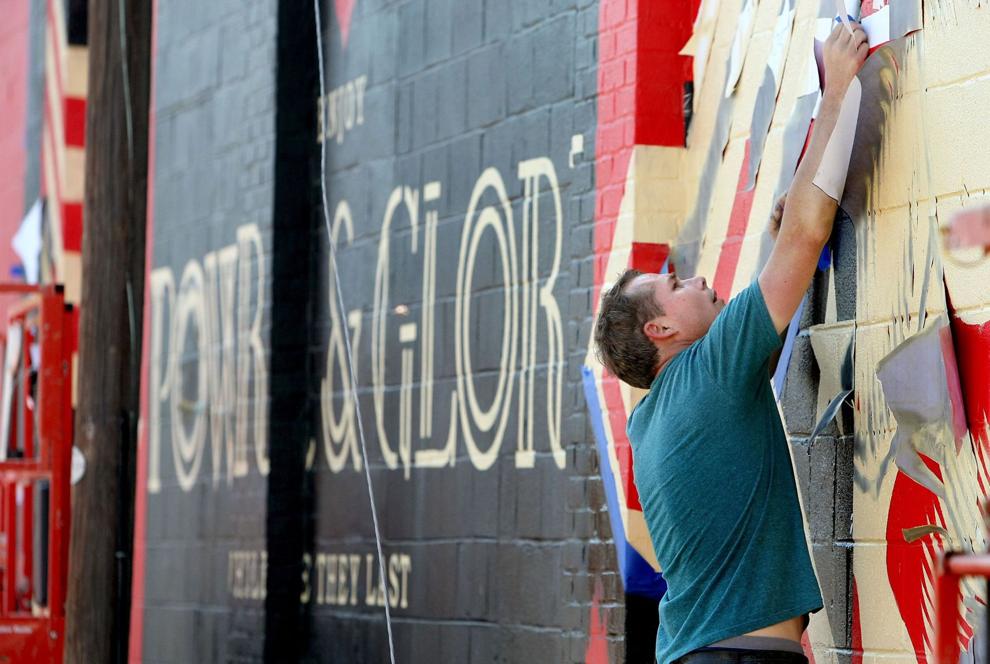 Sloan thinks public art is important enough to warrant more consistent support from patrons, civic leaders and private interests. Mostly recently he helped arrange the public display of five Fairey works in conjunction with a 2014 Halsey exhibition. (Three of those pieces remain.) Sloan also curated a big 2016 project in the Upstate called "Seeing Spartanburg" which featured nine outdoor light installations by Erwin Reidl.
"Innovative, temporary public art can spur creative thought," Sloan said. "That has unintended positive consequences."
It democratizes art, giving residents a chance to appreciate it outside the often rarified museum or gallery environment, he said. It also inspires dialogue about the urban landscape, city life, acute issues confronting the community and more.
"The role of public art is to help us formulate better questions," he said.
Capital projects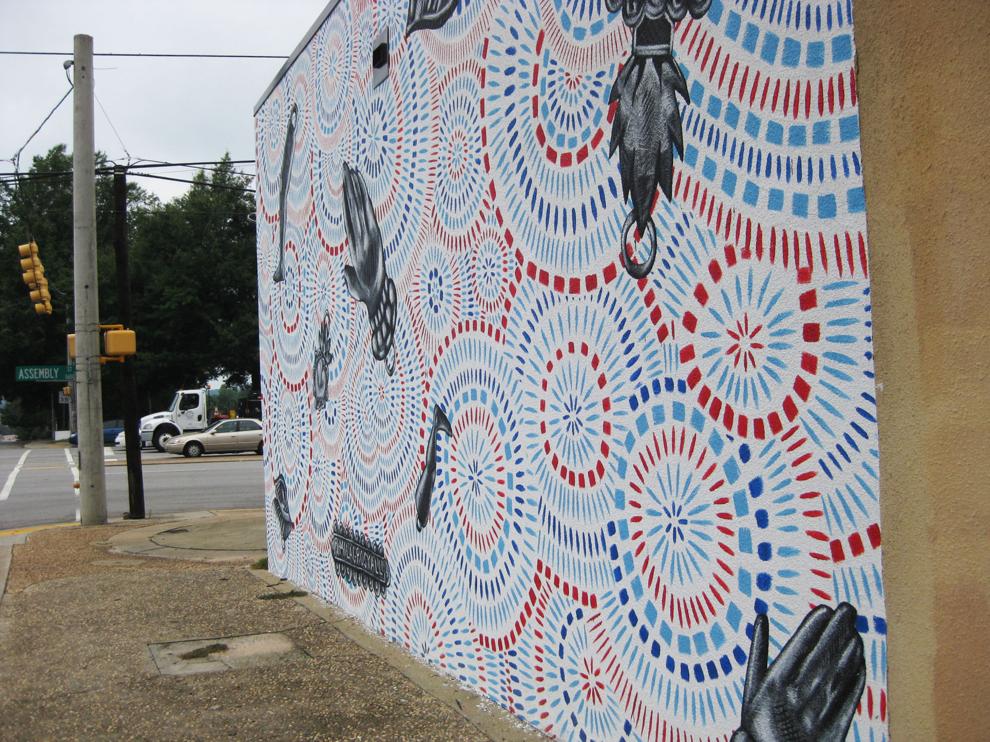 In Columbia, a nonprofit established in 2012 that is almost entirely funded by the city has worked to cultivate public art, commission projects and establish a procurement and review process.
One Columbia typically partners with private donors (individuals and companies) on these projects, according to its director Lee Snelgrove. To date, it has been involved in about 24 mural, sculpture and installation projects, 15 of which have come to fruition just this year.
Several murals and sculptures are located downtown near Main Street, providing an important dimension to the city's ongoing revitalization, Snelgrove and other civic leaders said.
Public art also is helping to connect the Main Street area with the Vista neighborhood across Assembly Street, and it's being embraced by the Richland County Library, too.
"It's kind of all coming to a point where people want more coordination," Snelgrove said.
When an opportunity comes along, One Columbia hashes out some basic details with the organization sponsoring the art; helps to identify an appropriate location, coordinating with city planners; then assembles its public art selection committee. The committee, which consists of an artist, architect, developer, curator and others, meets quarterly, Snelgrove said.
They issue a call for artists, assess submissions and determine a short list of candidates. They flesh out the project plan and budget, which includes a 20 percent earmark that goes into an art maintenance fund for use by the city.
Each project takes about a year to fully implement on average. The process can be adapted for art projects on private property, Snelgrove said.
The response has been positive. One Columbia might receive a few complaints about the aesthetics or design of a particular work, but no one has expressed any dissatisfaction about the concept itself, the process or the fact that the cityscape now includes numerous artistic landmarks, Snelgrove said.
The city has been an essential partner, helping with site preparation, installations, safety issues and more. When one project required the creative painting of crosswalks, the city balked at first. Would it endanger pedestrians? But when they witnessed the results (no one was confused about where and how they trod), city officials became enthusiastic supporters of the quirky crosswalk initiative.
"There is an appetite for (public art), but they don't always know they have an appetite for it until they see it," Snelgrove said.
Lately, One Columbia has turned its attention to places outside the downtown area, such as the Five Points neighborhood, the Vista neighborhood and the Columbia Bethlehem Community Center a mile and a half north of downtown. It's also involved in the "Southern Lights" project, a laser installation at the Congaree River.
Meanwhile, the Richland County Public Library has embraced Sloan's concept of a "1 percent for art" program. Currently in the midst of an extensive facilities improvement project, funded by a $59 million bond referendum passed in 2013, the library network is ensuring that each of 11 branches has at least one commissioned work of art, according to Emily Stoll, media relations specialist.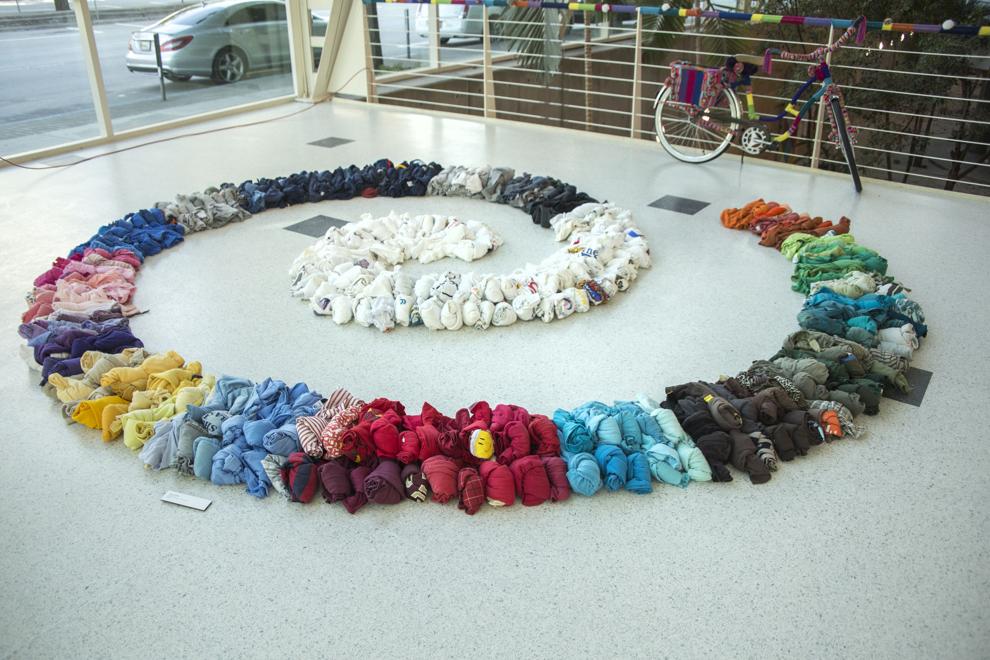 The four-story central library on Assembly Street includes a gallery space temporarily showcasing the works that will eventually find a permanent place in each of the branches. Most of the artists are local, Stoll said.
The art project is part of a larger effort to transform the library system into a robust public space.
"It's a hub of information, but also a conversation hub, a place where people can learn and share," Stoll said.
And they do. The main branch soon will include a new department of studio services where artists and writers can work. Another floor will be devoted to children and teenagers. Another level will have research and career materials.
Think of it as a community center, Stoll said, one in which art plays a central role.
Art also plays a central role for nine days each April in Lake City, the small town in Florence County that hosts the big — and growing — Artfields event, a multifaceted, multidiscipline showcase and competition. And in Myrtle Beach, an effort was launched a few years ago to improve the area with public art. "The Myrtle Beach Downtown Public Art Initiative was created to lead the process of establishing physical and performing arts in the (Downtown Redevelopment Corporation) District," its website states.
Public art evolves
In Charleston, public art efforts so far have been ad hoc. The Halsey Institute coordinated Fairey's mural-making. The nonprofit Enough Pie, which is concerned with responsible development and arts advocacy on the upper peninsula, arranged for the murals on Huger Street.
There are a couple of remnants of Spoleto Festival USA's landmark 1991 public art show called "Places with a Past," the most prominent being David Hammons' odd-shaped "House of the Future" on America Street.
The murals in Avondale were largely facilitated by the chART Outdoor Initiative & Gallery and include an enormous turkey vulture by the well-known Italian street artist Hitnes.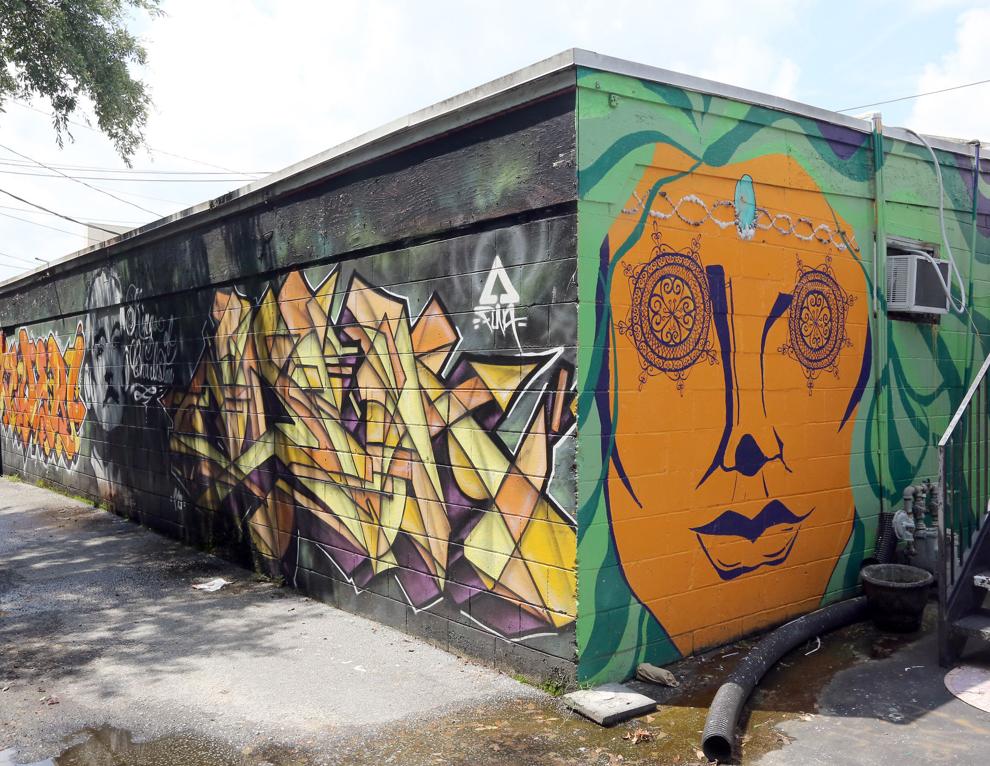 Hitnes happens to be in town working on an exhibition to be mounted at the Halsey in the fall of 2018. He said he got his start 20 years ago making rogue art — unauthorized graffiti, but after a few years graduated to street art that required more planning and cooperation with others. He has painted large murals all over the world and gained a reputation as a leader of the street art movement.
In recent years, Hitnes' work has taken a naturalistic turn. His Halsey show is called "The Image Hunter: On the Trail of John James Audubon." Hitnes spent three months traveling through the eastern half of the United States, following the ornithological trail Audubon forged in 1820-22. He collected bird samples (photographic), make a video documentary and created art along the way. One of the murals he painted was the Charleston turkey vulture. Another was a barn owl at a friend's residence.
Hitnes said the nature of painted public art — which is clearly divided into two categories, graffiti and street art — has changed significantly in the past 20 years. Graffiti is unauthorized yet relies on strict codes and rules, he said. It's the same everywhere. Street art is illustrative, comprehensible, often commissioned.
With the advent of social media, the availability of digital tools like Photoshop, the emphasis on graphic design and the introduction of moneyed interests, the public art enterprise changed, and along with it the way galleries work, the way street artists are treated and the way art is perceived.
"Street art became curated, desirable, more like contemporary art," he said.
Art in the parks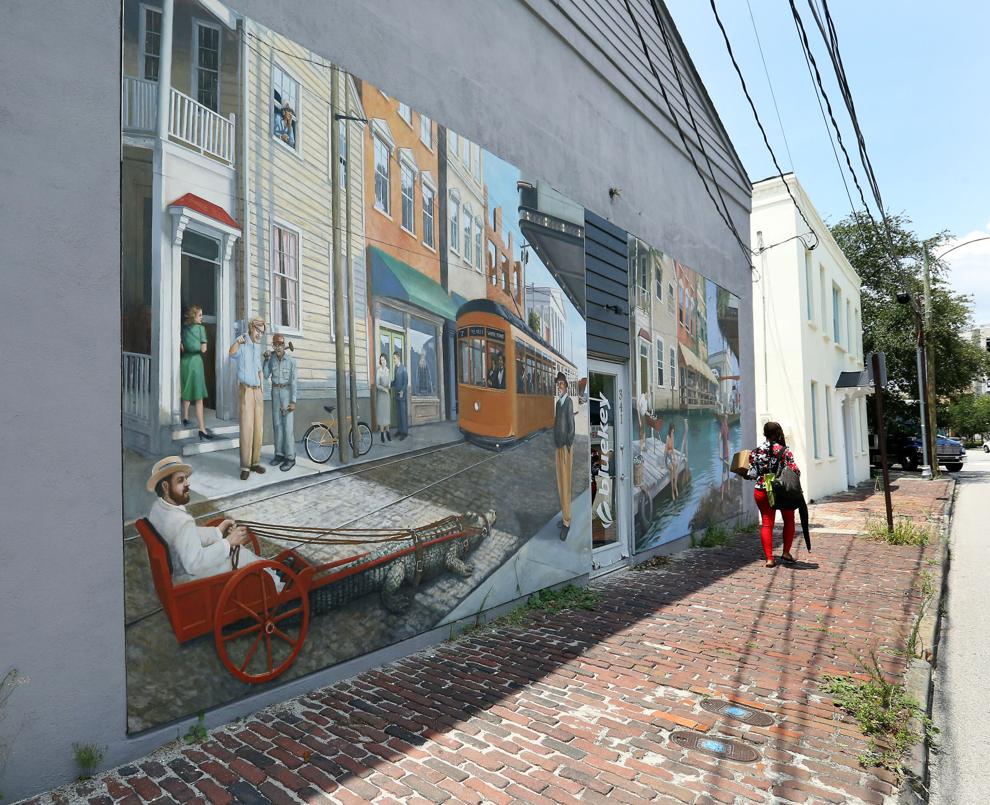 Now, one local nonprofit is seeking to become a public art facilitator, not unlike One Columbia.
The Charleston Parks Conservancy has been awarded a $50,000 National Endowment for the Arts "Our Town" grant for the purpose of installing artwork along the West Ashley Greenway and Bikeway.
Think of it as a pilot program, said Harry Lesesne, executive director of the Parks Conservancy.
The organization, now 10 years old, has worked closely with the city to improve its greenspaces. Its last big capital project was the renovation of Colonial Lake.
The Parks Conservancy remains dedicated to this kind of work, Lesesne said. "But we felt it was time for us to expand our horizons a bit," he said.
He and his colleagues hope to become standard-bearers for public art, facilitators akin to One Columbia, advocates who argue that engagement with art enhances the park experience and improves quality of life, he said.
"It's kind of a void in our city, so that was something we thought we could catalyze some attention around," Lesesne said.
Half of the NEA grant will be spent on planning, the other half on art.
"Number one, we want to incorporate an artist into the master-planning process and have that artist help us with the design," as well as identifying other artists who might participate, good sites and necessary infrastructure, he said. "Number two is to install pieces of art along the greenway."
The effort should take less than a year, Lesesne said. It is meant "to show people what can be done and that more is coming, both on the bikeway and all over the city."
For example, Lesesne said, one other piece of public art —coming to Hampton Park in the fall — is a sculpture by Joe Dreher of Decatur, Georgia, whose work was featured in Lake City's Artfields this year. 
Scott Watson, executive director of the city's Office of Cultural Affairs, said his goal is to define a sustainable public art process based on the Parks Conservancy project and other models, such as One Columbia's. It's useful, he said, to take into account the recent dustup in Mount Pleasant over a Sergio Odeith mural at Moe's Southwest Grill that some town officials initially took to be a sign and therefore not allowed.
Watson said public art is a good way for communities to express their aspirations and initiate change, especially in areas in need of improvement, such as West Ashley.
"Why wouldn't we want public art to be a crucible for how revitalization can happen?"
And not everything needs to be a mural, he added.
"We could have light installations, sound installations, an eclipse-related project — if we had a process to get it done," Watson said. "We (at the Office of Cultural Affairs) would like to help frame out and organize a structure that's sustainable and scalable. We don't want it to be arbitrary. At end of the day, it should be something that pushes boundaries."