The Columbia-based artist Laura Spong died Monday at age 92 after a long career that earned commercial success in her later years.
Friends and colleagues say Spong had a strong work ethic and painted simply because she loved to paint. Her art fit in the movement known as abstract expressionism, whose best-known figures — Mark Rothko, Jackson Pollock, Willem de Kooning — gained international fame in the postwar New York City art scene.
Columbia-based artist Eileen Blyth considered Spong a friend and mentor and said she was always a generous supporter of fellow artists. Looking through old photos this week, Blyth found a picture of Spong up on a ladder, painting a massive canvas for a Columbia gallery show they did together in 2014.
"One thing that she always wanted to do was paint big," Blyth said. "Rothko always painted these big paintings, and there's all these pictures of men standing in front of big paintings with cigarettes in their hand, and we just said 'We're gonna do that.'"
They painted on enormous, wall-spanning canvases. She remembers Spong working for hours at a time on the pieces, her tirelessness serving as an inspiration to younger artists in their studios.
"We didn't have the cigarette part," Blyth said, laughing. "I wanted her to do that, but she said 'No, my children will see.'"
Spong started painting in the late 1950s in South Carolina's state capital, taking classes at the Columbia Museum of Art and serving for a time as secretary of a local artists' guild. She won some juried exhibitions and was well-liked by critics and fellow South Carolina artists, according to Wim Roefs, a Columbia gallery owner — but she never received the same international acclaim as the men in New York.
She married Ernest Spong, a sailor who returned from World War II on the Navy's Yorktown aircraft carrier, and they had six children together. Her painting slowed down in 1973, the year her husband died. It was also the year she received a diagnosis of breast cancer, and doctors performed a radical mastectomy that kept the cancer in remission for decades.
She took jobs to make ends meet, including for a time as arts and crafts director for Columbia's Parks and Recreation Department.
Roefs said a major turning point for Spong came in the late 1980s, when she started renting studio space at Vista Studios in Columbia.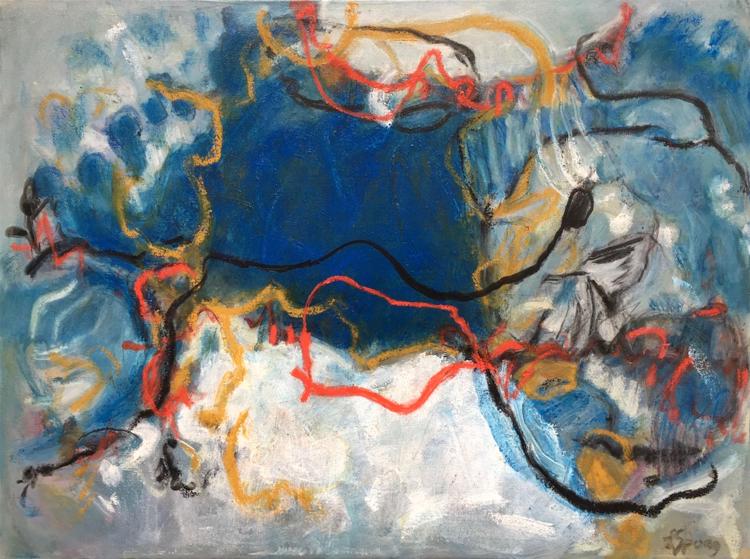 "She told me, well, if she was going to be poor, she was going to be poor doing what she wanted to do, and that was be a painter," Roefs said.
In 2006, Spong asked Roefs to help her organize an 80th-birthday solo exhibition at Vista Studios' Gallery 80808. He obliged, and the show was a hit. Roefs says she sold more paintings at one show than she had in any year before then.
Blyth said Spong kept plugging along at the same pace as she had before, but now she was finding some commercial success. Museums and collectors began paying large sums for paintings ranging from 1950s vintage to ones that were so new, the paint had not yet dried.
The cancer returned and sapped some of Spong's energy recently, according to Roefs, but she kept painting until just a few days before her death on Aug. 13.
Roefs said she had two paintings in the works near the end — one that she loved and intended to finish, and another that she talked about scrapping altogether. She never finished the former painting, but she managed to rework the latter one.
Blyth has seen her friend's final paintings and said they are not somber or grim.
"It was like Easter. It was all golden and purple," Blyth said. "It's amazing, that last painting."