They've been off the island for a while now, but Ron and Natalie Daise bring their Gullah culture with them wherever they go.
Into classrooms and conferences.
Onto the stage.
Onto the canvas.
Into the pages of books.
Into song.
They are humble people, content with singing and painting and telling stories about the noble blacks who enriched the Carolina Lowcountry with their benefactions and blood. Call them the Gullah Power Couple and Natalie Daise cringes a little.
After all, a number of people have worked hard to draw attention to and celebrate Gullah culture, from Marquetta Goodwine (Queen Quet of the Gullah-Geechee Nation) and painter Jonathan Green to community leader Emory Campbell and filmmaker Julie Dash, whose 1991 feature "Daughters of the Dust" propelled this unique heritage onto the silver screen for millions to see.
For young adults of a certain generation, though, Ron and Natalie Daise might be the most famous of them all. Their Nickelodeon TV show "Gullah Gullah Island" ended 20 years ago but continues to evoke an unusual kind of nostalgia among men and women in their late 20s and early 30s, the recollection of a formative childhood experience.
The children's show aired from 1994 to 1998, for four seasons, and more than 750,000 tuned in for each of what amounted to 70 episodes. The Daises held forth as the indulgent parents of two kids, Simeon and Sara. Songs were pre-recorded in New York City; interior scenes were shot at Universal Studios in Orlando, Fla.; and exterior sequences were filmed in Beaufort, where the Daises lived for many years.
Today, Ron Daise is vice president for creative education at Brookgreen Gardens and Natalie Daise is concentrating on her oil and acrylic painting. The kids are grown. The couple lives in a quiet neighborhood outside Georgetown and travels to events far and wide to tell stories of Gullah life.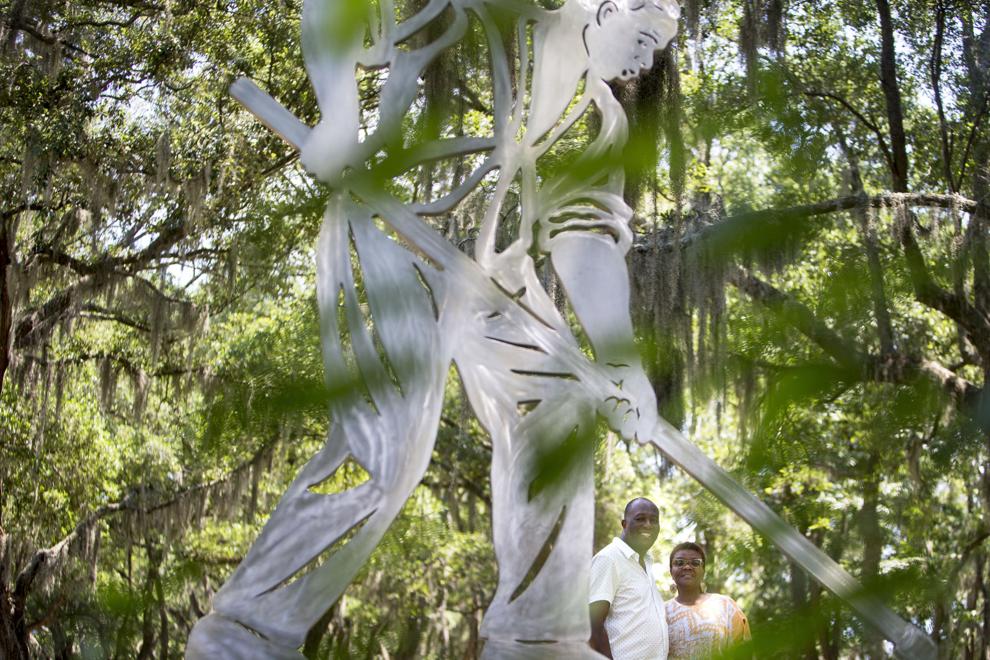 'Felt like home'
"Painting is the way I tell stories," Natalie Daise said. "Painting happens a lot, painting is kind of crucial to my well-being. It's my primary means of expression and the thing I do most consistently."
She's started a new series called the "Apparition of St. Harriet," featuring the stoic face of Harriet Tubman enveloped by colorful Gullah imagery. The series is inspired by an old movie, "The Song of Bernadette," in which the Virgin Mary appears before a girl in a grotto.
"What if St. Harriet just suddenly appeared," Daise wondered. "She's very present in my life."
Her "Collard Queen" is a magnificent portrait of a woman decorated with the large textured leaves of the Gullah staple, a reference to the life and land of African Americans on the Sea Islands of the Southeast.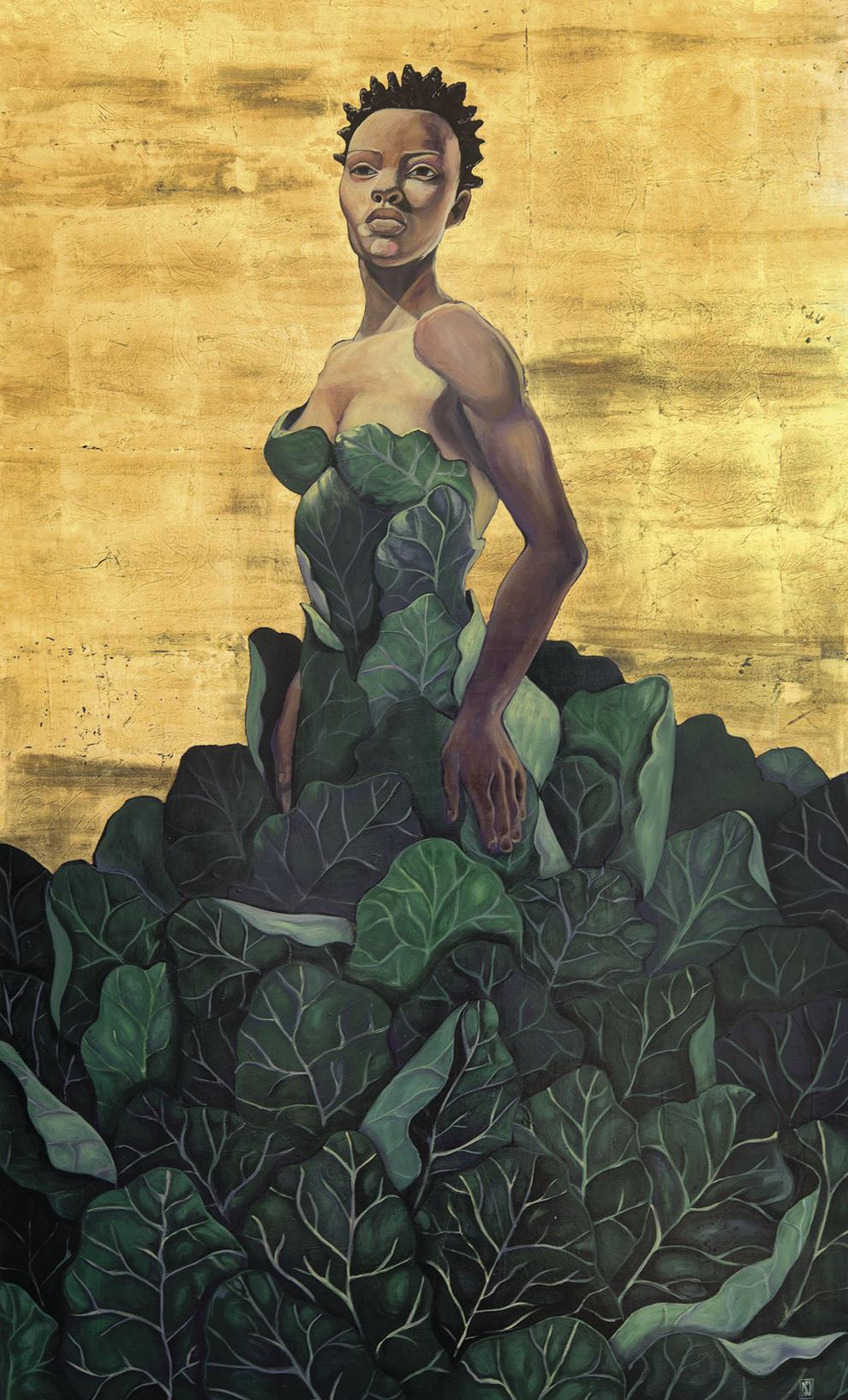 Her paintings include elements of African iconography, food items, colorful garb, abstract designs, gold or silver or copper leaf and more that mimic a Byzantine style. But her real focus is on the people she portrays. Though she has no formal training, Daise has an innate ability to paint profoundly expressive faces and to connect posture with feeling. Consequently, she permits the viewer a glimpse into the mind and heart of her subjects.
"The story to me is in the eyes and in the face," she said. "The spirit of the subject sort of comes through in the painting, if I'm lucky."
She's often lucky.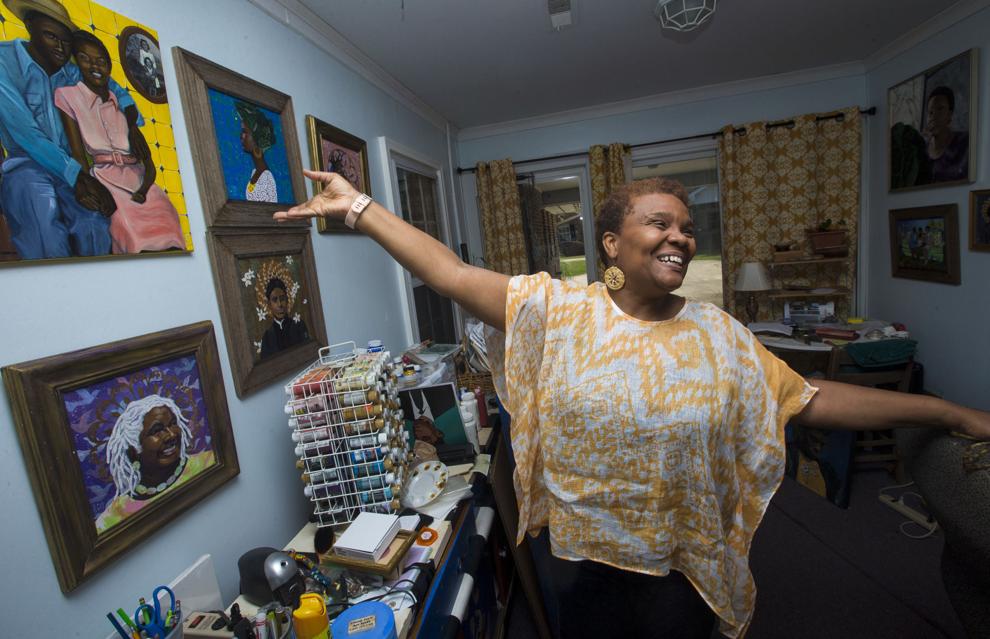 Daise spends a lot of time in her home studio, but she also works a couple of times a week at the nearby Rice Museum in downtown Georgetown, offering tours and helping out in the gift shop. Often, she's glad to share the history of the rice coast, but sometimes she's taken aback by the ignorance she encounters.
On one occasion, a man in his 30s touring the Rice Museum learned of the dangers of rice cultivation and the short life spans of the laborers. "Why did they do it then?" he wondered aloud, only to be corrected by his wife's forceful whisper, "They were slaves!"
Natalie Daise, born in 1961, was raised in Rochester and Syracuse, N.Y. When she was 22, her grandmother, a resident of Lady's Island near Beaufort, fell ill, and the family decided that Natalie would go south to help.
Stepping off the Greyhound bus and touching the Lowcountry soil triggered a strange alchemy. This Yankee from New York State began to transform into a Gullah-Geechee.
"It honestly felt like home," she said.
She moved into a trailer behind Uncle Simeon and Auntie Dee's house, accustomed herself to the palmetto bugs and many young male cousins, assisted her grandmother and watered her family roots.
Soon she was off to college, first a Seventh-Day Adventist school near Washington, D.C., then Oakwood College in Huntsville, Ala., and finally, the University of South Carolina-Beaufort. She thought she should go into medicine or physical therapy; her family insisted she had the brains for it.
But then she met Ron Daise.
Taking the stage
The native of St. Helena Island had earned a degree from Hampton University in Virginia and recently published a book: "Reminiscences of Sea Island Heritage." The volume provided a basis for the development of a live presentation that included songs, storytelling, history and more. Natalie joined Ron on stage.
"My husband told me I was a storyteller," she recalled. "I didn't know I was a storyteller."
Ron Daise quickly understood the potential of a team effort.
"Maybe we could be like Ossie Davis and Ruby Dee," he thought.
Emory Campbell, then-director of the Penn Center on St. Helena Island, invited the Daises to perform at a gathering of museum professionals in the mid-1980s. The couple received a standing ovation.
That led to more gigs, but not always enough to pay the bills. Natalie did some temp work; Ron worked at the Beaufort Gazette for two years (he was the paper's first black reporter), then did some teaching.
But he knew they were onto something. He understood the value of sharing his heritage. He could see how his cultural presentations offered "old information in new ways, and new information as it's discovered."
And his impulse was not to dwell too much on the miseries of slavery but to emphasize the accomplishments and artistry of Gullah people.
Soon came a lucky break.
On the island
Plans were afoot to make a movie based on a Gloria Naylor novel. Naylor was living in the Beaufort area but her home was largely unfurnished and not ready for distinguished Hollywood guests, actor Laurence Fishburne and producer Maria Perez-Brown.
Natalie Daise came to the rescue, buying furniture and befriending the author of "Mama Day" and "The Women of Brewster Place." Soon the Daises were part of the company, chatting about the prospective movie. Perez mentioned she was pitching ideas to Nickelodeon and had heard that the Daises were good Gullah storytellers. Maybe that would make a good show, she suggested.
Six months later, Perez was back in Beaufort with a film crew, following Natalie (very pregnant with daughter Sara) and Ron Daise around town for a day. The footage, soon back to New York, excited the Nickelodeon people. A show would be developed.
Fracaswell Hyman was hired as head writer for "Gullah Gullah Island," taking cues from the Daises, working in material drawn from their lives. Most of the more than 25 characters were drawn from real life, and most retained their own names on the show. The cast and crew held to an aggressive schedule, shooting parts of two episodes each week.
"They were so easy to work with, all of them," Hyman said. "I had no idea about Gullah culture when I first started on the show, so I learned a lot from Ron and Natalie. I admired their work ethic. ... It was an ideal situation. Not every situation has been that easy and fluid."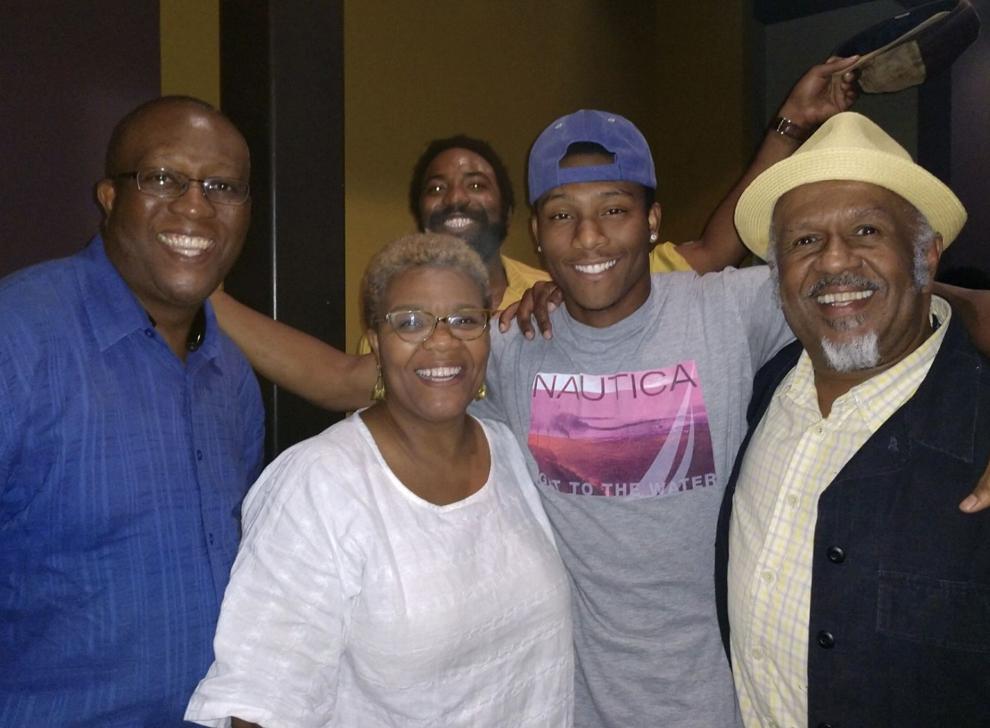 Today, young adults sometimes will tell Hyman how much they loved the show.
"It makes me feel good, makes me feel proud," he said.
Teaching history
At Brookgreen Garden, Ron Daise has become essential. Each Wednesday afternoon he offers a presentation to visitors, projecting slides on the screen and speaking with a sing-song cadence about rice and ring shouts and Jubilee and gatherings and language and courage and mettle and skill.
Keep on movin', keep on endurin', keep on livin', cuz we all have a right to the tree of life ...
Walking from the Education Center through "The Village," Daise points to a huge cypress trunk, one of thousands that enslaved Africans chopped out of the swamp. It took seven years and many deaths to transform this cypress swamp into a rice field.
It's Daise's voice that visitors hear on the audio tour. It's his work that visitors appreciate when learning about the history of Brookgreen, now the most visited site along the South Carolina coast.
Daise, whose Gullah identity and accent seemed a handicap when he attended Hampton University in the mid-1970s, now rejoices in its fecundity.
By the time Wendy Belser came to Bookgreen Gardens in 2011 to become director of philanthropy and membership, Ron Daise was well established there. He had joined the staff in 2004 and quickly implemented cultural programming that broadened the Brookgreen experience for visitors.
Belser saw the husband-and-wife team perform during the historic site's popular holiday presentation Nights of a Thousand Candles.
"The first time I met Ron, he was singing," she recalled. "I thought, 'Oh my goodness, such talented colleagues I'll be working with!' ... He really captivates all the visitors to Brookgreen who come to enjoy those performances."
When Natalie Daise presented her one-woman show "Becoming Harriet Tubman" at Brookgreen, it quickly sold out, Belser said.
"We had to add performances. It was so powerful, it was absolutely stunning."
Living culture
Today, Belser is working closely with Ron Daise on a new Brookgreen initiative: the Gullah-Geechee Gaarden (spelled to indicate the Gullah language's open "ah" sound). The sculpted landscape near the education building will feature traditional plants, information panels, oral histories, a bottle tree and artwork curated by Natalie. It will be dedicated on Oct. 13.
The garden is part of Brookgreen's ongoing effort to interpret the African-American experience in Georgetown County, which by 1840 grew nearly half of the total amount of rice produced in all of the United States.
Brookgreen Gardens now is part of the Gullah-Geechee Cultural Heritage Corridor, a federal National Heritage Area established by Congress in 2006 that runs from Wilmington, N.C., to St. Augustine, Fla. One goal of Brookgreen's Gullah programming is to ensure the former rice plantation is an integral part of the corridor, Belser said.
The Daises bristle at the notion that their culture is disappearing. Development and gentrification along the Sea Islands surely presents dangers. After all, a culture is often defined in part by geography, and without a connection to the land that culture can become less cohesive.
But Ron Daise is quick to point out that Gullah people are not disappearing.
"It's a still-evolving, living, vibrant culture," he said. "Gullah-Geechee people are here today."
They are the people living on Charleston's East Side, Natalie Daise added. They are the children selling palmetto roses on the Market. They are the people hanging on in the rural outskirts of town. They are among blacks from the North returning "home." 
The new hotels and restaurants and rising property values make it harder to sustain a sense of community, but that community endures.
"It's a misunderstanding to think it's disappearing," Ron Daise said.
But it's more important than ever to talk about its profound significance.