When it comes to new theatrical experiences, I'm of the mind that Charleston artists should regularly reach for the moon. They should dream up new works that reflect our local voices and stories. They should think outside the black box and find alternate spaces to tell those stories. They should break free from their creative comfort zone to cross-pollinate with other artists. 
Admittedly, it's easy to "should" from my perch of a desk job. After all, I needn't fret production logistics or time constraints or that little consideration called a budget. However, when artists somehow navigate all of those obstacles to pull a theatrical rabbit out of a hat, I see it as a sign that art created by and for our community can persevere, obstacles or not.
And reach for the moon artists did on Friday night. Billed as an interactive theater experience, "Osceola's Muse" was performed in and around Battery Gadsden on Sullivan's Island under a beaming, near-full moon that lit up the crisp, autumnal night sky. In so many ways, the production, which was written by Brent Dorwart and directed by Kamille Hayes, demonstrated that joining risk and inspiration is well worth the effort, hiccups and foibles and all.
First, there is the story. It centers on Seminole warrior Osceola, who led the tribe's resistance to removal from Florida, resulting in their captivity in the Fort Moultrie battery.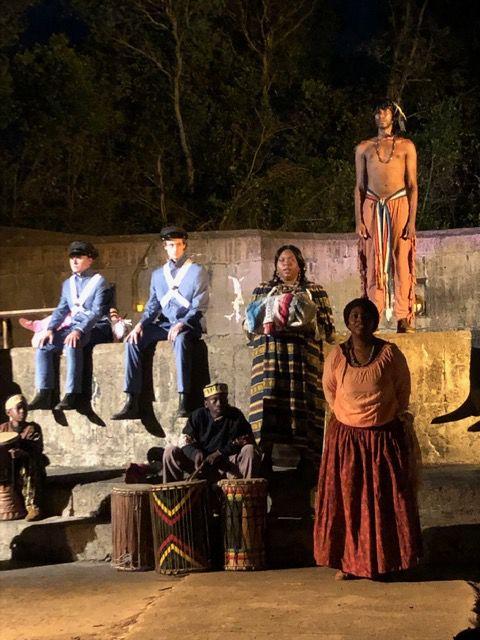 Before dying there in 1838, he attracted others to Fort Moultrie to visit him, including artist George Catlin, who painted a portrait of Osceola while in captivity. "Osceola's Muse" also highlights the warrior's relationship with Morning Dew, one of two wives and the child of an escaped slave.
What's more, "Osceola's Muse" represents a collaboration of various Charleston artists and organizations, cutting a swath through Charleston's creative community. Through music, design, drama, dance and visual art, it draws upon both the Native American and African American lineage of its characters, who came together to fend off advances of the Army.
To do so, producer Carol Antman worked with Battery Gadsden Cultural Center and Keepers of the Word, a Native American outreach ministry, as well as artistic partners. There was the artist Jonathan Green, who fashioned both the scenery and the costumes, the latter of which outfitted the players in an eye-catching, evocative period mix spanning Native American tribal, agrarian South Carolina and nineteenth-century military.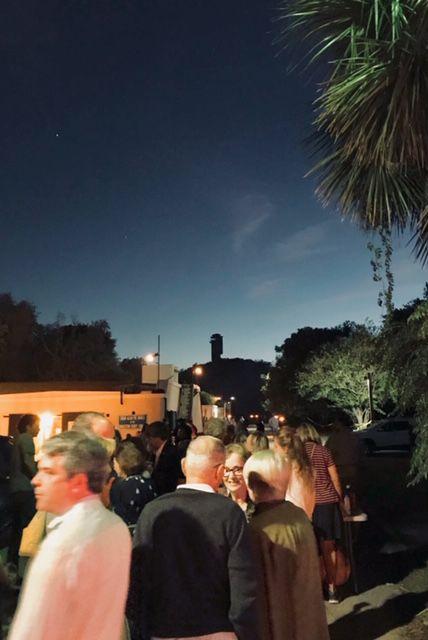 Pure Theatre developed it into a theatrical work, which took the form of a progressive performance. Over the span of an hour, audience members traveled from one battery to the next to take in a segment of Osceola's life, focusing on his love of Morning Dew, the muse of the work's title. The three scenes were performed concurrently, with three sets of actors portraying the two leads. 
There was also Delia Chariker's transfixing Native American music, which lent much to transport the evening to a different era at Fort Moultrie, one which has all but been eradicated from South Carolina. Similarly, Nina O'bani's African music and dance spun spirited, mesmerizing performances with several young performers.
Then there was the integration of visual art, with artist Kris Manning creating an earnest, elaborate arts installation of masks, paintings and more at Battery Gadsden as tribute to the Seminoles held captive at Fort Moultrie. A pop-up gallery featured Green and Manning at Sullivan's Island's Sandpiper Gallery.
And, yes, there were gaffes, as there will be when works of theater are unleashed in the open air. At the onset of the production, a party band across the street rocked the space, rendering it all the more challenging to suspend disbelief. The flashing lights of a nearby emergency vehicle added an unexpected element of sidewalk suspense.
The enthusiastic performers, who seemed to vary in experience, had to manage all that, which they did with charm and sport. The script at times relied too heavily on narration to come across like a docent in a museum tour. Still, I felt better for knowing those facts.
For me, however, the show's ambition and vision more than made up for its gaffes. Osceola, once again, came to life on Fort Moultrie for all of Charleston to see and to mourn. Again, he reached for what he knew was right, under an epic moon.