If you are guessing that a 16th-century French comedy decked out in rhyming couplets might have a tad too much starch in its pantaloons for your taste, guess again.
In the nimble, gleefully naughty hands of playwright David Ives, the use of iambic pentameter lets loose flatulence, mugging and plenty of none-too-refined sight gags. With unapologetic crassness and ample clowning around, "The Heir Apparent" reveals with each spit-take-worthy theatrical set piece how brilliantly low-brow Ives is willing to go to get a laugh.
I can't say I'm crystal clear on what compelled the acclaimed writer of the whip-smart Broadway sensation "Venus in Fur" to rework "Le Légataire universel," the 1708 French farce-like classic by Jean-François Regnard. But he seems to have carved out a niche with reworked translations of French comedies. Ives has had a go at Pierre Corneille's 1644 "The Liar" and Georges Feydeau's 1908 "A Flea in Her Ear." 
In "The Heir Apparent," the adaptation is teeming with "Oh, no he didn't" moments that may make those with low thresholds for potty humor seriously reconsider the merits of time travel. As directed by Lorilyn Harper at Threshold Repertory Theatre, the play powers on at a clipped meter churning out much farcical fun. 
For it seems all the gilt in France can't stop the wealthy and their presumptive heirs from getting downright dirty as they follow the money. This premise is advanced by an antic swirling of the twin poles of love and money. To do so, "The Heir Apparent" establishes two sets of paramours.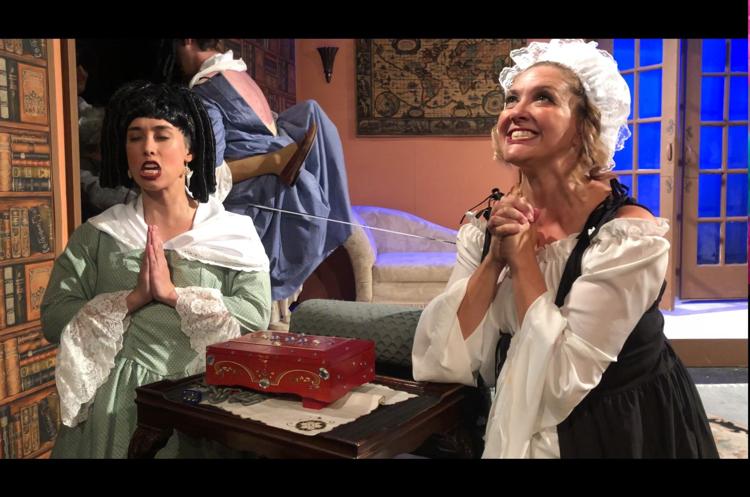 There is Crispin and Lisette, the pair of servants to an aging, gaseous miser named Geronte. Then, there is Geronte's nephew, Eraste, and his love interest Isabelle. Together, the four conspire to grab a spot in Geronte's will, which by all accounts is considerable. Only Geronte keeps gumming up their plans with his own.
The fun comes by way of some sporting performances that relish every raunchy bit. There is Bill Terranova's ill-tempered, charmless Geronte, who stumbles and bumbles around bemoaning bodily functions while leching after Isabelle. There is Brett Leach's Crispin, a role demanding a broad and dexterous range of comic skills that the actor nails with increasing hilarity. Then there is the crowning comedic gem, Susie Hallatt, whose gold-mining Madame Argante commands the crowd every time she storms the stage.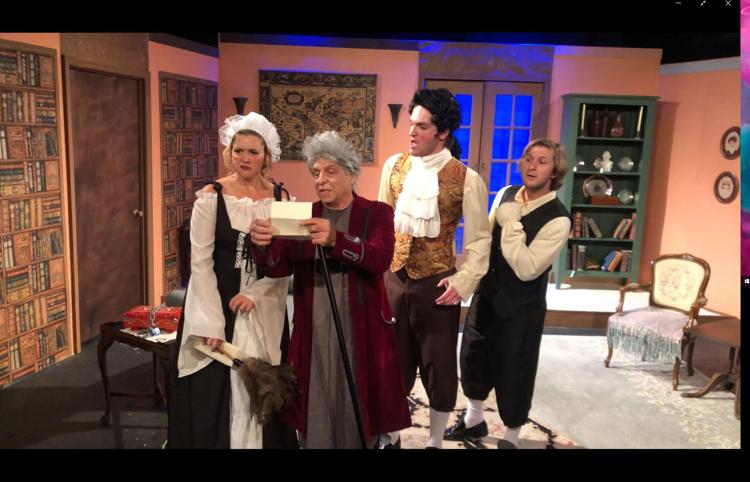 As the plot thickens and the hijinks heighten, we are treated to an infectious onslaught of doppelganger impostors, dead bodies and high-energy physical humor. I would even suggest that there are even more shenanigans to be had in this madcap piece, and that the ensemble could notch up the silly still. 
And, while "The Heir Apparent" underscores the less virtuous impulses of humankind, it also seems to blithely shrug them way as inconsequential in grand scheme of things. In short, all's well that ends well, and the play serves up both the satirical barbs and the lighthearted balm.
It does this on modest, serviceable set and with comely costumes that together outfit the Threshold space. The small black-box theater manages to regularly reconfigure itself as suits each production. and in this instance is set up in its most common formation, with raked audience seats facing a traditional stage to recreate the drawing room of Geronte. 
As such, there is quite a bit packed into the house for "The Heir Apparent," particularly in the way of bawdy, zany fun.