Last Friday was First Friday, the perennially popular ArtWalk presented by Charleston Gallery Association that each month draws visual arts enthusiasts from near and far. Gallerists opened their doors for the pilgrimage to pop in, have a pop of wine, bubbly or such, and indulge in eye-popping new shows, new work or new artists.
Decked out and primed to see and be seen, the swarms of culture vultures streamed along the artsy artery of Broad Street that veins to and from streets like Church, Meeting, East Bay and King, together representing dozens of venues.
They merrily ambled through front doors, which flapped open in the unseasonably sultry evening, the air conditioning departing with them. Spotting friends, they paused to chat and exchanged pleasantries with strangers on where to find good art and available wine.
Since September's walk was swept away with Dorian, Friday's event found the fall cultural season all dressed up and ready to show. Yes, the local mainstays of sweeping Lowcountry vistas and transporting feats of plein air are still in lovely abundance, with spaces like Mary Martin Gallery hung high with rapturous seascapes and marshes. However, they are now joined by relatively recent arrivals displaying fresh perspectives, which lend charge and dynamism to the visual mix. 
Keeping it real
Of course, there is plenty of realism, the hallmark of Charleston's visual arts scene for decades. At Ella Walton Richardson Fine Art, "Everyday Romance" presents a solo exhibition of new work by Jeff Jamison.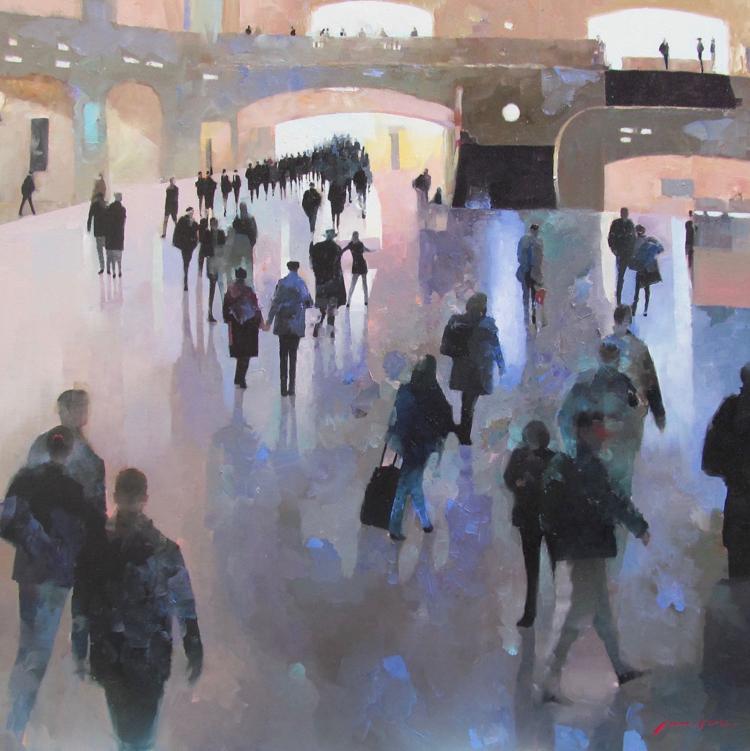 Many of Jamison's scenes are set in actual or dreamed up cities, often evoking the solitude or intimacy that curiously emerges from a peopled urban terrain. In "Remember Tomorrow," a couple perches on a park bench under a red umbrella, gazing out at the rain-drenched streets. In "Grand Central Light," shadowy silhouettes march like dark apparitions through the cavernous, light-graced station.
Naturally abstract
A year or so ago, The George Gallery moved to its current home at 54 Broad St. from its previous locale in Cannonborough-Elliotborough, bringing with it a stellar line up of contemporary artists from Charleston and beyond. Through Oct. 23, the gallery introduces to Charleston the substantial, abstract work of Brooklyn-based artist Allison Gildersleeve in the solo exhibition, "Tilt A Whirl."
By way of oil, acrylic and a subtle application of spray paint, Gildersleeve's paintings are distinguished by vibrant, spackled color that is alternately opaque and transparent. In her exploration of memory, some layer in images associated with home, such as a staircase or a ladder-back chair. Others draw from vernal scenes, with liberal coats of springtime greens and scantily rendered trunks and bark in faint blue lines.
Over at the Miller Gallery, the abstract again meets the natural world in the thus-named "Abstract by Nature," a solo exhibition of new work by Laura Dargan. Combining the artist's tandem loves of the minimalist and the figurative, these large-scale paintings feature bold, curving figures of women encased within the frames. At times, the borders of the canvas seem to confine them in spaces too small for their carriages. At other times, blocks of color cut across them, distorting or obscuring them.
African American South
Also relatively new and noteworthy is Neema Gallery, which represents Southern African American artists. These include internationally renowned artist Tyrone Geter, whose work, such as portraits painted on found objects like mirrors or vanities, peppers the venue.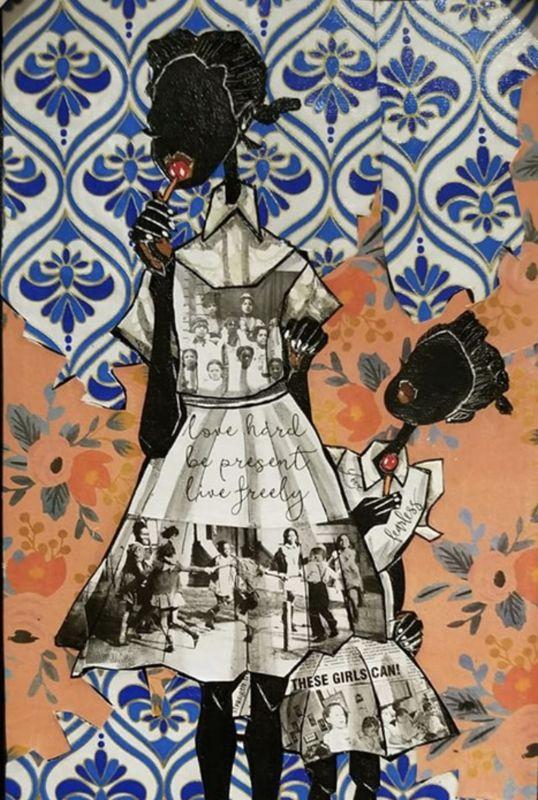 Prominently displayed is the work of another acclaimed artist, Leroy Campbell, a graduate of Burke High School. His use of acrylic, paper, tapestries and organic materials come together in poignant portraits exploring past and present. In the collage-on-canvas work "Same Flavor," a pig-tailed child whose dress appears fashioned from newspaper-like images playfully enjoys a red lollipop.
Throughout the course of the collected sites, there were other shows that helped foster the possibility of a visual surprise on the other side of every gallery door. At Lese Corrigan Gallery, there were Nancy Langston's elegant, elongated sea-glass-like sculptures in "Land, Sky and The Between." At Robert Lange Studios, Mia Bergeron's ethereal, lush oil paintings of rooms, dried moths, and lilies and the like to comprise her solo show, "Outside In."
On Friday, the refreshments eventually gave out or wound down and the evening sun did, too. However, many guests remained, nourished sufficiently by Charleston's current cultural landscape, with its promise of a work for any appetite.