Theater and politics have always made for cozy bedfellows. Shakespeare buffs might hail "Julius Caesar." Those who prefer their politics on this side of D.C. may call out the heated Tennessee courtroom in "Inherit the Wind."
It's no leap then that theater-makers would aim to animate the the Mueller report — the most wildly parsed pile of papers of the day — a document whose dramatic heft may well rival its actual weight in pages.
In fact, Robert Mueller's findings have already made it to stage twice this summer. First, on June 24 in New York, "The Investigation: A Search for the Truth in Ten Acts" offered a high-profile, livestreamed adaptation starring cinematic heavy-hitters, including John Lithgow and Annette Bening. Then, last week in Washington, D.C., an 11-hour marathon reading of the second volume of the report enlisted volunteer readers at the Arena Stage.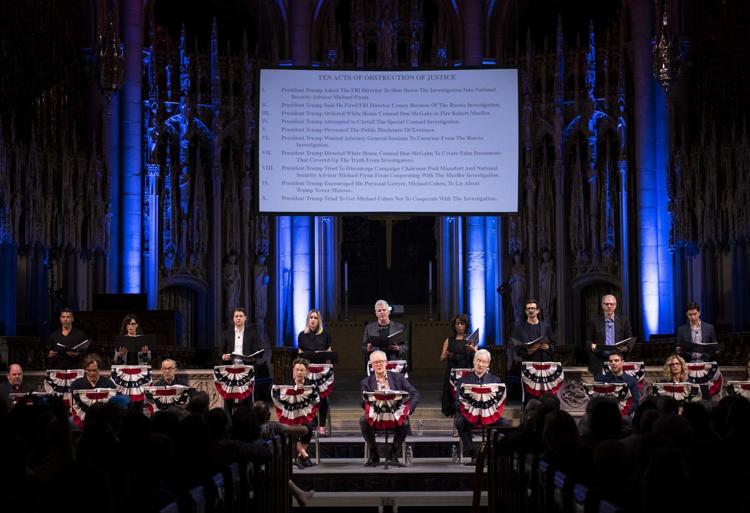 It appears to be a trend, this dramatizing of the officiously typed and collated transcriptions and summations that come together in our National Archives. A few years back, for "Arguendo," the New York-based company Elevator Repair Service staged the entire oral judgment of a 1991 U.S. Supreme Court case brought by a group of exotic dancers. The Tony Award-nominated "What the Constitution Means to Me," on Broadway now, heavily cites its titular text, while also distributing compact copies of it to the audience.
Adding another layer is the livestreaming component of "The Investigation," a trend already alive and kicking in Charleston. Local theater company 34 West regularly streams National Theatre Live productions from the London stage. In 2016, Spoleto Festival USA twice broadcast "Porgy and Bess" at free outdoor events, with intrepid locals hunkering down in lashing rain to view it.
For an arts critic, "The Investigation" presents a choice opportunity. It has serious theatrical chops, as it was adapted for the stage by Pulitzer Prize-winning playwright Robert Schenkkan, directed by Broadway brass Scott Ellis and performed by a cast of 18 A-list actors.
And, right from my Charleston sofa, I can assess it as a piece of theater, specifically created to be livestreamed and readily available on YouTube. What's more, you have the chance to do so, too.
So I'll get on with the show. First, let's talk timeliness. I'll give that a 10, noting the feat in writing, work-shopping, producing and casting a work at such breakneck speed that it offers a topical take on our speedier-still news cycle.
That leads us to the text, which is also built for speed. The production clocks in at a civilized 70 minutes, with the playwright economically whittling down the 448-page tome to amp up the drama, and put a fine point on some of its content.
In that respect, the playwright homes in on Vol. 2 of the report, guiding us through 10 acts of obstruction. The production was presented by an organization named Law Works, which bills itself as bipartisan, but this emphasis does tip it otherwise. 
That slant is immaterial in my role as a critic, however, this rigorous culling renders the work somewhat ham-fisted. There is little in the way of character development to wind up to its considerable pitch.
Now, let's consider production values. They are scant, with the altar-stage of Manhattan's Riverside Church awash in blue and topped with rows of podiums draped with patriotic bunting. A large-projection screen hovers behind, with an image of a waving American flag that shifts to pages from the Mueller Report, among others.
This spareness served the strident show well, and was likely streaming-friendly. For those watching at home, there is the variable of personal screen size. My modest one was more than serviceable.
That leads me to the performances, wherein actors both recite segments of the report referencing their designated characters, as well as accompanying quotes. In a warm, regal voice, Annette Bening announces the 10 obstructive acts.
The silver-tongued Kevin Kline slides into the role of Mueller with level poise and authority. Justin Long is a comely, proper James Comey and Jason Alexander is a suitably unsubtle Chris Christie. Kyra Sedgwick gives us a terse and swaggering Sarah Sanders, while Joel Grey is a Southern-fried Jeff Sessions and, given the audible laughs, was a crowd-pleaser.
But, of course, the main event is the portrayal of President Donald Trump. John Lithgow dominates, bringing on bombast and hot-headedness with increasing ire, though steering clear of any sort of SNL send-up. Mind you, he certainly cants comedic, as did others on stage, but satire was not the thrust. Also, the cast did not always congeal into an ensemble, with performances running the gamut in characterization and commitment.
Originality gets a meh, what with the precedents noted earlier. However, this work does gain a nod for providing an inspired, original way to interact specifically with the report in question. I plan to read it, but confess that the thought of dragging it to the beach was a buzz-kill, so the actors' heavy-lifting is both welcome and likely far more entertaining.
On its accessibility: The play and the performances render manageable a daunting pile of pages. Also, it was certainly easy to access, as I had no trouble firing up the show to livestream, or finding it later on YouTube.
Hearing those murmurs from the darkened live audience, however, made me yearn to be among them, and wonder just what I was missing in that room. As far as I know, that ineffable, essential element of live theater has yet to be picked up across airwaves. Until then, I'll always consider streamed versions a distant Plan B.
By giving voice to salient parts, "The Investigation" points out that our documents are, in fact, of the people and by the people. Breathing life into them reminds us of the flesh and blood behind those black-and-white-and-redacted-all-over pages, an enterprise that in and of itself merits a star-spangled, star-studded show.