The first time they were all together was the night of the show. Most of the band had convened two nights before to rehearse the entrances and endings, the horn parts and tricky passages, but already these Stevie Wonder songs were pretty tight.
Keyboard player Demetrius Doctor knew the tunes inside out and ensured that his mates were playing the right chords ("that's an f-sus!") and rhythms as band leader Charlton Singleton supervised.
Bass player LaVonta Green and drummer James "JT" Rollerson were equally comfortable with the material, laying down a firm foundation for the rest of the band. Guitarist Greg Loney strummed funky chords and occasionally let loose with a melodic lick.
They played through much of the set list. They focused on that famous unison run in "Sir Duke." They practiced the ending to "Master Blaster" and ran through an abbreviated version of "Living for the City."
They would be fine. These musicians are pros.
"It's all about communication on the stage," Singleton said.
And they were fine, communicating easily across the Charleston Music Hall stage that Friday night. These players, some of South Carolina's best musicians, have something important in common. They are rooted in black churches — sanctuaries of artistic and religious expression that have nurtured their talents, proving opportunities to hone their craft and gain critical exposure.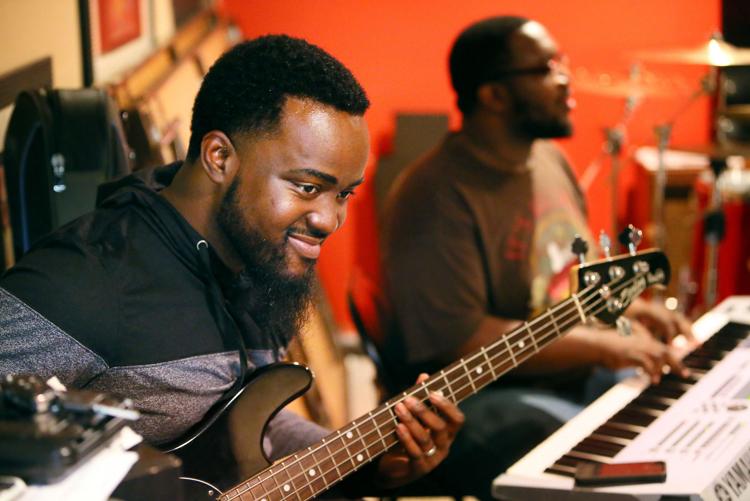 Church is where they got their start, where they learned to improvise, where they found their gospel voice. Church now is where they rededicate themselves, every week, to their faith and to their art. Church is where they earn a salary. Church is a cornerstone of their lives.
Many churches value music. But few employ a full staff of professional musicians. Among churches that cater to African Americans, three North Charleston churches stand out for their emphasis on contemporary gospel music and their support of local players: Royal Missionary Baptist Church and Life Center Cathedral and the Seacoast Dream Center.
Most of the musicians who performed in the "Higher Ground: The Music of Stevie Wonder" concert also play in those three churches.
Singleton (St. Patrick's Catholic), Quiana Parler (Greater St. Paul AME) and Aaron Hines (Royal Missionary Baptist) shared singing responsibilities. Stephen Washington (Jehovah Jireh) and Mike Brown (Royal, Life Center Cathedral) appeared behind keyboards alongside Doctor (Royal). Richard Wrighten (Royal) and his percussion set-up were positioned next to Rollerson's (Life Center) big drum kit. Background singers Chelsea Nona Green (Life Center) and Corinthian Doctor (Mt. Zion Holiness Church, Reformed House of God) stood upon an upstage platform.
The performance was part of the opening weekend of the MOJA Arts Festival. It was the third such tribute show put together by Singleton and his colleagues, the third time they packed the Hall and got people dancing in the aisles. They'd done it before with two Prince shows and with a performance devoted to the songs of Michael Jackson.
They will surely do it again, sooner or later, perhaps featuring the songs of Earth Wind and Fire, or James Brown or some other superstar. In the meantime, most of these musicians will pursue a variety of opportunities. They will each spend time in recording studios, tour with nationally known acts and produce music (both their own and others').
Fullest potential
Singleton, 46, is well-known in Charleston and beyond. He is artist-in-residence of the Gaillard Center, a former band teacher, current leader of the Charleston Jazz Orchestra, member of Ranky Tanky and Gradual Lean and a regular guest artist who sits in with other bands. He's organist and music director at St. Patrick's Catholic Church.
He got his start at Greater Zion AME Church. "That's where I learned how to play, learned rhythm and learned how to be spontaneous," Singleton said. "(It was) pretty much my gospel/jazz school."
Parler, 37, got her musical start at Greater St. Paul AME Church in her hometown of Harleyville and at her grandmother's Shadygrove United Methodist Church in St. George.
"The church is our foundation and how we connect musically on so many levels," she said. "It's in our DNA. Some of the best musicians I know started in church and still play for the church when they're not touring." A few play in Parler's own popular cover band.
Rollerson, 31, was staff drummer at the Dream Center when it opened in the fall of 2007. A couple years later he joined Life Center Cathedral, where he remains today.
"In any situation, structure is always key," Rollerson said. "I definitely believe that music is a driving force in the church, period — definitely in the African-American church. When you have a pastor who understands the responsibility music has, the persuasion it has, (he) just uses it to the fullest potential."
It helps that Bishop Brian Moore once was a touring musician himself, Rollerson said. That's one reason he seeks players with a lot of talent and why he and church administrators value professional players.
"They respect that this is our craft, this is our livelihood, this is our career," Rollerson said. "They realize that because we have this as our dominant career, we're going to devote all our effort to it, give the best performance every single time. When it's all you do, all you focus on, you're always going to be 100 percent."
Going for it
Rollerson started playing music at age 3 after his mother noticed he had "a hunger for drums," and he first performed in church when he was 8, he said. The regular drummer didn't show up one day so Rollerson filled in, carefully following indications provided by his god-brother and bandmate — "slow down, speed up, follow me!"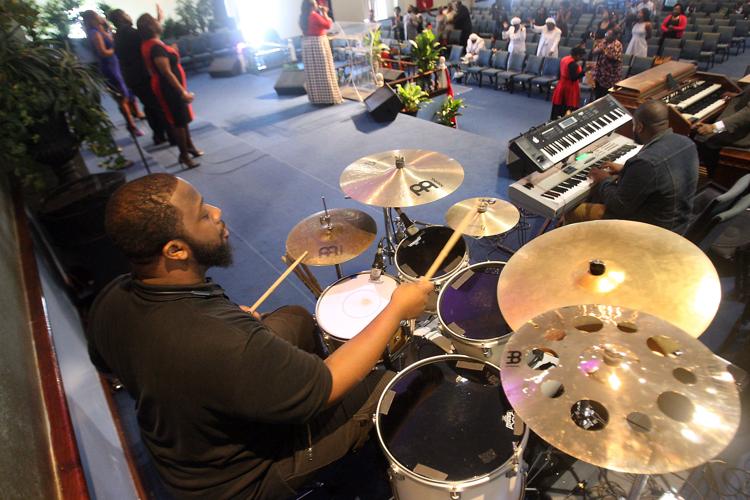 He played in school bands, but mostly he's self-taught. By the time he was in college, he'd lost some of the passion for drums and, in any case, couldn't imagine making it a career, he said. So he shifted to media studies and in 2004 landed a job at WCBD News 2. He became a father. He was still paying drums, but not as much, he said.
Then everything suddenly changed.
"I randomly got a phone call (informing me) that a producer was doing auditions for a major group," he said. "I found out it was P. Diddy making a show."
His mother wasn't pleased; she thought he should stay home and take care of his son. But she also knew that Rollerson was talented and capable, so she offered conditional support. He flew to Detroit to audition, but it didn't work out. Upon returning to Charleston, he got another call, this time from Parler who was just back from her "American Idol" appearances and seeking to put a band together.
He also joined a church band as a paid professional. Soon, he was making more money than what the news station could provide. I can actually do this job, he thought. "So I decided to go for it."
Before long he got a call from a friend in Los Angeles telling Rollerson that the band Far East Movement needed a drummer. Rollerson learned the music on the airplane and nailed the song in the audition. Soon he was on the road with the band, sharing the stage with Lil Wayne.
"I've not stopped touring since then," he said.
Like a feel
Guitarist Greg Loney, 30, grew up in the Columbia area, studied classical and jazz guitar and eventually attended the well-known Berklee College of Music in Boston from 2005 to 2008. During those years, he didn't play much in church, but upon his return to Columbia, he joined his mother at a worship service one day and dedicated his life to God. Soon after, he was invited to join the church band.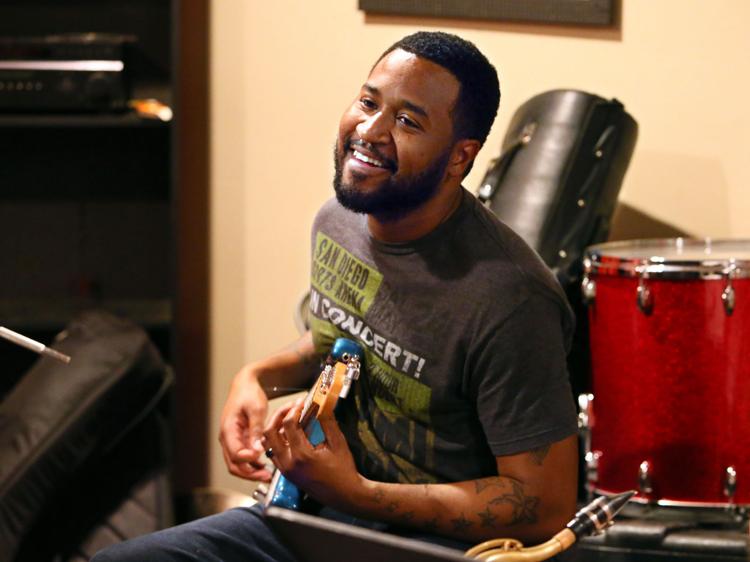 He already was proficient at a variety of musical styles. He could read music and charts, and he knew how to approach gospel because he had studied many old recordings, he said. He also played jazz, R&B, hip-hop, funk and pop.
He met keyboard player Mike Brown at a 2010 gospel music conference in Ohio, and that opened a world of opportunity, Loney said.
Brown, a prominent church organist in the Lowcountry, was making a record and needed help. Loney soon met other players, including Demetrius Doctor and LaVonta Green. The opportunities mounted. "Mike Brown connected me with so many people who needed a guitar player," he said.
Loney has played with gospel singer John P. Kee, and with Parler in her party band. He has sat in with other artists, laid down tracks in the studio and joined the band at Royal Missionary Baptist Church. The regular church gigs have helped him hone his craft, he said.
"The biggest thing I learned at church was not trying to play every single thing," Loney said. It's about the discreet placement of guitar licks and soulful flourishes. "It's like a feel."
He prays before he plays, hoping he can bless someone in the congregation. And he carries that spiritual feeling with him to secular venues. When he hits his stride, he has a sort of out-of-body experience, he said. There is Loney strumming and picking his Fender Stratocaster, and there is Loney removed from the mechanics of music, the artist uninterested in showing off but, rather, seeking to express what is in his soul, lost in the groove.
"If the sound is right, I can hear myself good, everything feels good," he said. "It gets to a point where I try to hold back tears."
Rooted in church
The Rev. Isaac Holt, pastor of Royal Missionary Baptist Church, values great players. He hired Loney in 2011. All told, there are 16 in the music ministry at Royal, seven full-time staff, nine part-time. All but one are members of the church. Most of the full-time players have been there more than 10 years.
"I believe every dedicated musician wants to get better, and to do that they need to practice and play every day," Holt said. "That is what is happening here."
Holt once was part of a band. "We actually lived together for three years. I was the manager, I played a little keyboard. I was the money man, getting the contracts. ... I learned to talk musician talk."
He talks the talk with the musicians at Royal all the time.
"I understand what musicians go through, how they think," Holt said. And he knows how powerful music in worship can be, how it reinforces the message and gets people excited.
So Royal pays a living wage and provides quality equipment. It's a two-way street, Holt noted. Good music draws worshippers (including younger people), and a good working environment draws talented musicians.
The church environment has helped these players succeed, he said.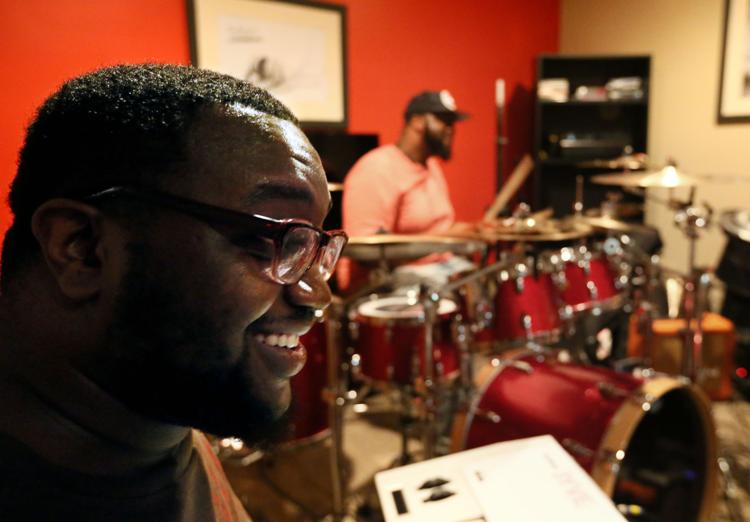 "Sitting under constant preaching and surrounded by dedicated Christians for most of their lives in the same church has helped these musicians grow into great, stable family people, good parents, spouses and citizens," Holt said.
Other black musicians in town, such as drummers Quentin Baxter and Calvin Baxter, also came of age musically in church, learning from the give-and-take nature of music-making in the sanctuary and applying that feel and groove to other endeavors.
Charleston now has a deepening pool of musical resources. And some of the stars of hip-hop, R&B, jazz, funk and rock are taking notice, Doctor said. As these players join tours, they spread the word, gaining even more recognition for Charleston.
It's an exciting time, Doctor said. But it would have little meaning if it weren't for his roots in the church.
"Church music," he said, "is most important to me."