For decades Leo Twiggs has been producing batik paintings in his Orangeburg studio, images that often refer to the troubled history of the South. An elder statesman of contemporary art in South Carolina, Twiggs now is reaping honors, including this year's Society 1858 Prize, for his remarkable body of work.
It's striking stuff: bold, expressionistic, sometimes shocking. Like Jasper Johns, another South Carolina artist, Twiggs has done a flag series, except his prominently features the Confederate Stars and Bars. Like Johns, he's done a target series, except his targets are not so abstract, referring to victims of violence, especially African Americans.
Most recently, Twiggs made an acclaimed series of nine paintings called "Requiem for Mother Emanuel" that references the 2015 church shooting by a white supremacist. The series, taken at face value, is a powerful testament to grace and courage and persistence in the face of murderous oppression.
But it qualifies as something more, maybe a masterpiece of myth, for it transcends its immediate subject matter and speaks to the broader African-American experience. It conveys an elemental truth: Through tribulation comes transformation.
The Gibbes Museum of Art and its member auxilary group Society 1858 will name Twiggs the winner of the Society 1858 Prize for Contemporary Southern Art when it makes its official announcement of the juried results of the 2018 competition Monday.
The prize comes with a $10,000 cash award for "the artist who demonstrates the highest level of artistic achievement in any media, while contributing to a new understanding of art in the South." Nearly 250 artists from Alabama, Arkansas, Florida, Georgia, Kentucky, Louisiana, Mississippi, North Carolina, South Carolina, Tennessee, Virginia and West Virginia applied this year.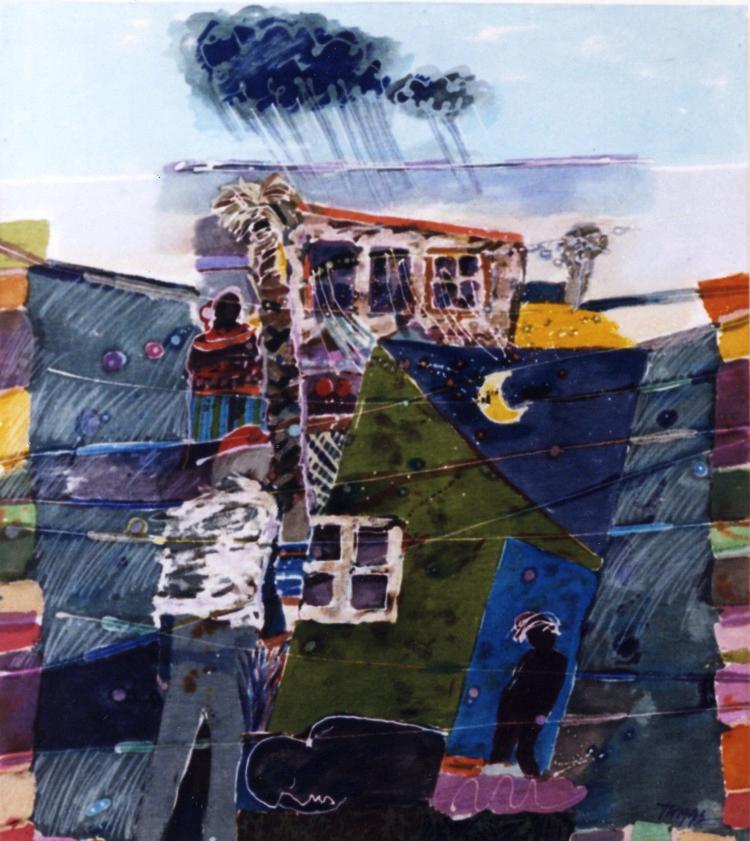 Twiggs, 84, is the first artist from South Carolina to win since the 1858 Prize was launched 10 years ago.
Molly Waring, president of the 1858 Society, said the group hosts numerous events throughout the year, including a big Winter party, to raise money for the cash award.
"This year, we are pleased to recognize Leo Twiggs from our native state of South Carolina, and add him to the roster of talented artists who have been honored with the 1858 Prize," she said in a statement.
Twiggs said the legacy of slavery, and the conflict it has generated, has made the South a fascinating place for artists.
"The South is a place where great stories originate," stories that resonate far and wide, he said. "I strive for the universal. I don't want to be pigeonholed. But the universal comes from dealing with specifics. That's why Faulkner still resonates. That's why Shakespeare still resonates."
Twiggs doesn't typically enter competitions, he said. He prefers to concentrate on his work. But his gallery directors in Columbia (Wim Roefs) and in Greenville (Sandy Rupp) both have pushed him to try his luck with the 1858 Prize, which has become an important contest for showcasing a variety of high-quality work by Southern artists.
This is the second time he has submitted material for consideration. Last month, he was named one of five finalists, alongside Maria Magdalena Campos-Pons of Nashville, Tenn.; Stephen Hayes of Atlanta; Birney Imes of Columbus, Miss.; and Susan Worsham of Richmond, Va.
"We could not be more pleased with the outcome of this year's 1858 Prize review process and the selection of Leo Twiggs as our 2018 winner," said Gibbes Executive Director Angela Mack in a statement. "Representing the highest level of artistic achievement, Leo's work has transformed our understanding of contemporary southern art through the mediums he has used, the subject matter he has tackled, and the countless young artists he has influenced. He is an artistic treasure and we are thrilled to be able to honor him through the 1858 Prize."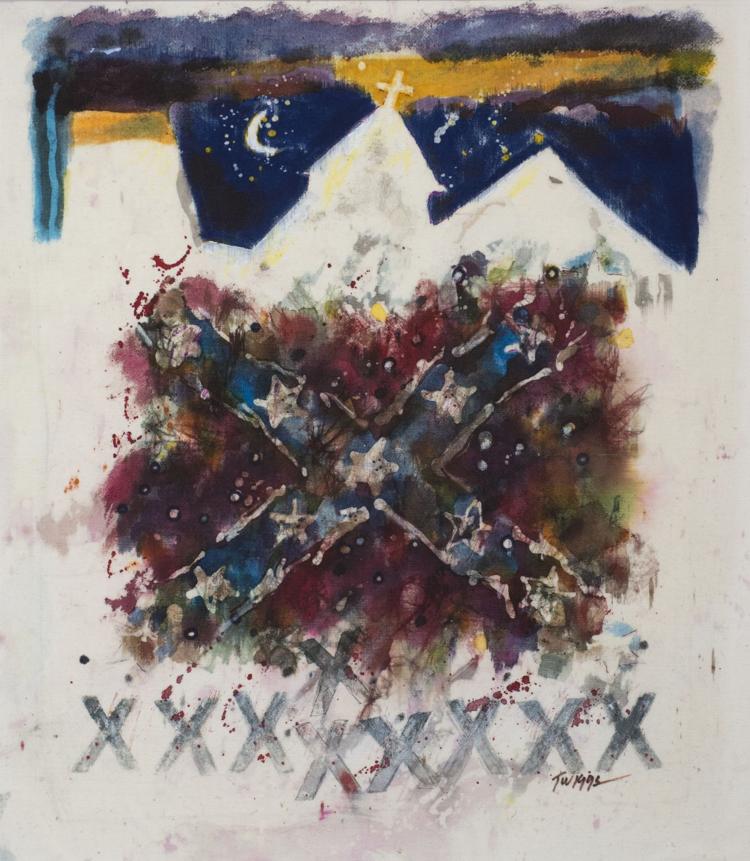 His win comes on the heels of other recent successes. In 2016-17, the "Requiem" series was shown in Charleston, Spartanburg and Charlotte, and all nine paintings were sold, one to the Gibbes, three to The Johnson Collection and the others to individuals. (The Gibbes has two other works by Twiggs in its collection, "The Omen" and "Sara Remembered.")
Last year, Twiggs received the Order of the Palmetto, the state's highest civilian honor, as well as the Elizabeth O'Neill Verner Governor's Award for the Arts from the South Carolina Arts Commission.
Born in the small town of St. Stephen in 1934, Twiggs studied art at Claflin College in Orangeburg then earned a graduate degree from New York University and a doctorate in art education from the University of Georgia. In 1964, he began a 34-year teaching career at South Carolina State University. A year later he began experimenting with batik, a wax-resist method of dyeing textiles.
Society 1858 will host The Amy P. Coy Forum at the museum at 6 p.m. Sept. 19 at which artists and experts will talk about the impact of contemporary art in the South. A panel discussion with representatives from ArtFields (Darla Moore and Wim Roefs), South Arts (Suzie Surkamer) and the Gibbes (Angela Mack) will address plans for collaboration and the expansion of the three Southern art prizes administered by these organizations.
A reception will follow honoring Twiggs.
For more information, go to http://www.1858prize.org or http://www.gibbesmuseum.org.