When Joe and Kristin Thompson decided to build their home on Kiawah Island, they envisioned a place where they could enjoy retirement without feeling overwhelmed by too much space.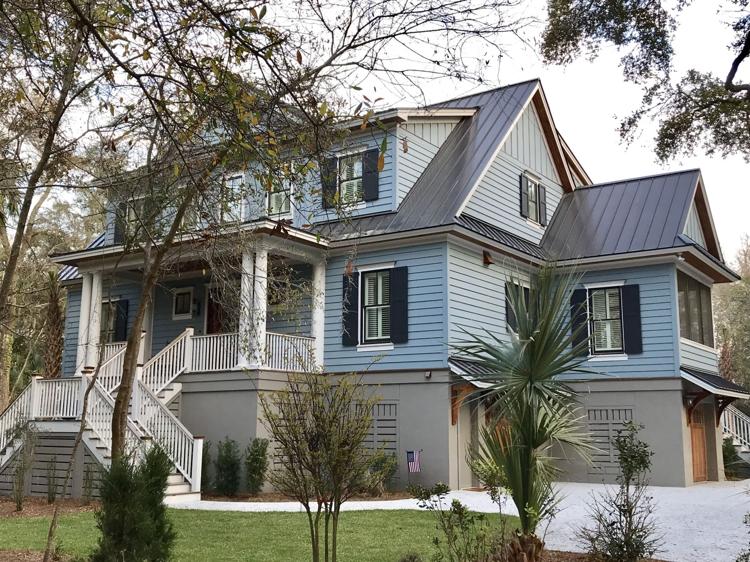 While open floor plans are in vogue these days, the Thompsons prefer "smaller, more intimate" rooms with a traditional ambiance, reminiscent of their New England roots.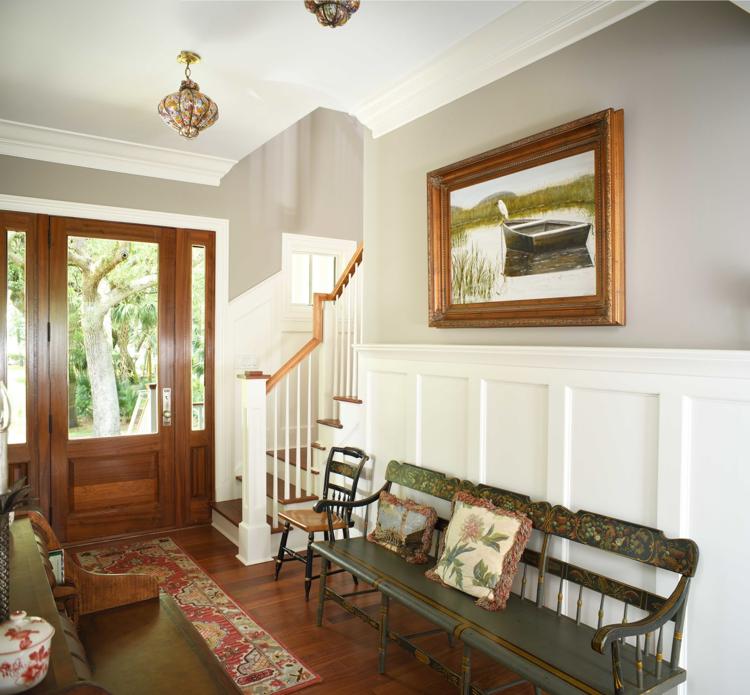 "This had to feel like home to us, and not a beach house," Joe said.
The place also needed to be accessible and welcoming to a range of guests, including Kristin's 87-year-old mother and the couple's four grandkids, ranging in age from 2 to 13.
Local architect Kevin Whalley helped the couple design a 3,000-square-foot, four-bedroom home that suits their lifestyle and tastes. Whalley is co-owner of North Charleston-based Architecture Plus LLC, which he founded with architect Tim Hilkhuijsen. Great Southern Builders managed the construction.
After moving in this spring, the Thompsons are pleased with the results.
Among the must-haves incorporated into the design are an elevator and a pool that's perfect for swimming laps or cooling off on steamy days.
The pool conveniently connects to the master bath, so swimmers can avoid leaving a watery trail throughout the house after taking a dip.
The home is filled with spots for lively conversations or quiet reflection.
The first floor houses a cozy living room, which adjoins the dining area and kitchen. Just off the dining room is a screened-in porch complete with a fireplace to provide warmth on chilly evenings.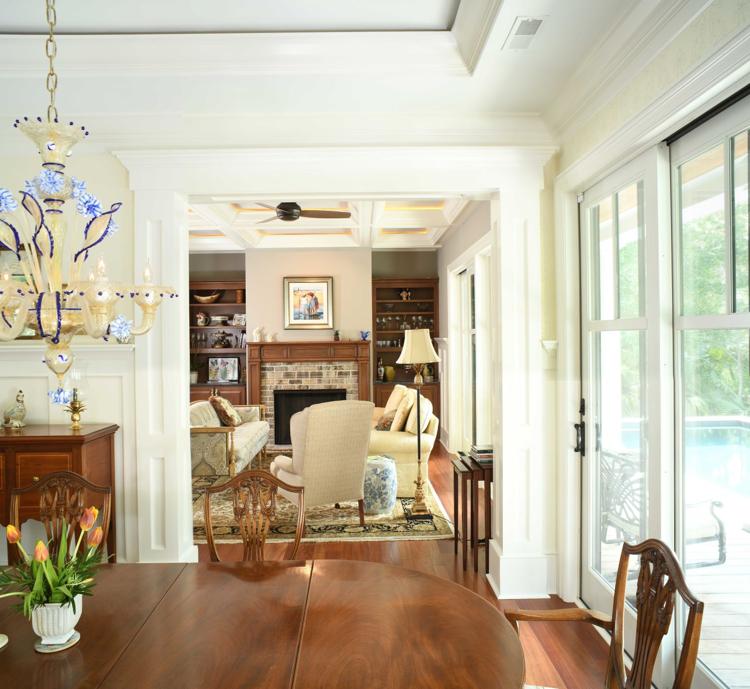 Upstairs, there's a library with a roomy built-in bookcase brimming with Kristin's beloved books. The warm space, decorated with nautical-themed wallpaper, is a popular gathering spot for guests, Kristin said.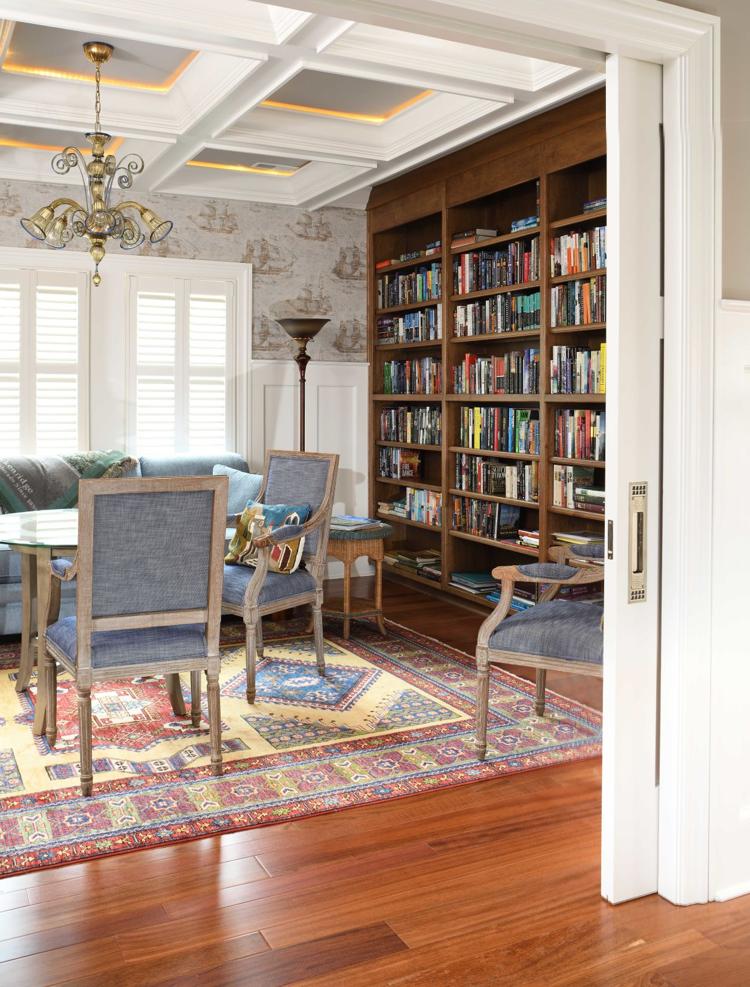 The second floor also contains Joe's office, a sitting area and three bedrooms, including a guest room adorned with prints from Scandinavian artist Carl Larsson, a nod to Kristin's Swedish heritage.
The Thompsons came to know and love Kiawah after more than 30 years of vacationing there with their three kids.
During visits, the couple toyed with the idea of someday moving to the barrier island, where they savored the lush scenery and ocean breezes. At one point, they even became part owners in a Kiawah home, but they continued to look at lots where they might one day build a place to spend their golden years.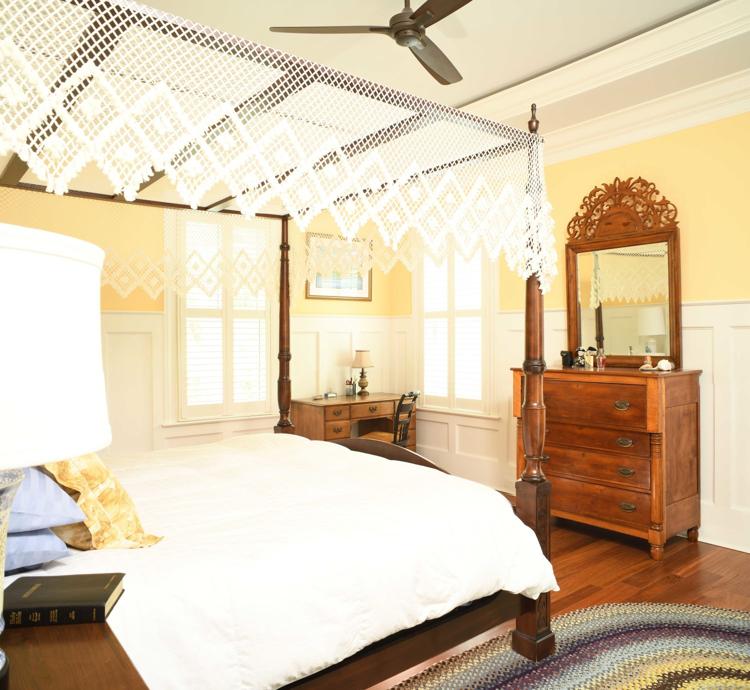 When their favorite lot in the Rhett's Bluff community became available, they went to work designing their dream house. Nestled among grand oak trees, the home's exterior fits the "Lowcountry river house" aesthetic of Kiawah, said Whalley, the architect.
A landscaped parterre garden on the property offers a scenic outdoor space for relaxing. "It's a tranquil area to enjoy the temperate climate," Whalley said.
The home's interior reflects the Thompsons' traditional tastes.
Being from New England, "the woodwork was important to us," said Kristin, referring to the decorative molding, millwork and trim that adorns the home's interior walls, ceilings and entryways.
To make the place feel even more like home, the couple decorated the space with family mementos, including ceramic figurines from Kristin's grandmother and a painting of former First Lady Abigail Adams' birthplace, where Kristin served as docent during her youth.
They've also added accents from their recent travels, like the colorful glass pendant lanterns from Murano, Italy, that welcome guests at the front entrance.
"It's exceptionally designed inside," Whalley said. "There's a different personality in each room."