Some art is for the birds.
But some art is about the birds.
Case in point: John James Audubon's magnificent hand-painted etchings of 435 North American birds. Those enormous prints were produced and sold between 1827 and 1838 and compiled into a treasure of naturalist ornithology called "The Birds of America."
The book's production was the second phase of a life-consuming two-part project. To create the images, Audubon first had to observe and collect the birds. He did so over the course of 14 years of field work, and three intense years, 1820-22, of trekking through the American South.
Along the way, he started and ended business ventures, coped with intense debt that landed him in prison briefly and drew from a deep well of entrepreneurial and creative energy.
When Italian street artist Hitnes, who had gained fame in Rome and beyond for his large, rogue murals, learned about Audubon, the French-born American adventurer, he discovered a kindred spirit.
The Image Hunter: On the Trail of John James Audubon from Halsey Institute on Vimeo.
True, Hitnes was a product of the late 20th century whose sensibilities were shaped by the urban realities of Italy's capital city, but he also was fascinated with birds and eager to explore their habitats, he said.
So in 2015 he embarked on a three-month tour of the U.S., essentially retracing Audubon's steps in order to photograph and sketch bird species, paint large-scale murals in towns along the way and, ultimately, organize a fascinating exhibition.
That show, "The Image Hunter: On the Trail of John James Audubon," is on view at the Halsey Institute of Contemporary Art from Aug. 17 through Sept. 29.
Kindred spirits
Audubon created remarkable, life-size renderings of birds. It was the naturalist in him, not the artist, that came to the fore. His primary goal was to create a lasting document (though the artistic value of his work is indisputable).
Hitnes, instead, is artist first, and the work he has created, while true to life in its way, is a "spectacularization" of the subject, to use his term. Through art, Hitnes sought to enhance perception of the birds he so loves, to capture within a single shadow box an array of activity and information and beauty.
Looking at his work is an aesthetic experience above all, not an academic one. The viewer marvels at the intricate, three-dimensional compositions, the detail, the posture of the animals within these dioramas.
For Audubon, scale helped dramatize his subject matter. Hitnes sought not to imitate his hero's style or approach, preferring to reference it by creating large layered works that contain a sense of vitality and action, and that accurately represent the birds he has observed.
Hitnes also is tapping into the Romanticism that informed Audubon's efforts, he said.
"Audubon existed in a period when art and science were colliding and helping each other," he noted. Two centuries ago, the naturalist embedded himself in a vast landscape unperturbed by human activity. In 2015, Hitnes couldn't avoid signs of modern life. For starters, he would never find six of Audubon's specimens, now extinct. And evidence of industry was never far off. Nevertheless, he immersed himself in the environment, coping with mosquitoes, the heat of the sun, the mud of the rivers and marshes, the long waits and elusive creatures.
"You're dipped into this, you become part of this," he said. The feelings and experiences of the explorer become manifested in the art itself. "You need to feel it in order to express it well."
Audubon's legacy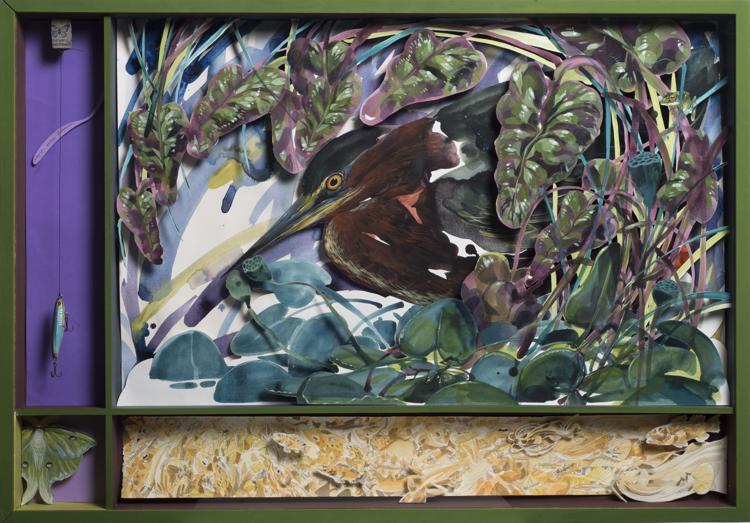 Fifteen shadow boxes filled with Hitnes' birds alight in layered reproductions of their habitat are displayed in the Halsey Institute's large gallery. The artist painted large versions of each of the 15 species on walls in cities across the South, including in the Charleston area. (His turkey vulture can be viewed in the mural-saturated stretch of wall behind rows of stores in West Ashley's Avondale neighborhood; and an American Redstart is now part of downtown Summerville.)
The small gallery contains an important counterpart to both Hitnes' shadow-box compositions and Audubon's inspirational "The Birds of America": a tiny hand-made book called "Fragments of the Birds of America."
Nine copies of the book were lovingly made by Hitnes over the winter in Rome. They feature marbled paper and fine binding, and rest within a book-like case. Inside each are 53 miniature, odd-shaped copper-plate etchings — fragments — of the many birds Hitnes has studied. On the walls are the same prints, unbound and framed for easier viewing.
Also on display in the small gallery are Audubon's rifle (on loan from the Charleston Museum), a stuffed pelican, a map of Hitnes' trip and a full-size facsimile of "The Birds of America," provided to the Halsey by the College of Charleston's Special Collections in lieu of an original "elephant folio" edition of the famous book, which the college also possesses. One of the folio's four volumes is on display at Addlestone Library. (The other volumes are locked away.)
"We share our riches," said Head of Special Collections Harlan Greene. "We got it, we flaunt it!"
It's a minor miracle the original folio is here. It's one of just 120 complete sets of Audubon's 435 plates, and its connection to Charleston is explicit, according to Greene.
"People trace Audubon folios like they do first editions of Shakespeare," he said.
The complete folio at auction has sold for $5 million to $12 million. It's the most valuable printed book in the world.
Greene said the college's "The Birds of America" first was purchased by Englishman John Clayton, and that an 1831 letter from Audubon in the possession of Special Collections refers to the sale. In 1963, Clayton's set was sold to John Henry Dick of Charleston, a naturalist himself who liked to paint birds. Dick bequeathed the book, his art collection and his Dixie Plantation in Hollywood to the college at his death in 1995.
Audubon's brief hand-written letter also refers to the financial arrangement: Production of the book was funded up front by subscribers who in turn would receive batches of prints as they were produced.
"He was the mastermind businessman, too," Greene said. He'd impress (customers) with his knowledge and urbanity," convincing them to pony up a huge sum, approximately $1,000 (equivalent to about $25,000 today), before setting eyes on the work itself.
The great ornithologist spent a lot of time in Charleston during the 1830s. He befriended John Bachman, a Lutheran minister and naturalist, who helped Audubon with his "Ornithological Biographies" and "The Viviparous Quadrupeds of North America."
Bachman's wife, Maria Martin Bachman, painted backgrounds for Audubon. Two of Bachman's daughters, Maria and Eliza, married Audubon's sons, John and Victor. And Audubon named two of the 25 bird species he discovered and catalogued, a sparrow and warbler, for his friend.
Making it happen
So the Charleston connections run deep. No wonder Hitnes is here. He spent a couple of months holed up in the Halsey Studio at Redux Contemporary Art Center last year making most of the work for this show, and a couple of months more this summer finishing it up. When he passed through town in 2015 during his Audubon trek, under the auspices of the local nonprofit Enough Pie, he painted the turkey vulture in Avondale.
As with many street artists whose reputation was built on anonymity and rogue projects (e.g. Bansky), Hitnes adopted a nom de plume. His real name is secret.
Jessica Stewart, a Massachusetts native with an art history degree, moved to Italy in 2005 and became fascinated with Rome's determined covert muralists, at a time when the city was not known for that sort of thing.
"I became known as the person who'd photograph all the street artists," she said.
She saw the work of Hitnes all over the place.
"He's a really important figure here in Rome because he's been doing street art for so long, even before it was trendy," Stewart said.
In 2014, she visited his studio to buy some work. By then, Stewart was helping street artists manage their businesses. A fan of Hitnes, she expressed a desire to work with him.
"He pulled out a book about Audubon ... and said, 'I would love to do Audubon's trip around America,'" she recalled.
Over the course of the following 12 months, Stewart and Hitnes studied the literature, the drawings, the maps; determined a route; contacted collaborators in the U.S.; and organized a show in Rome to raise funds.
Stewart managed the logistics and helped find walls for Hitnes to paint. She found strategic partners, such as the Audubon Society and The Sherwin-Williams Company.
"It was amazing to see ... all of the people who love birds," she said. "It was amazing to see how much support we got."
Halsey director Mark Sloan said he admires Hitnes' reverence for his ornithological muse.
"He's doing a bit of a dance with Audubon," Sloan said. "It's a jam session across time."
The artistic result is that the birds Hitnes portrays are imbued with personality, Sloan said. They are the protagonists in an expansive drama.
Something wild
The work is carefully made. Hitnes cuts paper into shapes (grass, tree trunks, bodies of water, birds), paints each piece, then assembles it in the shadow box using small blocks of foam to create different layers. Little by little he builds this immersive environment, full of suggested activity.
It demanded months of close observation out in nature.
"When you concentrate and observe things for a long time, you get the bigger picture," he said. "They become something familiar to your retina, and it brings out something wild in your perception of things."
It's a slow, often tedious, sometimes painful process, this effort to see the birds in their natural habitat. It is a search for truth, a search too many people have abandoned, Hitnes said.
"We can have everything in an instant, with one click, but we have never been so ignorant," he said. "We are missing the passion, the obsession to grasp (truth). If you communicate these perceptions (through art), maybe something can be understood."