When the Gibbes Museum of Art presented a provocative installation by artists Juan Logan and Susan Harbage Page in 2009, it was meant in part to spur a self-examination.
The "Prop Master" show included a 20-foot by 40-foot platform covered with 10,000 small boxes, almost all of them white, with just 40 black ones scattered throughout. The boxes represented the works in the museum's permanent collection, the vast majority of which were made by white artists. It was undeniable visual evidence of neglect.
Gibbes officials already knew of the imbalance, but they wanted to spark conversations about race and representation within the museum and throughout the art-loving community. They wanted to fuel a reform effort that held inclusiveness as its central tenet. And during the past 10 years, museum staffers have acquired about 25 pieces by black artists, six in the past year alone.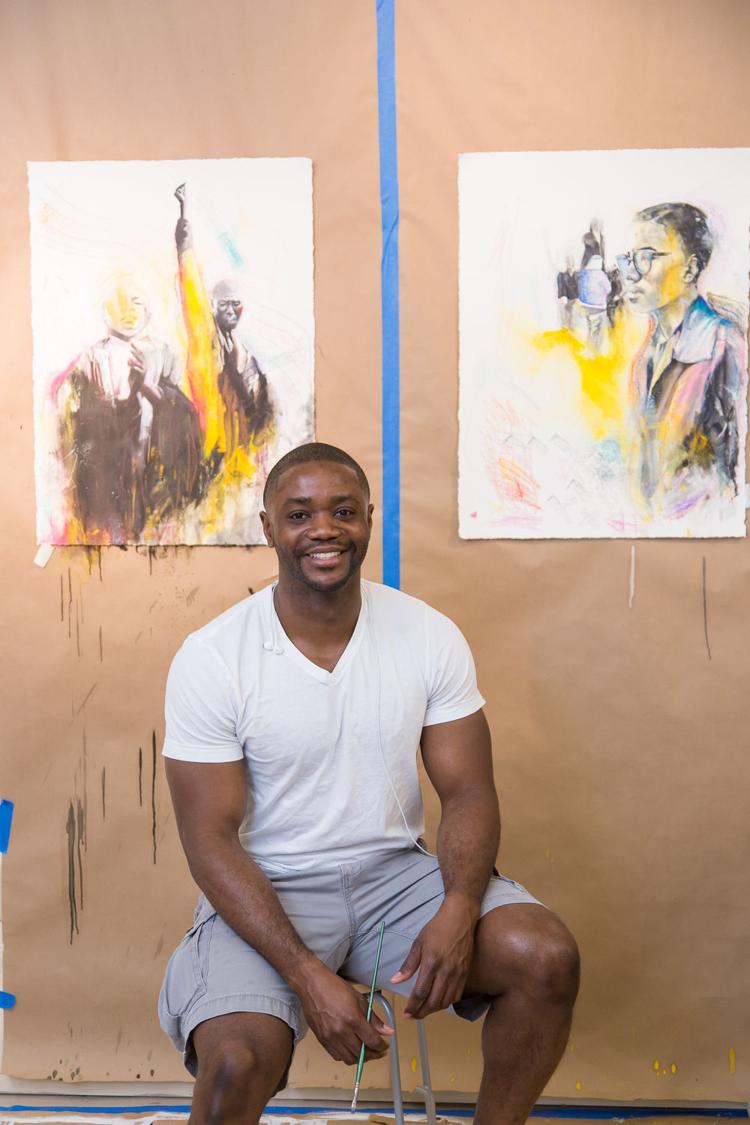 The museum's expanding permanent collection now features works by notable black artists such as Mary Jackson (already on view), Kara Walker, Leo Twiggs, David Driskell, Charles Williams and Sam Doyle, all of which will be displayed later this year.
"There is an emphasis on diversifying the collection and having the collection better reflect the community, and having different voices, and balancing those voices," said curator Sara Arnold.
But until the 1980s, representation of black people in a museum expressly devoted to the Southern experience was minimal and limited to romanticized versions of the past. Since then, the Gibbes had been evaluating its strengths and weaknesses, Arnold and museum director Angela Mack said.
In the early 1970s, the museum presented its first solo exhibitions featuring work by black artists, but they were far and few between. In the following decade, the "Forever Free" show focused on the work of African-American sculptors. Then, in the 1990s, the Gibbes staff took notice of artist Fred Wilson's challenging exhibition "Mining the Museum" in which he rearranged the collection of the Maryland Historical Society to draw attention to American Indian and African-American art, as well as his North Carolina show, "Insight: In Site: In Sight: Incite: Memory: Artist and the Community," a similar reconfiguration of work.
"That was a pivotal moment when a museum opened itself up to be critiqued," said Trevor Schoonmaker, chief curator of contemporary art at the Nasher Museum of Art at Duke University. "Fred opened the door for a lot of artists to be able to do that."
The larger trend
The reassessment of museum holdings and the cultural legacy they promote is part of a larger trend in the public sphere. In recent years, issues of gender, race, sexual identity, ethnicity and historical presentation have fueled often impassioned debates and sparked political movements.
It is within this context of cultural turmoil that many museums are striving to be more representative of, and fair to, the array of patrons they wish to serve. At the same time, museum officials are engaging in conversations about the repercussions of Western colonialism and imperialism in the art world. Many objects in American and European museums, they note, were pilfered illegally, or at least unethically, from archaeological sites abroad, then interpreted not by people associated with those cultures but by white people with Ph.D.s.
The movie "Black Panther" begins with a scene in a museum that raises critical questions about museum acquisition practices and the Western representation of African cultures. The scene, which features a patronizing white, female curator and a vengeful antagonist, has sparked much introspection among museum professionals.
The Gibbes is hardly immune to such controversy, though its emphasis on American art of the South allows its staff to focus less on cultural appropriation and more on improving representation and diversity.
"The trend within the art world is understanding better the way different societies and cultures overlap," Mack said. "Buying the artwork is not enough."
"But it's important," Arnold added, "because if you don't see yourself on the walls of the museum you are not going to be interested."
Twiggs, 84, echoed that observation and reflected on recent improvements. In the 1970s and '80s, his work was considered an afterthought by art professionals and critics, and he made perhaps $500 for one of his signature batik paintings. Today, his larger work sells for around $30,000.
"What I'm doing today is close to the market value that other artists like me are getting," he said. "We've come a long way."
The change is attributable to a variety of factors, including museum practices, Twiggs noted.
"When a major museum starts collecting African-American art, then there are other museums who see this and start doing it," perpetuating a cycle of advancement for artists of color, he said.
Since it is a lengthy and expensive process to beef up a permanent collection, museums depend on touring exhibitions, special projects and collaborations to diversify the art they show. Inviting artists to create an installation is one way to do this, and the Gibbes already is planning to host a guest African-American artist-curator in 2020.
Another way is to forge alliances and partnerships with other institutions and nonprofits, such as Alice Walton's recently formed Art Bridges, which helps facilitate shared exhibitions.
"For newer institutions it's easier," Mack said. "Older institutions have a legacy and a permanent collection, but because of where we are, and who we are, we have to tackle it now."
Schoonmaker agreed, acknowledging the challenges faced by established museums.
"Museums are slow moving and reactionary," he observed. "It takes long time (for them) to react to African-American artists working in their backyard. But I think museums have been, and can be, leaders in the field. They don't have to have a myopic Western colonial point of view."
Necessary reckoning
That myopic point of view was addressed in detail in Stephanie Yuhl's 2005 book,"A Golden Haze of Memory: The Making of Historic Charleston," in which she discusses artistic representations of race over the years.
Yuhl, a historian at the College of the Holy Cross in Worcester, Mass., said the whitewashed, romanticized view of Charleston was long in the making. 
"Part of the Gibbes' obligation is to its history and the ways its practices have excluded certain aspects of history," Yuhl said. "But how do you move forward with that legacy and do good work that's meaningful? ... To pretend you're not that institution is a disservice and a form of silencing."
What's required is not a negation of the past but a reckoning, she said.
"The thing with Charleston is that, because very early on city leaders saw profit in the romanticization of the past that served white elite interests, historic Charleston became a commodity," Yuhl said. "That process has been in place for over a century."
But during the past few decades, institutions have been revising their narratives, little by little, to portray more of the Lowcountry experience, including the traumas of slavery, Jim Crow and modern discrimination.
Archeological work spearheaded by the Charleston Museum has shed light on historical black communities, adding needed dimension to the narrative. Historic sites such as McLeod Plantation, Middleton Place, Drayton Hall and Magnolia Plantation have made efforts to tell the story of enslaved laborers. And the Gibbes has repeatedly contradicted those who consider it stodgy and out of touch with compelling, issue-driven exhibits.
"I really commend what they're trying to do," Yuhl said. "It's going to be a decades-long process that has to mirror ... changes in the social and political dynamics in the city as well."
Staffing up
But diversifying the art on the walls is just part of the challenge. Diversifying staff is the other part. And the ultimate goal is to attract a wider range of visitors. Currently, just 6 percent of museumgoers are black, according to a 2015 Mellon Foundation Demographic Survey. Nearly 80 percent are white.
One way to change this is for the museum to hire people of color whose influence moves the cultural needle within the institution. People of color comprise about 28 percent of museum staff, but most work as security guards and janitors, not art experts or administrators, the report states.
Increasingly, museum personnel are white and female, just like the curator in the "Black Panther" movie. The Gibbes is no different, though its relatively small staff and low turnover rate means that diversifying the staff is particularly difficult.
Karen Chandler, director of the College of Charleston's arts management program, said too many organizations pay lip service to diversity goals but fail to take necessary measures. It's not something you can achieve easily or quickly, she noted.
"There is no way you are going to be able use conventional hiring practices," Chandler said. "You need more money." Also required is an array of long-term investments — in scholarships, internships, training, research, university staff, primary and secondary education and more. "It is not difficult to find African-Americans and people of color for roles in Eurocentric and non-Eurocentric museums, but it requires commitment and it's got to come from the top."
Boards of directors must make diversity a priority, empower staff to pursue the goal vigorously and hold them accountable, she said.
The long haul
Issues about representation that once were ignored or minimized now are part of mainstream discussion, Schoonmaker noted. And the art market has both instigated and responded to recent changes.
Museum professionals and gallery operators are showing much greater interest in artists of color, particularly artists of African descent, Schoonmaker said. And their interest is translating into material gains: more works by African Americans on the walls, selling for more money.
But there is a right way and a wrong way to pursue reform, he added.
The wrong way is to try to fill arbitrary quotas or respond to perceived market forces or public opinion.
"As an individual or an institution, one needs to be dedicated to diversity, not just for the moment, but for the long haul," Schoonmaker said. "Because representation isn't about hitting the right percentages in the museum but, rather, (it's) about real engagement with people, communities and issues. It's much more than a corrective measure; it's a responsibility and commitment to amplify marginalized voices and give visibility to those who have been overlooked."
The opportunities are many and the rewards immeasurable.
"If you show that work on your walls and it validates people's existence and their social and political struggles, it's empowering," he said. "It's not easy to accomplish, but it's what we should all be striving for daily."