For area hospitals and emergency services, the Wando River bridge closure is more than just a hassle. Hospitals and emergency medical services are shuffling to accommodate for the gridlock.
Representatives for Charleston and Mount Pleasant hospitals were clear that traffic is not interfering with medical services. But delays have been a challenge for some hospital staff, who patients depend upon to arrive on time for their shifts, and local EMS, which has had to re-position.
Carl Fehr, division chief for Charleston County's EMS, said they have positioned more units in Mount Pleasant, among other shifts. He said by nature, EMS is prepared to adjust in the event of disasters or difficulties. 
"Every situation is going to provide its own unique challenges," Fehr said. "We're very prepared to deal with this."
In Berkeley County, too, officials are confident the traffic is not causing any slowdowns in emergency response times, according to a Wednesday press release.
Westbound I-526 closed Monday when a supporting cable in the Wando River Bridge broke. A replacement was delivered Wednesday afternoon. Officials said in a press conference that contractors would begin work Thursday. But that work is projected to last for a month, until June 11.
Theresa Lynn, director of the emergency department at East Cooper Medical Center, said they have seen an increased volume of patients during rush hour in the morning and evening.
"They're not willing to wait in traffic to get downtown to get to a hospital," she said.
The medical center has had more children come through the doors; the only pediatric intensive care unit is at MUSC. But Lynn said they haven't seen any cases outside of what they can handle.
A helicopter can be called to transport patients to other hospitals if need be, Lynn said. That hasn't been necessary yet. Roper St. Francis and MUSC have not seen increased use of their helipads, spokesmen for each of the systems said. Meanwhile, Lynn said EMS officials told her "they would do their best to get sick patients over the bridge."
About 1,200 Roper St. Francis employees travel through Mount Pleasant for work, a spokesman said. Tavia Buck, chief nursing officer at Roper St. Francis Mount Pleasant Hospital, said the commute has been a "huge challenge."
"We're in a holding pattern to see how much longer this is going to go on," Buck told the hospital's office of communications. 
A spokesman for the Medical University of South Carolina said there haven't been any issues with emergency response so far.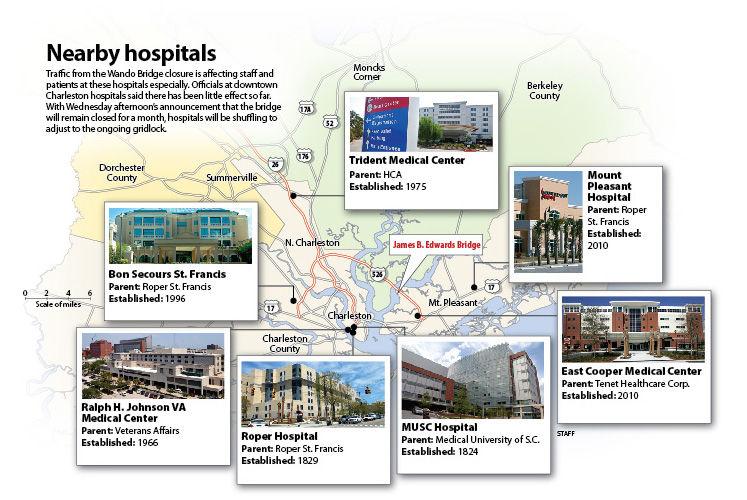 Some providers there have used telemedicine to see their patients when traffic stopped them from coming to work.
It took Paula Brooks, director of advanced practice nurses at MUSC, an additional hour-and-a-half to get to work Monday. When she tried to leave her neighborhood, Dunes West, to see patients at Mary Ford Elementary, the traffic was so bad she turned around.
She was able to see her patients at Mary Ford from her laptop via video conference.
Dr. Bill Randazzo, a pediatrician at MUSC, was able to see a student who was having an allergic reaction at Charleston Charter School for Math and Science from his home in Mount Pleasant. The student was sent to the emergency department.
He said he was skeptical of telemedicine at first, because there is benefit to being able to be with a patient. But he's found it to be a helpful option. 
"I didn't think it would work so well," he said. "The technology changed so fast."
At each Trident Health in North Charleston and the downtown Veterans Affairs hospital, representatives said staff have been directed that they need to arrive on time, regardless of any delays.
Staff at Roper St. Francis could stay at the Mount Pleasant hospital if they wanted to on Monday night, but no one took the offer. No surgeries have had to be called off there. Meanwhile, a system-affiliated orthopedics clinic has reported a rise in appointment cancellations.
EMS services will transport patients to the hospital of their choice, or to the most appropriate hospital. It all depends on the situation, Fehr said. The EMS division chief asked that everyone stuck in traffic remain patient and be aware of ambulances. Don't slam on the brakes, and pull to the right if an emergency vehicle is behind you, he said.
"We want to get through traffic as efficiently as possible," Fehr said.
Lynn's normal 10-minute commute to East Cooper Medical Center was 40 minutes on Tuesday. For some operating room technicians, part of the job description is being able to arrive at the center within 30 minutes. That hasn't been possible for everyone, so some have opted to stay overnight in the hospital, Lynn said.
Randazzo and Brooks said they will both try to be at work Thursday. But Brooks is in trouble Friday: She has a 3:30 p.m. meeting.