Stocking up on batteries and candles. Checking where you put the portable radio. Finding, or buying, phone chargers. Filling up the jerry can with extra fuel. Checking to make sure the gas generator turns over. Ensuring the slats of plywood are accessible and ready for mounting over your windows.
Does anyone ever get used to this annual ritual?
It's hurricane season starting June 1, and time for Lowcountry residents to get nervous again.
A lot of the electrical grid remains above ground, and home construction is not always good enough to ensure that our structures can withstand sustained 150-mile-per-hour winds.
This means it's up to homeowners to prepare as best they can for the high winds and flooding that accompany tropical weather events.
Shannon Scaff, emergency management director for the city of Charleston, said hurricane preparedness boils down to two basic things: Knowing your vulnerabilities and having a plan.
He often speaks publicly about storm readiness. When he talks with people about their decisions to evacuate or not, the vast majority tell him it depends on the intensity of the storm. A Category 1? They'll probably stay put. A Category 4? They'll probably leave.
But Scaff says simply focusing on a storm's category misses an important point.
"Water is the main killer," he said. "We are in real danger here. We have a real vulnerability to storm surge. I mean, our nickname is 'the Lowcountry.'"
A slow-moving storm, even a relatively weak one, can dump huge amounts of water onto the metropolitan area. This can overwhelm drainage systems that already struggle with nuisance flooding at high tide.
The problem is that it can be hard to know what the swirling storm will do: Will it gain strength? Will it change course? Will it deliver heavy rain over many hours, or sporadically? Will it arrive during high tide?
Leaving may be the better idea, especially if you have friends or relatives inland with whom you can stay for a night or two. Play it safe. Grab a toothbrush, change of clothes, and essential documents such as your driver's license, passport, insurance cards and photo albums, and skedaddle.
If you choose to leave you have to decide when exactly to hit the road. Too early, you'll feel a fool; too late and the roads will be jammed with traffic.
Then there are the complicating factors: an employer who needs to keep you for as long as possible, kids who need to be tracked or wrangled, the car that's still in the shop, and the relative coping with illness or disability who needs assistance. There's also the price of a hotel room.
These and other issues can influence our decisions, not always for the better. That's why it's important to think all this through now, before Mother Nature turns mean.
Thinking ahead
If you live in a designated flood zone, you probably have national flood insurance coverage provided by FEMA and administered by your local agent. If you're not sure, check. Flood insurance takes about a month to kick in once you've purchased it.
Prepare an emergency kit now, before nearby ocean waters warm to 80 degrees Fahrenheit. While you do it, you can imagine all sorts of doomsday scenarios that will add urgency to the task.
Think about what essential items you'd need for a few days stuck in a dystopian landscape, then fill a big container with healthy nonperishable snacks like granola bars, high-energy foods, canned food, infant formula, pet food, batteries, flashlights, books, a knife, a can opener, a couple of forks and spoons, bottles of water, a small first-aid kit, essential medicines, toilet paper, soap, and feminine supplies.
If you are feeling ambitious, toss in maps, a roll of strong tape, a couple of basic tools, a sewing kit, tarps, paper plates and cups, and a pen to write with. You probably won't get stranded in your car, but maybe plan to take sleeping bags along just in case.
It's a good idea to assemble your ditch bag soon and tuck it away in the corner of the pantry. It'll be ready should you need it as one less thing to think about when the pressure is on.
Boat prep
Do you have a boat? You'll want to secure it well at the dock if really big winds and a storm surge are not predicted. Put on extra dock lines and criss cross them. Remove anything that's not fixed, including sails. Lash the boom to the deck and secure all your canvas with lots of wrapped lines. Remember: the winds will shift over the course of the weather event, so you'll want your bow positioned a few feet from the dock (assuming the boat is bow-in) and a safe distance from other boats.
If you notice nearby boats that seem to have absentee owners and loose lines, inform the marina management.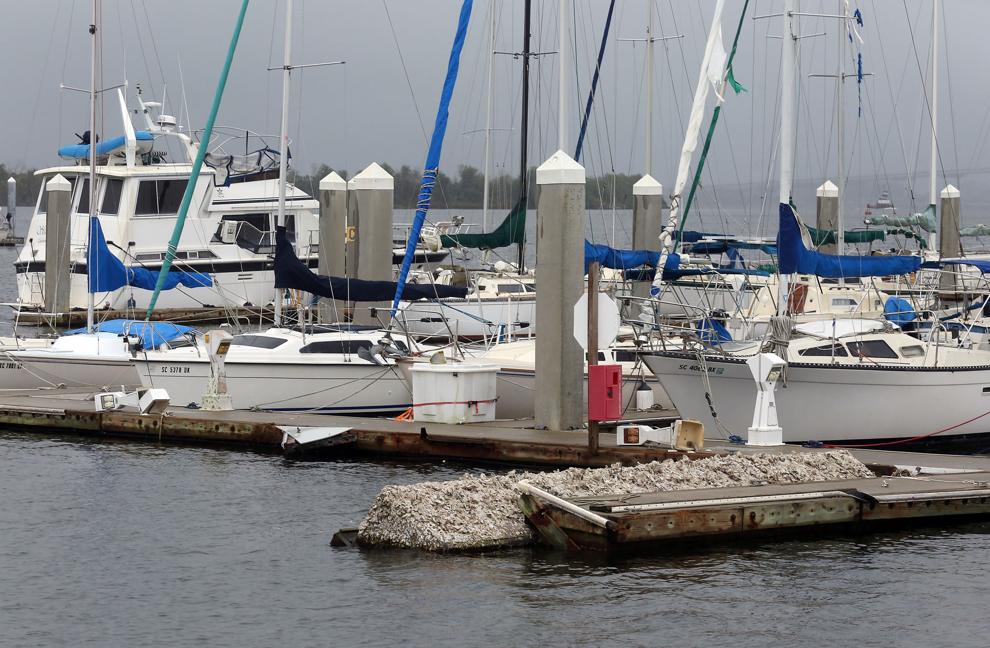 If big winds and a storm surge are predicted, then you probably will want to get your boat onto terra firma and secured in a boatyard — assuming there's space available and you can afford it. If you have sufficient time, and you know the storm track, you can relocate your boat to a marina or anchorage outside of the storm zone.
Another option is to move your boat up the river and into a deep-water creek where there's a bit of shelter from a tree line, and where any surge is likely to be less severe. Anchor it well (and maybe use two anchors) while being sure to allow for a safe 360 degrees of swing.
Home prep
What about your house? There's a lot to think about. Strong winds that find gaps in the exterior foundation or get underneath overhangs can do real damage. Check your end gables and climb into the attic to ensure your roof sheathing is sufficiently nailed down. Double doors will need to be bolted on both sides and objects in the yard such as tables and chairs, barbecue grills, and potted plants, should be secured.
Inside, electronic devices and appliances ought to be elevated above potential flood waters — along with other items that could be at risk in case of water intrusion.
Check for gaps along the edges of your garage door: You really don't want the winds to blow that out. Intense gusts inside a garage cavity could do real damage to the whole structure.
If you are handy and agile, perhaps you can manage to do a lot of the prep work yourself. Otherwise, consider finding a good contractor to install hurricane shutters over the windows, improve the integrity of the roof, or add bracing to the end gables.
Oh, and trees. Don't forget the trees. If you have big ones in the yard, and they haven't been trimmed in a while, there's a chance a good blow could rip a limb free, or send a big branch into your windows, onto your roof, or on top of your parked car. So check for dead or unhealthy limbs and get them amputated. Then consider installing impact-resistant windows, and put your car in a well-protected place.
Now is the time
The need for all this hurricane prep does beg a question: Why aren't our houses designed to withstand a big storm?
Well, some are. Newer construction occasionally takes into account the chance of severe weather. Overhangs are few, windows are strong and come with shudders, a big crawl space allows for several feet of flood waters to pass under the structure and not through it. And, increasingly, power lines are buried.
Older homes, instead, are more likely to need attention. So, too, are houses located by the ocean or along a river or creek that's prone to flooding.
Scaff said decades of development and growth have transformed the Charleston metropolitan area since 1989, when Hurricane Hugo devastated the area. Today, another Hugo-like storm would be far worse, inflicting more damage because there is now more to damage.
"When the governor orders an evacuation, it's because he's taking into account all of the risks associated with that event," he said.
That's not the time to figure out what important belongings to pack or try to determine where to head for safety. Now is the time.