To the horror of those who say "Never Again," Americans' memory and knowledge of the Holocaust are in decline.
In a recent survey conducted by the Conference on Jewish Material Claims Against Germany, almost half of Americans couldn't name a single concentration camp or ghetto from the Holocaust.
The widespread ignorance was greater among the younger generations: 31 percent of Americans and 41 percent of Millennials thought the number of Jews who died in the Holocaust was 2 million or less. Fully two-thirds of Millennials could not say what happened at Auschwitz.
Not so in Mary Huffman's fifth-grade social studies class at Carolina Park Elementary in Mount Pleasant. A 2015 National History Teacher of the Year, Huffman takes an interactive approach, and Holocaust history is no exception.
In a three-week Holocaust simulation this spring, each of her students followed the journey of a real person with biographical details drawn from the historic record.
They wore yellow stars of David pinned to their clothes, sat huddled on the floor to simulate a journey in a cattle car, and thought long and hard about the rise of fascism and the slaughter of 6 million European Jews under Adolf Hitler's reign.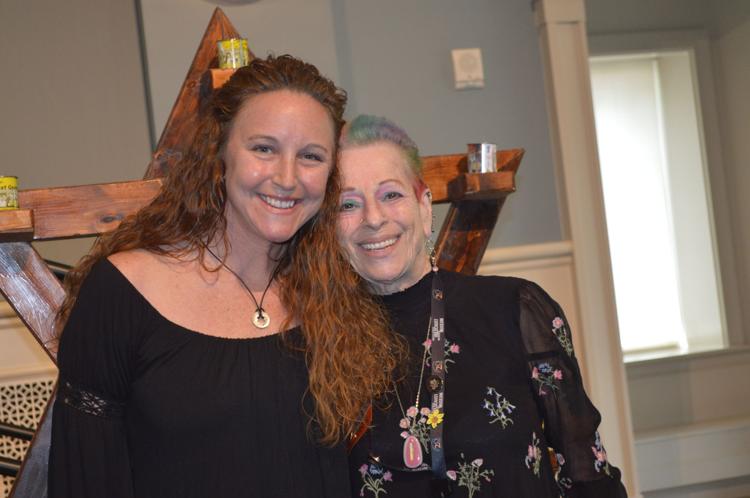 A few weeks after completing the simulation, Huffman's students could speak knowledgeably about the rise of the Nazi Party, the Warsaw Ghetto Uprising, and Josef Mengele's role in gas-chamber executions.
The survey that American adults failed this year? They could ace it.
Holocaust survivor Diny Adkins, a Mount Pleasant resident originally from the Netherlands, visited Huffman's class at the end of the simulation on March 9 to share her own story of survival. In a show of respect, the students changed out of their concentration camp costumes, but she asked the students to put them back on.
When Adkins speaks in schools and houses of worship, as she has done since the 1980s, she makes a lasting impression with her rainbow-dyed hair and effervescent wit. After giving her presentation this time, Adkins lingered a little longer than usual, answering questions and encouraging the students to take action against injustice in their own time.
"I talk about the Holocaust, but I also talk a lot about tolerance, about love, about hate," Adkins said. "And the kids all really, really love me."
Speaking to Huffman's class, she mentioned that she had been invited to Washington, D.C., to receive the Elie Wiesel Award at a 25th-anniversary event for the U.S. Holocaust Memorial Museum. But she didn't have the money for airfare and a hotel room.
So Huffman and the students set up a fundraising campaign. Pooling their own money and their families', they gathered about $1,500 — enough to send her on the trip to receive the honor, which was awarded this year to the dwindling population of living Holocaust survivors.
Adkins thanked the class in a letter after her trip.
"You made an 80-year-young woman so happy," she said.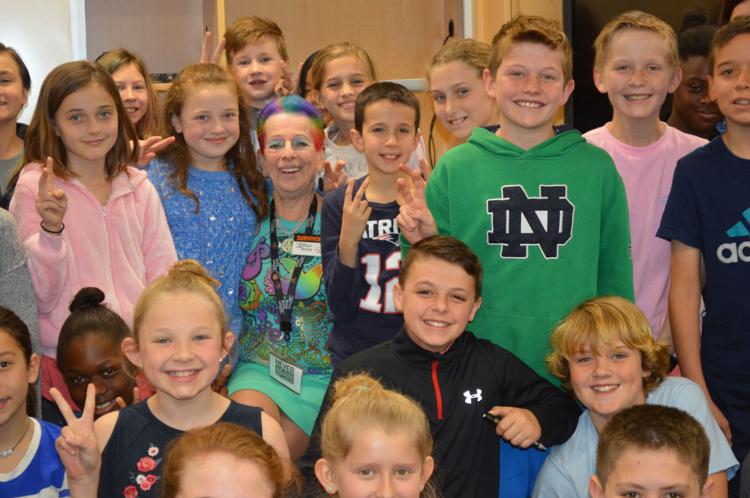 Fifth-grader Jack Delyra and a few classmates also accompanied Adkins to this year's Yom HaShoah Holocaust Remembrance Program at the Gaillard Auditorium.
"When you just see a number, you don't realize, but when you actually see the people, it's something else," Jack said.
Principal Michael Antonelli said what happens in Huffman's class year-round is exactly the kind of learning he wants to see — hands-on, applied learning that will shape students' worldviews and decision-making for the rest of their lives.
"Have you seen her room before?" Antonelli asked. "It's like a museum."
In a theatrical teaching style that she has honed over 18 years, Huffman dresses in a costume at least once a week. She is said to play a convincing Franklin D. Roosevelt. She often invites veterans of U.S. wars to speak, and several have donated old uniforms that hang along the back wall of the classroom.
"Our big push in fifth grade here is to give back and to talk about citizenship," Huffman said.
While the Holocaust unit is especially harrowing — she sends home a permission slip for parents to sign before it begins — the rest of the year is meant to be every bit as interactive. On a recent Tuesday morning, students were dressed alternately as hippies and war hawks for a unit on nonviolent protest and the Vietnam War era.
The work is taxing, and the materials are not cheap. Huffman estimates that she spends $2,000 to $3,000 for classroom supplies every year. She has set up online fundraisers via DonorsChoose for items like the Holocaust diaries that she had students fill out during their simulation, but for the most part, she pays for every thing else — the costumes, the props, the historical relics — out of her own pocket.