So you're downtown and you want to learn a little history. Let's say you've only got an hour, and you haven't booked a tour.
We've got you covered.
The following loop will take you about a half-hour to walk if you don't make any stops. That leaves yourself some time to linger and look. It's a beautiful city with a complicated history.
1. The Four Corners of Law
Let's start at the corner of Broad and Meeting streets. You'll see Charleston City Hall (representing municipal law), Charleston County's historic courthouse (which also served as the seat of state government in Colonial times), the U.S. Post Office and courthouse building (federal law), and the oldest church in a city of steeples, St. Michael's Church (God's law). All four buildings offer some free access to the public, including the lesser-known but fascinating postal museum inside the post office. City Hall and the county courthouse also have public restrooms, making this a nice place to start and end your journey.
2. Sweetgrass basket sellers
Heading south on Meeting Street during daylight hours, you'll probably encounter some vendors selling handmade sweetgrass baskets on the sidewalk. Enslaved West Africans brought the tradition of making intricate, often water-tight baskets to the Lowcountry, where they became an unmistakable part of the local Gullah culture. Today these works-of-art baskets are a popular souvenir and a link to the region's rice-growing past.
3. Nathaniel Russell House (51 Meeting St.)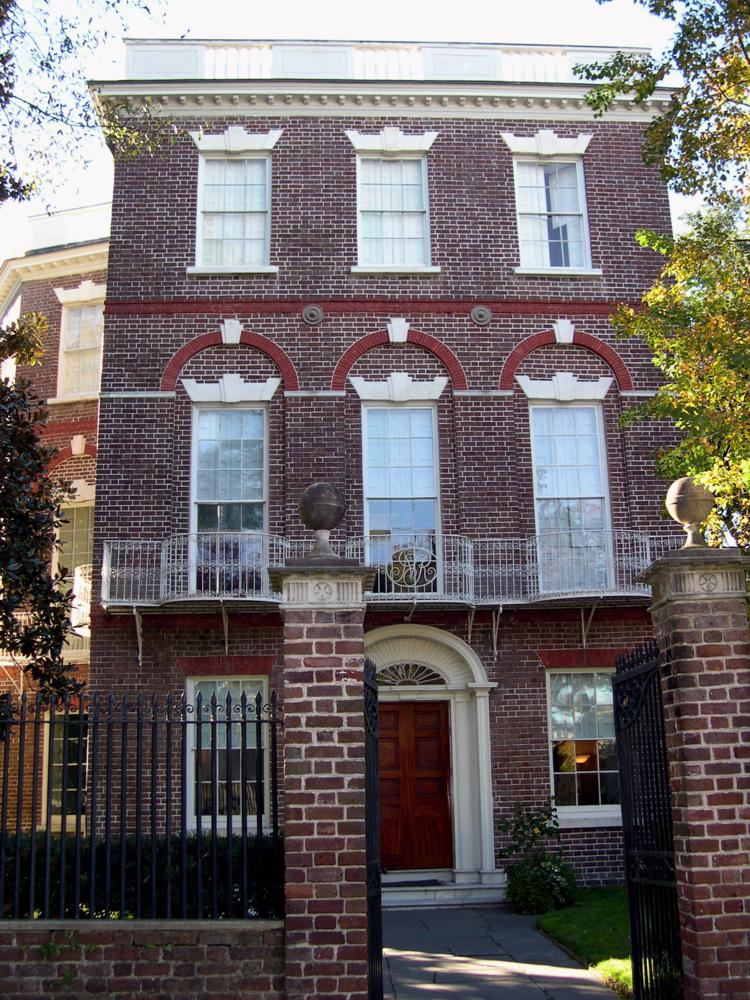 Almost every house you walk past on this part of Meeting Street will have some sort of historic marker on it. You don't have to read them all, but it's worth pausing to check out the ones that catch your eye. Just be polite and don't stare into people's windows. The Nathaniel Russell House stands out as an ostentatious symbol of the mind-blowing wealth that the city's elites derived from plantations and the port. Russell made his fortune as a merchant and built this house in 1808 for $80,000, when the average value of a home was just $262. (It's now a museum, so you can tour its inside for the price of admission).
4. Calhoun Mansion (16 Meeting St.)
In 1876, with South Carolina still recovering in the aftermath of the Civil War, George Walton Williams built this palatial single-family home for $200,000. The News and Courier described the finished product as the "handsomest and most complete private residence in the South." Like the Russell House, the Calhoun Mansion offers tours and is an example of the painstaking restoration efforts that have made Charleston world-renowned for historic preservation.
5. White Point Garden
Take a walk through the middle of this public park and visit the Battery, Charleston's defensive seawall. John Updike wrote in a 1988 poem titled "Charleston" about visiting a "fragrant park" with "pyramided balls" that sounds a lot like White Point Garden. In the poem, he reflected on "paving stones / worn smooth by slaves' bare feet, and a prospect / of that distant horizontal smudge, Fort Sumter, / where half a million men began to die." You can indeed see Fort Sumter off in the distance from the tip of the Battery, and if you don't have the time for a ferry ride out there, this is as good a place as any to ponder the weight of history in the birthplace of secession.
6. The Seizure of The Planter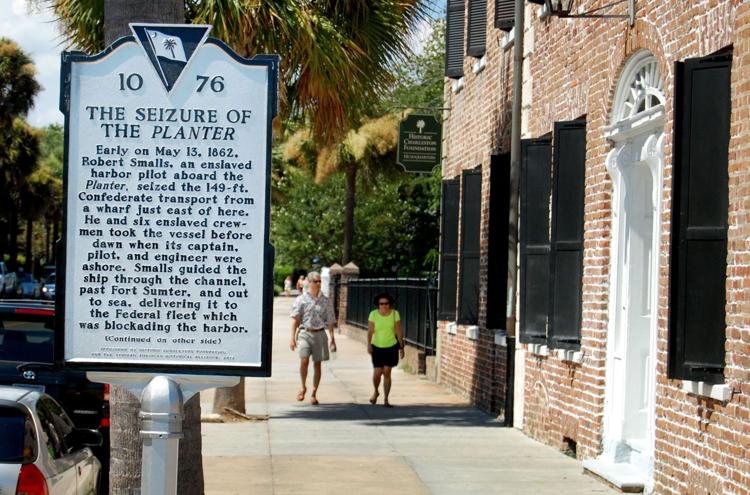 It's just a historic marker, situated on the East Bay Street sidewalk north of Water Street, but it tells an epic story. Robert Smalls, an enslaved harbor pilot, commandeered the Confederate transport ship CSS Planter near here in May 1862 and delivered it to the Union fleet blockading the harbor, liberating himself, his family and six others in the process. The story doesn't end there, either. After serving in the Union Navy during the Civil War, he returned to his native Beaufort and served in the state House of Representatives, where he helped establish South Carolina's free public school system. He also served two terms in Congress.
7. Walled city
At East Bay Street and a famously bumpy cobblestone road called South Adgers Wharf, you'll find a sign explaining the rediscovery of Charleston's old city wall, built in the 1700s to defend against naval attacks. One portion of the wall, a triangular fortification known as a redan, was uncovered in a recent archaeological dig. Its location is marked with new bricks on the pavement in a nearby parking lot.
8. Rainbow Row (79-107 East Bay St.)
These mid-18th-century homes are known for their playful pastel facades, but they weren't always this pretty. The homes fell into disrepair following the Civil War and looked pretty rough until 1931, when Judge Lionel Legge and his wife, pioneering preservationist Dorothy Porcher Legge, purchased several of them and painted them pink in the style of Colonial Caribbean houses. The neighbors followed suit with their own fresh coats of paint, and today the houses, which originally overlooked the city's waterfront, serve as an irresistible muse for painters, photographers and tourists.
9. Oldest liquor store (120 East Bay St.)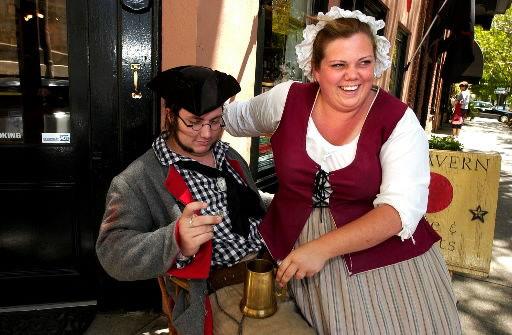 Located at East Bay and Exchange streets, the Tavern at Rainbow Row claims to be the oldest liquor store in the United States, selling spirits to the famously boozy Holy City since 1686. Charlestonians found ways to keep the party going even through the dark years of Prohibition, running a number of speakeasies around the corner on Broad Street that were known as "blind tigers," the namesake of a local bar today.
10. Old Exchange and Provost Dungeon (122 East Bay St.)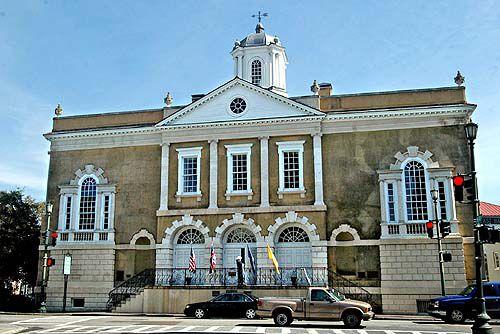 Built in 1771, the Old Exchange building became a prisoner-of-war dungeon under British control during the Revolutionary War. After the war, South Carolina Patriots debated and ratified the U.S. Constitution in this building in 1788. It later became a site for slave auctions as Charleston played a major role in the slave trade that propped up the Southern economy. Today, it's a historic landmark and museum run by the Daughters of the American Revolution; tickets are $10 if you want to go inside.
11. Peoples Building (18 Broad St.)
Charleston isn't known for its tall buildings, but this eight-story steel-framed building, built at Broad and State streets in 1911 and designed by Swedish architect Victor Frohling, is considered the city's first high-rise. After extensive renovations in 2014, a single condominium in this building went on the market for $19.5 million, making it the most expensive condo in Charleston history.
12. The Confederate Home and College (62 Broad St.)
Built circa 1800, this old complex on the north side of Broad Street has seen a lot of history. Gov. John Geddes lived here from 1810 to 1825 and hosted President James Monroe as a guest. It has operated as a hotel, a federal court and a post-war home for Confederate widows and orphans that eventually became a college. The artist Edward I.R. Jennings (1898-1929), a leader of the Charleston Renaissance who also experimented with abstract works in the early 20th century, had a studio in this building.