JACKSON HOLE — Beyond the crystal clear lakes, past the pastel blooms, up the rock-strewn trails and over the snow-blanketed hillsides lie the canyons and campsites of the Grand Teton National Park.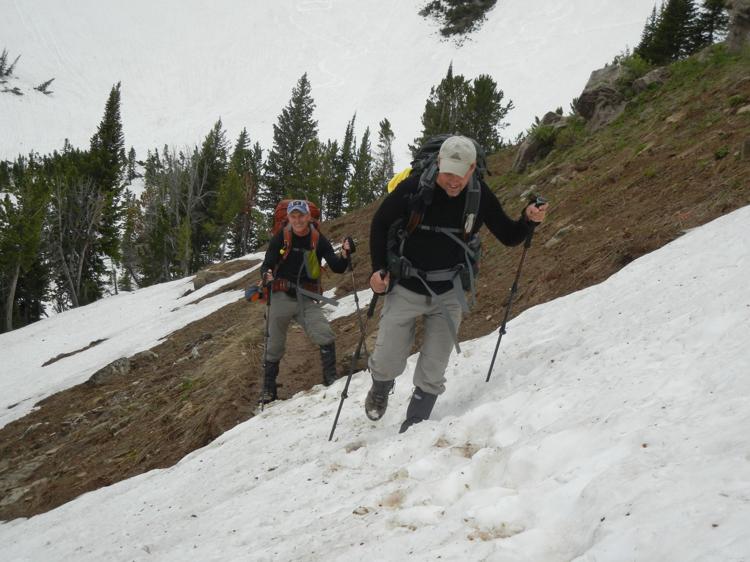 With each step up the mountain while sporting a 40-pound backpack, a new vista of rushing waters and plunging waterfalls dashes into view. Run-ins with deer, elk, moose and marmots are not out of the question.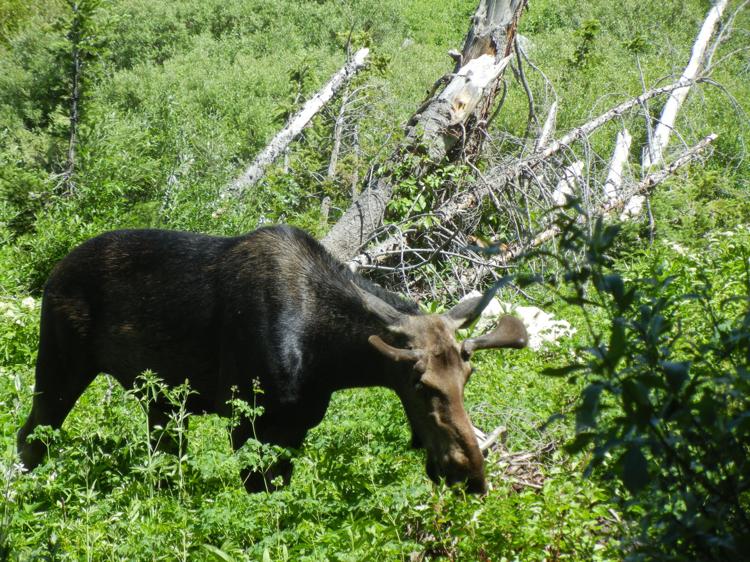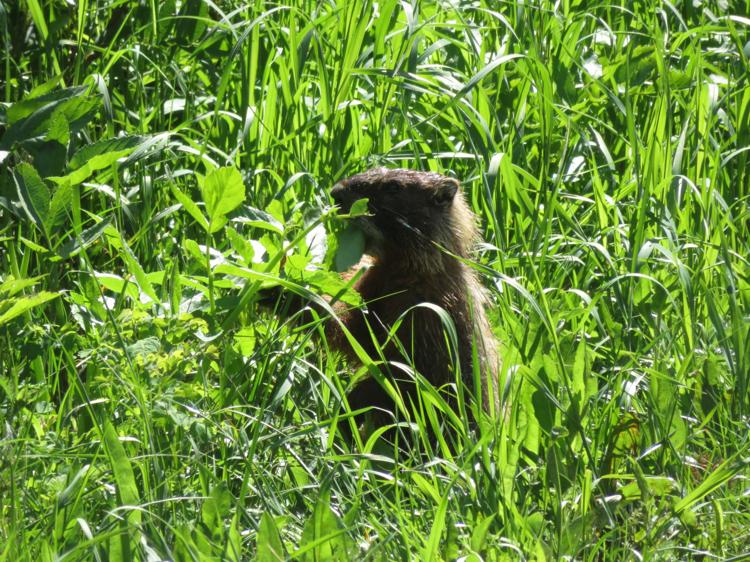 After several miles hiking each day, the laborious trek yields its reward. Campsites look out onto snow-covered peaks, water spews down mountainsides behind melted pockets of snow and streams billow by with roaring waters, their icy beginnings still clutching the banks near our brightly colored overnight abodes.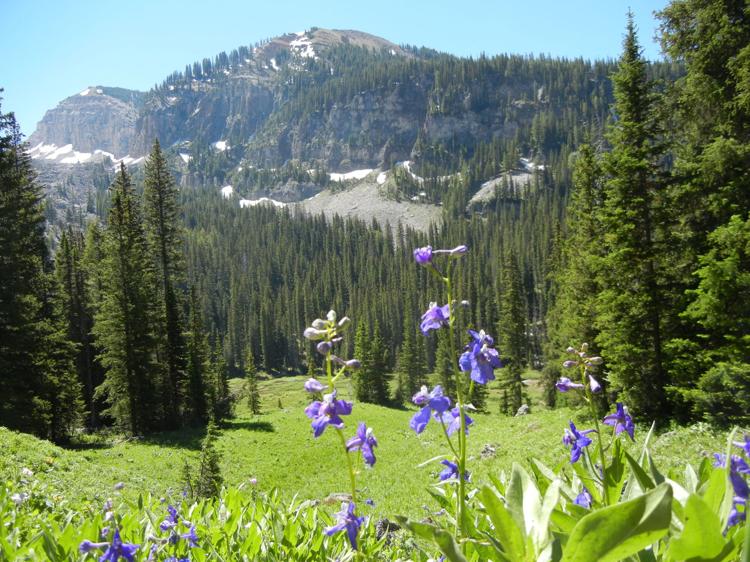 This is hiking at its best. Getting in shape months ahead of time by breaking in boots, pounding away on stair climbers or inclines at the gym and assembling proper gear are paramount to enjoying the trip.
That's not to say the climb up through the canyon to the campsites won't be taxing. Staying hydrated and munching on protein-rich snacks such as trail mix and dried fruit on frequent stops up the trail refills the energy tank. And trying to discern the different languages of the people from all over the world whom we passed on the trail proved an interesting diversion at times.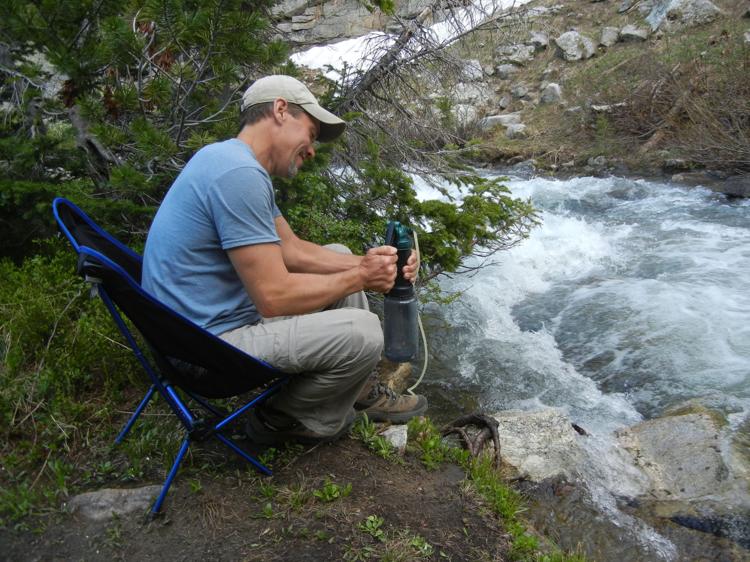 Water is easy to find from all the streams pouring through mountain folds, and with a proper filtration system, keeping bottles filled is not a problem, especially when one of the fellow hikers is willing to use his handy-dandy device to make clean water.
That refreshing liquid, straight from a mountain stream, also is welcome when it comes time to cook, after breaking open a packet of dehydrated beef Stroganoff for dinner or scrambled eggs with bacon for breakfast. 
Kicking back with a cup or two of instant coffee while looking out over nature's wonders of pencil pines perched on mountain ledges, budding flowers peeking through rocky cracks and lowland lakes sparkling far down the canyon offers a great start to the day.
Like kids in a schoolyard, we sometimes traded meals: instant oatmeal for powdered eggs or a cereal bar for dried fruit.
Because of the constant threat of bears wanting to join the dinner party, canisters (provided by the National Park Service) opened by the twist of a coin, are required for back country ventures. Anything that has an odor goes inside the ice bucket-size containers. That includes all food, medicines, vitamins, toothpaste or anything else with an aroma.
An eating area away from the tents prevents crumbs from falling in the campsite, and canisters are always kept a good distance away from the sleeping quarters and not near a ledge in case a bear sniffs them out and tries to bat them around to fetch the "delicacies" that await. That never happened, and we didn't see any bears. (They didn't want the dehydrated meals either.) But why chance it when a nature wonderland envelopes the surroundings you have spent months preparing to enjoy.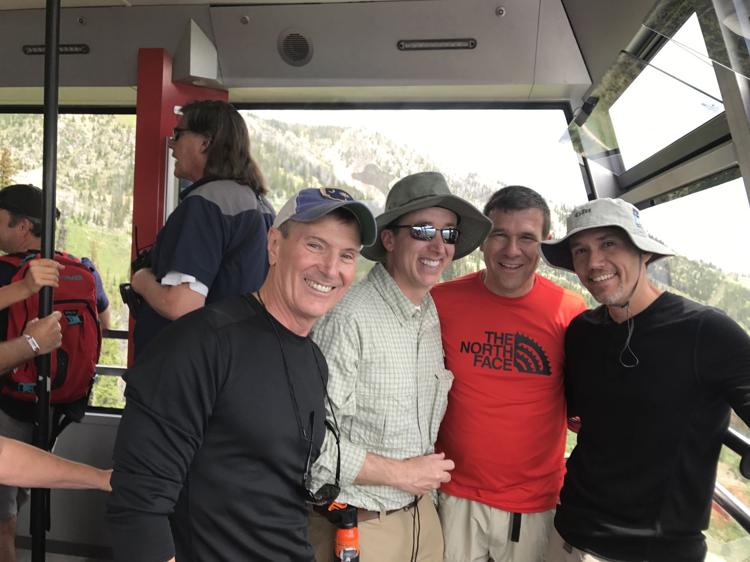 There were four of us — two from Charleston and two from Michigan. Our trip actually started six months earlier when we booked camping permits through the National Park Service to reserve spaces in one of the most beautiful places on Earth. Then came flight reservations, months of getting better fit and pulling together appropriate gear and supplies, as lightweight as possible.
Campfires aren't allowed in most of the Teton backcountry, so water for all those scrumptious dehydrated meals must be heated using a portable stove.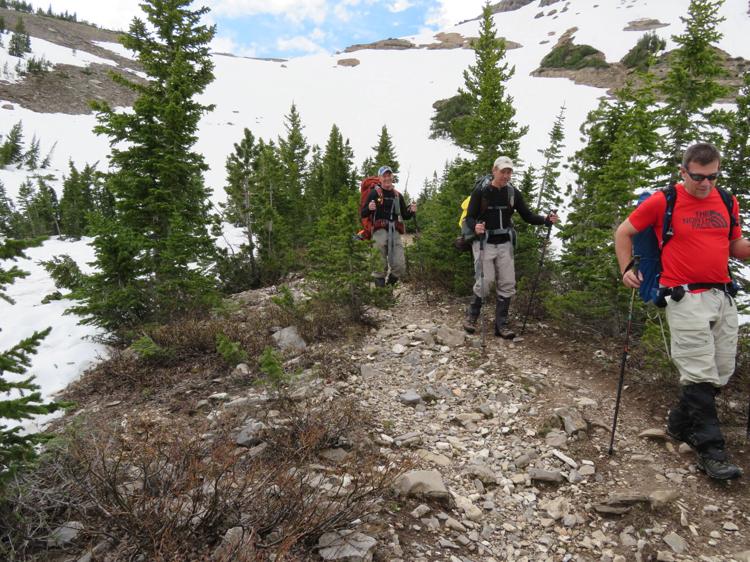 Everything needed for the adventure was worn on the body, carried on the back or held in one's hands. Help climbing the mountain came from a great set of lightweight walking poles.
The luxury item turned out to be a lightweight chair over the slightly heavier hammock. It was welcomed at dinner time and at the campsite when we weren't off exploring nearby passes or trudging through the remnants of a recent avalanche.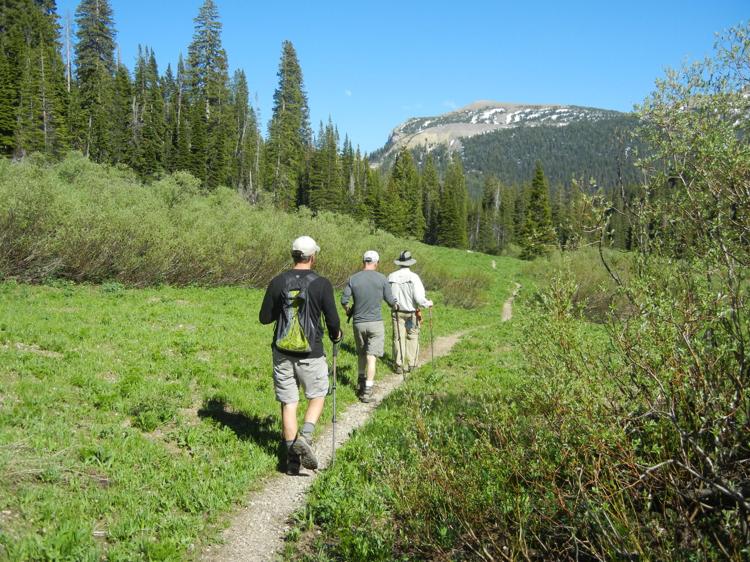 Though full darkness came well after 9 p.m. in early July, the sun came up just after 5 a.m., so a retreat to the tents, especially after trudging up the mountains most of the day, usually occurred close to 9 p.m. A full moon graced our campsite a couple of evenings, poking through a haze one night and sharing space with the stars the next.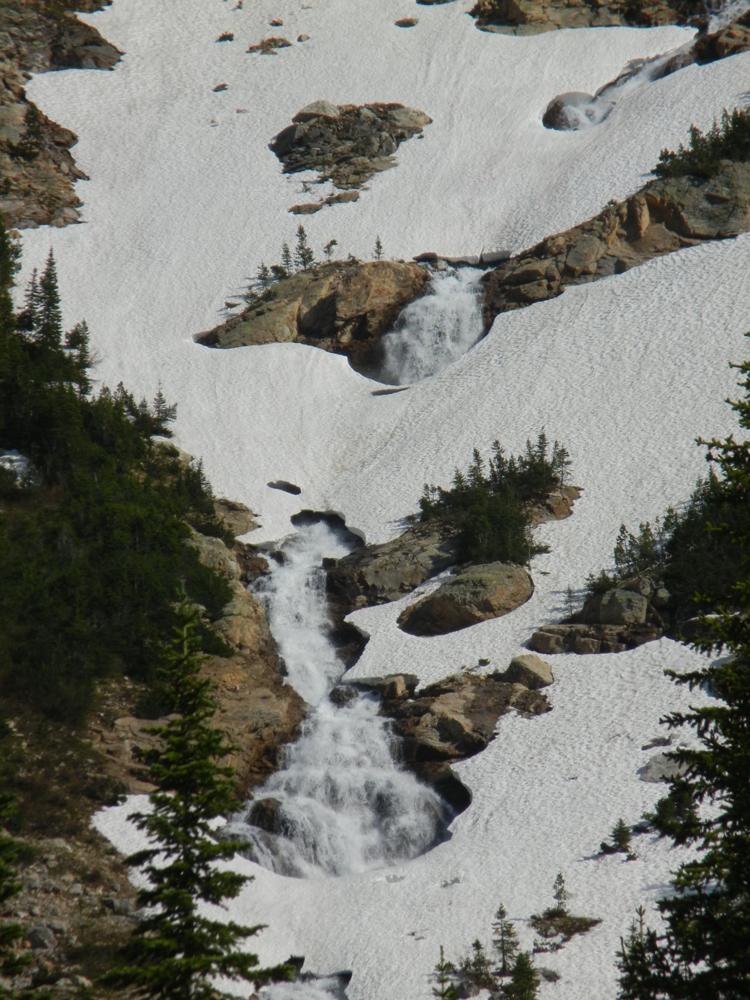 John Whittier of Charleston, Bill Taylor and Rich Fowler of Michigan and I decided the most beautiful campsite was on the South Fork of Cascade Canyon.
As we hiked out the next morning to our next venue, one of the others would frequently tell fellow hikers along the trail to look for the third campsite on the South Fork. "The views are spectacular," they remarked.
Water plunging down the mountainside and peeking out occasionally behind the snow while camping at about 8,500 feet above sea level made for the most amazing views of any camping expedition ever. Soaking it all in was refreshing. Leaving it was bittersweet.
The second best campsite proved to be the highest of six in the Lower Paintbrush Canyon. While mosquitoes were a bit of a nuisance in the evening, — even at close to 9,000 feet above sea level — the views down the valley toward the lakes from where we started and the snow-covered mountains jutting up on either side of us, made up for every hard-earned step on the uphill climb. 
Probably the least favorite part of the trip was an overnight stay at a campsite called Bear Paw. While the hike through the lower, purple-petaled trails along a lake was not as laborious since it was basically flat, the campsite, though not unappealing, was well populated by mosquitoes and in prime bear country. It was our only campsite that allowed a campfire, though.
Since we were in bear country, talk naturally included warnings to be on the lookout and stick together, but in a lighter moment while gathering water from a nearby stream in a thicket of trees, Whittier and Fowler brought up the late Dan Haggerty of the 1970s TV show "Grizzly Adams" and tried to remember the words to the theme song.
Whittier thought back to making cabins out of Popsicle sticks as a child and wanting to live alone in a wilderness cabin. He changed his mind when he grew up. He got smarter when he decided to leave the cold winters of Michigan and move to the temperate climate of Charleston a couple of years ago.
The others talked about digging tunnels in the snow in Michigan, where they grew up. I talked about digging tunnels in the ground on the farm in South Carolina as a child.
A funny moment presented itself when on the last day we woke up to find one of the guy's bear canisters sitting inches from his tent, especially since he was the only one of us who was concerned enough to buy bear spray and lug it around on his belt. A picture moment, indeed.
The trip had its heavier moments as well. Early wakings, long hikes every day and general weariness wore on nerves at times, but any unease slipped away as the trek progressed and we experienced a lighter moment when a ranger remarked after hearing we were on our sixth day together, "And you aren't yelling at one another?" 
Chuckling, Whittier responded, "We did that two days ago."
Elevation sickness thankfully eluded us, but the super dry air, to which I am unaccustomed, quickly cracked my fingertips, resulting in soreness. The constant buckling and zipping of the backpack added to the pain, but filtered mountain water helped to wash the dirt off my hands and from under my nails to keep infection at bay.
A daily boost from a protein or energy powder mixed with a bottle of freshly filtered water helped maintain stamina on the steep climbs.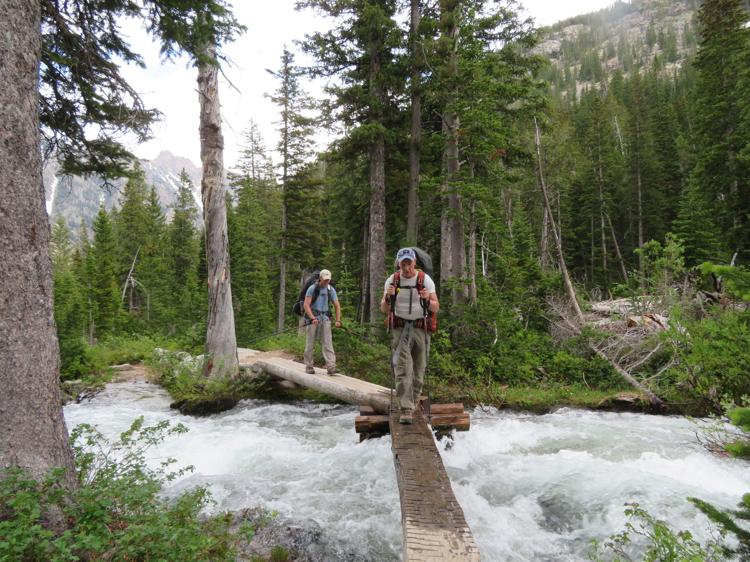 On the last full day of hiking, for some reason, Whittier and I reached our full stride, racing up the trail and wanting to hike as far up the mountain as we could go. The others didn't dawdle, but they didn't dash either. We did, and the campsite on a bluff overlooking the valley between two mountain peaks (though surprisingly a little mosquito-laden with a downhill wind at close to 9,000 feet) proved to be a great setting for the end to an awesome adventure.
On the last morning of the seven-day trek, everyone remarked about how light their food canisters were getting, and Whittier made a point of giving away any leftover cereal bars or excess water to lighten his load going down the mountain.
On the trek out, everyone's thoughts turned to non-dehydrated food: pizza, burgers, steaks. We finally opted for some fatty Mexican food at one stop and, two hours later, burgers and ice cream at another. 
Getting to the Tetons was easy enough. To save money, we flew into Salt Lake City, rented a too-tiny car, packed our gear into every nook and cranny, drove four and a half hours to Jackson Hole and stayed in a motel the first night.
The next morning, after rearranging our belongings for the backpack and what was to be left in the car, we headed to the ranger station to pick up camping permits and make adjustments to campsites since some of the areas previously selected sat under about six feet of snow.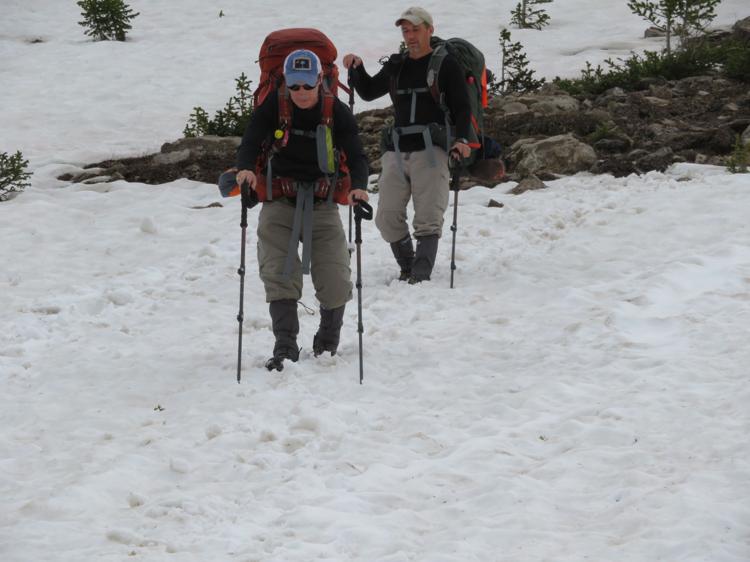 The first day proved the most vexing as the trail quickly vanished under a thick coat of snow, causing us to cut across loose rocks, an icy hillside we later learned was in jeopardy of slipping away, and down a steep, snow-covered, somewhat treacherous mountain to a stream, where we camped in a clearing beside patches of snow, setting up just as a hail storm hit.
Never a dull moment.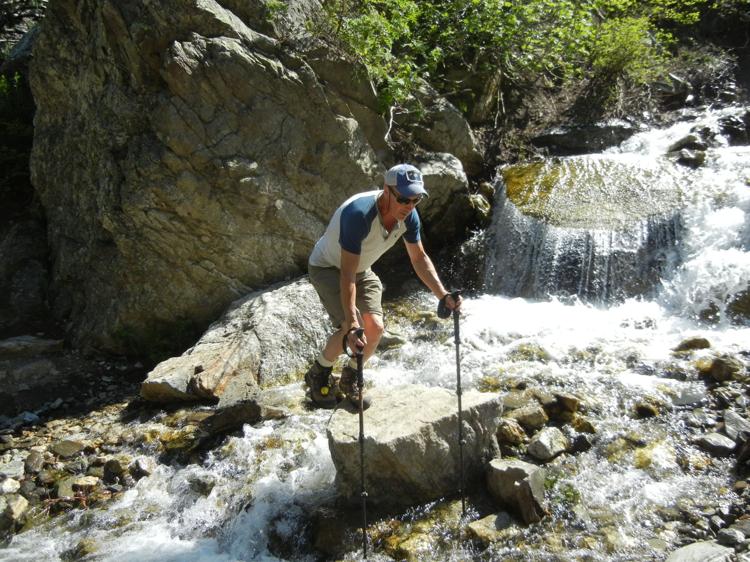 Six months of planning paid off, and unexpected twists added to the adventure, though I have to say crossing that spiky log over a rushing stream with snow on both banks proved scarier than I care to remember. Hiking the Tetons proved to be a trip of a lifetime.
I'd do it again. Tomorrow if I could. We all would.