At the end of October last year, my graduate student and I traveled to Guatemala to conduct a melon disease workshop in Santa Cruz, the main city in the Zacapa Valley, a long river valley in eastern Guatemala that is filled from side to side with fields of muskmelons and watermelons grown for export to the United States.
According to Frommer's Travel Guide, early December and late January are the ideal times to visit Guatemala. Fortunately, the rainy season was ending when we were there, and the weather was dry and mostly sunny.
Plants that are very familiar and grow well in the Lowcountry were found everywhere in Guatemala City, the capital, which lies in USDA Zone 11b, with low temperatures of only 45 to 50 degrees. Even though Guatemala's zone is 2.5 zones warmer than downtown Charleston's Zone 9a, we saw many plants that are favorites here. This overlap may be due to the 4,921-foot elevation of Guatemala City. The average maximum temperatures of 75 degrees in December to 82 degrees in April are considerably lower than what is usually associated with Zone 11b.
On the south side of Guatemala City, an entrance to a subdivision was landscaped with princess flower and society garlic, obviously chosen for their contrasting purple and lavender flowers as well as different heights, leaf shapes and textures. The median of a busy city boulevard was planted to southern yew in the center surrounded by lily of the Nile and fortnight lily, all tough plants that need little care to flourish.
Many other familiar perennials were spotted, including bear's breech, California bush daisy, canna, and Mexican petunia. Annuals, like gerbera, annual vinca, marigold and scarlet sage (Salvia splendens), added bright color. Flowering shrubs included bottlebrush, bougainvillea, cassia and roses.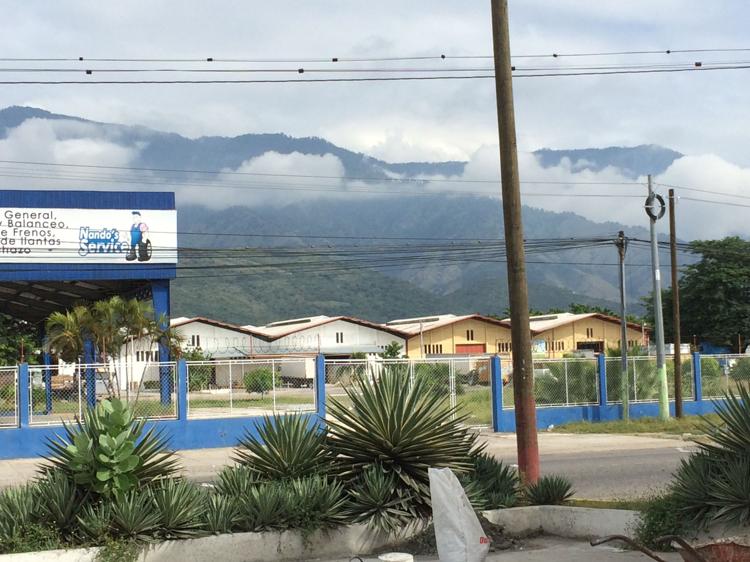 The Zacapa Valley is the dry river valley around the Motagua River. The Sierra de las Minas mountains to the north block moisture from the Caribbean Sea from reaching the valley. It's no surprise that the flag of Zacapa Department (province) has a cactus on it.
Zacapa is much hotter than Guatemala City because the elevation is much lower, only 390 feet. The minimum recorded temperature is 59 degrees, whereas the maximum regularly reaches 104 degrees in April, the hottest month in Guatemala. Consequently, the flora of Zacapa had a distinctly tropical feel, like plants that grow in southern Florida.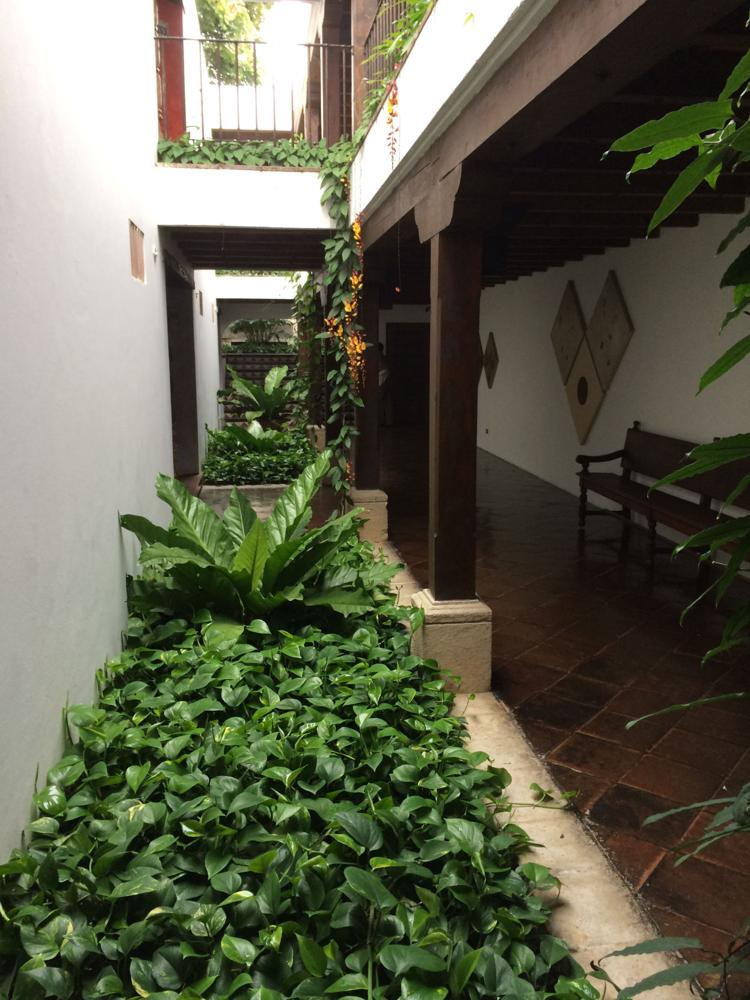 The grounds of the hotel where we stayed were crammed with specimens of tropical plants, including breadfruit, coconut palm, citrus and mesquite. A huge pothos clambered up a tree. This overgrown version of our vining houseplant certainly deserved its other name, devil's ivy.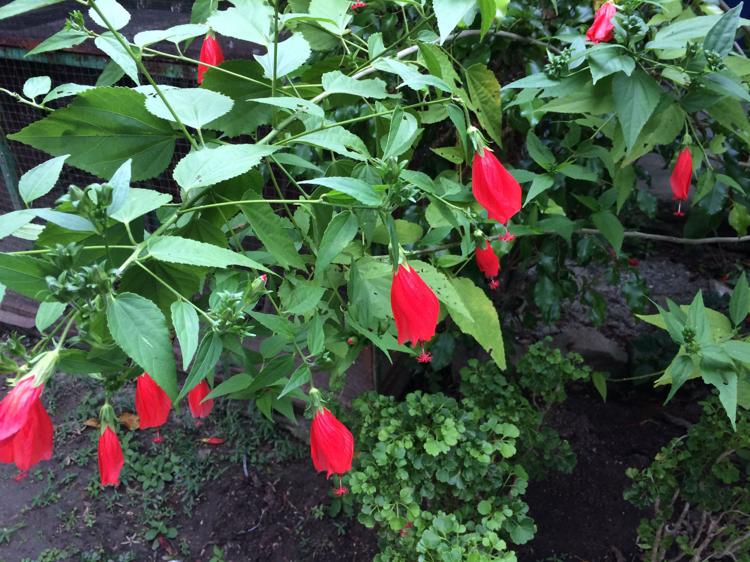 Even in this dry tropical location, plants at home in Charleston gardens were everywhere. Multiple specimens of hibiscus included the scarlet-flowered Turk's cap, a popular traditional perennial hibiscus in the South. Lush fuchsia gingers, bright yellow allamanda and gaudy croton added to the tropical environment. Devil's trumpet (Datura) growing there did not have to worry about surviving a freeze as our plants do.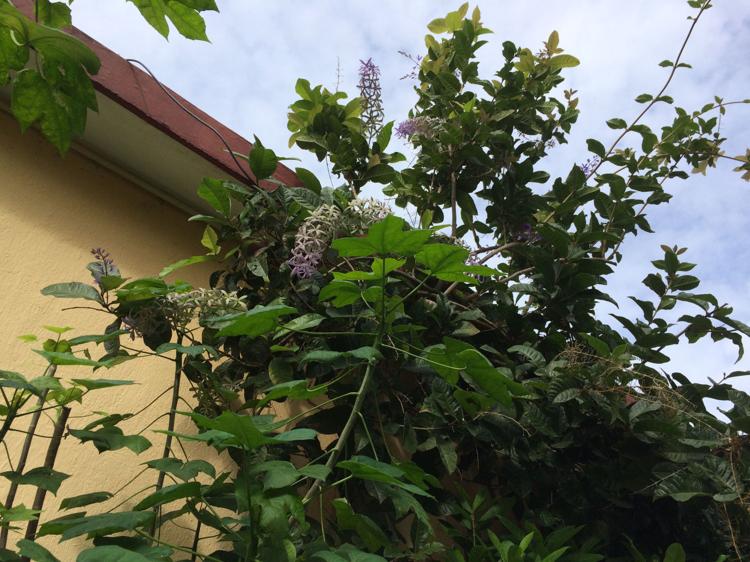 The most fascinating new flower I saw was queen's wreath, Petrea volubilis. According to Southern Living, this vine grows 20 to 40 feet tall. The flowers of the one I saw were soft violet fading to white, with long thin petals that gave them a star-shaped appearance. The flowers are formed in long cascading clusters.
Of course, dry-weather plants also were abundant. These included yucca, a mesquite tree, a large crown-of-thorns and purslane (large-flowered portulaca).
We spent a large part of the trip driving to and from the Zacapa Valley, slowing occasionally to wait for a cow or a hound dog to cross the one-and-a-half-lane road. Two wild flowering plants grew vigorously along the roadsides in the country. Yellow Mexican sunflower (Tithonia) and lavender morning glory were everywhere. I also caught a glimpse of a large, wild poinsettia that was at least 4 feet tall and wide.
Besides melons, Guatemala is known for its exports of bananas and coffee. As we climbed into higher elevations on the way back to Guatemala City from Zacapa, we passed several small coffee plantations. The trees were relatively short, since they are pruned to 5 to 7 feet high to make the coffee berries easier to reach when picking.
Seeing familiar plants made my first trip to Central America more comfortable than expected.