From a fashion show to an archery course to a full slate of lectures, luncheons and outdoor demonstrations, there is far more to do at the Southeastern Wildlife Exposition, hosted for its 37th year in Charleston, than look at art.
But it's the art, which this year is provided by 100 different wildlife painters, sculptors and carvers, that continues to draw tens of thousands of visitors to the Lowcountry each year.
"The caliber of artists just continues to increase," said Natalie Henderson, the event's art curator.
Returning artists come back with even larger bodies of work, and new artists continue to exceed organizers' expectations, she said. Several of this year's new artists are local, like Charleston painter Larry Moore, whose "Intrusion" series depicts animals in unexpected places.
Lou Pasqua, a Pittsburgh-based artist known for his paintings of sporting dogs, is this year's featured artist. His work is "unmatched" in his genre, Henderson said. He was selected as the 2019 featured artist two years ago and spent the time since preparing his collection.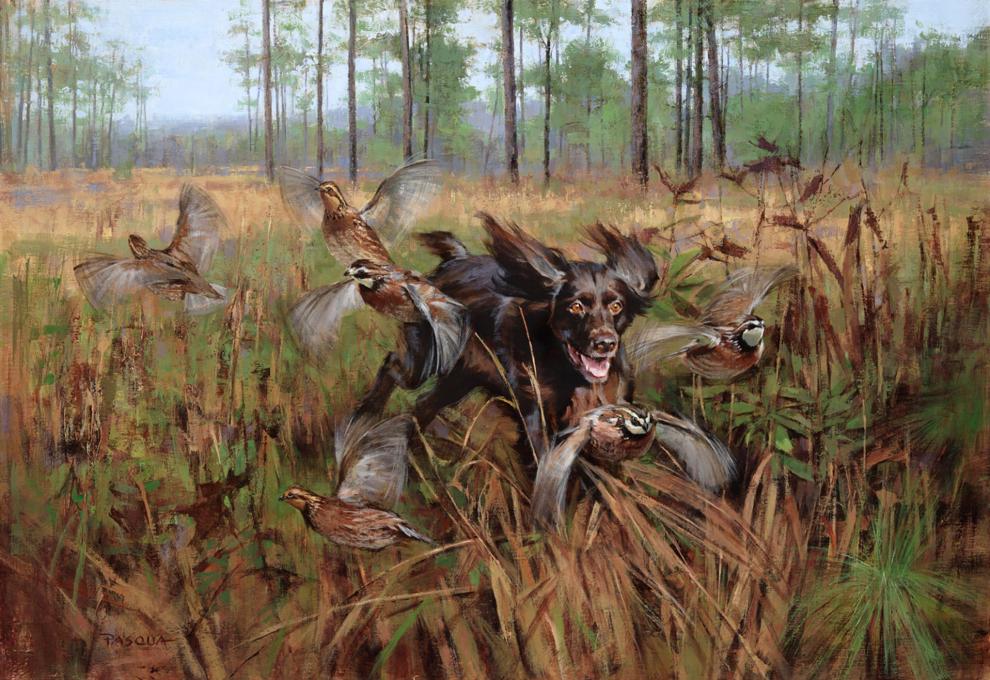 His work, "Little Havoc," which shows a Boykin Spaniel boisterously flushing a covey of quail, is the featured painting for this year's expo and has graced billboards, posters and websites promoting the event.
Two sculptors, Walter Matia and Sandy Scott, will be featured as guest artists. Both work in bronze, but their collections are distinct, Henderson said. Matia, who is from Maryland, often sculpts birds. Scott, who lives in Wyoming, has many large animals, like buffalo and moose, in her collections. 
Seeing that connection between where an artist lives and the subjects they choose is something that's pretty consistent among wildlife artists, Henderson said.
"They're very connected to nature, to where they live and to their subjects," Henderson said.
With a mix of artists from around the world, attendees will see those influences reflected in the diversity of displays in the Charleston Place Hotel: everything from images of African big game to trout fishing to familiar scenes of Lowcountry landscapes.
With works that range from $750 to $35,000, there also will be a mix of price points for attendees who hope to take home a piece of art, Henderson said.
Often designated as the kickoff to the city's tourism season, the event gives a jolt to the area's economy to the tune of about $50 million. That figure may be even higher, said executive director John Powell.
A new survey will be conducted this year to give an updated measurement of the event's economic impact, he said. 
So far, ticket sales are outpacing last year, and organizers expect SEWE guests to again support local lodgings, restaurants and retail during the long weekend.
VIP events begin Thursday, and events for general ticket holders run Friday through Sunday.
Some may be extending their stay one night longer this year, too, with the addition of a Wednesday night kickoff event.
For the first time this year, the Gibbes Museum of Art will hold a special party for ticket holders and VIP attendees. The event will celebrate an exhibit of sporting art by 20th-century artist Ogden Pleissner, "Lying in Wait." The collection features 48 watercolor paintings spanning the artist's nearly six-decade career.
The rest of the weekend's agenda is filled by a combination of new offerings and familiar standbys, or, in some cases, returning partnerships with fresh content. 
"One of our challenges," Powell said, "is keeping in the show what people expect to see, but also changing things up."
Though the primary Fine Art Gallery will again be located at Charleston Place, several other downtown lodgings are holding events.
Attendees can purchase tickets for the second annual Birds of a Feather brunch at the Francis Marion Hotel or browse antique decoys at the Marriott on Calhoun Street.
The newly opened Hotel Bennett will host its first SEWE soiree: a Friday afternoon fashion show and luncheon sponsored by Audubon South Carolina. The Fashion for Feathers show will feature styles from local boutiques and dishes prepared by Michael Sichel, the executive chef of the hotel's restaurant, Gabrielle Charleston. 
Across Marion Square, the Dewberry Hotel will host its own artist-in-residence, Joseph Sulkowski, who was a SEWE guest artist last year. Attendees can sample wines while Sulkowski paints in the background.
There will be plenty of wildlife to view beyond the canvas, too.
The Center for Birds of Prey will host its annual flight demonstrations at Marion Square, and Brittlebank Park's wildlife demos have been expanded. 
Onlookers can watch a border collie deftly lead sheep and ducks through various obstacles, and, for the first time, watch dogs from the Search Tactics and Rescue Recovery (STARR) Team from Swansea demonstrate their skills. A new "marine village" has also been added, where both children and adults can participate in fly fishing and cast net demonstrations. 
Jeff Corwin, who made his first SEWE appearance in 2005, will be back on the event's stage at the Gaillard Center. Best known as host of the television show "Ocean Mysteries," Corwin will bring his expertise on wildlife and conservation to his live performances on Friday and Saturday. 
SEWE is partnering again with with Charleston-based sporting and lifestyle magazine Garden & Gun for two ticketed discussions at the magazine's headquarters on East Bay Street. Both events include bourbon. 
Regular day tickets to the expo range between $15 and $25, and three-day passes are $50. Children 10 and under are admitted for free with a paying adult. Shuttle service is provided during show hours between venues for those with tickets or badges, and handicapped accessible service is available. 
For more information about the event or to purchase tickets, visit www.sewe.com or call 843-723-1748.