Roslin Fields didn't have a relationship with her father growing up, so she sought the love from high school boys she didn't get from her dad.
She fell into toxic relationships, including with her then-fiance in college who got another woman pregnant and left Fields to marry her. 
Today, Fields sees many young girls going down the same path.
"The reason why so many girls and women do get into those kind of toxic relationships, and they stay in it, is because they don't know who they are," she said. "They are looking to somebody else, mainly a boy, to make them feel that they are worth something. ... Some of these girls die at age 16, they are buried at age 70, and they've never lived. That's the road I was heading down."
To expand the reach of her nonprofit, which focuses on female empowerment, Fields launched the Dream Girls Conference  — an annual event held for several years in North Charleston to give middle and high school girls resources to make wise decisions. Entertainment from local artists and inspirational testimonies from female professionals gives young girls a mix of fun and encouragement.
This year's event is set for March 30 at the Charleston Area Convention Center.
Fields, a former schoolteacher, founded Y.E.S. in 1999 to serve girls in foster care, group homes and single-parent households through small group sessions, peer mentoring groups and other activities. The North Charleston-based nonprofit exposes girls to life outside the Lowcountry with trips to the Bahamas, the White House, CNN's Center in Atlanta and the Biltmore Estate in Asheville.
Later on, Fields sought to expand the program's reach and considered visiting every South Carolina county to teach adults how to mentor girls. But when she spoke with the S.C. Department of Mental Health, someone suggested hosting a conference instead.
In 2014, she launched the first Dream Girls Conference, which saw more than 1,000 attendees from more than 40 South Carolina counties at Mount Moriah Missionary Baptist Church in North Charleston. 
The event continued to grow. This year, organizers expect 3,000 guests.
"God spared me," Fields said. "Instead of me spending my energy to go to every county, he's bringing the counties to Charleston."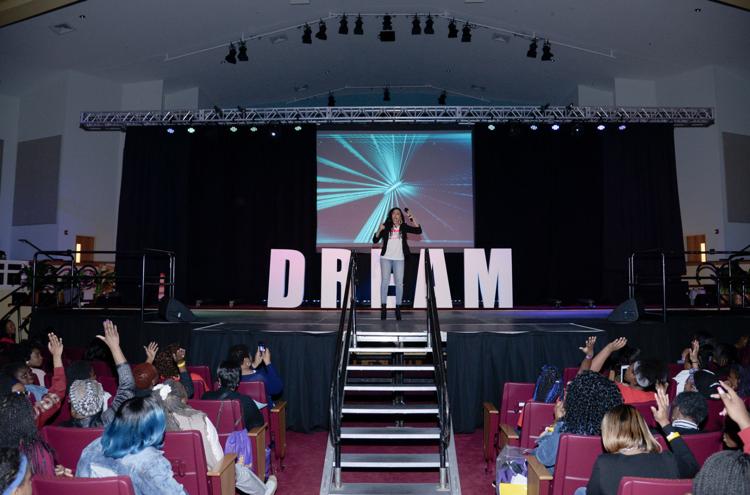 The day-long conference features an empowerment message from a keynote speaker and breakout sessions where girls discuss sensitive topics. Female professionals lead workshops. Christian hip-hop artists offer musical entertainment. Local vendors include colleges, businesses, and nonprofits. They day ends with scholarship giveaways.
Y.E.S. partners with local government agencies and schools for the event as well.
Fields is picky about who speaks. Every year, she gets hundreds of inquiries of women who would like to headline the big event. But Fields only chooses those who she feels can relate to the girls.
"I'm looking for people who have walked where these girls have walked," she said. "We do not cater to people who are coming to sell their books."
The conference's challenges have mainly involved transportation. Many girls want to come but don't have a way to get there. Money is also an issue. Those who can't afford the registration fee have been admitted in the past.
"We don't turn anyone away if they want to come," Fields said.
This year's event will be headlined by North Charleston native Isis Smalls. A former college volleyball athlete and beauty pageant contestant, Smalls headlined the first Dream Girls Conference in 2014 after claiming honors as Miss Houston that year.
She told the Dream Girls guests that it's OK to step out of your comfort zone. This year, she'll speak on the conference's theme "The Beauty Within."
She said the conference is important because it shows young girls role models.
"It's one thing to receive inspiration and receive encouragement," she said. "But there's something powerful about seeing it in the living breathing person who looks like you."
La'Royalty Jones, 18, serves as a mentor with Y.E.S. She got involved in the program because she wanted to help girls stay on the right track.
"There's a lot of influence on social media," she said. "A lot of girls, they don't really know what path to go down."
She attended the Dream Girls Conference for the first time last year as a co-host, helping to excite the crowd during entertainment sessions. Jones looks forward to attending this year's event.
"It's important to touch as many souls as you can," she said. "You never know what person is going though. ... If I can help one girl realize her purpose in life, it makes me feel good inside."