Library Society hosts 
Dorothea Benton Frank
The Charleston Library Society will host Dorothea Benton Frank at 6-7 p.m. Monday, May 21, on the occasion of the publication of her new novel, "By Invitation Only." Frank's appearance is part of the library's Speaker Series.
Tickets are $30 per person and include a copy of the book. A special package of two tickets and a copy of "By Invitation Only" is available for $40. To reserve tickets, call 843-723-9912 or go to https://www.brownpapertickets.com/event/3398988.
"By Invitation Only" is a tale of two families from different worlds: a Chicago high-society high-rise and a Johns Island peach farm. When a daughter of privilege plans to marry a Southern country boy, both families are forced to face issues of class and privilege.
Frank is the New York Times best-selling author of several books and a regular speaker on the literary circuit. Before she began her writing career, she was involved in the arts and education, and supported nonprofits in New Jersey and New York. Frank was born and raised on Sullivan's Island, where she maintains a home.
Mary Alice Monroe
celebrates book launch
Mary Alice Monroe's new novel "Beach House Reunion" will go on sale May 22. A book launch party is planned from 6 to 8 p.m. May 24 at the South Carolina Aquarium, 100 Aquarium Wharf.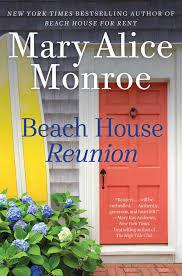 Tickets are $50 each, and include a signed copy of the book, hors d'oeuvres, beer and wine, live steel drum music, an author meet-and-greet and a tour of the aquarium. All proceeds will support the South Carolina Aquarium Sea Turtle Care Center.
In "Beach House Reunion," Monroe weaves together an illuminating tale of the struggles and triumphs of the historic Rutledge family.
She will appear at a Litchfield Books Luncheon at Pawleys Plantation Golf & Country Club, 70 Tanglewood Drive, at 11 a.m. May 25. The luncheon is followed by a signing at Litchfield Books, 11421 Ocean Highway, Pawley's Island.
—Adam Parker