A woman in a neon green tank top pauses as she walks into Bert's Market on Folly Beach. Spreading her arms, she lets loose a "whoooo!" in appreciation of the air conditioning.
"There's coffee waiting for you," Denise Jennings says to her from behind the main register, and the woman makes her way to the free java station near the back of the store.
Bert's Market is a block removed from the town's main drag, but it seems that everyone on Folly ends up at Bert's eventually. Cars are constantly pulling in and out of the five parking spaces in front of the store or the parallel parking area around the side in front of the larger-than-life mural portrait of Bert himself.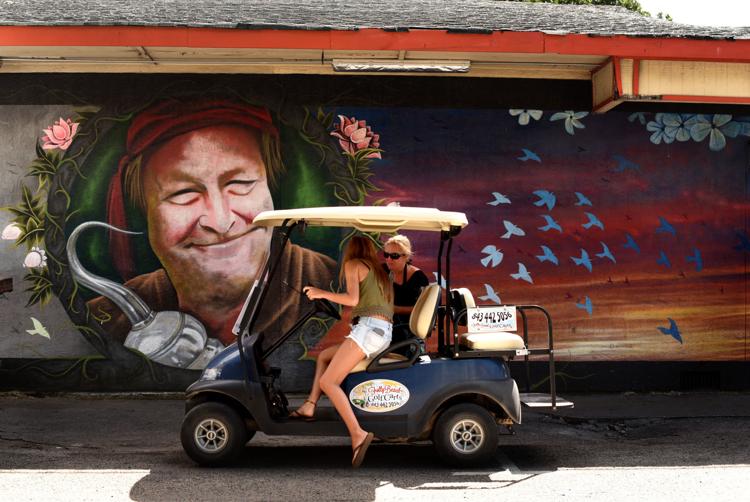 The doors are covered in stickers and posters and are propped open, beckoning visitors inside. A grandmother explains to her pre-teen grandsons as they check out that Bert's is never closed. Indeed, the website simply states "24/7/365."  The air inside is cool and smells of spices.
A woman from Charlotte asks cashier Katrina Matese who Bert is.
"I've always wondered that; I've come here for years and years," the woman says.
Matese explains that Bert is the former owner of Bert's Market, the "rockingest grocery in town." The store has stood at East Ashley Avenue and Second Street for decades but came under Bert's ownership in 1994. While his daughter, Julia Colon, and her husband assumed ownership in 2010, Bert still comes in for coffee every once in awhile, just like any other Folly Beach resident stopping by for a cup of joe on the way to work.
Colon says the coffee has been on the house for at least 15 years because people of all kinds and situations are drawn to the beach, and she wants everyone to feel welcome at Bert's, even if they can't buy anything.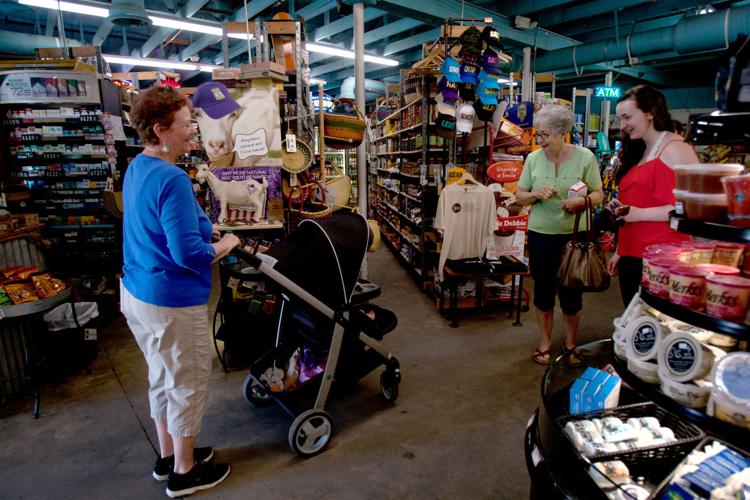 Locals, returners and first-timers all literally rub shoulders in the store's narrow aisles. A Tarzan lookalike walks in in bare feet and swim trunks. Surfer kids still wet from the beach come in and grab coffee. A man in a bowtie and office wear looks wildly overdressed, and an older man in khakis and a button-down shirt with the sleeves rolled up comes in to refill his venti Starbucks cup.
At night, the dress code doesn't really change. More women come in wearing wedges and rompers dressed for going out, but generally shorts, cover-ups and optional shoes remain the norm.
The eclectic mix is not limited to the clientele: There is a whole rack of books by Folly Beach author Bill Noel. Colorful knitted bags, replenished every Friday by seller and maker Anne Castelli, hang from the pillar opposite the front door. On the shelves, South Carolina coffee brands Cashua Coffee and Camino are at eye level above Maxwell House and Folgers, and the JIF peanut butter is pushed to the side in favor of French-made Bonne Maman blueberry preserves.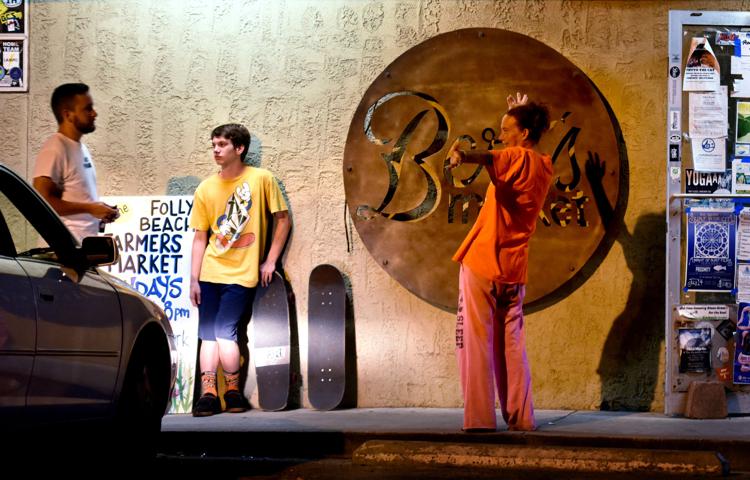 Colon says they started bringing in more local and natural or organic products around seven or eight years ago.
"Pretty much for everything conventional we offer, we offer the organic version," she says, "and all of our produce is organic."
This was important to her not only because she studied alternative medicine at Everglades University but also because of her family.
"With our kids being in the store, they're constantly wanting to eat and snack, and I wanted them to have organic food," she says.
Keeping it in the family
Family is at the heart of Bert's market. Colon started working in her father's store when she was 14. Her 16-year-old nephew, Kizza Hastings, has just started his first job working at Bert's Wooden Spoon deli this summer. Colon's 20-year history with the store prompted her and husband, Omar, to take over the family business when Bert was ready to retire.
"He was going to sell it, and we said, 'Well, why not keep it in the family?'" she says.
Gracie Codirenzi, who left Colorado for Folly two and a half years ago, says the Colons make the perfect operating pair: Omar is business and Julia looks out for everyone.
"They're really good people, and they take care of everybody," says Codirenzi, whose boyfriend works at the store.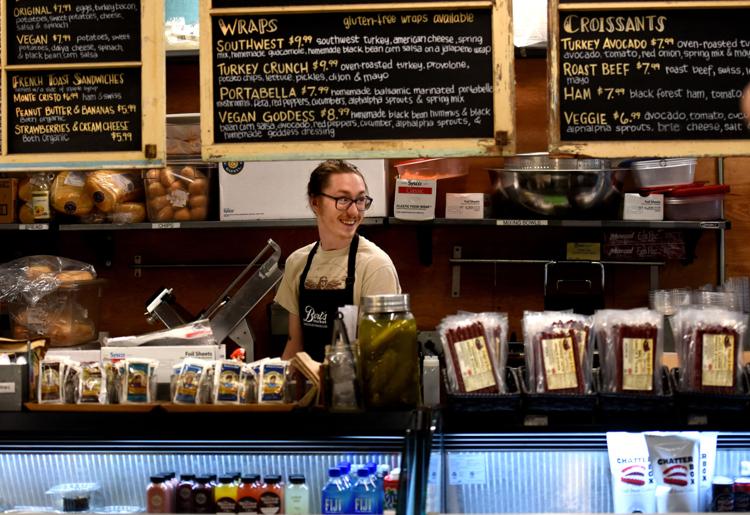 Apart from adding a focus on local and organic products, Colon says the biggest changes they've made have been upgrading the registers and adding the deli. They have plans to add outdoor seating and late-night desserts with local music, but Colon says there's one Bert's staple that will never go away.
"Seventy-five-cent hot dogs," she says, "All day long, it'll always be there."
A red-headed man in a pink shirt already has started eating his hot dog with chili and cheese when he comes up to pay for it. Cashier Patti Buttel reminds another man wearing a white ball cap backwards to get a hot dog for his dog barking outside in the parking lot.
"I told your daddy he forgot about you," she calls to the pup.
Four-legged family members are as welcome at Bert's as their two-legged counterparts. Dog bones are free, just like the coffee, and Jeremy Hammond, the general manager, says they've had dogs come over to Bert's on their own if they get out.
Kathy McCreedy from James Island says she can't take her big orange dog, Pumpkin, on good walks on the beach because she just wants to go to Bert's.
Late at night, a young man carries in a yellow Lab puppy named Biscuit, and Buttel melts. The man says he got her yesterday and she's still a little anxious, but in no time Buttel is holding Biscuit and cooing over her like a baby. The man buys Gold Peak Tea and a pint of Breyers ice cream while Buttel gives Biscuit a bowl of water and possibly her first Bert's dog treat.
'Part of something'
It seems like family extends beyond blood at Bert's, especially if you ask Buttel. She's only worked at Bert's for around three or four months, but she loves it.
"All the (lousy) jobs that I've done have trained me for this job," she says.
Katie Ashworth has been at Bert's for even less time than Buttel, only about a month. She says that while the night shift from 9:30 p.m. to 7:30 a.m. can be hard, one gets used to it.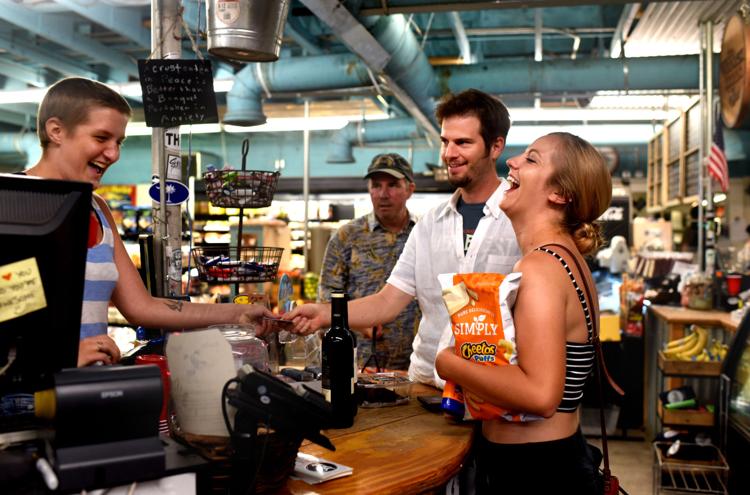 Denise Jennings has been on the island for more than 20 years and says working at Bert's is the best job she's ever had.
"You never get bored, and everybody comes to you," she says.
A man in a blue T-shirt and matching sneakers greets Jennings then begins talking in cheerful Spanish with David Zamora Medina, a Los Angeles transplant working at the deli counter.
Richard Johnson comes in barefoot and seeing Medina, exclaims loudly, "That's what I'm talking ABOUT! That's service with a smile!"
Johnson is with the merchant marines, so whenever he's not in the Caribbean, he's here living on his bright red sailboat. He comes into Bert's five times a week, but says it feels like two or three times a day. Characterizing Bert's is "such a tough thing to do," he says, taking a long pause before finishing: "It has that community feel. You're part of something here, it's not just a job."
And that's the most important thing to Colon, who sees Bert's as a stage for the community.
"We're selling products and stuff, but the main thing is the interactions with the people."
'Better than the post office'
Bert's is a place where people talk to each other.
Matese, the cashier, has a nice word for everyone she rings up, even at the end of her shift. She compliments one man's hibiscus-patterned hat and teases another about his choice of "necessities."
"Beer, water and yogurt are your basic food groups," she says with a laugh.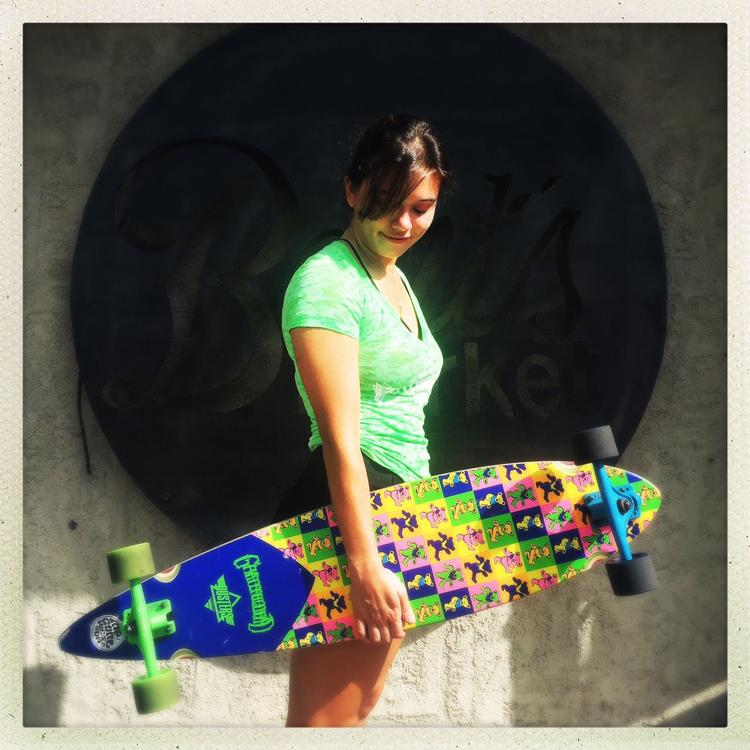 Buttel also makes conversation with customers as they pay. She chats about how she wishes she could skateboard with a woman carrying a longboard, and later talks about her own tattoo plans with a man bearing his mother's initials and "hallelujah" on his collarbone.
"People like that are what I like coming to work for," she says.
Bert's is a place where people help each other. Donald Strong comes in with a large cooler and a "crazy, crazy, crazy request." He is a local chef from James Island who needs to borrow walk-in freezer space to keep meat in while he's on Folly, and manager Hammond leads him there. Buttel asks if someone can get her more medium bags, and a customer hops out of line and grabs some from behind the main register for her. Customers help other customers avoid terrible mistakes.
"You drink that before?" a woman with tattoos across her shoulders asks her friend in a Clemson shirt, who is holding a Goose Island IPA. "That dude over there said it was bitter as (expletive)."
Bert's is a place where the community feel is warm and palpable. "Excuse me, I have to hug this woman," the man in the backwards white cap says as Jennings comes around from behind the counter. As a local, the man says that Bert's is "better than the post office" as a central hub on a small island with not many places for people to hang out. But whether locals or tourists, Jennings says "when you see them all the time, you fall in love with them."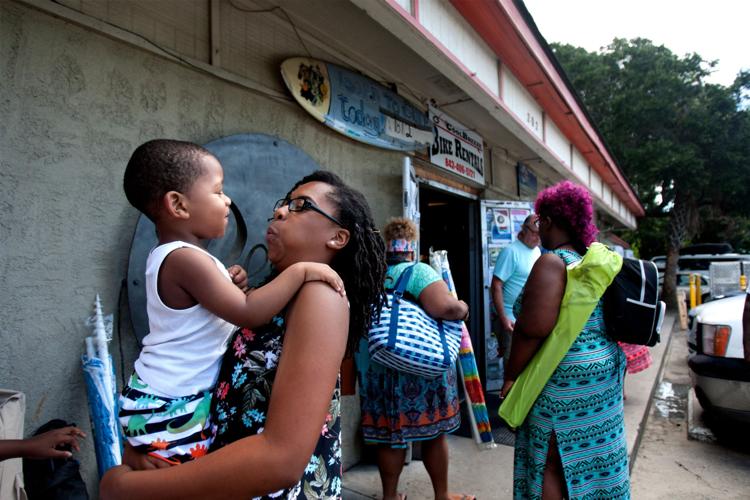 Matese leads the store in singing happy birthday to Kira Campbell, who came down from Columbia "kind of" for her 27th birthday. She laughs as the store serenades her.
As the night goes on, Buttel tells increasingly tipsy customers to be careful and to be safe. A man who looks vaguely like Jude Law in a Pier 101 shirt sighs and says, "I love this place" as he walks in with two others. People greet each other with hugs and leave with "I love yous."
"I appreciate you," one customer says by way of thanks.
"I appreciate you!" Matese replies, and Bert's is a place where you believe her.